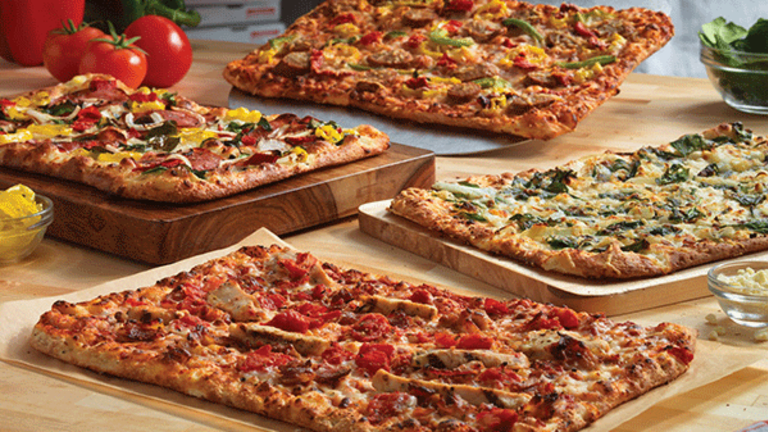 3 Reasons Domino's Is Probably Still Clobbering Everyone in the Pizza Industry
Domino's may post a 23rd straight quarter of sales gains on Tuesday.
The disastrous fourth-quarter earnings season for several pizza chains could only mean one thing: Domino's Pizza (DPZ) - Get Domino's Pizza, Inc. Report  probably continues to clobber everyone.
After serving Wall Street mouth-wateringly strong third quarter results in October, Domino's is set to post a 23rd straight quarter of gains when it reports on Tuesday. Analysts surveyed at Factset are anticipating Domino's to post earnings of $1.44 a share on $782 million in revenue, higher than last year's earnings of $1.28 a share on $741 million in revenue.
In a recent research note, BTIG analysts said they "continue to favor" Domino's stock, which they rated as a buy with a $195 price target. Their reasons were simple: Domino's dominates market share, has greater sales opportunity than other restaurant categories and it has a competitive advantage over its rivals, particularly Yum Brands' (YUM) - Get Yum! Brands, Inc. (YUM) Report Pizza Hut.
Here are the reasons Domino's is set to come out on top this earnings season.
Its digital offerings can't be beat.
Domino's now generates more than 50% of its U.S. sales from mobile devices. Millennials and Gen Xers are increasingly turning to the convenience of online buying, suggesting that when people looked to order pizzas from the comfort of their couches during Super Bowl LI, Domino's was likely one of the top choices, where customers had the option of ordering via their smartphone or through Twitter (TWTR) - Get Twitter, Inc. Report .
In an interview withTheStreet last month, Domino's CEO Patrick Doyle said the company has gotten customers to order off site and is now working on keeping them coming back. "Frankly, once you have people on your digital ordering platform getting them there is great, but what you do once they there is even more interesting. A lot of working being done here on that," he said.
Doyle also hinted that delivery by drone could be next.
Domino's biggest rival Papa John's just got crushed.
BTIG said in its research note that it views Domino's and Papa John's (PZZA) - Get Papa John's International, Inc. Report as "the two major pizza operators." Well, Papa John's didn't do so hot this earnings season. Last week, the company reported fourth quarter sales that fell short of Wall Street's estimates. While analysts had expected Papa John's to post revenue of $447 million, the company said it only gained $439.6 million in the quarter. Plus, its system-wide same-store sales in North America rose only 3.8%, missing estimations of a 5.9% growth.
Papa John's has been trying to revamp its digital offerings to compete with Domino's by offering rewards, gift cards and services through PayPal (PYPL) - Get PayPal Holdings Inc Report . But, its sales fell flat and Chief Operating Officer Steve Ritchie partly blamed an 8% drop in TV viewership for the 2016 NFL season, where the company has "a significant investment."
Still, the February 7 Super Bowl was seen by 113.7 million viewers, up slightly from last year, and it will be interesting to see how many people ordered Domino's while watching.
Pizza Hut's terrible fourth quarter likely benefited Domino's.
One thing is for sure, Domino's is going to have a better quarter than Yum! Brands' Pizza Hut. Just two days after the Super Bowl finished with a slightly nauseating win for the New England Patriots' Tom Brady, Yum! reported that while its fourth quarter revenue rose 2% to $2.02 billion, it fell short of analysts' estimations for $2.04 billion. And the only chain left to blame for the revenue miss was Pizza Hut, as its comparable store sales fell 2%, while Yum's KFC and Taco Bell saw same-store sales grow 3%.
"Over the next 12 to 18 months, we believe Domino's could surpass Pizza Hut as the domestic pizza market leader, placing them at or slightly above 16% market share," BTIG said.
Editor's Pick. Originally published Feb. 23.