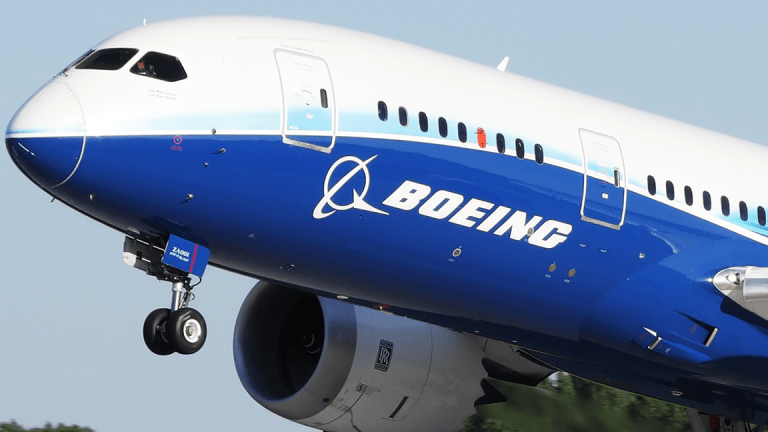 3 Reasons Airplane Giant Boeing Has Amassed Billions In Market Value Since May
Boeing's stock continues to be on fire. TheStreet quickly looks at three reasons why investors are in love with Boeing.
Boeing's stock continues to be on fire. TheStreet quickly looks at three reasons why investors are in love with Boeing.
Just like most of 2017, Boeing's (BA) - Get Report stock is on fire. 
Shares of the aerospace giant have surged nearly 9% over the last month, dusting the Dow Jones Industrial Average's I:DJI 3% gain. TheStreet looks quickly at three reasons behind Boeing's latest surge.
Boeing Is Beating Up On Rival Airbus
Boeing Co. (BA) - Get Report has emerged in the last year as a stronger airplane maker than its European archrival Airbus, points out TheStreet's Tom Terrarosa. The company put that advantage to work on yet another long-term strategic move: a new joint venture with French aerospace firm Safran SA that will make and service aircraft auxiliary power units.
Boeing is using profits from record jet sales in 2017 to transition into other lucrative aerospace segments. Read more about Boeing's Airbus attack plan from Terrarosa here. Meanwhile, Boeing's top-of-the-line Dreamliner continues to wrestle share from Airbus' aging A380.
Boeing Is Innovating, Capturing the Minds of Investors
Apple (AAPL) - Get Report who? Check out the innovation being built at Boeing.
"Autonomous is a big part of the equation going forward. The amount of innovation going into aerospace today is greater than it has ever been," Boeing CEO Dennis Muilenburg told TheStreet (watch below). "We have an unmanned airplane in space called the X37 that has set new duration records, we are working on an unmanned underwater vehicle, and we are working on urban environment solutions, such as things like personal flying taxis."
Asked when personal flying taxis would start flying around, Muilenburg suggested it's sooner than some might think.
"It's measured in years, within the decade I would think."
Muilenburg added that Boeing is also investing in hypersonic flight, or planes that could hit Mach 5 (more than 3,800 mph) or Mach 6. Boeing recently invested in Reaction Engine, a company that is working on the engines to possibly make hypersonic flying a reality.
Boeing's Defense Business Is Booming
It pays to be in the defense business under the Trump administration. 
"We are seeing some re-strengthening of the defense business, the fiscal year 2018 and 2019 defense budget we have seen is very encouraging -- but we are still eager to see a long-term budget defense solution that is not sequestered, I think that is important for the country and our Armed Forces," Muilenburg said (watch below). "We are seeing strong support for our programs, our fighter lines for example like the F-18 Super Hornet."
Boeing's defense business, which represents about 22% of annual sales, has already caught a tailwind from the growing U.S. defense budget. The company's defense business racked up $12 billion in new orders in the first quarter, supported also by strong international demand. First quarter sales and operating profits for the division spiked 13% and 18%, respectively, from the prior year.
Boeing's defense backlog tallied an impressive $50 billion.
Apple is a holding in Jim Cramer's Action Alerts PLUS member club. Want to be alerted before Jim Cramer buys or sells AAPL?Learn more now.
How to Play Today's Risky Markets. Click here and register for free to watch what top experts from Bank of America, Fisher Investments, Invesco and Wells Fargo say smart investors should do now.