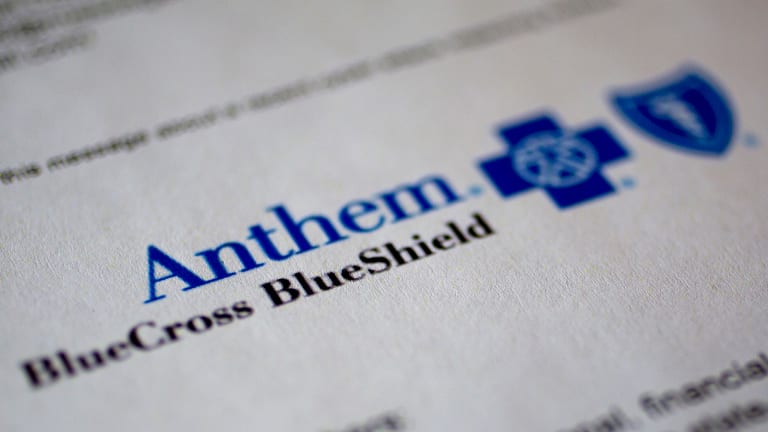 Publish date:
3 Reason to Stay Away From Anthem's Stock
The health insurance company is at the end of its run with Obamacare.
The health insurance company is at the end of its run with Obamacare.
Is Anthem (ANTM) - Get Report among the handful of health insurers who continue to sell plans under Obamacare, a compelling investment opportunity?
With the company's attempt at a $54 billion merger with Cigna (CI) - Get Report now shelved, investors are uncertain if the $43.8 billion enterprise can weather the odds, and survive as a standalone entity.
Anthem may eventually revive its flagging fortunes but the current atmosphere of risk and uncertainty doesn't bode well for the company. Plus it's also trading near its all-time high of $168.
Unlike many others in its space, Q4 financials were robust. Revenue climbed 7.3% to $21.5 billion, surpassing expectations by more than $560 million. Adjusted earnings of $1.76 per share were 15 cents ahead of the consensus forecast.
The company's management expects to deliver earnings per share (EPS) of $11.50 or more in 2017 on an adjusted basis. Revenues should come in between $86.5 billion and $87.5 billion for the year.
EPS should grow by 11.9% annually over the next 5 years. This is a modest number as peers like Humana (HUM) - Get Report (13.48%) and Aetna (AET) (13.74%) offer slightly stronger earnings growth figures. UnitedHealth (UNH) - Get Report has the best numbers, with a more than 15% rate.
However, there are three worries surrounding the stock.
First, Anthem carried 4 years of solid stock returns between 2013 and 2016. Year-to-date, the stock has returned nearly 16%, outperforming peers as well as the Standard & Poor's 500.
At only $3 below its all-time high, Anthem has probably peaked.
Second, in terms of valuation, Anthem is trading at a massive premium compared to its own 5-year average. The company's current price-to-earnings ratio (P/E) of 18 times may make Anthem look like a bargain when compared to the medical insurance industry average of 19 times, but is markedly higher than its own 5-year average of 12.1 times. These lofty valuations are definitely worrisome.
Third, the scuttled Cigna merger has dented Anthem's reputation.
Recently, Aetna and Humana witnessed similar deal failures. Anthem is now facing a bill from Cigna to pay a $1.85 billion breakup fee. Cigna has also claimed over $13 billion in damages. The fate of the feud remains unclear - but investors will remain cautious until this fog blows over.
Our recommendation is to stay away from Anthem and watch the action play out from the sidelines.
---
As we've just explained, investors should avoid Anthem. If you're looking for better growth opportunities, we've found a trader who turned $50,000 into $5 million by using his proprietary trading method. For a limited time, he's guaranteeing you $67,548 per year in profitable trades if you follow his simple step-by-step process.Click here now for details.
The author is an independent contributor who at the time of publication owned none of the stocks mentioned.