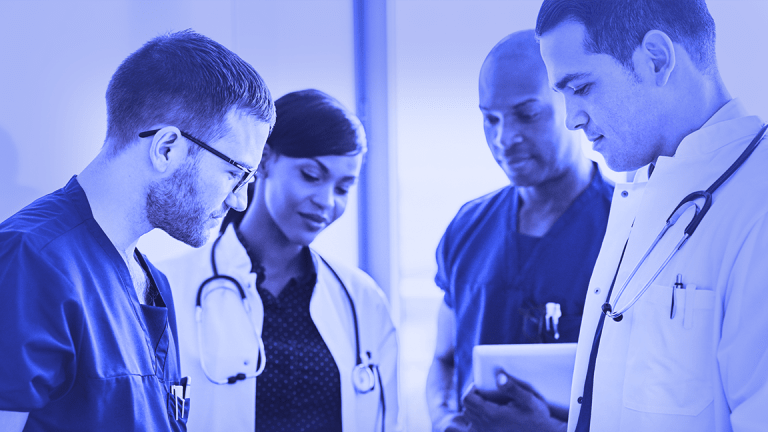 Shire, Abbott Labs May Pace Healthcare Stocks in 2019
Healthcare has been the best performing sector of the market this year. Here are three buy-rated stocks to track now.
Healthcare has been the best performing sector of the market this year. Here are three buy-rated stocks to track now.
Healthcare has been the best performing market sector this year, with related stocks gaining over 9% year-to-date, according to CNN Business. Today we'll take a look at three healthcare companies that have outperformed that baseline, seeing how they stand according to TipRanks' top analysts. These stocks make strong defensive picks for diversifying your portfolio as we move into a rocky 2019. Let's take a closer look now.
Shire PLC
Shire is a pharmaceutical company, with a wide range of products approved for use around the world. Some of the more familiar drugs the company produces include Adderall, prescribed for adult ADD, and Pentasa, used to treat Crohn's and other inflammatory bowel diseases. Shire bills itself as the 'global leader in rare diseases.'
The company possesses both strength and weakness, and both are evident in the most recent quarterly report. Shire's reported Q3 EPS was $3.64, missing the estimate by one cent, and 4.5% down from last year's Q3 EPS of $3.81. At the same time, company revenues were up 5%, at $3.87 billion.
Year-to-date, (SHPG) - Get Report is up 9.5%, about the same as the healthcare segment generally. However, Shire's share price bottomed out in February; looking at the stock performance since its lowest point this year, SHPG has gained 22%, strongly outperforming the industry average.
According to the analyst consensus, Shire is a 'Moderate Buy,' with a 19% upside potential. The share price is $172, and the average price target is $206.
Cantor Fitzgerald's Louise Chen reviewed SHPG last month and gave a price target of $222. At the current share price, that's a juicy 29% upside. In her comments she said, "We rate SHPG 12-month price target of $222. Shire has successfully established itself as a biotech company focused on rare diseases and specialized conditions. We think the durability of Shire's commercial products as well as the peak sales potential of its pipeline are underappreciated."
More recently, David Buck from B. Riley FBR set a target of $200, noting about the stock, "We update our earnings model to reflect 3Q18 results. Divestiture of the oncology business subtracts $100M in revenues and $0.13 in non-GAAP EPS from guidance."
Abbott Laboratories
Abbott Labs (ABT) - Get Report has its hands in a wide variety of healthcare market segments, from prescription drug manufacturing to nutritional supplements, to medical and diagnostic devices. Abbott is up 24% year-to-date, well over the healthcare sector average.
The company posted its Q3 2018 earnings on October 17, and the results mainly went along with expectations. EPS was reported at 75 cents per share, up over 13% from last year and matching the forecast. Overall sales were strong, with 12.1% growth; the total volume of $7.7 billion was slightly higher than the expected $7.65. The largest revenue bringer was medical devices, with $2.185 billion in world-wide sales, a gain of 8.4%. Nutritional products saw a 4% gain to $1.838 billion. The company's biggest gainer was diagnostics, which saw 42% growth to reach $1.824 billion in sales.
The U.S. dollar's strength in the global currency markets affected Abbott's bottom line as an international company, with exchange rates cutting into the full-year profit outlook. The company trimmed its 2018 earnings estimate by 2 cents, setting the range at $2.87 to $2.89 per share, compared with the summer's forecast of $2.85 to $2.91. It's important to note that the new range is both narrower and falls within the older estimate.
After last week's trading, ABT stock holds a 'Strong Buy' consensus from the analysts, based on 11 'buy' and 3 'hold' ratings. The average price target of $78 gives a 13% upside compared to the current share price of $69.
In the last two weeks, ABT has received three of those 'buy' ratings. Four-star analyst David Lewis of Morgan Stanley raised his price target by 2.5% to $82 just last week.
The week before, two strong ratings came in. On Nov 27, Robbie Marcus from JPMorgan set an $81 price target. In his comments, he said, "With 2019 Street earnings estimates of $3.20 reflecting 'just' 11% growth, [there are] multiple pathways to upside on both the top and bottom lines next year."
Meanwhile Goldman Sachs' Isaac Ro weighed in as well and upgraded his Abbott rating from 'Hold' to a 'Buy.' Ro said, "Abbott is one of the fastest growing large cap names in [the Healthcare segment.] Estimates underappreciate the benefits the company will accrue from favorable mix shift." As a result, Ro raised his price target, increasing it from $78 to $81.
Boston Scientific Corporation
Boston Scientific (BSX) - Get Report is primarily a medical device company, marketing products in a variety of fields, including but not limited to, radiology, cardiology, oncology, and surgery. The company's best-known product is the Taxus Stent, used to open clogged arteries. Boston Scientific also markets an implantable defibrillator device.
BSX stock gained sharply at the end of November, after the company announced it had reached an agreement on terms to acquire U.K.-based BTG Plc., another medical device producer, specializing in products used for minimally-invasive cancer and vascular procedures. The stock is up 46% year-to-date, giving it the strongest performance of the stocks in this article.
For the third quarter, the most recently released earnings report, Boston Scientific showed an EPS of 35 cents, up 4 cents from the year-ago quarter. Net income was $432 million, an impressive 52% gain from last Q3's $283. Net sales were $2.39 billion, up 7.7%, powered by a 10.3% gain in the MedSurg division. The company revised forward guidance upwards, setting the full-year EPS estimate at $1.37 to $1.41 per share.
Company CEO Mike Mahoney said, "Our strong results reflect our global team's focused efforts to execute our category leadership strategy and advance the standard of care. Through internal research and tuck-in acquisitions, we continue to bring meaningful innovations to market, enabling our customers to deliver life-changing care to millions of patients around the world."
The most recent analyst reviews of BSX came in late November. Piper Jaffray's Matt O'Brien, ranked #22 in the TipRanks database, said of BSX and the BTG deal that he believes "believes it will turn out to be a favorable transaction. There is the clear opportunity to expand BTG's presence internationally and adding more therapeutic products in oncology provides a significant synergistic opportunity. Boston Scientific has proven capable of acquiring solid assets and making them even better." O'Brien gives BSX a $40 price target, implying a 14% upside potential.
Similarly Sean Lavin of BTIG also gave BSX a 'Buy' rating. In his comments, he said of the BTG acquisition, "We see the interventional space as a high growth area and oncology/vascular fit within BSX salesforces. BSX has used capital well buying Asthmatx recently. Between this track record and consistently hitting targets, we thought BSX would have leeway with investors to make purchases. ... We feel this deal should benefit BSX's interventional business like AMMD added growth to urology." His $45 price target gives an aggressive 28% upside.
The analyst consensus on BSX is a 'Strong Buy,' based on 16 'buy' ratings. This means there are no holds or sells at this time. The $42 price target gives a 20% upside to the $35 share price.
TipRanks.com offers exclusive insights for investors by focusing on the moves of experts: Analysts, Insiders, Bloggers, Hedge Fund Managers and more. See what the experts are saying about your stocks now at TipRanks.com. Author: Michael Marcus.