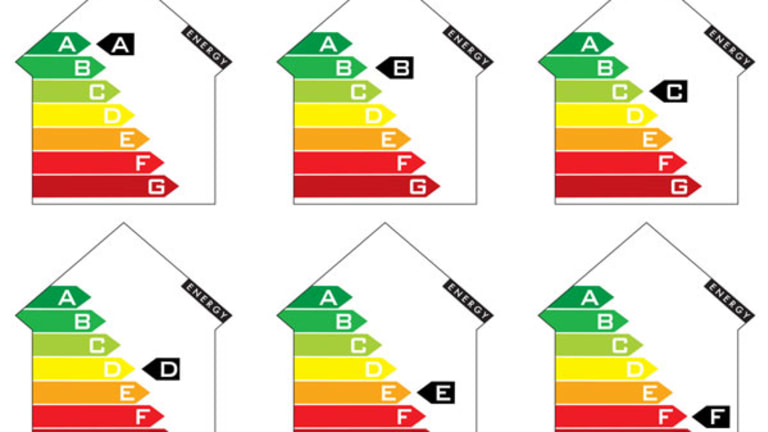 3 Obama Green Programs Mired in the Red
Vice President Joe Biden is backing 100 projects from the Recovery Act of 2009 that he says are already changing America -- but the green energy projects are playing catch up.
(Obama green energy program story, updated for federal tariff on Chinese imports, California renewable energy standard, LDK Solar loan package in China)
NEW YORK (
) -- The recession may be over, but the cadre of elite economists who signed the recession's death certificate last week did not say whether the Obama administration's economic Recovery Act of 2009 was responsible for ending the worst economic slump since World War II.
Vice president Joe Biden, on the other hand, recently released a list of the 100 Recovery Act projects that in his words, are "changing America." The problem is that green energy in America isn't changing fast enough, no matter what the Biden list would have you believe.
Making Vice President Biden's list of the 100 economic stimulus projects deserving of special notice were dozens related to green energy, from electric cars and electric car battery makers -- a clear focus on Biden's list -- to smart grid, wind and solar investments.
The Obama administration is obviously using the Biden 100 Top Recovery Act projects list as it tries to build support for its much criticized Stimulus 2.0 spending package -- and, more generally, fend off attacks that it hasn't been an effective steward of the U.S. economy while, as Republican rhetoric contends, the government spends, spends and spends.
No one can doubt the Obama administration has shown more of a focus on energy efficiency than the previous administration, yet Stimulus 2.0 was lacking in broad focus on energy efficiency and alternative energy compared with the 2009 Recovery Act.
>>Obama Paving a $50 Billion Road to the Past
There's also action at both the state and federal level that could help push green energy agendas ahead. Last week, California's Air Resources Board voted to mandate that the state receives 33% of its power from renewable energy sources by 2020.
>>Solar Stock Bonanza: California Aims for 33% Renewable Energy
Congress is also making a bid to help the U.S. compete against China in green energy and all industries, calling for a vote this week on a bill that would slap tariffs on Chinese imports. Chinese solar companies, in particular, are increasing their focus on the U.S. market, but there cost advantage remains so large that a tariff might not make much of a difference.
>>Will China Tariff Help U.S. Green Stocks?
As for the 100 Recovery Act projects that Biden has singled out, what follows are three details that detract at least somewhat from the vice president's public relations campaign on behalf of the green energy component of the Recovery Act.
"Recovery Project That Is Changing America" No. 1 vs. Green Energy Reality
Coming in at No. 85 on Biden's list of recovery projects that are changing America is a Department of Energy $43 million loan guarantee for Beacon Power's( BCON) 20 megawatt innovative flywheel energy storage plant in Stephentown, New York.
The Beacon Power plant will help improve the stability and reliability of the state's electric grid and Beacon estimates it will create 20 construction jobs in New York and 40 permanent jobs in Massachusetts. Having already broken ground on the project, Beacon estimates that a 20 megawatt flywheel-based frequency regulation plant will reduce carbon dioxide emissions up to 82% over its 20-year life compared to a coal, gas or pumped hydro plant. The flywheel plant also does not emit air pollutants such as nitrogen dioxide or sulfur dioxide.
Let's assume for the sake of argument that Biden placed the Beacon Power flywheel at No. 85 on the list of recovery projects that are changing America because the projects were listed randomly, as opposed to in the order of importance. Of course, the fact that No. 1 and No. 2 on Biden's list relate to stimulus money for supporting injured war veterans and the fight against cancer might lead a skeptic to believe that Biden wasn't taking any chances with America's attention span in putting this list together.
Anyway, the problem for Beacon Power in terms of changing America to a greener future is not that it's only No. 85 on Biden's list (regardless of the vice president's methodology), but that the Nasdaq Stock Market has begun de-listing proceedings against Beacon Power. It's hard for a public green energy company to change America if it can't even keep its stock price at a level worthy of an exchange keeping it listed.
Beacon Power, of course, put out a press release on Monday heralding its inclusion in Biden's list, but it wasn't the only press release that Beacon Power released on Monday.
Beacon Power also announced that it had received a letter from the Nasdaq on Sept 14 that its common shares failed to comply with the $1.00 minimum bid price required for continued listing on the exchange and would be subject to delisting. Beacon Power is appealing the Staff's determination.
Beacon Power shares, currently trading at 35 cents, haven't eclipsed the $1 mark in more than a year.
Beacon Power hopes that the three 20 MW frequency regulation facilities in development, with revenues from the first plant expected in less than three months, will show that it deserves to keep its place on the Nasdaq. Beacon Power also said that it expects to see "tangible progress toward pay-for-performance market tariffs in the next six months" and that would be a "substantial improvement" for the company's financial status. Yet in the end, it's hard to be changing America for a company left listing in the de-listing process.
"Recovery Project That Is Changing America" No. 2 vs. Green Energy Reality
There was not just one recovery project devoted to wind power, but several wind power projects making Biden's list as proof that the Recovery Act of 2009 was changing the country.
However, in 2010, the most significant change in the U.S. wind power market has not been for the better. Since the Recovery Act was enacted in February 2009, the wind power market has all but died in the U.S.
The American Wind Energy Association's 2010 mid-year report on the U.S. wind market was a bleak document. In the second quarter of 2010, 700 megawatts of wind power were installed in the U.S., bringing the total up to more than 1.2 gigawatts installed at the mid-year point. That was the lowest level of wind power installation in the U.S. since 2007, and far below the wind power installations levels for 2008 and 2009 at the mid-year point.
Specifically, the wind power installed at mid-year 2010 was 57% below the 2008 level, and 71% below the 2009 installed base. The American Wind Energy Association was hopeful that the looming expiration of a tax credit for wind projects at the end of the year would lead to increased activity in the second half of the year, but stated that "market fundamentals are still challenging."
Broadwind Energy
(BWEN) - Get Broadwind, Inc. Report
shares, as an example of the state of affairs in U.S. wind, are down 80% year-to-date.
There were signs of life related to the Recovery Act. Biden's report noted that the 150 megawatt Lost Creek Wind Farm, developed by St. Louis-based Wind Capital Group (WCG), received a $107 million tax credit for renewable energy generation award in July 2010, and created over 300 jobs on-site while under construction, with
GE
(GE) - Get General Electric Company Report
supplying 100 of its 1.5 megawatt turbines for the project and an
ABB
manufacturing plant located in Missouri providing equipment.
The AWEA projected that wind power installed in the U.S. in 2010 would decline somewhere between 25% and 45% as compared with 2009.
The Massachusetts Clean Energy Center received a $24.7 million award from the Department of Energy to construct a wind-blade testing facility, the largest of its kind in the world, and another of Biden's recovery projects that are changing America. Biden's report noted that when the project is completed by February 2011, "this facility could change the wind turbine manufacturing industry in America."
There were only two new manufacturing facilities online in the first half of 2010, according to the AWEA report. Let's hope there is a healthy wind-manufacturing industry in America to be changed by the time the wind-blade testing facility is ready.
It's not as if the global wind market is in a slump, and one doesn't even need to look at the case of Sinovel in China to prove the point.
On Thursday, the U.K. announced that its wind power capacity passed 5 gigawatts, as the U.K. opened the world's biggest offshore wind turbine farm, a 300 megawatt project. The U.K. now has more offshore wind capacity than the rest of the globe combined. Granted, when it comes to making claims about the size of the U.K. offshore wind market, it's probably wise to remember that offshore wind is a relative newcomer as compared with terrestrial wind.
The U.K. is also tying the growth of its wind market to a changing manufacturing base for the country. The government said concurrent with the launch of its latest offshore wind farm, companies including
General Electric
(GE) - Get General Electric Company Report
,
Siemens
(SI) - Get Silvergate Capital Corp. Class A Report
and
Clipper Windpower
are planning or already building turbine plants in the U.K., and that's manufacturing growth at a time when the wind market is actually in expansion as opposed to retraction.
"Recovery Project That Is Changing America" No. 3 vs. Green Energy Reality
Much has been made of the huge amount of money that the federal government doled out to green energy in the Recovery Act of 2009 as a sign of its commitment to innovative energy policy -- and that's a fair argument to make.
This doesn't mean there aren't some reasons to questions whether the Recovery Act is changing America in terms of green energy fast enough or quite enough in terms of commitment.
Totaling up all of the solar and wind power projects that made Biden's list of the 100 top Recovery Act projects that are changing America, there is roughly $1 billion committed across the solar and wind investments.
In 2010, China committed more than $20 billion in loan commitments to its four largest solar companies:
Trina Solar
(TSL)
,
Suntech Power
(STP)
,
Yingli Green Energy
(YGE)
and
JA Solar
(JASO)
.
On Monday, the Chinese loan commitment to its solar industry grew by another $9 billion, when the China Development Bank announced that it was doling out $8.9 billion to Chinese solar wafer kind
LDK Solar
(LDK)
.
The LDK Solar loan package brings the total extended to Chinese solar companies in loan packages this year to roughly $30 billion -- though the loans are all multi-year packages and subject to review by the bank for any individual project needs or corporate purposes.
The United Steelworkers Union has filed a petition with the Obama administration to charge China with unfair trade practices in the emerging economic giant's support for its green energy companies.
>>Steelworkers Union Attacks Chinese Green Energy
Treasury Secretary Tim Geithner was even forced to chime in on the issue of China's support for green energy during recent rhetorical attacks from senators at a hearing more generally devoted to China's stubborn currency policy.
>>Geithner Chimes in on China's Green Energy Support
It's not just the more than $20 billion in loan commitments to four Chinese solar companies, versus the $1 billion to wind and solar power in Biden's Top 100 projects, that stands out. Additionally, it's the fact that $400 million of the approximately $1 billion cited by Vice President Biden was a commitment to one company, Abound Solar, which is not even at the commercial production stage with its thin film solar technology. Abound Solar predicts mega jobs as a result of the loan commitment to build its state-of-the-art manufacturing plant for thin film solar panels, with 2,000 construction jobs and 1,500 permanent jobs.
Yet it's not at all clear how the thin film race in the U.S. is going to play out, and there have already been for years several thin film players competing to supplant
First Solar
(FSLR) - Get First Solar, Inc. Report
. Many of these companies, like Nanosolar and Miasole, have been rumored in the IPO pipeline for so long one wonders if the pipeline is clogged. It is, at least in the U.S. Chinese thin film player Trony Solar had to bag its planned New York Stock Exchange listing and just listed on the Hong Kong Stock Exchange today.
The thin-film companies like Abound Solar that have received a considerable share of venture capital and private equity money have all made great claims about their ability to manufacture thin film at a lower cost than First Solar, yet the capital markets aren't convinced.
Meanwhile, the standard crystalline silicon players from China that received the big loan commitments from the Chinese government continue to gain market share. A new Solarbuzz report on 2010 released this week stated that among the Top 12 cell manufacturers in the second quarter 2010, six Chinese manufacturers accounted for 55% of shipments, up from 43% a year ago. All four of the Chinese companies receiving the more than $20 billion in loans from the China Development Bank were in the Top 5. First Solar was the only U.S. company joining the Chinese quartet.
The Recovery Act and its myriad green energy projects may be changing America in fits and starts, and may change America to a far greater extent yet, but at least in 2010, there's still reason to think it's easier for politicians and a society to talk about being green than to actually become green overnight, or by way of 100 projects.
--Written by Eric Rosenbaum in New York.
To contact the writer of this article, click here:
NAME
.
>To follow the writer on Twitter, go to
.
>To submit a news tip, send an email to:
.
RELATED STORIES:
>>Steelworkers Union Attacks Chinese Green Energy
>>Obama Paving a $50 Billion Road to the Past
>>Will China Tariff Help U.S. Green Stocks?
>>Solar Stock Bonanza: California Aims for 33% Renewable Energy
Copyright 2009 TheStreet.com Inc. All rights reserved. This material may not be published, broadcast, rewritten, or redistributed.