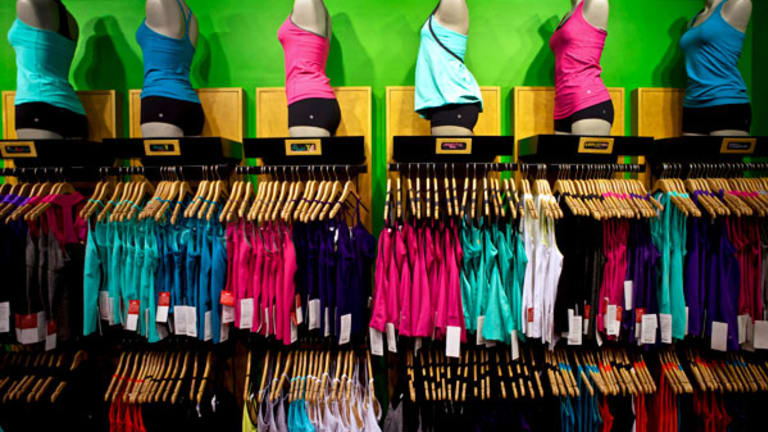 3 Lessons Lululemon and American Apparel Need to Learn
What can Lululemon and American Apparel learn from Apple? A lot probably, given the first two companies' recent struggles.
NEW YORK (TheStreet) -- What can Lululemon (LULU) - Get Lululemon Athletica Inc Report and American Apparel (APP) - Get AppLovin Corp. Class A Report learn from Apple (AAPL) - Get Apple Inc. Report? A lot probably, given the first two companies' recent struggles.
The battles between the founders and the boards of both of these apparel companies are heating up and as performance generally suffers, each retailer is being distracted further.
Penny stock American Apparel made waves last week when it abruptly announced that it was terminating its founder and CEO Dov Charney, 45. Co-chairman Allan Mayer cited "an ongoing investigation into alleged misconduct" that forced the board to fire him. Media reports have said Charney had been embroiled with multiple sexual harassment lawsuits, all settled out of court, and had been accused of inappropriate behavior, including him walking around in his underwear at the office, among other things.
Read: GE Strikes Alstom Deal to Become Largest in Its 122-Year History
It's looking increasingly like Charney is not going down without a fight and considering that he owns 27% of the company's outstanding stock, the board is in for quite a headache. Charney, through his lawyer, has requested to meet with the board to demand his job back, but the board told Reuters that it sees no reason to meet with him. American Apparel announced on Monday that it had hired financial and strategic advisor Peter J. Solomon Company to represent it.
Lululemon's founder Dennis "Chip" Wilson is also apparently gearing up for a proxy fight as news surfaced that the former yoga apparel retailer's chairman was in discussions with Goldman Sachs (GS) - Get Goldman Sachs Group, Inc. Report to discuss ways to shake up its board of directors or perhaps take the company private. Wilson, who gave up his chairmanship late last year when the company hired its new CEO Laurent Potdevin, has been critical of Lululemon's current board. Wilson had released a statement prior to the Vancouver-based company's annual meeting this month in which said he voted against re-election of two outside directors -- Lululemon's chairman and a former Starbucks (SBUX) - Get Starbucks Corporation Report executive, Michael Casey, and private equity executive RoAnn Costin Wilson.
American Apparel Hires Adviser Following CEO Dov Charney's Termination
Here are 5 Retailers With Big Short Interest
American Apparel, Is It Fit for a Buyer?
Will Express Lead to Other Retailers Being Snapped Up?
Can Lululemon Regain its Shining Star Status?
TheStreet spoke with retail industry analysts and consultants to gleam some lessons from some of the more successful retailing companies, specifically Apple, Nike (NKE) - Get NIKE, Inc. Class B Report and Ralph Lauren (RL) - Get Ralph Lauren Corporation Class A Report, to extract lessons for both Lululemon and American Apparel. Here are three lessons:
Apple
Apple's niche is selling hardware -- iPhones, iPads and hopefully coming soon an iWatch. The Cupertino, Calif.-based company is very successful at it and it's not only because the products are superior to others in the industry but because leadership knows what it takes to run successful companies. Apple has strong corporate governance behind the scenes, starting with checks and balances of management.
At both of these companies, "there has to be 360-degree monitoring of their leaders so [the board] is not being reactive and the stock doesn't get hit and investors aren't hurt," says Eric Schiffer, chairman of Reputation Management Consultants, based in Irvine, Calif. "And I can tell you some top companies like Apple, they absolutely do 360-degree evaluations and their leaders know it. It's shaped their leaders."
For American Apparel, "the biggest problem is self-control on the leadership side. He went too far. And the fact of the matter is it's hurt the performance of the brand on many levels," Schiffer says of Charney. "You're not going to have a respected legacy brand with those kind of behaviors."
"Companies need to have checks and balances on their senior leaders and that's the board's responsibility. This is a public company," he adds.
Read: 4 Things About to Go Down at Chobani That Foodies Will Love
Nike
Nike is a $66-billion company and it didn't get there overnight, nor did it gain its success from dipping its toes in too many things at once. "They're really focused on just a few initiatives on any given time" with the whole company "galvanized" on those initiatives, says Faye Landes, an analyst at Cowen & Co., who has an "outperform" rating on Nike. During any given conference call, investors of the Beaverton, Ore.-based fitness apparel and shoe company won't hear a "laundry list" of initiatives.
Landes used the example of Nike's Flyknit, launched in 2012. Following the launch of the shoe, "sure enough they march ahead and the whole company is wearing Flyknit" whereas Nike let go of its Fuelband development team in April.
"Maybe Lululemon should not think about trying to retool the product and do men's and open stores in lots of countries at once," she says. The company should "focus on just a few things at a time" and have the entire company backing said strategy.
Read: Will Chip Wilson Take Over Lululemon or Just Lead It to Dominance?
Ralph Lauren
Ralph Lauren's brand awareness could arguably be one of the poster children for today's successful brand campaigns.
Ralph Lauren's "primary thing is it's always about the brand. That means you don't meet next quarter's numbers if it's going to hurt the brand. You think about long-term viability," retail expert Marie Driscoll says.
"You really have to wonder the management and the board" of American Apparel, she says. Charney's "behaviorism does not protect the brand or business. At Ralph Lauren you never see anything like that."
Lululemon just got off track, Driscoll says. "It's really it's a function of growing too fast, opening a lot of stores and how do you manage the inventory?"
"When Roger Farah joined Ralph Lauren he looked at the distribution and felt they were over distributed," Driscoll says. "He pulled back distribution, bought back licenses, worked closely with wholesale partners to make sure they were assorted correctly and didn't [over] discount. And they took greater control over the brand. But Ralph always and the people that work within the organization have a really clear understanding of what the brand means."
Farah, the company's executive vice chairman, retired from Ralph Lauren last month after 14 years with the company.
Ralph Lauren's market cap was at $13.9 billion at last check.
"I think every time I created a new brand, from men's to women's to children to home, they were interesting elements. My clothes are not about fashion. They're about living. They're about how you live and how you want to live. And they're not about in and out fashion that's trendy or the hot news of the day," Lauren told The Associated Press last week after accepting the award for the James Smithson Bicentennial Medal. "I think most people want stability. They want to feel that if they go out and buy something, they want good quality, good value for their money. They don't want to spend it frivolously and find that it's out of style."
--Written by Laurie Kulikowski in New York.
Disclosure: TheStreet's editorial policy prohibits staff editors, reporters and analysts from holding positions in any individual stocks.