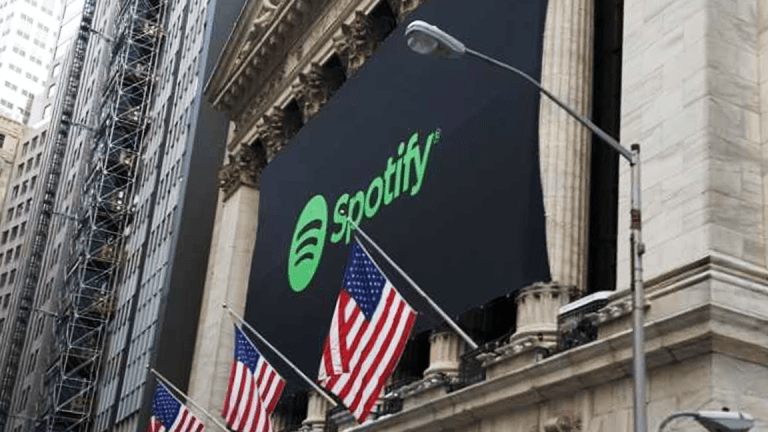 3 Hot Reads From TheStreet's Top Premium Columnists
Our experts tell you how to play markets, from Doug Kass on Monday's market collapse and what to expect next, to stopping the market bleeding.
On Tuesday, the day that Spotify Technology (SPOT) - Get Spotify Technology S.A. Report began trading on the New York Stock Exchange - opening at $165.90, markets were higher but trading fluctuated after Monday's selloff which was highlighted by the significant decline in technology stocks, and President Trump pressed his attack against Amazon.
Here are three top takes from the columnists of Real Moneyand Real Money Pro, our premium site for active investors.
Why the Market Collapsed Monday and What's Next
Doug Kass, a Real Money Pro columnist and author of "Doug's Daily Diary", writes that "Investment vision (and wisdom) is always 20/20 when seen in the rear view mirror. It's easy to explain Monday's market drop and the decline since late January, 2018 which turned optimism into pessimism."
The reality, says Kass, is that "the causalities are multiple and complex - not a function of one or two factors." He offers 19 reasons for the market's recent fall from grace.
Why Gun-Shy Market Bulls Can't Pull the Trigger Like They Used To
"It is pretty obvious that the bulls are gun shy at this point," observes Real Money columnist James "Rev Shark" DePorre. "They are not trusting that this market has seen its lows, which is a definite change in character."
DePorre looks at the FANG names - Facebook (FB) - Get Meta Platforms Inc. Report , Amazon (AMZN) - Get Amazon.com Inc. Report , Netflix (NFLX) - Get Netflix Inc. Report , Alphabet (GOOGL) - Get Alphabet Inc. Report  - as a "good illustration of how difficult dip buying has become."
(Facebook, Amazon and Alphabet areAction Alerts PLUS holdings, which Jim Cramer co-manages as a charitable trust.)
How the Stock Market's Bleeding Could Be Stopped
Stephen Guilfolye, a Real Money columnist, says, "We've come to the point where stocks are seeing the repricing of forward earnings multiples. Both investor sentiment and momentum have turned from friend to enemy thanks to a number of forces negatively impacting price discovery."
Guilfoyle's bottom line? "Uncertainty will certainly reign for the time being, and the only reasonable way for stocks to react is to reduce their forward-looking multiples."