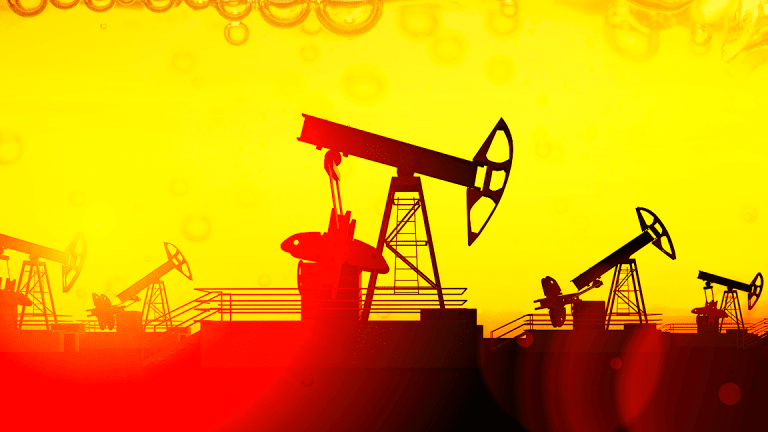 3 Hot Oil Stocks That Are Underappreciated by Wall Street
Goldman Sachs says these three stocks are underappreciated by Wall Street.
Oil is still hot, especially after a confidence-inspiring earnings season, Goldman Sachs analysts said in a note on Wednesday, March 7.
Goldman said it expects U.S. oil production will grow "at a healthy clip" of 1.1 million barrels per day in 2018. But analysts noted that for oil producing companies in its coverage estimates for production in the first half of 2018 fell 2% and for the full year fell 2.1%.
But analysts noted the "three Ds" -- U.S. producer discipline, above-consensus global demand and continued voluntary/involuntary disruptions -- remain on track prices at high levels. There could be a new fourth "D" in investor disinterest, which will increasingly "need to be combated for greater credit in equities," analysts said.
Still, Goldman remains above consensus on production and bullish on companies that have lagged the larger exploration and production group but maintain strong free cash flow prospects.
Goldman highlighted its Conviction List, buy-rated names that "appear increasingly underappreciated on the margin" following year-end results.
Since reporting earnings on Feb. 27, RSP Permian Inc. (RSPP) has outperformed the SPDR S&P Oil & Gas Exploration/Production ETF (XOP) - Get Free Report by 11% and is higher 9% year to date. According to Goldman, RSP shares still trade at a discount relative to other high-quality Permian E&P names.
"We do not believe RSPP's acreage quality advantage warrants a discount and anticipate positive 2019 oil production revisions will illuminate attractive valuation to investors," analysts wrote. Goldman's forecast for RSP's oil production is 6% higher than the rest of Wall Street's.
RSP also issued high-level guidance for 2019 and 2020 in its recent earnings announcement, offering plans to grow volumes 30% or more at $50-per-barrel West Texas Intermediate crude alongside the promise of "significant" free cash flow.
Guidance for EOG Resources Inc. (EOG) - Get Free Report is "likely conservative," Goldman wrote, as both earnings and cash flow appear underappreciated in 2018. Shares of EOG underperformed following year-end results due to "unfavorable" production and capex guidance for the rest of this year.
"However, we believe EOG's production guidance is conservative (we are 2% above the upper end of company guidance and +5% vs. consensus expectations for FY18 total production)," Goldman said. Analysts added that they also expect earnings and business expense margins to expand this year.
Should WTI trade at $60 per barrel and production reach the top end of expectations, Goldman sees $7.9 billion in 2018 earnings before taxes, which is 9% above consensus expectations. What's more, the base case for EOG at Goldman assumes WTI at $72.50 per barrel, suggesting EOG could tally $9.3 billion in earnings.
Production costs are falling and the dividend yield is still underappreciated for Occidental Petroleum Corp. (OXY) - Get Free Report , according to Goldman.
There was some "noise" around Occidental's year-end earnings report and early 2018 guidance, but Goldman said it believes the effects of the company's focus on a Permian ramp-up in the back half of this year "remain underappreciated." That focus could drive above-consensus production growth while also driving down unit operating costs, analysts added.
Additionally, Goldman said Occidental will be able to demonstrate ability to fund its $2.4 billion dividend with a 4.7% yield through internally generated cash flows by the second half of this year.
Get all your investing strategy tips from TheStreet here: