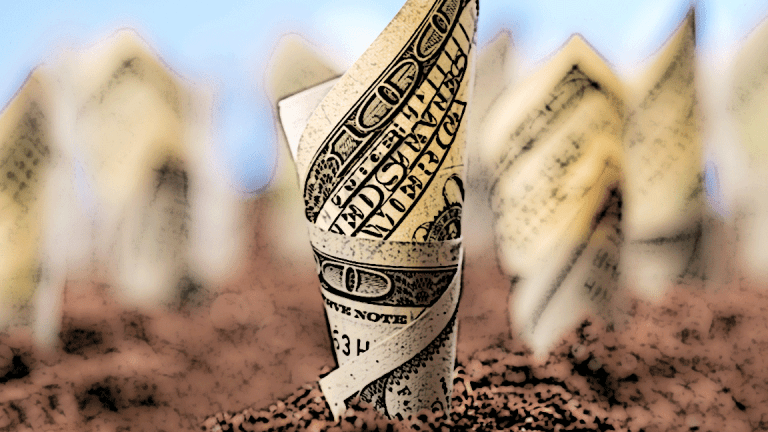 3 High-Return Dividend Stocks for 2019
Dividend stocks are a lucrative way to play the market right now
Markets are turning down - both the Dow Jones and S&P 500 have slipped more than 3% in the last 30 days. And in this situation it's only natural to start looking for stocks that will generate robust returns. Things to look for in such companies include popular product lines, a history of share price growth, and reliable dividends. It's easy to overlook dividends when assessing a stock, but as Josh Peters, author of The Ultimate Dividend Playbook, says, "Dividends may not be the only path for an individual investor's success, but if there's a better one, I have yet to find it."
Using the TipRanks database, we'll unpack three hot dividend stocks for 2019:
Apple, Inc.
We'll start with the giant in the room, Apple (AAPL) - Get Apple Inc. Report . The company's advantages are numerous: its $813 billion market cap makes it the second largest publicly traded company in the world, after Microsoft (MFST) and gives it an enormous pile of cash as a hedge against the unknown; the company's marketing over the years has been brilliant, and the bitten-apple logo is instantly recognizable even without text; the product line, from MacBooks to iPhones to all sorts of accessories, has a reputation for quality and name cachet. Despite having slipped 15% in the markets over the last two months, Apple's stock still trades at $171 a share.
For long-term investors, Apple offers three major advantages. First, the stock has a recent history of strong gains. Despite that 15% slip from its all-time peak, AAPL still trades for $100 more than it did five years ago. Second, Apple has a history of splitting shares to keep the share price manageable. Their most recent split, in June 2014, was a 7-for-1 issue and brought the share price down from nearly $700 to $94. Finally, Apple as a matter of company policy has paid out a regular dividend, without missing a quarter for the last six and a half years. The yield is low, only averaging 1.65% in recent years, but the steady payout combined with the stock's growth has been a boon for shareholders.
According to the analyst consensus, Apple holds a 'Moderate Buy' rating, based on 14 'buys,' 11 'holds,' and one 'sell' in recent weeks. While several of the 'hold' ratings came in the last week, so did several of the 'buy' ratings. The bullish consensus is summed up by Samik Chatterjee of JPMorgan, who says, "The 19% decline in Apple shares since the company's fiscal Q4 earnings report appears to have already priced in an "overly bearish scenario" of a greater than 10% iPhone volume decline in fiscal 2019, the impact of multi-year volume declines on Services, and potential new tariffs." Chatterjee's price target, of $266, suggests a 50% upside potential, much higher than the average target of $230 with 30% upside.
McDonald's Corporation
Everyone knows McDonald's (MCD) - Get McDonald's Corporation Report . The Golden Arches are another iconic marketing logo, recognizable worldwide, and the company's signature sandwich has even found a place in modern economic theory. The 'Big Mac Index' is a method of comparing cost-of-living in various countries and regions by through the comparative price of a Big Mac.
In terms of stock performance over the last few months, MCD has been the polar opposite of Apple. The fast food veteran has risen steadily, bucking the last 10 weeks of market trends. MCD has gained 27% since its low for the year on March 2, and now trades at $185 per share.
Smart management, a clear improvement plan, and shareholder rewards lie behind the gains. The company CEO, Steve Easterbrook, took the helm in 2015 of a struggling company that had experienced six consecutive quarters of losses. His plan to turn that situation around involved refocusing the menu on core products and investing company cash into a comprehensive program of restaurant refurbishing and modernization. The results have been impressive, and MCD's recent Q3 report - which showed strong beats in revenue and EPS - started two months of impressive share price gains.
In addition to bringing returns through growth, McDonald's also, like Apple, has a company policy of rewarding shareholders. The company has paid dividends in 26 of the last 32 quarters - matter how the stock is doing. The annual yield is 2.5%, putting MCD in the middle of the field for dividend return, but the reliability of the payouts and the recent stock growth have worked together to draw investors in to the stock.
All of this puts MCD in a funny position. The stock holds a 'Strong Buy' consensus, but the average target price, $192, is only 4% higher than the current share price of $182. The most recent analyst reviews give higher targets, but overall, MCD has caught up to last month's price target and a new one has yet to be set.
In a typical analyst comment, Morgan Stanley's John Glass said last week, "We are endorsing the notion that McDonald's massive store modernization efforts, first rolled out in select international markets and now in the US (its single largest market), will begin to pay off in 2019 and should produce best in class sales results for more years to come." Glass sets a $210 price target, suggesting an upside potential of 13% for MCD stock.
AT&T, Inc.
AT&T (T) - Get AT&T Inc. Report is best known as the phone company. Currently the second largest provider of mobile service in the U.S. (only Verizon is bigger), the telecom also offers landline service in numerous markets, and once dominated the telephone industry. It was forced to break up in the 1980s under an anti-trust action, but in the decades since has re-acquired an interest in many of the smaller successor companies.
Of the stocks looked at here, T is lowest priced at $30 per share. The average target, of $35, represents a 16% upside potential, and the analyst consensus is a 'Moderate Buy' based on 11 'buy' ratings and 4 'holds.' While AT&T has shown share price gains on the 3-year and 5-year time frames, it has lost value in the shorter term.
The benefit of this stock for investors, however, has not been in the share price but in the dividend history. AT&T has paid out a quarterly dividend, every quarter, since 1985. The yield has been consistently high, and currently stands at 6.51%. Even with a low share price, the high and consistent dividend provides a real incentive for investors.
Market analysts agree. T's most recent review comes from Jeff Kvaal of Nomura, who said, "We believe the recent improvement in the mobile business will extend at least through 2019." He sees the low stock price as an entry opportunity for investment.
Cowen's Colby Synesael also took a look at AT&T, raising his outlook to Outperform and increasing his price target to $36. He said, "The dividend is safe, and the stock is cheap. While [it] remains a risk, the reward is attractive."
TipRanks.com offers exclusive insights for investors by focusing on the moves of experts: Analysts, Insiders, Bloggers, Hedge Fund Managers and more. See what the experts are saying about your stocks now at TipRanks.com. Author: Michael Marcus.