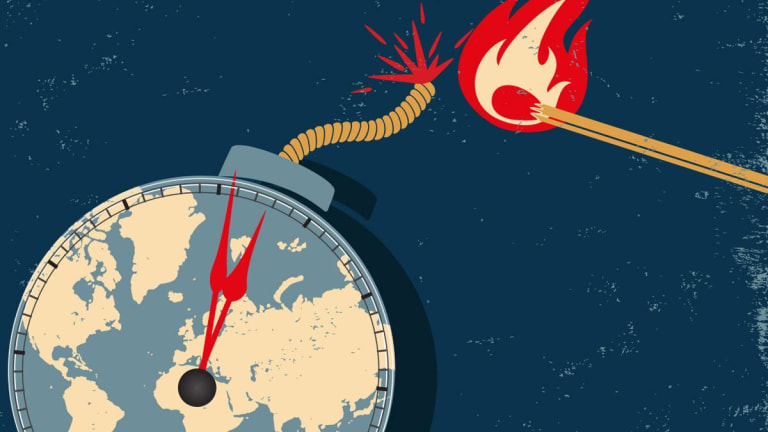 3 Growing Risks That Could Blow Up Your Stock Portfolio Before 2019
Looking for reasons to take some profits amid the return of market volatility? Here are several good reasons to lighten up on stocks right now.
Now may be a great time for investors to book profits and head for the hills. 
While second quarter earnings season was stellar by most measures, the world's biggest companies didn't exactly hide their concerns on second half business trends. It's just that one had to look closely to find well-paid executives telegraphing possible second half profit margin slowdowns and shaky 2019 outlooks. 
"Following another excellent S&P 500 I:GSPC earnings season, companies acknowledged that the operating environment will become more difficult in the second half of 2018, with trade tensions and increased margin pressure in focus," says Goldman Sachs strategist David Kostin. 
Here are the key risks to corporate profits Kostin picked out of combing earnings call transcripts. 
The Trade War Aftermath 
The second quarter was light on companies seeing an impact from the United States' growing global trade war. But that could be poised to change in the back half of the year as companies respond to increased costs with higher prices. The wildcard is how consumers of goods and services respond. 
"Although managers reported limited impact so far, companies described plans for dealing with potential future tariffs. The most common proposals involved shifting the supply chain and passing along a portion of costs to customers," says Kostin. "The most common proposals involved shifting the supply chain and passing along a portion of costs to customers."
TheStreet talked with Stanley Black & Decker (SWK) - Get Report CEO James Loree about his efforts to combat trade related cost increases. His course of action: price increases for the fourth quarter of the year.
"We are passing them [cost increases] onto the end user. We have no choice other than to let our profit margins collapse, and we aren't going to do that," Loree said.
Profit Margin Slide
With costs on the rise, profit margins are destined to come off their peaks. It's unclear how investors will react to that. 
Says Kostin, "Managers expect all-time high margins will face pressure in the second half of 2018. Managements cited increased commodity prices, a tight logistics market, and labor inflation as ongoing headwinds. These headwinds support our forecast for flat margins of roughly 11% through 2020."
Tightening Labor Market
The last thing companies need right now is a quickening pace of wage inflation. Unfortunately, that's what most companies are facing. 
"Companies reported substantial wage increases resulting from the tight labor market," says Kostin. With labor costs rising, firms suggested increased automation and job relocation as strategies to combat rising margin pressures."
See how Jim Cramer's Action Alerts PLUS is playing these markets.