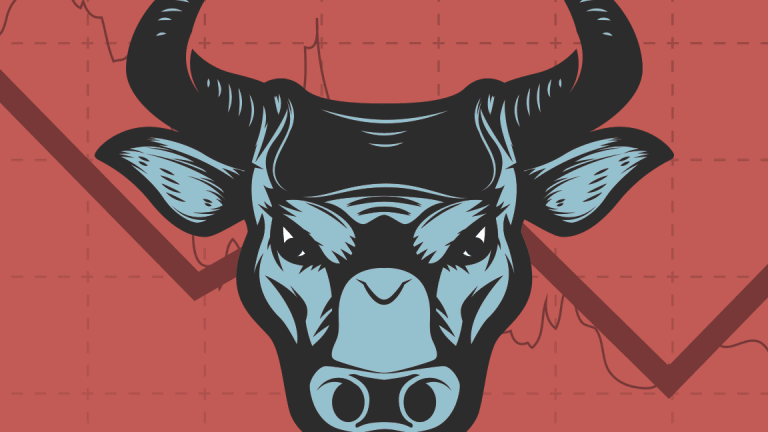 Publish date:
3 Dow Stocks to Buy on the Market's Bounce
These three Dow giants offer superior risk/reward as the market rips higher.
These three Dow giants offer superior risk/reward as the market rips higher.
U.S. markets were in full blown rally mode on Monday.
That upward momentum in the market means that we could finally be looking at a big buying opportunity again following last week's jarring correction. Friday's tug-of-war between buyers and sellers adds some extra confidence to the notion that the selling is over at this point -- the session looks a lot like a key reversal day for the correction, a bullish reversal indicator that could set the stage for more stable gains in the second half of February.
Correlations spiked in the stock market amid last week's selling -- as a result, lots of individual names are looking buyable here. And the trading setups behind them are all somewhat similar. That said, some Dow stocks are looking more attractive than most from a risk/reward standpoint.
To figure out how to trade them from here, we're taking a technical look at three Dow components that are showing off buyable bounces today.
JPMorgan Chase
The good news is that you don't need to be an expert trader to figure out the price action in shares of banking behemoth JPMorgan Chase & Co. (JPM) - Get Report . This financial giant, which is an Action Alerts Plus holding, is showing off a textbook example of an uptrending channel -- and last week's selloff returned shares to trendline support after spending a week overextended at the top of their range.
Now, a bounce off of trendline support for the fourth time since last fall looks like a buying opportunity.
Risk management is crucial here, not least of all because of the recent return to volatility in the market. In the context of the buy signal we're seeing in JPMorgan Monday, it makes sense to park a protective stop underneath this stock's lows last week -- if that line in the sand gets crossed, then JPMorgan's uptrend is broken and you don't want to own it anymore.
United Technologies Corp.
We're seeing a very similar price setup in shares of $101 billion industrial United Technologies Corp. . Just like JPMorgan, United Technologies is currently staging a bounce off of its uptrend from last September's lows. From here, it makes sense to buy the bounce as United Technologies kicks off another rally leg up to trendline resistance.
Waiting for that bounce is important for two key reasons: It's the spot where shares have the most room to move up before they hit resistance, and it's the spot where the risk is the least (because shares have the least room to move lower before the channel breaks, invalidating the upside trade). Remember, all trend lines do eventually break, but by actually waiting for the bounce to happen first, you're ensuring United Technologies can actually still catch a bid along that line before you put your money on shares.
Microsoft Corp.
Finally, Monday's rebound looks like a buying opportunity in shares of tech giant and Action Alerts Plus holding Microsoft Corp. (MSFT) - Get Report .
Microsoft has managed to hold onto its parabolic uptrend in spite of the recent rally, signaling that buyers remain very much in control of shares here. That's being confirmed by relative strength, the side-indicator down at the bottom of Microsoft's price chart. Relative strength has been in an uptrend of its own since early last year, indicating that Microsoft is systematically outperforming the rest of the broad market here, even as stocks corrected hard.
As long as that relative strength line continues to point up and to the right, Microsoft is a stock you should want to own. Meanwhile, today's support bounce looks like a good time to pull the trigger on the Microsoft trade.
This article is commentary by an independent contributor. At the time of publication, the author held no positions in the stocks mentioned.