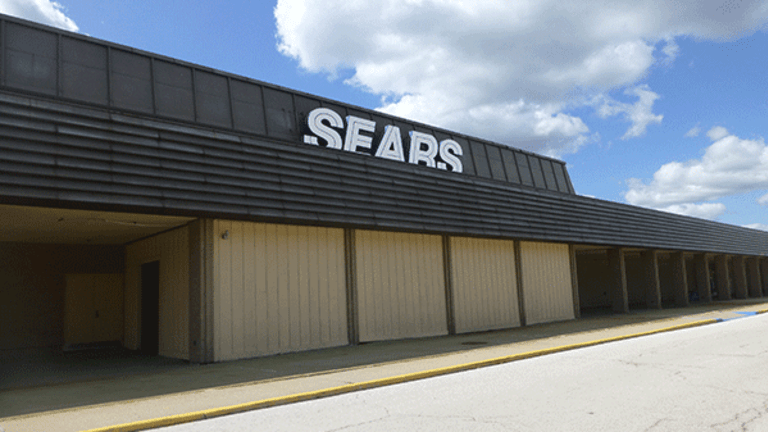 3 Big Retailers that Will Face Major Headaches in 2017
Here come the problems for a select group of retailers.
It's unlikely to get any easier for retailers next year. 
A consumer shift toward spending on services like Netflix (NFLX) - Get Free Report and experiences such as cruise vacations, increased interest in shopping online, and the waning popularity of a trip to the local mall all continue to present formidable headwinds for numerous major retail chains. These factors drove another year of upheaval in retail, headlined by the liquidation of once popular sporting goods retailer The Sports Authority. Those that didn't go out of business, ala The Sports Authority, have had to shutter stores in droves in order to stay competitive with online competitors, with Walmart (WMT) - Get Free Report , Sears Holdings Corp. (SHLD) , Macy's (M) - Get Free Report and Polo Ralph Lauren (RL) - Get Free Report being the most prominent.
And for retailers struggling with their concept and battling excessive debt loads, 2017 is not going to bring any relief.  
The U.S. retail default rate is expected to climb to roughly 9% from the current 1% level, according to a report from Fitch Ratings. Meanwhile, Fitch Ratings also estimates that seven major retailers out of 30 analyzed have a high risk of going bankrupt within the next two years. 
TheStreet takes a look at three of the biggest retail basket cases.
It could all be over for Sears and Kmart in 2017
Sears Holdings Corp.  
Fitch Ratings remains deeply concerned about the path forward for dying retail icon Sears Holdings.
"No, nothing has changed relative to [our thinking] a few months ago," Monica Aggarwal, managing director of Fitch's retail team told TheStreet after another disastrous quarter shared this month for the owner of Sears and Kmart. In September, Fitch said Sears had "significant default risk" within the next 12 to 24 months, triggered by years of weak store traffic and high levels of debt. Fitch defined default risk at the time as "most likely a bankruptcy, or a Chapter 11 filing."
Aggarwal's team estimates Sears will burn through an eye-popping $1.6 billion to $1.8 billion in cash this year. The result would make it eight straight years of cash burn for Sears, according to Bloomberg data.
At issue for Sears is how it will repay some $2.8 billion in high yield bonds and institutional term loans coming due in the next few years.
As it stands, Sears' cash coffers and lifelines to more greenbacks are shrinking rapidly. Sears' total liquid availability—which consists of cash and liquidity available under a credit facility—stood at a minuscule $432 million at the end of the third quarter. A year ago, total liquid availability was $1.3 billion. "Things are getting worse, but we expected them to get worse," said Aggarwal.
In July 2017, or about eight months from now, Sears will have a $500 million term loan secured by 21 properties come due. It's already borrowed all but $11 million of that sum.
The stunning decline in readily available liquidity for Sears could be boiled down to two things.
First, Sears' cash and equivalents fell to $258 million in the third quarter, down from $294 million a year ago as a result of another three months of stunning losses. Secondly, Sears only had available only $174 million of its $1.971 billion credit facility. Last year at this time, its available credit was $963 million.
Sears continues to seek ways to boost its liquidity through expense cuts, real estate sales, additional debt financing and efforts to sell brands Kenmore, Craftsman, Diehard and Sears Home Services. The precarious position is nothing new for Sears and CEO Eddie Lampert, who has proven crafty when it comes to raising money to delay the inevitable at the crippled retailer. But based on Sears' third-quarter results, it's hard to argue the position today isn't the most dire under Lampert's ownership.
Aggarwal points out that even if Sears manages to raise money, it may have to go toward servicing its under-funded pension plan (about $1.5 billion) rather than to shore up liquidity levels.
Fitch isn't alone in their bearish outlook on Sears. Also in September, Moody's slashed its speculative-grade liquidity rating on Sears one notch to SGL-3 from SGL-2. The new rating reflects the likelihood that Sears will continue to need outside financing to stay in business, and that it may require covenant relief to maintain orderly access to funding lines.
The company delivered a staggering third-quarter adjusted loss of $3.11 a share as it felt intense competitive pressures in businesses such as appliances and apparel from Home Depot (HD) - Get Free Report , Lowe's (LOW) - Get Free Report , J.C. Penney (JCP) - Get Free Report , Best Buy (BBY) - Get Free Report and Walmart. A year ago, the company delivered a loss of $2.86 a share. Net sales in Sears' fiscal third-quarter plunged 13.8% to $5.0 billion.
Same-store sales at discounter Kmart fell 4.4%, representing the eighth straight quarterly decline. Sales were pressed in some of Kmart's most important categories, such as pharmacy, groceries and consumer electronics.
The end looks near for Claire's Stores
Claire's Stores
The end for mall-based girl's fashion and accessories retailer Claire's Stores may be nearer than for Sears, which at least owns some attractive assets that could be sold to raise money. Claire's, which was bought by private equity firm Apollo Group in 2007 for a stunning $3.1 billion, sells products nobody needs inside of malls seeing weak traffic trends.
Oh, and it's in horrendous financial shape.  
The company has racked up three straight years of losses, and another $33 million so far this year, due to its business of selling cheap fashion accessories feeling heat from online competitors and fast-fashion houses such as H&M. As a result, Claire's total liquidity stood at a worrying $40 million at the end of the third quarter according to Bloomberg data, which is bad news as $76 million in debt is coming due in 2017. Given Claire's precarious financial position, it may not be able to refinance that debt.
In September, Claire's did manage to relieve itself of $396 million in debt—and $24 million in interest expense—through a debt swap with owner Apollo Group. Despite the deal, Claire's continues to have an exorbitant $2.14 billion in debt outstanding.
S&P says the company's capital structure is still unsustainable in light of the debt swap and that residual indebtedness may result in a liquidity crunch very soon. Claire's is listed by Fitch Ratings as one of the retailers most at risk of a default within the next 12 to 24 months.
Claire's finally going under would be a headline grabber as it operates over 2,800 stand-alone retail stores and hundreds of concession shops inside retailers like Toys R' Us.    
J. Crew CEO Mickey Drexler doesn't have much to smile about right now
J. Crew Group
Although not in the same dire straits that Sears and Claire's Stores find themselves navigating, the once cool J. Crew desperately needs to stage a comeback in 2017 in order to be in a position to repay looming debt maturities. 
Years of removing once iconic product quality from garments and fashion miscues under CEO Mickey Drexler and private equity backers TPG Capital and Leonard Green (acquired for $3 billion in 2011), have taken their toll on J. Crew. Same-store sales have fallen an astounding 10 out of the last 11 quarters. The company has lost money in four consecutive quarters. Cash and equivalents have gone from a peak of $381 million in fiscal year 2011 to a mere $38 million at the end of this year's third quarter.
Drexler has now pivoted back to trying to make J. Crew once again known for its high-quality basic apparel instead of super trendy threads with suspect quality and bloated prices. The former long-time Gap (GPS) - Get Free Report CEO also inked a deal to sell J. Crew clothes at shops inside high-end department store Nordstrom (JWN) - Get Free Report , while also laying plans to expand the better-performing 110 store Madewell chain. 
The collection of initiatives have to begin gaining traction. J. Crew has about $2 billion of debt on its books, with some of it starting to come due in 2018.