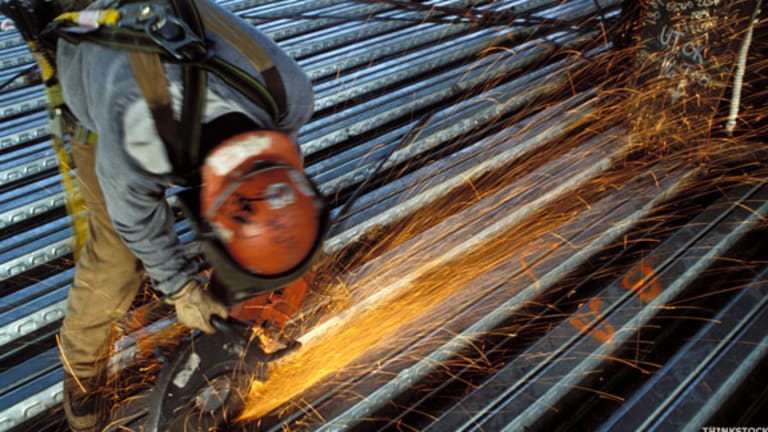 3 Best & Worst: Heavy Industry Stocks
TheStreet.com Ratings studies the heavy-industry sector to discern the three best -- and three worst -- stocks in the sector.
TheStreet.com Ratings provides exclusive stock, ETF and mutual fund ratings and commentary based on award-winning, proprietary tools. Its "safety first" approach to investing aims to reduce risk while seeking total return performance. We asked the team to study the heavy-industry sector to discern the three best -- and three worst -- stocks in the sector. Their analysis follows.
THREE BEST
Joy Global
( JOYG) -- Joy makes mining equipment, which has proved quite profitable based on the company's ROE of 50.25% and profit margin of 12.2%. Joy has jumped nearly 66% over the past 52 weeks and pays a nice dividend, currently yielding 1.4%. A strong cash balance, fueled by steady cash flows, is also a plus. Joy even looks cheap despite its run, with a P/E of 12.3 versus an industry average of 31.
Oshkosh Corporation
(OSK) - Get Free Report
-- On the surface, Oshkosh may look like a real stinker, but its flaws are mainly behind it. The stock has rocketed up 335% over the past 52 weeks and is still trading at a discount forward P/E of 12.23. Its ROE looks pathetic at a -172%, but the losses that fueled that ugly number were one-time non-recurring charges based on impairments to goodwill and long-lived assets. Looking ahead, analysts are predicting strong sales growth that has lead to an attractive PEG ratio of just .71. After beating earnings earlier this week this one looks to be on the right track.
Bucyrus International
( BUCY) -- Shares of Bucyrus jumped 67% over the past year as the performance has been solid. An ROE of 27% and a profit margin of 11% form the backbone of the case for the company. While growth has been modest, it still looks like a bargain based on a forward P/E ratio of 15. The company has a sensible amount of debt and has a cash hoard just north of $100 million serving as a nice safety blanket should tough times spring up or an attractive investment comes its way.
THREE WORST
PACCAR
(PCAR) - Get Free Report
-- PACCAR has had decent stock performance over the past year, gaining more than 20% as the S&P 500 added only 4%. But its valuations are now completely out of whack. Its razor-thin profit margin and ROE of 2% and 3.5%, respectively, are not even close to being strong enough to support its current price. With a forward P/E ratio of almost 40 and an astronomical PEG ratio of 14, this stock looks destined for a big decline. The short community seems to agree. With 7.8% of the float sold short making for a ratio of 9.4, it seems that many are betting against this one.
H&E Equipment Services
(HEES) - Get Free Report
-- H&E is another stock that has found itself saddled with an insane valuation. A PEG ratio of 45 and a forward P/E ratio of 57 is almost comical. The company's deteriorating top line is something investors should stay away from at all costs. While some may see great potential in the equipment seller going forward, this is not the right price to jump in at.
Commercial Vehicle Group
(CVGI) - Get Free Report
-- If you made a boatload with this stock during its massive 272% run over the past year, count your blessing ... and then get off the roller coaster. It is possible to point to non-recurring charges as the source of the trouble, but the top line's weakness is also unsettling. Analysts are predicting that the loses will continue for some time at CVG. Avoid the headache and volatility and the rapidly deteriorating capital position and look for safer ground.
-- Written by David MacDougall in Boston
Prior to joining TheStreet.com Ratings, David MacDougall was an analyst at Cambridge Associates, an investment consulting firm, where he worked with private equity and venture capital funds. He graduated cum laude from Northeastern University with a bachelor's degree in finance and is a Level III CFA candidate.