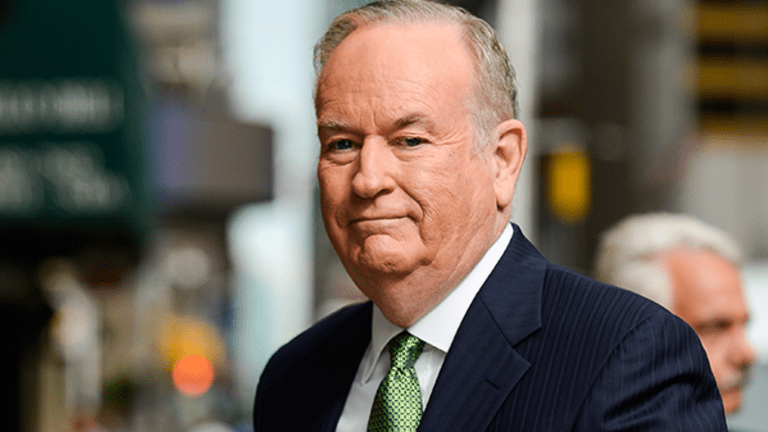 At Least 33 Companies Have Pulled Ads From 'The O'Reilly Factor' in Wake of Sexual Harassment Claims
The list of major advertisers that have either removed their ads completely or shifted them away from Fox's popular primetime program, 'The O'Reilly Factor,' continues to grow.
Updated from 12:03 p.m. with additional information.
The list of companies who have pulled advertising from Fox News' most popular show, "The O'Reilly Factor," keeps growing longer and longer. 
As of Wednesday afternoon, at least 33 companies have said they are either suspending ads from 21st Century Fox's (FOXA) - Get Report  conservative-leaning news network entirely, or shifted advertising to other Fox News programming. The moves come amid a controversy involving one of the network's most visible stars, Bill O'Reilly. A New York Times report published on Saturday revealed that he and Fox News had paid millions of dollars to settle allegations of sexual harassment and other inappropriate conduct. In addition to the complaints detailed in the Times' story, two other separate cases of sexual and racial misconduct against Fox have also come to light.
Even President Donald Trump weighed in on the controversy in an interview with the Times, saying that he didn't think O'Reilly "did anything wrong" and that the host shouldn't have settled the harassment lawsuits. 
Major brand advertisers including Mercedes-Benz, BMW, Hyundai (HYMLF) , GlaxoSmithKline (GSK) - Get Report, AllState (ALL) - Get Report, Wayfair (W) - Get Report , Rollins' (ROL) - Get Report Orkin, TrueCar (TRUE) - Get Report and T. Rowe Price (TROW) - Get Report all said earlier this week that they had put "The O'Reilly Factor" on their 'Do Not Buy' list in the wake the of the allegations. Subaru, LegalZoom, Stanley Steemer, Coldwell Banker, H&R Block, Ancestry.com, among several others, followed suit on Wednesday. And trade organization Society for Human Resource Management said in a tweet on Tuesday night that it had pulled advertising from the network entirely. 
In a statement via email, Mercedes spokesperson Donna Boland said that "we had advertising running on 'The O'Reilly Factor' (we run on most major cable news shows) and on Monday morning we reassigned it to other Fox News programming in the midst of this controversy." Boland also said that "while it's hard to tell what the facts are, the allegations are disturbing." 
Paul Rittenberg, Fox News' executive vice president of advertising sales, said in a statement late Tuesday that many of the companies that expressed concerns about the "O'Reilly Factor" had had their advertisements "re-expressed" into other Fox News Channel programming. A number of high-profile companies continued to run advertisements during the show's Tuesday night segment, including Coldwell Banker, AT&T (T) - Get Report , Home Depot (HD) - Get Report , Microsoft (MSFT) - Get Report and Esurance, among others. 
However, Coldwell Banker said that its ad on last night's show was not intentional. "We were disappointed that our ad ran on O'Reilly as it wasn't part of our intentional media programming," Coldwell Banker said in a statement. "We pulled future ads from the show."
H&R Block (HRB) - Get Report, whose advertising also appeared on "The O'Reilly Factor" last night, similarly said the company's media buys are arranged as a package with the network, not the individual programs, but that it has now decided to remove its advertising from the show.
Bill O'Reilly didn't address the allegations on-air last night, but he did issue a statement on Saturday denying that any claims had been filed against him during his 20 years at Fox. 
A Hyundai spokesperson said the carmaker had scheduled upcoming spots to run on "The O'Reilly Factor," but are reallocating them due to the "recent and disturbing allegations."
"As a company we seek to partner with companies and programming that share our values of inclusion and diversity," the spokesperson said in a statement. "We will continue to monitor and evaluate the situation as we plan future advertising decisions."
Men's clothing company Untuckit, which is one of the show's biggest advertisers, said in light of the fact that "more than two-thirds" of the company's employees are women, it takes sexual harassment claims "very seriously." An Untuckit spokesperson said the company had instructed its media buyer on Wednesday morning to reallocate its ad dollars to other Fox Network shows effective immediately. 
Bill O'Reilly is Fox's top revenue producer, drawing nearly four million viewers a night and generating about $446 million in ad sales from 2014 through 2016, according to the Times.