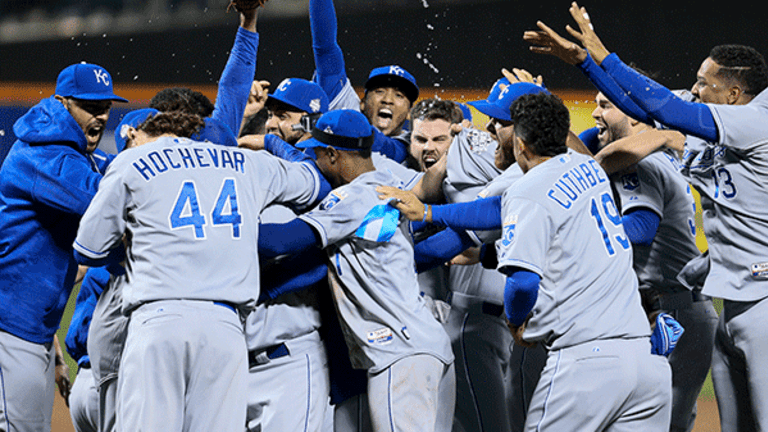 Publish date:
25 Most Expensive World Series Tickets of the Past Five Years
It takes a special and almost historic matchup for fans to pay the highest prices for a World Series ticket.
It takes a special and almost historic matchup for fans to pay the highest prices for a World Series ticket.
Editors' pick: Originally published Oct. 21.
It takes a rare historic matchup for viewers and ticket buyers alike to care about a World Series game.
Last year's World Series -- the first won by the Kansas City Royals since 1985 -- managed to draw just 14.7 million viewers to Fox, on average. That's up from the average 13.8 million who watched the Royals lose to the San Francisco Giants in 2014 and far better than the average 12.7 million who tuned in to television's least-watched World Series of all time in 2012.
That average falls beneath the 20.7 million viewers that the National Football League averaged for its regular season games in 2015 and was nearly 10 million viewers shy of the 24.5 million who tuned in to watch a random Carolina Panthers' win over the Philadelphia Eagles last October. That's not just some unfair comparison to football, either. This year's NBA Finals on ABC averaged 20.3 million viewers through seven games, while last year's averaged 19.94 million through six games. The World Series hasn't drawn a crowd that large since the Boston Red Sox and St. Louis Cardinals drew more than 25 million per game in 2004, as the Sox won their first World Series in more than 80 years.
To give you some idea of how far baseball has fallen, the Women's World Cup Final on Fox last year drew about 23 million viewers.The World Series only hit that number twice in 20 years -- for Game 7 in 2014 and in 2011. The 2014 World Cup final between Germany and Argentina drew more than 29 million viewers for ABC. The World Series hasn't drawn an audience that large since 2002 and hasn't averaged and audience that big since 1992.
Yet the World Series is a live sporting event, and networks will pay through the nose just for the chance to air it. In 2012, ESPN agreed to pay the MLB $700 million a year for eight years for both broadcast and digital rights to game broadcasts and for the right to broadcast one wild card game each year. Fox, meanwhile, is in year three of an eight-year deal that pays Major League Baseball $500 million per year for rights to regular season games, playoff games, the World Series and the All-Star Game. That "Fox" umbrella covers Fox Sports 1 and Fox Sports 2 as well. Baseball gave the rest of its national broadcasts to Turner in 2014 and will charge it $300 million each season for the next six years in exchange for playoff games.
That's a lot of cash to pay for an audience that's aging out of the sport. Three years ago, Nielsen put the average age of a World Series viewer at 54.4 and noted that audience age was trending upward. Two years ago, Nielsen found that 76% of Major League Baseball viewers are 35 or older -- with 50% of the total audience older than 55. While just about every youth sport is struggling, the loss of city ballfields and urban baseball programs has made baseball tough to access. In fact, youth baseball's participation numbers (5.6 million kids in 2012) have drifted below youth soccer (6.6 million) and basketball (6.95 million).
During the Internet era, even World Series tickets have seen their value dive. The folks at eBay-owned ticket resale site StubHub note that the highest average ticket price they've seen since 2001 was $1,825 for Game 1 between the Boston Red Sox and St. Louis Cardinals in 2004. Even a StubHub spokesperson notes that's likely inflated, as " StubHub was a very young company with not nearly as much inventory or sales" at the time.
Judging by more recent data, they haven't been nearly that high since. According to ticket resale site SeatGeek, last year's World Series fetched the highest average price of the last five years... and still managed an average of roughly $886 per ticket. In fact, the most expensive World Series game of the last half decade still fells $600 per ticket short of Game 1 in 2004. With help from SeatGeek, here are the 25 most-expensive World Series games of the last five years: