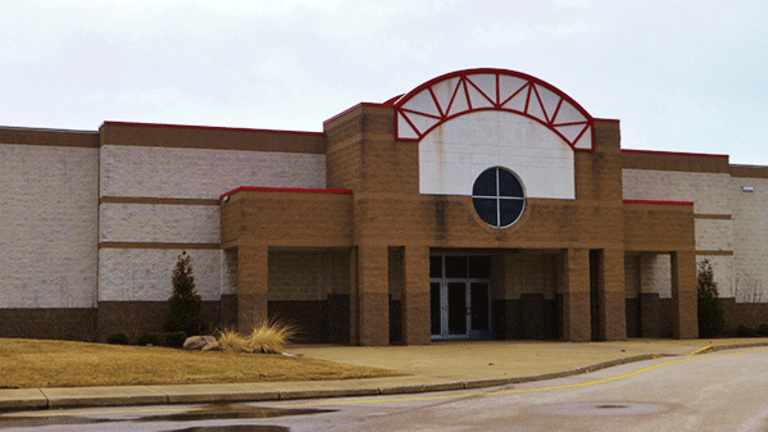 26 Huge Retailers Besides Gap Are Closing Waves of Stores
Retailers are really struggling.
Retailers are really struggling.
The Great Restructuring in retail continues.
Gap (GPS) - Get Report said Wednesday it will close 200 Gap and Banana Republic stores by 2020. It will also open 270 Old Navy stores.
Here are several other retailers continuing to rightsize their store fleet amid the shift to digital shopping and other external pressures.
Struggling Sears just said it will close even more stores.
The company was already closing 150 underperforming Sears and Kmart stores to preserve cash. But, Sears recently announced the closure of an additional eight unprofitable Sears and 35 Kmart stores.
But given how rough a shape Sears is in, the latest decision is hardly a shock.
Macy's closed 68 stores (as part of a plan to slash 100 more) in the spring in an effort to save money amid weak store traffic.
Macy's (M) - Get Report reported weak first-quarter results, and hinted it may close more stores than it has outlined.
Foot Locker plans to close 100 stores in 2017.
Foot Locker (FL) - Get Report pre-announced a mixed first quarter due to delayed tax refunds. Its struggles continued into the second quarter. 
Kohl's closed 16 stores in 2016.
Kohl's (KSS) - Get Reportsaid earlier this year that it would operate 500 of its roughly 1,150 stores with much lower square footage and try to lease out the leftover space to other retailers.
CVS Health is in the process of closing 70 stores due to uncertainty around the Affordable Care Act.
Meanwhile, CVS Health's (CVS) - Get Report profits are also under pressure.
Office Depot closed 123 stores in 2016 and expects to shutter 75 more in 2017.
Can't blame office supplies retailer Office Depot (ODP) - Get Report for closing stores, it's really struggling.
Abercrombie & Fitch closed 54 stores in 2016, mostly in the U.S.
Amid continued sales declines, teen apparel retailer Abercrombie & Fitch (ANF) - Get Reportsaid that it will close 60 stores in 2017, mostly in the United States. 
BCBG has gone bust, and will close stores as a result.
The company filed for bankruptcy earlier this year. 
HHGregg has died.
The end has arrived for HHGregg (HGG) .
The struggling electronics and appliance retailer began liquidating its assets recently after failing to find a buyer following a Chapter 11 bankruptcy filing in early March. The company closed all of its 220 stores in May, resulting in roughly 5,000 layoffs across the U.S.
Pier 1 Imports wants to save money, so is closing a ton of stores.
Pier 1 Imports (PIR) - Get Report said that it will close 100 stores through 2019 in order to cut costs. The home goods retailer closed 16 stores last year, and plans to shutter 17 this year.
Staples will continue to be a store-closing machine.
Staples (SPLS) closed 48 stores in North America last year. Following another rough year, the office supplies giant will shutter 70 stores in North America this year.
Even Tiffany & Co. isn't immune from retail's struggles.
After another challenging year of sales that caused it to close five stores, Tiffany & Co. (TIF) - Get Report plans to keep pruning its store base in 2017. The high-end jeweler will close six stores this year.
The company operates 313 stores around the world.
Bebe will vanish.
Amid years of plunging sales and pressured profits, women's apparel retailer Bebe (BEBE) has thrown in the towel. The company said on April 21 that it will close all 175 of its stores.
Wave goodbye to your local Payless, possibly.
Struggling discount shoe retailer Payless filed for Chapter 11 bankruptcy protection recently. As part of the filing, Payless closed about 400 stores as it tries to improve its balance sheet and restructure its debt burden. The company said it may close another 408 stores.
Payless is owned by private equity firms Golden Gate Capital and Blum Capital Partners. The group took over the Payless chain in 2012 as part of the dismantling of Collective Brands.
Gander Mountain has gone bust.
Gander Mountain, one of the largest outdoor retailers in the U.S., filed for bankruptcy protection under Chapter 11 in April, listing $500 million to $1 billion in assets and liabilities.
The company, which touts itself as being "America's Firearms Supercenter," blamed its filing on slowing foot traffic. The company will shutter 32 stores.
GameStop is under siege.
After a tough fourth quarter that saw same-store sales crash 16.3% due mostly to tepid mall traffic and people downloading digital games, GameStop (GME) - Get Report will cut a ton of stores this year. The video-game retailer expects to close as many as 225 stores from around the globe in 2017.
A GameStop spokesman said the store closures are part of a multiyear strategy the company announced in 2011, where it said it would right-size its global store presence by closing from 2% to 3% of its global store base each year.
The company does, however, anticipate opening about 35 new collectibles stores globally, and another 65 new tech-focused stores.
It operated 7,400 stores globally at the end of 2016.
Bob's Stores is vanishing.
As part of its bankruptcy filing, Eastern Outfitters plans to close 48 Bob's Stores.
Rue21 is crippled by debt.
Struggling private equity-backed youth clothing retailer Rue21 is shuttering nearly 400 stores, which will leave it more than 700 stores in 48 states. On May 15, the company filed for Chapter 11.
Gordmans says goodbye.
As part of its recent bankruptcy, the off-price retailer will close 48 stores.
.
Subway retrenches.
Struggling fast-food chain Subway closed 359 locations in 2016, marking its first net reduction in the number of its restaurants. The company's total restaurant count fell 1.3%, to 26,744.
Michael Kors isn't looking sexy.
With its handbags no longer super popular, Michael Kors (KORS) is trying to clean up its distribution. The company will close 100 to 125 wholesale locations -- mostly spots inside of department stores -- over the next year.
Lululemon is focusing on its core brand.
The yoga apparel maker said it will close 40 of its 55 Ivivva children's stores this year. Nearly half of the sites will be converted to Lululemon (LULU) - Get Report stores.
Gymboree is on the brink of ruin.
The struggling children's apparel retailer recently filed for Chapter 11 bankruptcy protection. It has confirmed it will close 350 stores.
Bed Bath & Beyond is putting some stores to sleep.
Bed Bath & Beyond's (BBBY) - Get Report CEO Steven Temares said the retailer is considering closing 80 to 100 stores after seeing its profits sink 33% in its recent first quarter. Speaking to analysts, Temares acknowledged that the company has come under fire for not trimming its 1,548-store fleet like other retailers have.
True Religion hits the skids.
The denim-focused retailer said on July 5 that it filed Chapter 11 bankruptcy. It is unclear how many stores will be closed as part of the reorganization. The company closed 18 stores in 2016.
J.C. Penney is fading away.
In the wake of a disappointing holiday season, J.C. Penney (JCP) - Get Report  closed about 138 stores stores by the end of the summer. The store closures represented 13% to 14% of the company's current store base and less than 5% of annual sales. They have a negligible impact on net income. J.C. Penney said same-store sales at the locations were "significantly below" the remaining store base and operate at a much higher expense rate due to poor productivity.
The company expects $200 million in annual costs savings from the efforts.