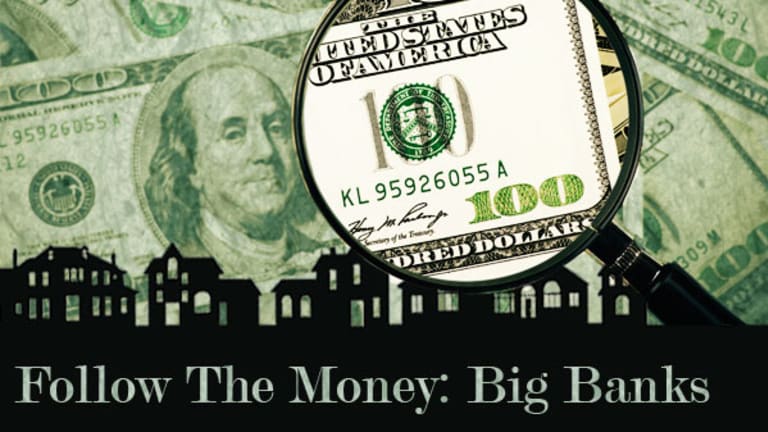 $25 Billion Deal and JPMorgan Stumble to Aid of Bronx Homeowner
The mortgage settlement with JPMorgan and four other banks included very little cash and led one Bronx woman down a circuitous, two-year path before her loan could be modified.
This is the first in a series examining some $65 billion of penalties paid by the banks over bad mortgages.
Updated from July 28 to include a report of Bank of America's ongoing talks to settle a mortgage case with the U.S. Justice Department in the seventh paragraph.
NEW YORK (TheStreet) -- It's a safe bet that without the 2012 $25 billion National Mortgage Settlement, Yvonne Mitchell, a 51-year-old nightshift nurse, would have lost the Bronx home where she has lived for 20 years.
A sliver of funds from the settlement went to pay for the legal assistance that she received from the Bronx division of Legal Services NYC, the agency which provides free legal assistance to Bronx residents. The legal help would be critical to Mitchell keeping her home. 
"They were able to help me get a modification, because quite frankly, I don't think I'd have been able to do it on my own," Mitchell said.
Before Mitchell was able to modify the $320,000 loan she obtained in 2006, JPMorgan Chase (JPM) - Get JPMorgan Chase & Co. Report, the bank responsible for collecting Mitchell's mortgage payments, took her on an odyssey of rotating attorneys and bank representatives, offers made and rescinded, conflicting instructions and repeated requests for a roughly $30,000 payment that she had already made. At least one of those requests was a letter from a bank employee who knew she'd made the payment and said the letter had been generated automatically, without his knowledge.
JPMorgan, Bank of America  (BAC) - Get Bank of America Corp Report, Wells Fargo (WFC) - Get Wells Fargo & Company Report, Citigroup (C) - Get Citigroup Inc. Report and Ally Financial  (ALLY) - Get Ally Financial Inc Report, the former GMAC, collectively paid $25 billion to resolve charges related to the 2008 housing crisis that was originally brought by the federal government and attorneys general in 49 states.
The so-called National Mortgage Settlement is the largest between governmental authorities and the banks so far, but just one of the many among the $65 billion in mortgage-related settlements to have been consummated since the crisis threw the world's economy into the deepest recession since the Great Depression. More deals worth tens of billions are expected. Indeed, over the weekend, The Wall Street Journal and Bloomberg reported Goldman Sachs (GS) - Get Goldman Sachs Group, Inc. Report is in talks to settle a lawsuit by the Federal Housing Finance Agency for between $800 and $1.25 billion.
Most recently, on Thursday, July 31, The New York Times reported Bank of America had raised its offer to $14 billion from $13 billion, while adding a larger cash component, but is still shy of the $17 billion, with $10 billion in cash, being demanded by the Justice Department.

While the settlements are meant to punish the banks for a host of abuses including falsifying mortgage and foreclosure documents and misleading homeowners, the money doesn't always make its way to individuals, nor even to housing-related uses. Some of it has gone to plug holes in state budgets and several billion has gone straight into the general U.S. Treasury.
Moreover, the cash component of the settlements is surprisingly small. Out of the $25 billion in the 2012 settlement, just $5 billion was in cash and that included $2.75 billion that went to directly to states, $750 million to the federal government and $1.5 billion in direct compensation to borrowers who lost their homes through foreclosure.
The vast majority of the $25 billion -- about $20 billion -- was paid by the banks in the form of credits they earned for modifying mortgages or destroying or giving away blighted property, measures that ultimately were in their own interest. 
"It's a $25 billion settlement in the headline, but not a lot of cash was exchanged," said Kirsten Keefe, senior staff attorney with Empire Justice Center, which helped New York state decide how to allocate its $130 million in funds. 
Mitchell's case, however, shows that even a small amount of money can make a big difference for people still struggling to retain their homes six years after the implosion of the U.S. housing market. About 34,000 homeowners received default notices in June, down from a peak of 142,000 in April 2009, according to RealtyTrac.com.
Unlike many other states that dumped the money into general budget funds, New York Attorney General Eric Schneiderman allocated his state's funds for housing-related relief, with $33 million going to land-banks, which address the problem of "zombie homes" -- homes that have been abandoned by homeowners facing foreclosure but aren't being claimed by banks. Another $7 million went to extend state programs for troubled homeowners that had run out of money, and $20 million went to low cost loans to help homeowners avoid foreclosure, a program Schneiderman announced on June 26. 
Not a Lot of Cash
The largest portion of New York's cash -- $70 million -- went to a program called the Homeowner Protection Program. HOPP, as it is known, distributed grants to 92 organizations around New York that help with housing issues, including $710,000 to the Bronx division of Legal Services NYC that helped Mitchell with her case.
New York state had provided funding for housing-related legal counseling for several years, but those funds were quickly depleted, according to Justin Haines, director of foreclosure prevention at Legal Services NYC-Bronx. Haines said the HOPP monies "came at a critical time where homeowners still needed assistance and the programs would have gone away."
Both a $13 billion settlement with JPMorgan in November and a $7 billion deal with Citigroup announced earlier this month included large cash payments to the U.S. Treasury but also a total of $6.5 billion in credits for mortgage modifications. Future multi-billion-dollar deals with Wells Fargo, Bank of America and Goldman Sachs, among others, are likely to follow a similar structure. Banks get credit according to a scoring system that gives them anywhere from 100 cents on the dollar to 5 cents depending on the nature of the modification they provide. Reducing principal on a first lien mortgage by $50,000 would give the bank a $50,000 credit, as long as the mortgage meets certain criteria. 
Yvonne Mitchell Seeks a Modification
Mitchell got her 2006 loan from Washington Mutual. JPMorgan Chase took over responsibility for collecting the debt when it bought WaMu following its seizure by federal regulators in Sept. 2008.
Chase gave Mitchell a modification in 2010, stretching out the life of the loan and adding $19,000 to the amount she owed, but changing her loan from a floating rate to a fixed 6.125% rate, according to documents reviewed by TheStreet.

Following that modification, Mitchell's monthly payments were $2,616, but she said she fell behind in 2012 when her ex-husband stopped paying child support. She went into a Chase branch seeking a modification, provided all the relevant information and after six months was told to appear in foreclosure court.
"I had some money, but I didn't have all of the money," she explained in a lilting Jamaica-infused British accent she retains despite moving to New York from England 24 years ago. (Mitchell's mother is Jamaican and she occasionally spends time on the island.)
It was at the court where she met attorneys from Legal Services NYC.
"I have heard in the background 'legal services,' but thinking that because I'm working, I'm not a low-income person, that I wouldn't have qualified so I didn't say anything," Mitchell said.
Mitchell first applied for a modification through Legal Services NYC in July 2012.
"By January 2013, we had responded to multiple requests for updated or missing documents," explained LSNYC attorney Haines.
Still, Chase denied Mitchell's request. She appeared in court at a settlement conference in February 2013 to find out why. But the only person representing Chase was an outside contractor hired on a per diem basis who didn't have enough information to tell her the reason for the denial, said Haines.
"I work at night. I'm a night nurse. So I'd have to go backwards and forwards, and every time I'd go to the court Chase would have another lawyer and that lawyer didn't know what the first lawyer was talking about," Mitchell said.
Haines said Chase then began requesting new "trial" payments from Mitchell, as well as the $30,000 down payment, without ever being clear that they would result in a modification, or under what terms.
Mitchell finally received and signed a loan modification offer from Chase in August, 2013. While this would end up being the modification agreed upon by both Mitchell and Chase, more than nine months would pass before the bank chose to countersign it. In the interim, Haines said, Chase made a verbal offer that was better than the August offer. The bank then followed with three successive written offers -- all worse than the August offer, and each one worse than the one that preceded it.
It was only after Mitchell's attorneys threatened to make a formal motion accusing Chase of negotiating in bad faith and filed a complaint with the New York Department of Financial Services that Chase began to soften its position on the Bronx home, Haines said. In February, 2014, an attorney from the bank admitted there had been mistakes with Mitchell's file, and Chase began to assign the same person to the case.
Even so, it would take another three months before Chase signed off on its August 2013 offer and agreed to waive late fees on payments it had initially asked Mitchell not to make, Haines said.
JPMorgan Chase spokeswoman Amy Bonitatibus declined to comment on the details of Mitchell's case, though she confirmed the bank gave Mitchell a modification in 2010 and again this year.
'Throwing Money at the Problem'
It's arguably odd that a bank would receive credits for modifying mortgages, since most would agree that modifications are often in their economic interest. Empire Justice Center's Keefe said she has often heard bank executives talk about how they'd prefer to modify a loan rather than foreclose on it. While serving on the Federal Reserve's Consumer Advisory Council in 2009, Keefe recalls top bank executives "eloquently go on about how we don't want to foreclose and -- you know: It's bad business," she said.
That's because lenders can often recoup more of their money from the original homeowner, even if they forgive a part of the principal, than they would by foreclosing on the property and selling it at auction. People with a strong emotional attachment to a home will pay to stay there.
The situation isn't always so straightforward, however, said Andrew Jakabovics, Senior Director, Policy Development and Research at Enterprise Community Partners, thanks to the slicing and dicing of mortgage loans that, in the end, helped create the financial crisis.
Banks often don't own the loans but merely collect the debts on behalf of holders of mortgage-backed securities, which are bonds consisting of numerous individual home loans which are then widely distributed to investors. Sometimes different investors own different parts of the same loan, or different loans on the same property, creating conflicts.
"These things have been sliced and diced so many different ways that it's hard to discern when you're acting as the fiduciary, who you're representing and how you're representing them," Jakabovics said. While he believes these problems can be overcome, giving banks added incentives to work out these types of issues makes a difference. That's why the settlements afforded the banks have included credits for loan modifications.
"Throwing money at the problem helps overcome it much more consistently," said Jakabovics.
The difference between theory and practice in Mitchell's case can be seen at its worst in an Aug. 12, 2013 letter that appeared to be from a Customer Assistance Specialist at Chase named Andrew Grodence.
The letter indicated the bank hadn't received a $30,000 payment it had required before it would consider modifying Mitchell's loan, even though she had submitted it on May 7, 2013, according to documents provided to TheStreet by Haines.
The letter wasn't signed, but it ended with the words:
Sincerely,

Andrew Grodence

Customer Assistance Specialist

Chase
Mitchell called Grodence, who told her he hadn't sent the letter and that, yes, her payment had been credited.
"I don't send the letters," Grodence told TheStreet in a phone interview. "The letters are generated in our back office and because I was Yvonne's modification advisor, they put my name on it, so there's a whole bunch of communication that goes out to customers that we don't even know that they go out unless a customer calls and said to me, 'Hey, Andrew, I got this in the mail' and then I can go in the system and take a look at it."
Grodence, 64, who began his career working in mortgage sales and has about 30 years of experience in the mortgage industry, was one of 1,200 hires Chase announced in late 2009 following a nationwide surge in homeowner defaults. He was sent to Texas for training and reported for work in the Bronx.
When asked about Mitchell's case, he replied increduously, "She's still in process?" Mitchell, he said, was among the more responsible loan modification applicants he encountered. "Unlike most modification folks, she was actually saving the money that she would normally pay for her mortgage and putting it in a bank account," he said. "Most folks don't do that. They don't have any money in the account."
Grodence and his five colleagues were laid off in January, among 6,000 employee and outside contractor positions Chase plans to eliminate in its mortgage banking unit in 2014. The bank got rid of 11,000 such positions in 2013, according to a presentation it made to investors Feb. 25.
Between himself and five other colleagues, the Chase office in the Bronx had "over 100 years in the mortgage business," Grodence said. "We took our job very, very seriously. We empathized with our clients and we wanted very much to get them that modification and get them out of the situation and the stress that we knew that they were feeling. So we were very good about it and Chase should be complimented for it because I think it was an excellent idea. It worked."
The second floor office where Grodence and his colleagues worked above a Chase branch is now closed, replaced by a law firm that represents people who have been injured in an accident. The only remaining signs of their tenure at the location are a sign that reads "Homeownership Center" and another inviting customers to "come in for one-on-one mortgage assistance."
JPMorgan Chase spokeswoman Bonitatibus wrote in an email that the bank closed its homeownership centers because of declining demand from customers. "We continue to help homeowners through local outreach events and through our customer assistance specialists," she added.
Mortgage Settlement Monitor Joseph Smith
Banks' compliance with the $25 billion National Mortgage Settlement is being overseen by Joseph Smith, a garrulous former North Carolina state bank regulator. He is also overseeing JPMorgan Chase's compliance with the consumer relief portion of its $13 billion November settlement -- the $4 billion in credits the bank must earn by modifying mortgages, reducing blight and so forth. 
Smith and his team have given all the banks that agreed to the 2012 National Mortgage Settlement their full $20 billion worth of credits. They are also in charge of making sure the banks live up to new servicing standards: 29 metrics by which the banks mostly evaluate themselves.
"There have been 10 failures reported by the banks on their own operations and we've had one or two instances where we actually determined contrary to what the banks said that there was a fail when the bank didn't think it did," Smith said during an hour-long phone call.
TheStreet told him Mitchell's story -- noting the 2009 decision to open the office staffed by Grodence and others like him, and the decision to close it this year. 
When the money runs out and the banks have laid off all the Andrew Grodences, what will happen to distressed borrowers?
Smith pointed out that the size of the settlement dwarfs ones in previous eras; its impact is closer to $50 billion than $25 billion since banks in many cases didn't get a full dollar of credit for every dollar they modified; and the Consumer Financial Protection Bureau will carry on the work done by Smith once he is finished.
Still, Smith's initial response to the question was in some ways the most telling.
"Gosh," he said. "You want me to answer that?"
Mitchell Keeps Her Home
Yvonne Mitchell's story turned out well, at least. Chase countersigned her modification May 30, 2014, extending the maturity by 17 years to 2053 and reducing her total monthly payment to about $2,400 from $2,616, according to information provided by Smith and her attorneys.
Her gratitude to her attorneys at Legal Services NYC was what convinced her to tell the story of her financial troubles. She also hopes that speaking publicly about her struggle will help others in similar situations. Many homeowners who run into trouble are too embarrassed to talk about their problems and seek help.
"Some people kill themselves," said Mitchell. "Some people just let the bank do whatever they like because they don't know what to do. But someone has to be able -- I am grateful: you know when you have gratitude in your heart? I feel you have to give back somehow. I can't give them money because I've just about got enough for myself, but I can give them information. And information can breed life."
Disclosure: TheStreet's editorial policy prohibits staff editors, reporters and analysts from holding positions in any individual stocks.