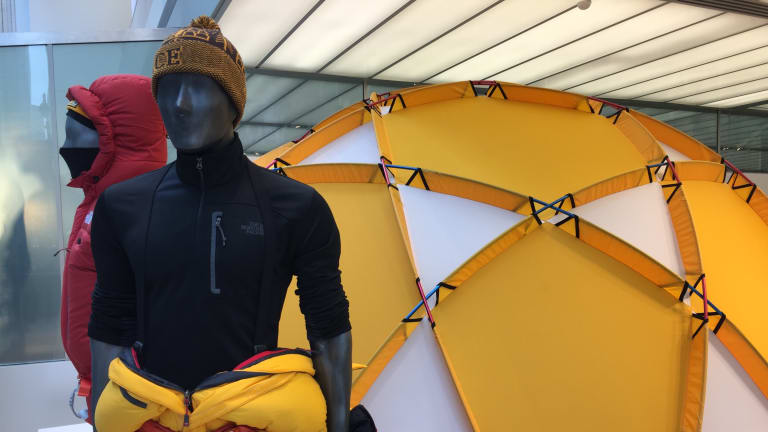 Publish date:
24 Amazing Photos From Inside the World's Largest North Face Store
V.F. Corp. just opened its largest store, a shrine to the North Face brand.
V.F. Corp. just opened its largest store, a shrine to the North Face brand.
Updated from Oct. 15 to include correction on apparel collection launch.
One of V.F. Corp.'s (VFC) - Get V.F. Corporation Report most important brands has just landed on one of retail's most iconic streets.
On Friday, outdoor lifestyle brand The North Face opened its doors to an enormous two-level, 20,000 square foot store on New York City's trendy Fifth Avenue that took about a year to build out. V.F. Corp. execs sure knew how to do right by a brand that is celebrating 50 years since the opening of its first retail store in San Francisco's North Beach neighborhood. Shoppers are greeted at the entrance by a giant yellow 12 person tent, a row of backpacks and a station that does custom clothing embroidery. In the rear of the first floor lays a sizable wall of rugged sneakers and boots, while just a few steps away are trendy jackets and pants that are meant more for cool urban millennials than those climbing treacherous mountains.
The upstairs features an assortment of smaller tents, cushy sleeping bags and other technical gear for those that like to hit the icy ski slopes or rocky trails on the weekend. And yes, there are even more trendier clothes which according to President of The North Face - Americas Todd Spaletto, is by design. "The store is our first true global flagship for The North Face, and offers a glimpse into where we are going," Spaletto said in an interview with TheStreet. The new store gains the distinction of being The North Face's biggest retail store in the world, and will join 68 other North Face stores in North America and 54 internationally. 
Here are the mind-blowing shots from inside the store.
Shoppers are greeted by an enormous yellow-and-white tent. Won't find this inside the iconic Tiffany & Co. (TIF) - Get Tiffany & Co. Report Fifth Avenue location.
The giant tent holds about 12 people. Just an FYI.
A wall of duffel bags hangs from climbing carabiners and runs almost the entire length of the first floor.
But there is also a good bit of trendy jackets, joggers and hats that target what North Face calls the new "urban explorer." A type prone more to bottomless brunch each Sunday morning in New York City.
And there were more trendy vests and jackets. The North Face has come a long way from its lovable black fleece.
All urban explorers need a closet filled with bad-ass dress boots and rugged sneakers. Yes, the company that owns The North Face -- V.F. Corp. -- also owns Timberland. It bought the bootmaker in 2011 for $2 billion. Timberland's stock symbol was TBL.
More sharp-looking boots and trail shoes. And yes, even black slippers. 
Because New Era hats with flat brims remain cool. Extra points for the camo, North Face.
Not sure how the slim tires on this bike would hold up on the pothole-ridden streets of New York City, but it was neat to see the collaboration between a local merchant and megabrand North Face.
Tents that could withstand crazy mountain winds also greet shoppers as they enter the second floor.
More technical gear resides on the second floor. Looking for something cool that could brave a weekend trail run upstate? Then the second floor of The North Face's new store is your destination.
Yep, those are a pair of skis in the urban jungle that is New York City.
These epic sleeping bags are perfect for those fresh out of college that are living in New York City apartments that barely have heat. 
Honestly, these boots would destroy a two-foot snow puddle at the end of a sidewalk. 
Winter sunglasses. 
The store has a section that focuses on New York City-themed attire. Ugh, exploring the city via the subway is awful -- but the shirt is cool.
The ultimate onesie.
Here are the details on the ultimate onesie, which is affectionately called by employees as the "Him Suit."
Sneak peek at North Face's edgy Japan Unlimited collection. 
So we hit up a party for The North Face later on in the day.
This is one apparel brand that has a ton of history. 
Where were you when The North Face dropped this backpack? I wasn't even a twinkle in my father's eye.
Here is that bag from 1969.
That comforting black North Face fleece you have worn since high school? Yeah, this is when the first one arrived on the scene.  
Here I am standing out front of the New York Stock Exchange in a North Face black fleece onesie, which is a new product for this holiday season.
Yes, I have clothes on underneath. 
A whole bunch of big-name outdoor sports stars discuss why they put their life on the line.