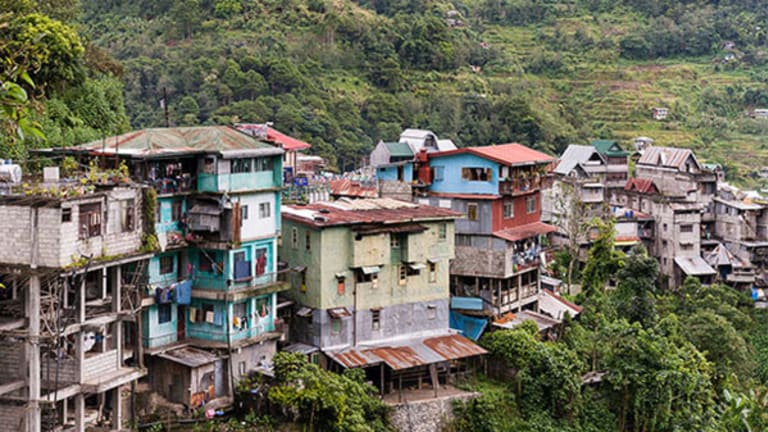 The 23 Countries With the Most Extreme Income Inequality
In some countries, the richest earners make a lot more money than in others. See which are the 23 countries where income inequality is out of control.
NEW YORK (TheStreet) -- When it comes to wealth creation, forget America's top 1% -- it's all about the top 10% in Credit Suisse's 2014 wealth report. The data show which countries have the highest income inequality in the world; where the top 10% of earners control more income than anywhere else; and trends among the wealthy.
According to the report, many factors influence wealth inequality, including the growth rate of the economy, macroeconomic trends, how much money people save, inheritance laws, entrepreneurship, demographics and more. Perhaps the most important factor is the performance of financial markets: When markets are up, the 10-percenters gobble up more of the nation's wealth. When they're down, the opposite happens.
Unsurprisingly, wealth inequality has increased over the past several years in countries like the U.S. where the financial markets have been strong and real wages have stagnated.
Click through to see where the rich control most of the wealth worldwide.
23. Colombia
Once a largely agrarian economy, Colombia has successfully shifted to less than a quarter of its labor force working on farms. Those who don't and earn a high income get much of the country's spoils. The top 10% take home 65.2% of the income, about the same as last year.

22. Norway
This skinny Scandinavian country offers its citizens universal health care and an extremely comprehensive social security system, but it's still a good place for the wealthy to make money. The top 10% of its earners make 65.8% of the income, about the same as in 2007.
Disclosure: TheStreet's editorial policy prohibits staff editors, reporters and analysts from holding positions in any individual stocks.