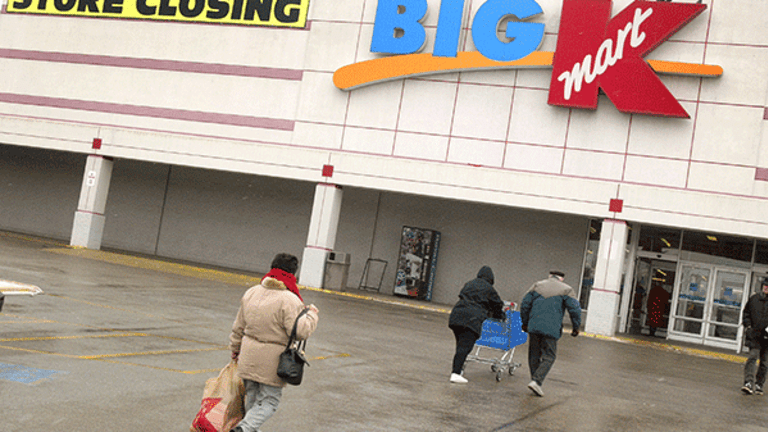 Updates to include tweet from Kathy Ireland
The current financial state of Sears Holding Corp. (SHLD) -- caused in large part by years of under-investment in its stores -- may be perfectly captured in the sad conditions at two of its most prominent Kmart locations.  
In a push to bring the discount shopping model that worked so well for years in suburban America to tourists and higher income city folks, Kmart swung open the doors on Oct. 3, 1996 to its first-ever New York City store in transit hub Penn Station. It's a gargantuan store, with about 141,000 square feet spread across four floors. People could either enter the store underground through the always busy Penn Station or outside on 34th Street, just a stone's throw away from Macy's (M) - Get Macy's Inc Report iconic Herald Square department store and sports arena Madison Square Garden.
About a month later, a second Kmart store of about the same size opened in the city on Broadway between Eighth and Ninth Streets.
At the time of the openings (Kmart had over 2,100 stores open back then, compared to 883 today), Kmart execs had high hopes for two shiny new stores situated in the city that never sleeps. ''I think they'll give us a good look, and I think we'll win them over,'' former Kmart Chairman and CEO Floyd Hall was quoted as saying, adding, ''Manhattan is ripe for a discount strategy.''
Kmart's dimly lit store in New York City's Penn Station
Today, each store is doing anything but giving Kmart the 'good look' Mr. Hall hyped to the press about almost 20 years ago, at least during our tours recently on one summer Friday. The missing attention to detail at each location, slow checkout process, empty shelves and run down fixtures certainly don't inspire a person to visit frequently, if at all.
"The cashiers were so slow, it was really inconvenient," says commuter Victoria Lozier, a now former Kmart Penn Station shopper who decided to take her business elsewhere after consistently being frustrated by the shopping experience.   
Years of likely disappointing local Manhattan consumers and visitors to the city could come to a head very soon and threaten Kmart's existence in the area for two reasons. 
First, Kmart stands to loss business in Manhattan to cheap chic discounter Target (TGT) - Get Target Corporation Report when it opens its second location in the area later this fall. The store will be a two-level, 45,000 square-foot location in the trendy TriBeCa neighborhood, and will represent the retailer's latest effort to open small stores in urban markets. Target already has a massive 147,000 square foot store in East Harlem that it opened in 2010. 
Meanwhile, pharmacy chain Walgreens Boots Alliance (WBA) - Get Walgreens Boots Alliance Inc Reportcontinues to enhance the shopping environment of its New York City Duane Reade stores, a one-time rival chain it acquired for $1.1 billion in 2010. It's also nearing the completion of a blockbuster $17.2 billion deal for New York City staple Rite-Aid (RAD) - Get Rite Aid Corporation Report . Once completed, Walgreens will probably embark on a remodeling campaign of Rite-Aid's stores, adding features such as the larger presentations of fresh food and high-end cosmetics now popping up at Duane Reade.
Walgreens Boots Alliance is a holding in Jim Cramer's Action Alerts PLUS Charitable Trust Portfolio. Want to be alerted before Cramer buys or sells WBA? Learn more now.
Former Kmart CEO Floyd Hall had high hopes for the chain in New York City.
A taste of what Kmart could be up against from an even larger Walgreens is on display in its backyard of Penn Station. Earlier this year, a Duane Reade opened a few doors down from Kmart's Penn Station site. The store has large exterior windows that act as glass displays to show off beauty products, boxed candy, gift cards, greeting cards and gift items. It stands in stark contrast to the dimly lit Kmart store that lacks many of the premium food and cosmetics products that Manhattan locals and tourists crave. 
Ultimately, the situation surrounding Kmart's New York City stores shouldn't be too surprising. Even though it did come as a surprise to long-time Kmart spokeswoman, model and actress Kathy Ireland, who tweeted the following response at TheStreet upon reading our story. 
The struggling owner of Sears and Kmart reported a staggering second-quarter loss of $2.03 a share as it felt intense competitive pressures in businesses such as appliances and apparel from Home Depot (HD) - Get Home Depot, Inc. (HD) Report , Lowe's (LOW) - Get Lowe's Companies, Inc. (LOW) Report , J.C. Penney (JCP) - Get J. C. Penney Company, Inc. Report , Best Buy (BBY) - Get Best Buy Co., Inc. Report and Walmart (WMT) - Get Walmart Inc. Report . A year ago, the company delivered a loss of $2.03 a share. Net sales plunged 8.8% to $5.7 billion.
Same-store sales at Kmart fell 3.3%, representing the seventh straight quarterly decline. Sales were pressed in some of Kmart's most important categories, such as pharmacy, groceries and consumer electronics.
As for Sears, it notched its eighth consecutive same-store sales decline as sales dived 7%. Weakness was felt across the board for Sears, with sales falling in home appliances, apparel, cosmetics and footwear.
Perhaps more concerning than the sales declines are the dangerously low cash levels for Sears as it gears up for the holidays. Cash and equivalents declined to $276 million from $1.8 billion a year ago. As a result, Sears was forced to accept $300 million in financing from CEO Edward Lampert's investment vehicle ESL Investments.
TheStreet visited each New York City Kmart and came away scratching our heads as to how things have gotten so bad at the formerly storied retailer. 
Kmart Penn Station
The entrance to the store is dim and depressing, kind of like a New York City dive bar. It's the complete opposite of the well-lit and airy Duane Reade that opened up a few steps away earlier in the year.
As a daily commuter to New York City from Long Island, this writer can attest to never seeing the big screen TV pictured below in the window being on. The Sparkling Ice beverages below the giant TV have been laying there in their boxes for months, at the very least. One of the Coca-Cola (KO) - Get Coca-Cola Company Report vending machines by the entrance is out of service.
Not entirely sure of the appetite for big water jugs or large cases of bottled water on the part of people running for spots on cramped Long Island Railroad trains or NYC subways. 
It all reeks of a desperate retailer trying anything to get a sale. To be sure, water doesn't spoil, so it might as well be left on the floor for a long time in the hopes of snagging that sale. 
The light is out on the Nature's Own fridge. Can't entice a shopper walking by if they can't see the product on offer.
Hastily thrown together clearance racks are positioned at the front of the store, giving Kmart a flea market feel. As an aside, how many New Yorkers nowadays are rocking wide leg denim? A $10 clearance sale does its best to try and make up for an error by the apparel buying team. 
Per the usual with Kmart, the attention to detail is absent. Here, bagged candy sits next to tampons. 
Hygienic? What do you think?
This is the same blue and white checkered floor that was in place when the store opened almost 20 years ago. Today, it's badly scuffed, discolored and in some spots, completely falling apart. 
Meantime, a rogue display of school supplies sits all alone in search of friends (or the desks of kids going back to school).
Another light is out, this time along an entire row of products for sale.
Mom isn't able to buy little Joey a toy car at Kmart if the product isn't on the shelf.
At the time of our visit, the escalators weren't working going up or down. 
One of Kmart's nagging problems during the second quarter was increased discounts on slow-selling apparel and footwear, despite other chains such as J.C. Penney seeing a rebound in sales because of the warm weather. It was a reaffirmation that Kmart continues to miss the mark on its styles. 
Below is a ridiculously ugly shoe that could be had for $1, if you buy another pair at full price. Great example of what's going on at Kmart's apparel department. 
Kmart 770 Broadway
Interestingly, this Kmart has a different sign outside compared to the one donning the exterior of the Penn Station location. Below, "Mart" is written in script inside a big letter K. At Penn Station, a sizable letter K has the word "Kmart" written in red underneath. 
Talk about an identity crisis (and again, missing attention to detail). The store also feels out of place, with more upscale looking Ann Taylor Loft and Gap (GPS) - Get Gap, Inc. (GPS) Report  locations having recently opened in the same building.
In the crowded streets of any city, windows are some of a retailer's most important real estate. They serve as a way to lure in customers among zillions of competing stores.
For example, Macy's in Herald Square draws in legions of tourists around the holidays simply by retrofitting its windows with elaborate displays. At Abercrombie & Fitch's (ANF) - Get Abercrombie & Fitch Co. Class A Report Hollister on Fifth Avenue, its storefront is a video board that streams an array of interesting photos around the clock.
All of the windows at Kmart's Broadway location are mostly covered in red paper. It's almost like Kmart is telling people it's embarrassed by what's inside (it should be), so head elsewhere for a bottle of shampoo.  
In the city that never sleeps, Kmart on Broadway opens at 8:00 a.m....
....This security guard yelled at this writer for walking in at 7:55 a.m. We were asked to leave, which was fine because...
Duane Reade right across the street is open 24 hours, 7 days a week unlike Kmart...
And so is the CVS Pharmacy (CVS) - Get CVS Health Corporation Report also across the street.
You are greeted by a random mannequin standing on a box retrofitted with a steel cover.
Almost an hour into the store's opening, it's as dead as a morgue. 
When a large retailer such as Kmart doesn't have stuffed free pickup containers for online orders -- especially in an on-demand environment like NYC and in the age of digital shopping more broadly -- it's pretty telling as to the state of the business.
Would your college kid be stoked to buy any of this Kmart dorm furniture? It's unlikely based on how careless everything in this display is tossed together. 
Summer is coming to a close, yet Kmart looks fully stocked in Kenmore air conditioners. Perhaps a shopper would love to buy one while shopping for jewelry or underwear -- which is where they are being stocked. 
It's good to know that while summer is still in full swing, Kmart is well stocked in winter coats and sweaters. Hey, slapping on that purple puffer jacket below during a run through Central Park right now would lead to serious calorie burn. 
Thanks Kmart!
Sears Holding spokesman Howard Riefs didn't return a request for comment.