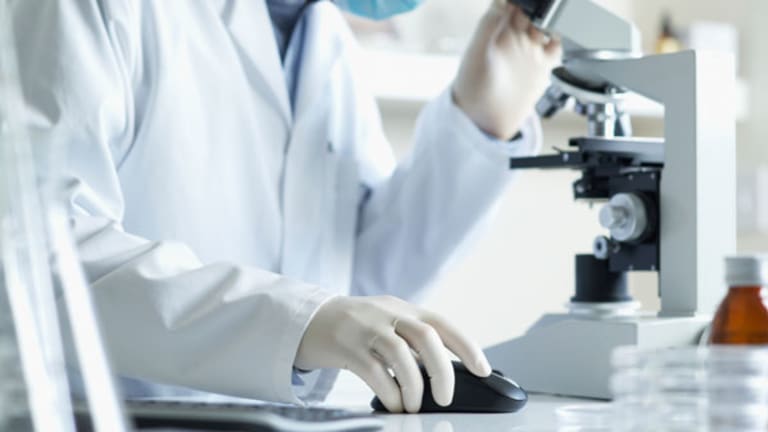 22 Biotech Stock Predictions for 2014
TheStreet's Adam Feuerstein offers his biotech stock outlook for 2014 and grades his 2013 predictions.
Twenty-two biotech predictions for 2014:
1. Vertex Pharmaceuticals (VRTX) - Get Vertex Pharmaceuticals Incorporated Report: The phase III studies of Kalydeco+VX-809 succeed, shares double.
2. Orexigen Therapeutics (OREX) : Contrave will outsell its obesity pill competitors Qsymia and Belviq. Likewise, Orexigen's stock will outperform Vivus (VVUS) - Get VIVUS, Inc. Report and Arena Pharma (ARNA) - Get Arena Pharmaceuticals, Inc. Report.
3. Retrophin RTRX makes a hostile tender offer for Valeant Pharmaceuticals (VRX) .
4. Ongoing federal investigations of Questcor Pharmaceuticals (QCOR) and its marketing practices for its flagship product Acthar Gel culminate in civil and criminal indictments against the company. CEO Don Bailey is forced to resign.
5. FDA rejects MannKind's (MNKD) - Get MannKind Corporation Report inhaled, rapid acting insulin Afrezza for the third time.
6. BioMarin Pharmaceuticals (BMRN) - Get BioMarin Pharmaceutical Inc. Report will not be acquired. (Thereby guaranteeing BioMarin will be acquired.)
7. A Baker Brothers ETF is launched.
8. Tony Coles becomes CEO of Merck (MRK) - Get Merck & Co., Inc. Report.
9. Cellular therapy developer Neostem (NBS) blows up on negative cardiac clinical trial data but CEO Robin Smith restructures company by opening a nationwide chain of stem-cell smoothie shops.
10. Amgen (AMGN) - Get Amgen Inc. Report will outperform the other big-cap biotech stocks, although all will finish the year higher than where they started.
11. Gilead Sciences (GILD) - Get Gilead Sciences, Inc. Report will break out early on a strong launch of its hepatitis C pill Sovaldi but the stock finishes 2014 flattish -- a single-digit gain.
12. Weak, disappointing drug launches for Vanda Pharma (VNDA) - Get Vanda Pharmaceuticals Inc. Report and Keryx Pharma (KERX) - Get Keryx Biopharmaceuticals, Inc. Report.
13. Avik Roy bashes Obamacare. (I have to make sure I get at least one of these damn predictions right.)
14. Twitter traders maintain their track record of never losing money on a biotech stock.
15. Peregrine Pharma (PPHM) manages to enroll 7 patients into its bavituximab phase III lung cancer trial, but that's five more than Cel-Sci (CVM) - Get CEL-SCI Corporation Report manages to enroll in the Multikine head-and-neck cancer study.
16. Taken out in M&A deals: Regeneron Pharma (REGN) - Get Regeneron Pharmaceuticals, Inc. Report, Cempra (CEMP) , NPS Pharma (NPSP) , Clovis Oncology (CLVS) - Get Clovis Oncology, Inc. Report and Halozyme (HALO) - Get Halozyme Therapeutics, Inc. Report.
17. Raptor Pharma (RPTP) proves not all orphan-drug launches are guaranteed successes as patients abandon Procysbi and insurance companies restrict reimbursement.
18. Dendreon (DNDN) files for bankruptcy protection.
19. A coalition of private insurers and pharmacy benefits managers form a Super PAC to lobby Congress to consider implementation of European-style drug price controls.
20. Gene therapy developer Sangamo BioSciences (SGMO) - Get Sangamo Therapeutics, Inc. Report issues press release No. 689 claiming to cure HIV but still, no one believes them. Bluebird's (BLUE) - Get bluebird bio, Inc. Report gene therapy program, however, proves to be the real deal.
21. Forbes' Matt Herper conducts another live interview with billionaire healthcare executive Patrick Soon-Shiong about his new healthcare tech venture NantWorks, but the audience still doesn't understand what the hell Soon-Shiong's company is supposed to be doing.
22. Cell Therapeutics' (CTIC) - Get CTI BioPharma Corp. Report Jim Bianco wins Best Biotech CEO of 2014 (This is my black swan prediction.)
Here's a look back at how well my 2013 predictions fared:
1. The U.S. commercial launch of Arena Pharma and Eisai's weight-loss pill Belviq will be a major disappointment. Belviq will also fail to receive European approval.
Nailed it.
2. Sarepta Therapeutics (SRPT) - Get Sarepta Therapeutics, Inc. Report will have another big year, with an accelerated approval filing mid year for the Duchenne muscular dystrophy drug eteplirsen in the U.S. and a significant and lucrative ex-U.S. partnership for the company's exon-skipping drug technology platform.
So wrong.
3. Orphan drug pricing comes under scrutiny and increasing criticism.
Scrutiny? Definitely. Criticism? Yes, but perhaps not as much as I expected.
4. The Nasdaq Biotechnology Index will close 2013 flat or down single digits.
Oy.
5. Amarin (AMRN) - Get Amarin Corp. Plc Report delays the commercial launch of its triglyceride-lowering fish-oil pill Vascepa to the second quarter due to manufacturing and supply issues. Vascepa sales fail to meet lowered expectations.
My bear call on Amarin kicked ass in 2013.
6. Gilead Sciences hits a snag that delays the filing, approval or launch of its all-oral hepatitis C drug regimen. Investors also wake up to the realization that the commercial market for Hep C drugs is far smaller than expected. Gilead shares close in the red for the year. This is my Black Swan prediction for 2013.
Wrong, but then, it was my Black Swan prediction.
7. FDA takes steps to liberalize overly restrictive conflict-of-interest rules that are preventing "A list" medical and scientific experts from participating in advisory committee meetings.
Wrong, even though complaints about the quality of FDA advisory panels are increasing.
8. U.S. courts decide that off-label drug marketing is a form of constitutionally protected free speech and therefore legal.
Wrong. Too early.
9. "Expert networks" Gerson Lehrman Group and Guidepoint Global see a significant drop off in investor and doctor participation. Revenues plummet and the two companies either merge or one goes out of business.
Partially correct. Expert network firms remain in business but participation on both sides of the table is down.
10. By the end of the year, one or more of these companies will be gobbled up in an M&A deal: BioMarin Pharmaceuticals, Onyx Pharmaceuticals, Medivation (MDVN) , Achillion Pharmaceuticals (ACHN) - Get Achison, Inc. Class A Report and Incyte (INCY) - Get Incyte Corporation Report.
I got Onyx Pharma right! Given my historically horrible track record with M&A predictions, this is a breakthrough.
11. Cell Therapeutics raises money at least twice. (I needed at least one prediction guaranteed to come true.)
Bingo.
12. Celgene (CELG) - Get Celgene Corporation Report will be the best-performing large-cap biotech in 2013.

CELG data by YCharts
Yes!
13. Strong 2013 drug launches: NPS Pharma (Gattex), Medivation (Xtandi), Aegerion Pharma (AEGR) (Juxtapid), Roche (ROG) - Get Rogers Corporation Report (T-DM1), Biogen Idec (BIIB) - Get Biogen Inc. Report (BG-12), Onyx Pharma (Kyprolis).
Booyah!
Weak 2013 drug launches: Arena Pharma (Belviq), Amarin (Vascepa), Ariad Pharma (ARIA) (Iclusig), Alexza Pharma (ALXA) (Adasuve), Navidea Biopharma (NAVB) - Get Navidea Biopharmaceuticals, Inc. Report (Lymphoseek), AVEO Pharma (AVEO) - Get AVEO Pharmaceuticals, Inc. Report (tivozanib.)
Taking a bow.
-- Reported by Adam Feuerstein in Boston.
Follow Adam Feuerstein on Twitter.
Adam Feuerstein writes regularly for TheStreet. In keeping with company editorial policy, he doesn't own or short individual stocks, although he owns stock in TheStreet. He also doesn't invest in hedge funds or other private investment partnerships. Feuerstein appreciates your feedback;
to send him an email.