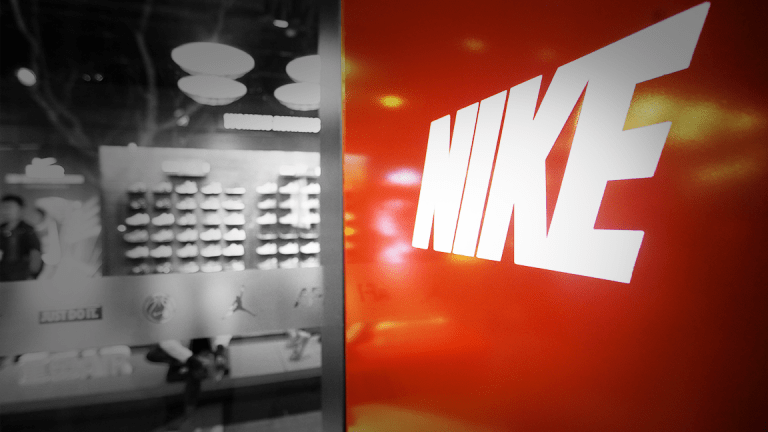 Nike, Under Armour and Amazon Investors Must Know About These 2018 Predictions
'The first wave of athleisure is in danger of becoming overdone,' said Nathan Yates, adjunct economics professor at Southern New Hampshire University.
'The first wave of athleisure is in danger of becoming overdone,' said Nathan Yates, adjunct economics professor at Southern New Hampshire University.
Activewear had a big year in 2017. Sneakers were everywhere, on supermodels and athletes alike, and Nike Inc. (NKE) - Get Report  was one of the 10 most-searched brands online. 
The questions are, will athleisure still be a going trend once 2018 settles in? Will Adidas AG's (ADS) - Get Report  Stan Smiths keep selling like hotcakes now that Kim Kardashian owns stock in the German company?
Find out the answers to these questions and more as you peruse next year's four big predictions for the sector. 
Nike Will Keep Its Crown in Direct-to-Consumer Campaigns
Nike may have had a shaky in second quarter, but bright days are ahead in 2018 as it ramps up its direct-to-consumer (DTC) efforts. The shoemaker has long held nearly half of all U.S. footwear market share, despite being shown up by Adidas earlier this year in the retro-sneaker department. 
Last week, Nike reported Q2 earnings of 46 cents a share and total revenue of $8.55 billion, beating Wall Street forecasts on both counts. It also posted a 5% dip in North America sales — the second quarter in a row. During the earnings call later that day, Nike CEO Mark Parker announced that it will run a pilot partnership with online clothing delivery company Stitch Fix Inc. (SFIX) - Get Report . In December, it had also unveiled a dozen new products and a partnership with Foot Locker, Inc. (FL) - Get Report .
Nomura analyst Simeon Siegel told TheStreet that Nike has a 'long-term competitive advantage," because of its size and that its footwear and apparel sales are largely influenced by its muscle in marketing and endorsements. 
In 2018, customers may see more consumer-targeted offerings and more "enhanced customization of premium products," according to Nathan Yates, a consultant and adjunct economics professor at Southern New Hampshire University.
Under Armour Executive Shakeup
Unlike Nike, Under Armour (UAA) - Get Report needs a drastic change — namely in leadership. Since the brand posted in October a quarterly sales decline for the first time since going public, investors have been questioning CEO Kevin Plank's ability to lead, analysts have said.
If the Baltimore-based company wants a shot at competing with Nike and Adidas in 2018, it needs new management, according to Yates. That means bye-bye to Plank. Yates added that the company's promise has been "unfulfilled, especially in 2017," and that its restructuring focus leaves Under Armour unable to challenge both the rising Adidas and the dominant Nike. 
Revenue will likely be down next year if the company continues its trajectory, Laurent Vasilescu of Macquarie Research told TheStreet in November. "Kevin Plank eroded the balance sheet," he said, "with endorsements [and] building headquarters [and] massive distribution centers and the acquisition of the fitness apps." 
Fierce Rivalry From Amazon
Amazon.com Inc (AMZN) - Get Report sent another shock wave throughout retail this year when it quietly released four activewear private label brands over the summer. 
This move will push the likes of Nike, Adidas and Under Armour to stay ahead of the trend, according to Lee Peterson, executive vice president at retail consultancy WD Partners. "Price will soon enough be the main driver, which, out of necessity, will move players like Nike and Under Armour on to something new," he said. 
Meanwhile, Nike's new partnership with the e-commerce behemoth appears dubious despite Parker's assurance in the earnings call last week that the relationship is going well. Analysts have voiced that the deal "wasn't so sweet for Nike, that they were 're-trenching,'" according to Lee. A November presentation from business intelligence firm L2 showed that Nike product sales strength on Amazon actually has fallen since the the partnership began in July. 
"We're in the fourth quarter here, the most important quarter for retailers, and the No. 1 Nike product on Amazon is from a third-party seller," rather than Nike's official listings, Cooper Smith, an analyst at L2, told TheStreet earlier this month.  In addition, he said, "Amazon is launching its own activewear line in classic frenemy fashion." 
Parker said the Amazon-Nike pilot will be extended, nonetheless. Hey, if you can't beat 'em, join 'em? 
Leggings Are Still Standing...for Now
Here's something that may well frighten Lululemon Athletica inc. (LULU) - Get Report . While no one would suggest that leggings will be off the streets within the year, experts are warning Nike and its peers to be wary of the rapidly evolving nature of trends.
The yoga pants brand is especially vulnerable because of its investment in brick-and-mortar presence, according to Peterson, in spite of its stellar recent performance. "Lulu is over-stored," he said, "and that's going to catch up with them once the macro trend wanes." 
Athleisure at large may be reaching a lull, at least temporarily
"Overall, I see that sportswear is becoming more casual and less performance-oriented," added Yates. "Although I do think that the first wave of athleisure is in danger of becoming overdone. With social media, fashion cycles blossom and disappear more rapidly than ever. So, athleisure will need to evolve to remain relevant."
More of What's Trending on TheStreet: