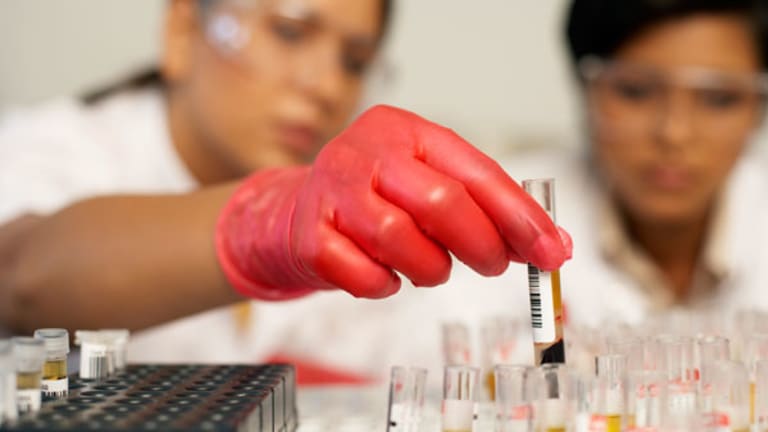 2016 Biotech Stock Prediction: It's Going to Be a Bummer Year, Folks
I'm only making one big prediction this year: The five-year party which saw biotech stocks outperform the broader markets comes to an end in 2016.
Editors' pick: Originally published Jan. 7.
2016 will be a difficult year for biotech stocks.
I'm only making one big prediction this year: The five-year party which saw biotech stocks outperform the broader markets comes to an end in 2016. Good biotech science marches on, but negative fund flows, a continued flurry of negative headlines about drug prices and the presidential election all contribute to lousy stock performance overall.
On that cheery note, I present a report card on my 2015 biotech stock predictions. I also threw in a few bonus predictions for the coming year.
1. Gilead Sciences (GILD) - Get Gilead Sciences, Inc. Report will buy Bristol-Myers Squibb (BMY) - Get Bristol-Myers Squibb Company Report . Or Juno Therapeutics (JUNO) . Maybe Kite Pharma (KITE) . OK, I'm not sure exactly which company Gilead will buy, but the acquisition focus will be oncology and it will be transformative, just as Pharmasset was for its hepatitis C business.
Nope, didn't happen. In December, Gilead bought an equity stake in Galapagos as part of a global partnership for an oral rheumatoid arthritis drug, but this deal doesn't move the "transformative" needle.
My prediction was wrong because Gilead executives were (and still are) smarter than me. You're not surprised, nor am I. The "Gilead should buy Bristol" idea is still intriguing theoretically, but it's also probably too messy, too impractical to ever get done. There are plenty of attractive acquisition targets in biotech but their price tags for most, if not all, of 2015 were also just too damn high.
I'm not doubling down on Gilead acquisition predictions for 2016. But I do believe Gilead is likely to trade at a multiple lower than its large-cap biotech peers (as it has for awhile now) until the company can assuage investor concerns about a post-hepatitis C earnings growth cliff. A kick-ass acquisition would do the trick, or Gilead could post revenue numbers showing the hepatitis C franchise is more durable and resistant to competition (Merck, ahem) than investors current believe it will be.
2. By the end of the year, Sanofi (SNY) - Get Sanofi Report will jettison MannKind (MNKD) - Get MannKind Corporation Report and its failed inhaled insulin Afrezza. 
My prediction missed by five days. I'm such a loser. I never get anything about MannKind right.
3. The U.S. Food and Drug Administration approves the first drug to treat Duchenne muscular dystrophy: Santhera's Raxone. 
I thought it would be cute to play DMD contrarian. Not a great idea. I suppose I could roll over this prediction into 2016, but for it to work the FDA would first have to reject both Biomarin's (BMRN) - Get BioMarin Pharmaceutical Inc. Report drisapersen and Sarepta Therapeutics' (SRPT) - Get Sarepta Therapeutics, Inc. Report eteplirsen.
FDA is very likely to say no to Biomarin. Soon, maybe this week or next. Sarepta brings eteplirsen in front of an FDA advisory committee meeting on Jan. 22. I predict a positive vote -- a recommendation for approval. (Major assumption upon which this prediction hinges: The eteplirsen dystrophin data better be convincing.) I believe the FDA follows the panel's advice and approves eteplirsen on its action date of Feb. 26, if not sooner.
If you've followed the DMD drug saga, you know the plot lines rarely stick to the expected script, so don't be surprised if 2016 brings several more unexpected developments. 
4. Mark Ahn lands another biotech CEO job, which starts the countdown clock toward his inevitable firing. 
As far as I know, Ahn has not found employment with another biotech company. When I last checked his LinkedIn (LNKD) profile, he had erased all mention of his prior gig as CEO of Galena Biopharma (GALE) . I suppose I can't blame him, since he was fired from Galena for his involvement in a nasty stock-promotion scandal. Galena is still under investigation by the Securities and Exchange Commission. 
This is where I should make a prediction about the fate of Martin Shkreli in 2016. I'll pass. Check that: I predict Shkreli will be in the news in 2016. Safe bet.
5. Puma Biotechnology (PBYI) - Get Puma Biotechnology, Inc. Report is not acquired.
Nailed it. The interesting question for Puma Bio in 2016 is what the FDA does with the breast cancer drug neratinib -- approve or reject? I predict neratinib is rejected.
The FDA's cancer-drug review chief, Richard Pazdur, quoted in a recent New York Times profile, mentions drug safety as a "huge issue" the agency plans to address better. My bet is neratinib's nasty problem with severe, almost life-threatening diarrhea derails the drug's chances for approval.
6. Bluebird Bio's (BLUE) - Get bluebird bio, Inc. Report gene therapy cures sickle cell disease. Or, new clinical data presented this year suggest strongly that this will happen in the near future.
Ouch. I overreached, obviously.
Isn't this one of the best lessons from 2015? Just about everyone associated with the biotech sector overreached about something in 2015. Bluebird's gene therapy might cure sickle cell disease one day in some or all patients. The company certainly didn't achieve this goal in 2015, but it was foolish of me to even suggest the possibility.
7. One or more CAR-T therapy companies suffer a clinical development (safety? efficacy?) setback. 
I'm taking half credit for this prediction. None of the CAR-T therapy companies -- Juno Therapeutics, Kite Pharma, Novartis (NVS) - Get Novartis AG Report and Ziopharm (ZIOP) - Get ZIOPHARM Oncology, Inc. Report -- disappeared into clinical development sinkholes last year. But none of these guys did much to advance their programs in ways that would justify their lofty market valuations, either. CAR-T remains a niche blood-cancer product with a lot of risk around scalable manufacturing, commercialization and profitability.
8. After a night of heavy drinking, Dirk Haussecker's obsession with RNA interference goes overboard when he gets a tattoo of Stanley Crooke's face on his lower back. Isis Pharma (IONS) - Get Ionis Pharmaceuticals, Inc. Report issues a press release and the stock soars to an all-time high. 
Poor Dirk. I heard he opted for an "I love Isis" tattoo instead of Crooke's face. He's having some trouble getting through security at airports now.
9. Biosimilars launch in the U.S. but at least one product is later recalled and pulled from the market due to a serious patient safety issue. 
Nope, but I'm early -- rolling over this prediction into 2016. 
10. Celgene will be the top-performing, large-cap biotech stock. 
Celgene (CELG) - Get Celgene Corporation Report and Gilead Sciences both closed 2015 up 7%. Regeneron Pharmaceuticals (REGN) - Get Regeneron Pharmaceuticals, Inc. Report closed the year up 32%. Me. Wrong. Again.
For 2016, I'm going with Celgene (again) and Biogen (BIIB) - Get Biogen Inc. Report . Two picks boost my odds of not looking like an idiot when I go through this grading exercise next year.
Why Celgene? Because the Revlimid patent challenge was settled on favorable terms, taking the worst-case scenario off the table, plus longer duration of therapy plus potential combination with checkpoint inhibitors. Because some of the company's biotech partnership bets should start to pay off. (Acceleron Pharma (XLRN) - Get Acceleron Pharma Inc Report was the shining star of the American Society of Hematology meeting in December.) Because Celgene will raise long-term guidance and more investors will believe them.
Why Biogen? Because the company was the worst performer among the large-cap biotech stocks in 2015. Worst to first! Because Tecfidera and the rest of the multiple sclerosis franchise will stabilize enough. Because something in the pipeline has to succeed -- anti-lingo in MS or SMNrx in SMA. And there's the Alzheimer's portfolio, of course: aducanumab (pray) but maybe Eisai (Biogen's partner) hits on something big with BAN2401.
11. Cuban biotech companies become as popular as the country's baseball players.
I have no idea what I was thinking.
12. Pharmacy benefit managers restrict popular rheumatoid arthritis and multiple sclerosis drugs from their formularies to stop companies from pushing through automatic and unjustified biannual price hikes. 
PBMs like Express Scripts (ESRX) are excluding more drugs from their formularies as a way to control drug spending -- and fight off ever-escalating drug prices -- but rheumatoid arthritis and multiple sclerosis drugs have not been targeted as I predicted. Yet.
I'm taking a quarter-point credit here for at least pointing out correctly that drug pricing was going to be a major controversy in 2015.
13. Pfizer (PFE) - Get Pfizer Inc. Report buys Biogen Idec and relocates corporate headquarters to Cambridge, Mass., from New York.

My mistake: Forgetting Cambridge, Mass., doesn't have the power to grant tax forgiveness like Dublin.
14. Deutsche Bank analyst Robyn Karnauskas will use a "blue sky" analysis to value one of the biotech companies on her coverage list. (This is my low-hanging, guaranteed-to-be-right prediction for 2015.)
Yes! And in 2016, Karnauskas will do the same from her new analyst perch at Citibank.
15. Weak, disappointing drug launches for Vanda Pharma (VNDA) - Get Vanda Pharmaceuticals Inc. Report and Keryx Pharma (KERX) - Get Keryx Biopharmaceuticals, Inc. Report . (A holdover prediction from last year.)
It's nice to go out with a double win.
Rockwell Medical's (RMTI) - Get Rockwell Medical, Inc. Report Triferic will be the disastrous, cringe-inducing commercial launch failure of 2016.
Adam Feuerstein writes regularly for TheStreet. In keeping with company editorial policy, he doesn't own or short individual stocks, although he owns stock in TheStreet. He also doesn't invest in hedge funds or other private investment partnerships. Feuerstein appreciates your feedback; click here to send him an email.