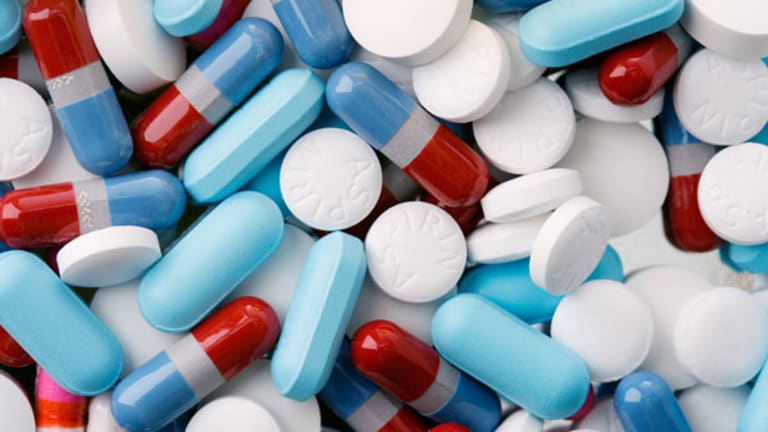 2015 Biotech Drug/Stock Outlook: Here's What You Need to Know
To prep investors for 2015, a list of clinical trial read-outs and FDA events expected to have a significant impact on stock prices in the first half of next year.
BOSTON ( TheStreet) -- To prep healthcare investors for 2015, I've compiled a list of crucial clinical trial read-outs and FDA events such as approval decisions and advisory panels that are likely to effect stock prices in the first half of 2015. 
Happy trading! 

Biogen Idec
Biogen's (BIIB) - Get Biogen Inc. Report anti-LINGO-1 antibody is a potential therapeutic game changer for chronic neuro-degenerative diseases like multiple sclerosis. The drug is designed to block the production of a protein known as LINGO-1, which when expressed in the central nervous system, leads to the degradation of the protective myelin sheath around nerve fibers. The breakdown or "demyelination" of nerve fibers interferes with the transmission of nerve impulses, leading to physical and cognitive disability.
If anti-LINGO-1 antibody can prevent the destructive LINGO-1 protein from being produced, nerve fibers in multiple sclerosis patients might be "remyelinated" and the damage caused by the disease reversed or eradicated altogether. No wonder anti-LINGO-1 is considered a crucial, if not the most important, compound in Biogen's research pipeline.
Biogen is running two phase II studies of anti-LINGO-1. Top-line results from the first study in patients with optic neuritis will be announced in January. These optic neuritis data are highly anticipated by investors as substantial proof of concept for the entire remyelination thesis and as a signal for what may come from the second, more important phase II study of anti-LINGO-1 in multiple sclerosis patients. Results from that study are also expected next year.
Neurocrine Biosciences and Abbvie
Neurocrine (NBIX) - Get Neurocrine Biosciences, Inc. Report has a busy schedule of clinical data in 2015, starting in early January with the expected announcement of top-line results from the phase III "Violet Petal" study of Elagolix in endometriosis.
Elagolix is a daily pill designed to rapidly suppress the production of hormones believed to cause endometriosis, a gynecological disease in which cells from a woman's uterus grow in other parts of the body, causing pain and other reproductive complications. Current therapies for endometriosis require injections which can be painful, slower acting and harder to "turn off" if complications arise.
The "Violet Petal" study is the first of two phase III studies of Elagolix required for a regulatory submission. Neurocrine is developing Elagolix in partnership with Abbvie (ABBV) - Get AbbVie, Inc. Report . The drug is also being studied as a treatment for uterine fibroids. Endometriosis represents a $500 million to $1 billion worldwide commercial market opportunity for the companies, depending on pricing and market share penetration.
Bristol-Myers Squibb and Merck
The cancer immunotherapies known as checkpoint inhibitors will remain a big story for healthcare investors in 2015, just like they were this year.
In the early part of the year, Bristol (BMY) - Get Bristol-Myers Squibb Company Report is expected to release top-line results from the Checkmate-017 study of nivolumab (Opdivo) in second-line, squamous non-small cell lung cancer patients. Checkpoint inhibitors have demonstrated profound efficacy in melanoma, but Checkmate-017 will be the first chance to see results from a randomized phase III study in lung cancer, a much larger commercial opportunity.
Later in the year, Bristol will have results from Checkmate-057, a similar, randomized phase III study looking at Opdivo in previously treated, non-squamous non-small cell lung cancer patients.
For Merck (MRK) - Get Merck & Co., Inc. Report , in early 2015, investors should look forward to results from the phase III "Keynote-006" study comparing Keytruda to Bristol's Yervoy in melanoma patients.
More 2015 biotech events on the next page...
Genfit, Intercept Pharma and Conatus Pharma
NASH -- non-alcoholic steatohepatitis aka fatty liver disease -- entered the healthcare investing lexicon in 2014. At times, the "NASH bubble" resembled a thrill ride, including stomach-churning stock price volatility. The fun will extend into next year.
At the end of March, the French drug company GenFit (GNFTF) will announce top-line results from the phase II GOLDEN study of NASH candidate GFT505, a once-daily pill. This is a classic, make-or-break binary event for GenFit. The one-year study randomized 275 NASH patients to treatment with GFT505 or a placebo and is powered to show a statistically significant benefit, defined as NASH resolution. The study will also assess GFT505's ability to reduce liver fibrosis. The outcome of the GOLDEN study will not only have a big impact on GenFit, but competing NASH stocks, most notably Intercept Pharma.
Speaking of... Intercept (ICPT) - Get Intercept Pharmaceuticals, Inc. Report epitomized the volatile year for NASH stocks in 2014. The company's shares went on a rocket ride in January with the positive (and surprisingly early) results from the phase II FLINT study of OCA. Intercept's year ends on a decidedly less sanguine note due to creeping investor doubts about Intercept's ability to execute on a planned phase III study of OCA in NASH.
Early in 2015, Intercept is expected to meet with the FDA to nail down a design for the OCA study in NASH. These types of regulatory meetings are often routine, even boring. But not for Intercept. The outcome of the company's meeting with FDA is a potentially stock-moving catalyst. Intercept shares could snap back higher if the FDA agrees to a phase III study design, with 1) surrogate endpoints measuring NASH benefit, and 2) No requirement for pre-approval cardiovascular outcomes data.
And then there's Conatus Pharma (CNAT) - Get Conatus Pharmaceuticals Inc. Report , which expects to announce results from a phase II study of experimental NASH treatment emricasan in the first quarter of next year.
Arrowhead Research
Arrowhead (ARWR) - Get Arrowhead Pharmaceuticals, Inc. Report spent much of 2014 setting high expectations for its hepatitis B RNAi therapy ARC-520. Management spent the rest of the year trying to resurrect its credibility and stop its stock price from falling further because the ARC-520 data disappointed.
The company gets another shot at redemption (and a higher stock price) in the first half of 2015, likely in March or April. The ongoing, phase II study has enrolled another two cohorts of hepatitis B patients treated with higher (3 mg and 4 mg) doses of ARC-520. The company hopes one of these two doses will produce a 1 log reduction in hepatitis B surface antigen (HBsAG), a measure of the presence of hepatitis B virus in the body.
Prosensa/BioMarin and Sarepta Therapeutics
Surely, a 2015 biotech events preview would not be complete without mention of everyone's favorite Duchenne muscular dystrophy (DMD) stocks -- Prosensa (RNA) and Sarepta (SRPT) - Get Sarepta Therapeutics, Inc. Report . Biomarin (BMRN) - Get BioMarin Pharmaceutical Inc. Report is in the process of acquiring Prosensa.
Timelines are a bit fuzzy but Prosensa/BioMarin is expected to complete the FDA approval submission for drisapersen in the first quarter. Once the filing is complete, FDA can begin its review and schedule an advisory committee meeting. The FDA panel will most definitely be one of the signature, headline-buzzing events of the 2015 biotech investor calendar. Huge. There's no date yet for the drisapersen FDA panel but I figure it will happen around mid year.
Sarepta's schedule for the FDA filing of eteplirsen was delayed until the middle of 2015, but it may still help itself (and its stock price) by releasing 168-week six-minute walk test results from the ongoing phase II study in the first quarter. Sarepta is also likely to know the outcome of the fourth muscle biopsy test results on the patients in the phase II study before eteplirsen is filed with FDA mid year.
Still more 2015 biotech events on the next page...
Gilead Sciences and Abbvie
The great hepatitis C drug marketing battle commences in 2015. Gilead's (GILD) - Get Gilead Sciences, Inc. Report Harvoni versus Abbvie's Viekirax and Exviera. There are billions of dollars in revenue for each company at stake.
Vertex Pharmaceuticals
The FDA should have an approval decision on Vertex's (VRTX) - Get Vertex Pharmaceuticals Incorporated Report combination cystic fibrosis therapy before the middle of 2015. The new drug application for the Kalydeco/lumacaftor combination therapy for homozygous 508del mutation patients was submitted to the FDA on Nov. 5. If the agency takes a full eight months to review it, the approval decision would be announced on July 5. But the FDA has already granted Kalydeco/lumacaftor Breakthrough Therapy Designation, so it's reasonable to expect a shortened review time.
Vertex submitted Kalydeco/lumacaftor to European regulators on the same day, where it has already been granted an accelerated assessment.
In early 2015, Vertex is also expected to announce results from a clinical trial involving its next generation cystic fibrosis drug VX-661. Given that the approval of the Kalydeco/lumacaftor combination therapy is widely expected, strongly positive results from the '661 study might have a larger impact on Vertex's stock price.
Bluebird Bio
Sickle cell. Sickle cell. Sickle cell. This year, Bluebird's (BLUE) - Get bluebird bio, Inc. Report LentiGlobin gene therapy posted impressive data in beta-thalassemia -- and the stock exploded higher as a result. Next year, the focus shifts to sickle cell, a larger, potentially blockbuster indication for Lentiglobin. Bluebird hasn't said when it plans to update ongoing clinical trials with results from sickle cell patients treated with the LentiGlobin gene therapy, but it could come at a European hematology meeting in June.
Cell Therapeutics
Weird to see perennial biotech outcast Cell Therapeutics (CTIC) - Get CTI BioPharma Corp. Report on a pivotal biotech events list for 2015 but in the first quarter, we should get top-line results from the first of two phase III studies investigating pacritinib in myelofibrosis patients. The PERSIST-1 study compares pacritinib to best available therapy in advanced myelofibrosis patients.
Cempra
After years of being shunted to the backwaters of biotech, antibiotic companies got h'sot in 2014. Cubist Pharma (CBST) bought Trius Therapeutics and Optimer Pharma in July, and then Merck announced a deal to acquire Cubist last week.
If you're looking for a stock-moving antibiotic catalyst for early 2015, consider Cempra (CEMP) . Results from a phase III study of the company's experimental macrolide antibiotic solithromycin should hit newswires in the first quarter 2015. Cempra has designed solithromycin to be an improved (safer) version of Sanofi's Ketek, which achieved peak sales of $1.5 billion in the U.S. before liver toxicity evaporated demand.
Adam Feuerstein writes regularly for TheStreet. In keeping with company editorial policy, he doesn't own or short individual stocks, although he owns stock in TheStreet. He also doesn't invest in hedge funds or other private investment partnerships. Feuerstein appreciates your feedback;
to send him an email.