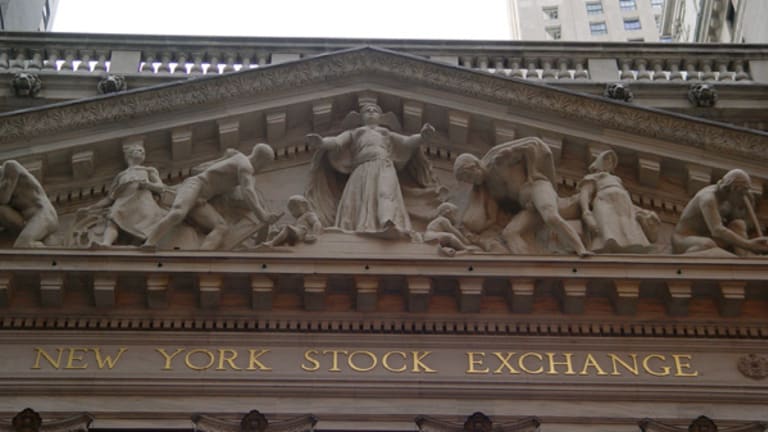 20 Stocks With Big Insider Selling
Insiders at S&P 500 companies are dumping stock at record levels.
BALTIMORE (Stockpickr) -- Insider selling has officially hit record levels, and the corporate dumping of stock isn't just in S&P 500 companies. Last week's insider selling hit an all-time weekly record of $4.5 billion, according to insider tracking company InsiderScore.com. Prior to that, no previous week had seen more than $2 billion in net selling. In S&P 500 companies alone last week, insiders sold an unbelievable $2.8 billion worth of stock. That selling was more than four times the amount seen in the prior week for S&P 500 companies.
Corporate insiders are likely taking advantage of two-year highs in stock prices to sell their stocks into strength. There has also been a lot of speculation that insiders are dumping stock at such record levels because of the uncertainty surrounding whether the Obama administration is going to extend capital-gains tax cuts initiated under the previous administration.
Both of these reasons are good excuses for insiders to sell stock. As investors, though, we also have to consider that insiders are unloading stock because they believe the future could be less than bright for market prices.
>>Also:
9 Insider Sales Raising Eyebrows
According to a
report out of Blooomberg.com
, the week ending on Nov. 9 saw corporate executives at 125 companies in the S&P 500 sell stock, with sellers far outnumbering buyers, by more than 12 to 1.
Insiders can have tons of reason to sell a stock, but they only buy for one reason: They think the stock will go higher. As far as
goes, there was only one company in the S&P 500 that saw any notable action, and that was
Coca-Cola
(KO)
. A corporate insider at Coke purchased 120,000 shares, or $7.4 million, at an average price of $61.52 a share. That insider was board member Barry Diller, who is also the CEO of
IAC/Interactive
(IACI)
. I like this purchase since Diller is a high-profile executive, but I like this move even more because shares of Coca-Cola are trading near a
as I write this.
>>Also:
3 Stocks That Could Benefit From Buybacks
Diller could see a slowing economy in the future and rising food prices due to quantitative easing. The market has already started to see explosive commodity and grain prices off of QE2, so if that continues and if quantitative easing fails again like it did the first time, then shares of Coca-Cola could be much higher a year or two from now.
No other company in the S&P 500 came close to the size of the Coca-Cola insider purchase. The next two largest purchases were at
L-3 Communications
(LLL)
, where insiders bought 10,000 shares, or $729,000 worth of stock; and
Precision Castparts
(PCP)
, where insiders bought 3,500 shares, or $497,875 worth of stock. As you can see, insiders continue to buy very little stock when compared to the amounts they're unloading on the open market.
>>Also:
Cramer's Always-a-Bull-Market-Somewhere Stocks
I would also like to point out that during this reporting period, insiders at Precision Castparts sold 44,722 shares, or $6.2 million worth of stock, at an average share price of $138.45 -- making the most recent insider purchase of a measly $497,875 pretty insignificant in comparison. From a technical standpoint, shares of Precision are trading very close to the 50-day moving average of $131.76. A break of this level could put the next support at $127.21 into play.
Keep in mind that since the
last insider reporting period when I highlighted the large selling at Precision
by its CEO, the stock has dropped from its recent highs of $145.40 a share to its current level of around $133. This is a good example of insider selling by a company's CEO being a red flag.
Here's a look at the
20 S&P 500 stocks with the largest amount of insider selling
.
>>Also:
Top 10 S&P 500 Insider Sales of 2010
Insider selling continues to be the heaviest among technology companies. This is trend that has been seen for a number of weeks now, and the trend is showing up in stocks that have performed well during the recent bull run off of the August lows. The trend is also continuing to show up in the biggest players in the tech complex.
The largest amount of insiders selling during this period for S&P 500 companies was found in software giant
Microsoft
(MSFT)
. This company is engaged in developing, manufacturing, licensing and supporting a range of software products and services for different types of computing devices.
>>Also:
10 Dow Stocks With Fastest Dividend Growth
Corporate insiders at Microsoft sold an unbelievable 52.4 million shares, or $1.4 billion worth of stock, at an average share price of $27.07. Most of that selling was done by Microsoft CEO Steven Ballmer, who up until now hadn't sold any Microsoft stock in almost seven years.
was also a seller, but I wouldn't read too much into Gates' action because he's always selling Microsoft stock to help fund his charitable ventures.
Ballmer's action, however, I would take seriously since he is the current CEO of the firm. According to
Form4Oracle.com
, Ballmer still controls 358.91 million shares, so if you own Microsoft, you have to hope he's done selling for now.
>>Also:
From a technical standpoint, shares of Microsoft at around $26 look weak now that it has broken below the 200-day moving average and isn't far off its 50-day moving average of $25.37. Even worse, the stock is down year-to-date by 14%, so you have a stock here that is no longer a
. In fact, it hasn't been a market leader for years, so despite the fact that the company has well over $30 billion of cash on its balance sheet, it has been a serial underperformer.
Some other key tech stocks that made up the top four insider sales for S&P 500 companies were
Google
(GOOG)
,
Amazon.com
(AMZN)
and
Oracle
(ORCL)
. Insiders at Google sold 271,077 shares, or $167 million worth of stock, at an average share price of $615.97; insiders at Amazon.com unloaded 936,111 shares, or $152.8 million worth of stock, at an average share price of $163.27; and insiders at Oracle dumped 5 million shares, or $146.6 million worth of stock, at an average share price of $29.32.
>>Also:
Cramer's Fad Stocks That Make You Money
This is some big selling across the board for all three companies. What's more troubling here is that these names aren't new to the insider selling list. The bulls on these stocks are going to tell you that many of these sales were planned sales or just simply the exercising of options that are time-sensitive. And while that might hold some water, I highly doubt it is true for every single sale of stock at these companies.
Also, if you look at all of the charts for these stocks, you're going to see that they've all recently come off of their highs. It looks like the market is finally starting to pay attention to some of the insider activity in these tech leaders.
At Amazon.com, Chairman, CEO and President Jeffrey Bezos was one of the top sellers. It appears that he has reduced his position from 90.15 million shares to 88.14 million shares, which is about a 2% reduction. That might not seem like a lot, but it's happening at a time when the stock has started to struggle in the short term.
>>Also:
Shares of Amazon.com are quickly approaching the 50-day moving average of $158.36, which is well off the 52-week high of $173.37. If the stock does break the 50-day, I would look for the next level of support to come in at around $151.40 a share.
For Google, the stock has recently come off its 52-week high at around $631 a share as insiders continue to sell heavily into any strength. What's troubling at Google is that a number of recent insiders who've sold have taken their company stock positions down dramatically.
For example, director Kavitark Ram Shriram has reduced his stake by 99%, from around 567,000 shares to just 7,000 shares, and director Lawrence Page cut his stake by 67%, from 120,00 shares to just 40,000 shares. It's not the greatest confidence-builder for shareholders when such key insiders are liquidating such high percentages of their stock positions. You have to ask yourself the question: What do they know that you don't?
>>Also:
10 Companies With Cash to Burn
One relatively new name to the insider selling list from the past week was
Aon
(AON)
, which provides risk management and human capital consulting services. This stock hasn't been one of the bigger winners this year, with shares up only 7.9%.
A corporate officer at Aon named Russell Fradin unloaded 788,689 shares, or $31.4 million worth of stock, at an average share price of $39.48. What's troubling here is that before this sale, Aon hadn't really seen any significant insider selling close to this amount all year.
>>Also:
It looks like a good amount of this sale was the exercising of options, but I would encourage readers to continue to follow the insider activity at Aon. If you see more insiders follow Fradin toward the exit signs, I would consider that a potential red flag that could mean lower prices for the stock are right around the corner.
To see more stocks with heavy insider selling, including
Marriott International
(MAR),
Allergan
(AGN) and
Freeport-McMoRan Copper & Gold
(FCX), check out the
Top 20 S&P Stocks With Big Insider Selling
portfolio on Stockpickr.
-- Written by Roberto Pedone in Winderemere, Fla.
RELATED LINKS:
>>5 Brazilian Stocks to Watch in 2011
>>San Francisco Stocks to Watch
Follow Stockpickr on
and become a fan on
Facebook.
At the time of publication, author had no positions in stocks mentioned.
Roberto Pedone, based out of Windermere, Fla., is an independent trader who focuses on stocks, options, futures, commodities and currencies. He is also an outside contributor to Beconequity.com and maintains the website Maddmoney.net, which he sold to Blue Wave Advisors in 2008. Roberto studied International Business at The Milwaukee School of Engineering, and he spent a year overseas studying business in Lubeck, Germany.