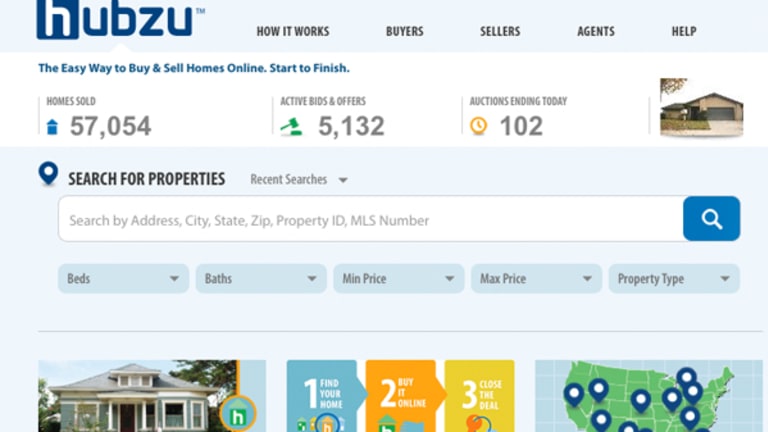 2 Zillow Rivals Hidden Inside Solidly Profitable Companies
A Zillow competitor and another business 10 times as large for a quarter of the price.
A Zillow competitor and another business 10 times as large for a quarter of the price.
NEW YORK (
) -- Even if you think online real estate companies like
Zillow
(Z) - Get Report
,
Trulia
(TRLA)
and
Move
(MOVE)
hold great promise, the massive run-up in their shares ahead of any solid profits is a bit daunting.
By contrast, a couple of lesser-known rivals look remarkably cheap since they are buried inside other companies already churning out steady profits.
Many investors in Zillow, Trulia and Move are probably unfamiliar with
Altisource Portfolio Solutions
(ASPS) - Get Report
and
Nationstar Mortgage Holdings
(NSM)
. Indeed, many sell-side analysts who follow Zillow and Trulia probably haven't heard of them.
That's because Nationstar and Altisource are viewed by Wall Street as mortgage companies and are covered by analysts who follow the mortgage industry, while Zillow, Trulia and Move are seen as Internet companies and are followed by the same group of analysts who follow
Facebook
(FB) - Get Report
,
Google
(GOOG) - Get Report
and
LinkedIn
(LNKD)
.
For the most part, that's appropriate, since the bulk of Nationstar's revenue comes from servicing mortgages. Altisource gets most of its revenue by providing administrative support to servicers of defaulted mortgages. It has close ties to largest customer,
Ocwen Financial
(OCN) - Get Report
, the largest servicer of deliquent mortgages in the U.S.
However, both Nationstar and Altisource have online home auction platforms that could compete with Trulia and Zillow.
Altisource's platform, hubzu.com, looks to be much further along than Nationstar's homesearch.com. Hubzu 2012 revenue was $53.2 million, compared to $116 million for Zillow and $68 million for Trulia. They are comparable-sized businesses, in other words, except that Hubzu accounted for just over 9% of Altisource's $568 million in 2012 revenue. Hubzu has actually sold more than 75,000 homes on its site, more than 50% of which were bought by people who actually plan to live in the home. Zillow, which gets most of its revenue from advertising, cannot make such a claim.
Are investors valuing Hubzu the way they value Zillow or Trulia? Not remotely. All of Altisource, including Hubzu, has a market cap of 4.75 times its revenue over the past 12 months, according to
Bloomberg
data. By contrast, Zillow's market cap is 20.2 times trailing 12-month revenues and Trulia's is 14.81.
By this measure, Nationstar is the cheapest of all, with a market cap of just 2.49 times revenue. However, Nationstar only launched homesearch.com in May, and doesn't yet disclose any financial data about it.
Fine, you may say. Hubzu.com and homesearch.com are cheap, but who has ever heard of them?
Fair point. My counterpoint is this: Nationstar is owned by
Fortress Investment Group
, one of the savviest and best-connected private-equity firms on the planet. Altisource is run by Bill Erbey, a billionaire who has made his fortune in the real estate business over more than three decades. If these people see a future in online residential real estate, they have plenty of access to capital to try and overtake the brand recognition of Zillow. Zillow spends about $30 million a year on advertising. That's peanuts for the executives behind Nationstar and Altisource.
Many investors scoff at Zillow and Trulia, pointing out that they are not yet consistently profitable. Short interest at Zillow accounts for 45.5% of the float, while at Trulia its 30.7%. Indeed, one approach would be to short those stocks and simultaneously go long Altisource Portfolio Solutions and Nationstar.
Despite the skepticism, however, many sell-side analysts believe profits are more or less assured for Zillow and Trulia.
"This is where the online travel industry was over a decade ago," said Telsey Advisory Group's James Cakmak.
No one disputes the viability of the online travel business any longer.
Priceline.com
(PCLN)
earned $1.38 billion in the second quarter, up nearly 40% from a year earlier.
I happen to think Cakmak is right in arguing online real estate will have similar success. But I also think the race to determine who will lead this industry is a long way from decided. Laugh at hubzu.com if you like, but the chance to buy a legitimate Zillow competitor plus another business 10 times as large for a quarter of the price sounds like a pretty good deal to me.
--
Written by Dan Freed in New York
.
Disclosure: TheStreet's editorial policy prohibits staff editors, reporters and analysts from holding positions in any individual stocks.