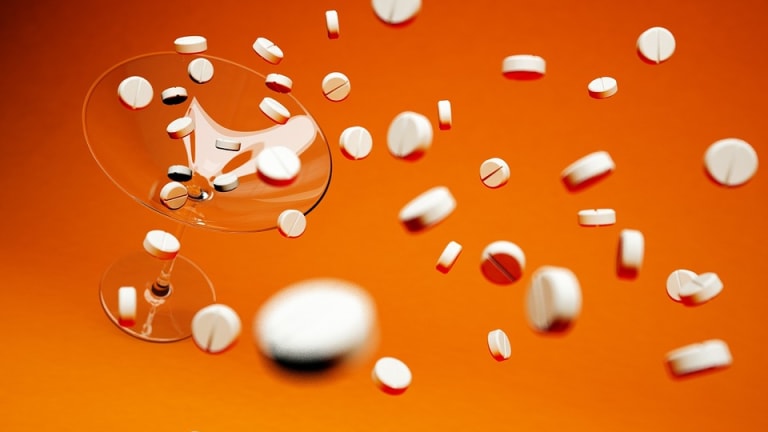 2 Excellent Dividend-Paying Drug Stocks to Add to Your Portfolio
These two pharmaceutical stocks offer great yields.
These two pharmaceutical stocks offer great yields.
Critical comments from the Democratic Party regarding high drug prices had placed a dark cloud above the health care sector. But the sector has rallied following Donald Trump's victory in the presidential election.
Some of the larger players in the sector are excellent income opportunities. With large drug pipelines and diverse market reach, companies such as AbbVie (ABBV) - Get Report and GlaxoSmithKline (GSK) - Get Report  should be able to pay nice yields for years to come.
Drug company AbbVie is one of the larger industry players, with a market cap of $96.37 billion and 28,000 employees. Its recent success is due in part to sales of Humira, a treatment for severe, chronic psoriasis.
AbbVie, based in Chicago, expects that Humira will continue to drive revenue growth for the foreseeable future, along with hepatitis C treatments Viekira Pak and Technivie. However, analysts worry the company will not meet sales expectations in 2017 once the Humira patent expires and it must compete with generic versions of the drug.
Although Humira does account for 58% of AbbVie's revenue, the drugmaker is no one-trick pony. Sales of Imbruvica, used to treat blood cancers, have been growing steadily, and the pace should pick up thanks to the Food and Drug Administration. In early March the FDA cleared Imbruvica for first-line use in treating chronic lymphocytic leukemia, whereas previously patients had to have undergone at least one prior therapy before using the drug.
That potential revenue growth means AbbVie's dividend should continue rising. Since AbbVie became an independent company nearly four years ago, the dividend has been growing, and the yield is currently 4.2%. Although you can find better yields in the sector, few come from health care companies that have grown as consistently as AbbVie or are as attractively valued as the drugmaker is now.
Many investors had questions about the health of GlaxoSmithKline over the past year, doubts that kept the share price under pressure (it's down 4.9% so far in 2016). 
The biggest worry has been whether Glaxo would be able to breathe easy now that patents are expiring on its top-selling lung treatment Advair, which has faced competition from generics in Europe. Here in the U.S., where the drug's patent expired in 2010, the protection on Advair's Diskus inhaler kept competitors at bay, but that patent expires at the end of this year.
At the same time, generally tepid growth left many investors wondering where the revenue would come from to replace Advair profits. Sales growth averaged only about 1% annually over the past decade, and earnings growth came largely from cutting costs.
Those concerns seem to be abating, after management predicted earnings growth of 10% to 12% this year. Sales growth has already shown solid improvement, with vaccine sales up 14% in the first quarter and sales of consumer health care products up 4%. Glaxo also managed to replace about 70% of the revenue the company lost as a result of generic competition for Advair.
Analysts now forecast that revenue for the British drugmaker will increase a bit more than 8% this year, and earnings per share could jump 20% in local currency. 
It's too early to predict a dividend increase this year, but thanks to Glaxo's improving sales outlook and significant debt and cost-cutting initiatives of late, a dividend increase isn't off the table. Aside from one special dividend declared last year, the company's quarterly dividend policy hasn't budged in two years. The yield is now 5.2%.
----
As we've just explained, these two drug companies make for excellent income opportunities. If you're looking for other growth opportunities, we've found a genius trader who turned $50,000 into $5 million by using his proprietary trading method. For a limited time, he's guaranteeing you $67,548 per year in profitable trades if you follow his simple step-by-step process. Click here now for details.
This article is commentary by an independent contributor. At the time of publication, the author held no positions in the stocks mentioned.