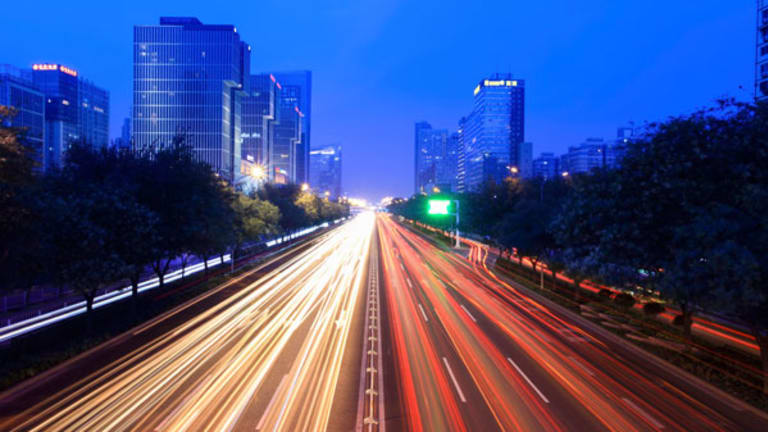 2 Big Questions Raised by Another Blah Exxon Earnings
Exxon Mobil continues to post big numbers, but it's not enough anymore to move the market.
NEW YORK (
) -- Big Oil companies like
Exxon Mobil
(XOM) - Get Report
keep churning out the big profit numbers buoyed by high crude oil prices, but investor malaise about the global oil majors is growing too.
Exxon Mobil reported another big profit quarter Tuesday, but big equals "blah" these days for Exxon and its peers when it comes to the market reaction.
Meeting expectations because oil prices are high -- as Exxon Mobil did with earnings of $1.97 a share and with a usual profit number, $9.4 billion, that rivaled the GDP of small island nations -- is now a given as opposed to a nice surprise. Last year's additional catalyst of booming refining businesses is now a distant memory, putting the focus back on what Big Oil companies are doing to grow production.
Exxon Mobil continues to pump out big profits, but market love for Big Oil's earnings are running on empty.
This has been the big narrative for Big Oil quarter after quarter: good results on a blah production outlook that leaves investors asking, what have you done for me lately?
The answer is very little.
Higher crude prices, last year's refining rally, and the rush by investors to the safety of dividends helped all of these oil companies stay near 52-week high levels to start 2012, and so it's not a big surprise that investors are reacting with
a slap on the wrist of Big Oil in selling off shares of each company that has reported so far: Exxon Mobil on Tuesday,
Chevron
(CVX) - Get Report
last Friday, and
ConocoPhillips
(COP) - Get Report
before that.
In the past five trading sessions since Big Oil earnings season began, shares of Exxon, Chevron and ConocoPhillips are down roughly 3%. Crude oil prices have hovered around the $100 mark during this same five days. On Tuesday, crude rose as Exxon Mobil shares declined. It's clear that the days of Big Oil getting credit from the markets for $100 crude are gone. This divide between crude and oil stocks started to show up in Big Oil earnings reaction last year, and now it's more pronounced as the upside in Big Oil shares becomes a bigger question mark.
The malaise among investors for these Big Oil companies, in the case of Exxon, leads to two very important questions.
Why are you increasing U.S. natural gas production with prices so low?
One of the biggest stories of the year so far has been the
historic slide in the price of natural gas in the U.S., yet one of the biggest trends for Exxon in recent quarters is the growing production of U.S. natural gas while everything else in the production mix declines.
In the most recent quarter, Exxon's U.S. natural gas was 61% of U.S. production, an increase from the third quarter of 2011 when U.S. natural gas equaled 59% of U.S. output. At the same time, every other U.S. exploration and production company is
abandoning natural gas and increasing the hunt for liquids-rich shale resources. Exxon has been abused for the $41 billion
XTO Energy
acquisition for the past year and that's going to continue with the increased natural gas production.
"In the post-XTO world, Exxon has actually become a little gassier in the U.S. than they were before while all the
other companies are headed the other way. Why haven't they deviated from this strategy?" asked Phil Weiss, analyst at Argus Research.
In the same two quarters during which Exxon increased gas production by another 2% while prices tanked,
Chesapeake Energy
(CHK) - Get Report
, the second-largest U.S. driller behind Exxon, doubled its liquids-rich production from 10% to 20%. Granted, Exxon Mobil has a
much stronger balance sheet than Chesapeake and can afford to be persistent, but the questions about XTO will persist as well.
ConocoPhillips told analysts it expects to shut in production of natural gas this year and could even
reduce its natural gas drilling to nothing if pricing merits a wholesale, though short-term, abandonment of natural gas spending.
In the fourth quarter, Exxon oil-equivalent production decreased 9% from the fourth quarter of 2010.
In the fourth quarter 2011, the single-greatest increase among Exxon Mobil's global production portfolio was U.S. natural gas; in fact, only Australian natural gas production also rose, which is located much closer to the high-paying Asian natural gas demand markets. Every single oil production basin was lower year over year in the fourth quarter.
For the full year, oil and liquids production was flat compared to the previous year, while natural gas production was up 8%, driven by U.S. shale drilling and a production ramp in Qatar.
Exxon deserves some credit. For one, using the metric of profit per barrel of oil, it continues to produce solid returns showing its efficiency, though notably, it has trailed Chevron for 10 consecutive quarters on profit per barrel. Focusing too much on production growth can obscure the cash flow attractiveness of Big Oil companies, too. So investors should not be slaves to production growth. However, since Exxon is likely to stick with its boilerplate answer about focusing on the long-term and not responding to short-term criticisms -- no matter what those specific criticisms are -- it's hard to see how its shares move up much from here barring $140 oil. Iran provides a floor under the price of oil right now, but as a trigger for upside in the price of oil from here it's a less convincing trade.
This leads to the second question for Exxon, though, given its long-term outlook.
When will you add to the dividend?
Exxon Mobil has one of the lowest dividend rates among oil peers and yet it continues to massively buy back shares each quarter at a rate of roughly $5 billion. The efficacy of stock buybacks continues to receive criticism, most recently from Ralph Nader,
who called out high-tech companies for hoarding cash and abusing shareholder faith by not paying dividends. Nader could have called out Exxon Mobil too, at least, as far as it could reward shareholders with a larger dividend -- Apple doesn't even pay one.
Versus its peers in the Big Oil universe Exxon comes up short on the dividend rate. Exxon Mobil has a dividend rate of 2.2%. Chevron is at 3.1%; ConocoPhillips is at 3.8%.
BP
offers a 3.8% yield, even with the Macondo oil spill liabilities still making future cash needs a wildcard, and even after cutting its dividend rate in response to the oil spill, is still well above Exxon Mobil.
Considering the Exxon Mobil situation -- profit buoyed by $100 oil and a production outlook that raises as many questions as it answers -- rewarding shareholders with a bigger dividend should be explored by the company. This suggestion isn't new. If Exxon comes down, as usual, on the side of not making a decision to respond to "short-term thinking" of the market when it comes to the dividend issue, that would be twisted logic.
Buybacks, if anything, can often seem short-sighted, with huge buybacks doing little to move share price, and companies often end up buying shares ahead of declines in market value, making the value of the buyback questionable. Exxon has another $5 billion piled up for buybacks in the first quarter of 2012.
Weiss said that even though he has kept a buy on the oil majors so far through this earnings season, he is beginning to debate what to do with these stocks, after a really good 2011 and with spending ramping, but the production benefit from the bigger spend continuing to be uncertain. That's a concern that is magnified by the U.S. natural gas position of Exxon.
If Exxon Mobil raised its dividend to near the 3% level, it would be a long-term vote of confidence in its outlook, Weiss said. Companies don't raise dividends lightly because of the fear that if they ever needed to cut the dividend rate due to cash flow concerns the market would punish them. Should an investor be worried about Exxon's ability to generate cash?
"This would be a signal of confidence in their future ability to pull in enough cash flow to cover a larger dividend," Weiss said.
This is not to say Exxon hasn't been a steady provider of dividends. As
TheStreet
senior contributor Dan Dicker noted,
Exxon Mobil has doubled its dividend since 2001, though that still leaves it trailing peers like Chevron, which has increased its dividend by 2.5 times.
After the slide of 2% in Exxon shares on Tuesday morning, the bottom line for Big Oil is pretty simple: the negative reaction to earnings will continue to trump bottom line beats like the one Exxon provided. So whether it's a dividend or not, Exxon Mobil needs to improve on some other metric than high crude oil price-buoyed earnings and U.S. natural gas production. If not, investors should expect the market malaise when it comes to Big Oil stocks to get a little bigger.
-- Written by Eric Rosenbaum from New York.
RELATED STORIES:
>>Chevron Misses and Investors Slap Big Oil on the Wrist
>>In Shale, Chevron Isn't Done Acquiring
To contact the writer of this article, click here:
Eric Rosenbaum
.