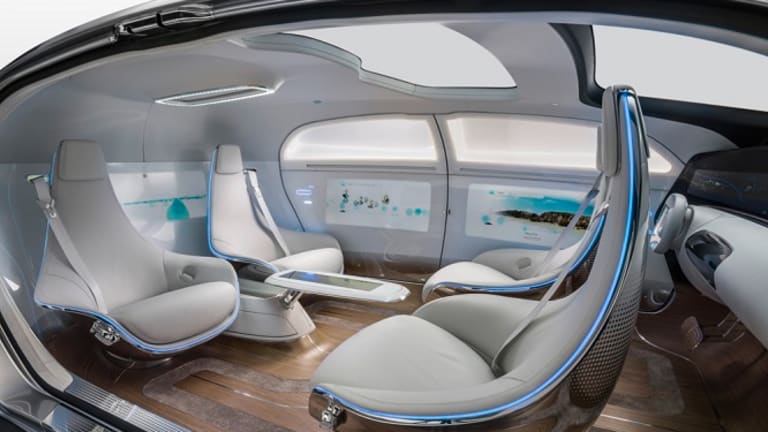 Publish date:
2 Automotive Stocks to Buy Following Tesla's Self-Driving Upgrade Announcement
Ford (F) and General Motors (GM) are working on their own self-driving technologies.
Ford (F) and General Motors (GM) are working on their own self-driving technologies.
Last Wednesday, Tesla (TSLA) - Get Report announced that all cars currently produced in its factory come with the hardware needed to fully drive themselves. Although it will take some time before this technology is approved for widespread use, the effect will be massively disruptive for the automotive industry. The strong will survive, and share prices will rise.
Tesla's self-driving cars are great news for Ford (F) - Get Report and General Motors (GM) - Get Report  . Although Tesla is generating lots of headlines with this announcement, investors shouldn't forget that more traditional car makers are forging ahead with their own plans for self-driving vehicles -- plans that could boost their share prices in the future.
Tesla's cars are already gathering self-driving data on a massive scale. Of course, Tesla intends to use this data to improve its self-driving systems. But it will also provide regulators with evidence to show that these systems are safe. Once regulators approve self-driving cars, it won't take long before other automotive double their efforts to include this feature in their cars.
1. Ford
Ford was one of the original disruptive innovators of the transportation world, and it's hard at work on autonomous- vehicle technology.
In August Ford announced that it expects to have a high-volume fully autonomous vehicle in operation in 2021 in a ride-hailing or ride-sharing service.
Ford invested in four companies with expertise in advanced algorithms, 3D mapping, LiDAR, and radar and camera sensors. By the end of 2017 Ford expects to double the size of its Palo Alto, Calf.-based autonomous driving system team.
To be sure, over the last three years Ford's shares have performed poorly, falling from $17 in 2013 to their current price around $12. Ford has the manufacturing and marketing resources to produce self-driving cars at an affordable price and to market them widely.
The company has an attractive dividend yield of 4.9%, which makes it an excellent income buy for investors waiting to see Ford integrate this new functionality into its cars.
2. General Motors
General Motors' share price is down 4.5% this year, but it has plenty of room to improve.
GM announced that it had purchased a self-driving car start-up, Cruise Automation, for more than $1 billion in March to develop its self-driving capabilities. If Cruise Automation delivers high-quality self-driving capabilities, GM's share price could rise as early as the second quarter of 2017.
So far the Cruise acquisition is promising. The company's founders Daniel Kan and Kyle Vogt were featured in a Fortune article where the duo were hailed as "start-up legends". With GM behind them and a team that has doubled since the acquisition closed, General Motors might very well become the premiere self-driving carmaker.
The company yields an attractive 4.6%, which makes it an exceptional income buy for investors. The dividend is currently growing by 15% per year on average. Trading at around $31.50, GM is one of the cheapest carmakers in its peer group with a forward price-to-earnings ratio of 5.5 compared with the industry average of 8.
---
As we've just explained, these two companies all stand to grow massively if self-driving car systems earn regulatory approval. If you're looking for other growth opportunities, we've found a genius trader who turned $50,000 into $5 million by using his proprietary trading method. For a limited time, he's guaranteeing you $67,548 per year in profitable trades if you follow his simple step-by-step process. Click here now for details.
The author is an independent contributor to TheStreet.com. At the time of publication, he owned none of the stocks mentioned.