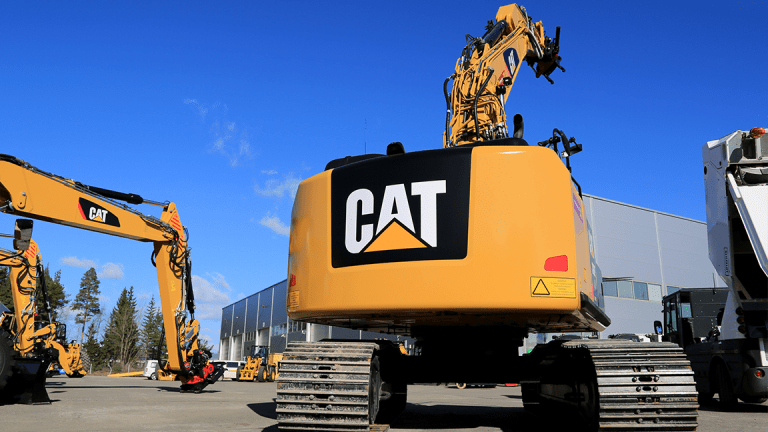 6 Stocks Like Caterpillar Will Boom During 2018's New Industrial Revolution
Given the climate in Washington and a strengthened positive outlook for risk/reward, now is the time to make your picks in industrial stocks.
Another Industrial Revolution is coming, Barclays said.
With machinery, engineering, construction and heavy construction in consideration, analysts offered 18 stock picks given growth in global construction, improvement in mining and stability in agricultural equipment markets.
"Coming off several once-in-a-100-years cycles, the sales bases are low, the political rhetoric is high and the risk/reward is still skewed positive despite the market run," Barclays wrote. The market will continue to grow over the next two to three years, especially in an environment enjoying numerous and repeated fresh highs.
"Since late 2015, investor sentiment on the machinery space has flipped 180 degrees, and today is mostly buoyed by Washington and by the prospect of tax reform," analysts said, though a portion of the recovery had started ahead of the 2016 presidential election.
Additionally, growth in the sector has improved in both micro and macro levels, equipment values are stable or growing, mining equipment sales rose 80% year-over-year last quarter and booming global infrastructure demand has bolstered big industrial names.
"The next wave of large commodity projects will be scrutinized more thoroughly than in the past, making today still too early for 'big-ticket' E&Cs," Barclays wrote. "We instead favor global infrastructure and communications, which carry a higher degree of assurance of completion."
Heavy Equipment
Overweight: CNH Industrial NV (CNH) , Caterpillar Inc. (CAT) , Deere & Co. (DE) , Herc Holdings Inc. (HRI) , Manitowoc Co. Inc. (MTW) and Welbilt Inc. (WBT) . Barclays' top pick is CNH, given its market share in agricultural equipment and new product lineup.
Equal weight: AGCO Corp. (AGCO) , Cummins Inc. (CMI) , Lincoln Electric Holdings Inc. (LECO) and Terex Corp. (TEX)
Underweight: United Rentals Inc. (URI)
Construction Materials
Overweight: Jacobs Engineering Group Inc. (JEC) , Vulcan Materials Co. (VMC) and MasTec Inc. (MTZ)
Equal weight: Fluor Corp. (FLR) , Martin Marietta Materials Inc. (MLM) and Summit Materials Inc. (SUM)
Underweight: Aecom (ACM)
More of What's Trending on TheStreet: