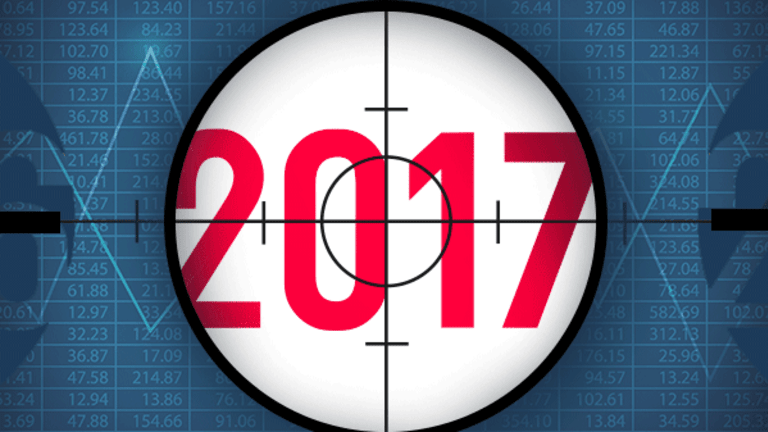 17 Thoughts on Biotech Stocks to Kick Off 2017
Adam Feuerstein compiles a list of questions, thoughts, declarations, catalysts and observations about biotech stocks to help investors prepare for the year ahead.
Welcome back. Happy New Year. Here are 17 questions, thoughts, declarations, catalysts and observations about biotech stocks in 2017.
1. Mergers and acquisitions: The number and value of M&A transactions fell sharply in 2016 from the prior year, disappointing investors and contributing to the sector's underperformance. The expectation for a significant rebound in deals for 2017 is very high, driven by a.) a consensus view that the largest pharma and biotech companies must acquire new products to fuel growth; b.) management teams expressing desire to do deals; c.) lots of cash on balance sheets; and d.) expectations for pro-growth and tax reform policies from President Trump.
By a wide margin, an uptick in M&A is seen by investors and analysts as the most important tailwind for biotech stock outperformance in 2017. I don't need to tell you what happens if deals don't materialize.
2. Fund flows: Biotech stocks cannot perform well if investors pull more money out of the sector than they put in. That's what happened for most of 2016. Fund flows into biotech picked up after the election in November. Watch this trend and hope it continues into 2017 if you're someone who wants biotech stocks to move higher.
3. Drug pricing: Politicians talking or tweeting about the desire to rein in escalating prices of drugs through government legislation was a huge overhang for biotech and pharma stocks in 2016. Will 2017 bring proposed legislation to back up that talk?
Normally, Republican control of the White House and Congress would alleviate all concern about drug pricing, but we're not living in normal times. Regardless of what the government does or doesn't do, insurance companies and pharmacy benefit managers will continue to be aggressive about keeping a tight lid on drug utilization through formulary restrictions and barriers to reimbursement.
4. Biotech investor sentiment: It sucks. That's actually bullish because basically anything positive is upside at this point.
5. Trump: Does anyone really know what President Trump and his Twitter account holds for the health care industry in 2017?
Investors may stay away from biotech and drug stocks until Trump's plans, if he has any, are better articulated.
6. Approval decisions and commercial launches: Investors will be watching these drugs closely in 2017: Biogen's (BIIB) - Get Biogen Inc. Report Spinraza, Kite Pharma's (KITE) KTE-C19, Novartis' (NVS) - Get Novartis AG Sponsored ADR Report CTL019, Clovis Oncology's (CLVS) - Get Clovis Oncology, Inc. Report Rubraca, Vertex Pharma's (VRTX) - Get Vertex Pharmaceuticals Incorporated Report Orkambi (Europe), Regeneron Pharma's (REGN) - Get Regeneron Pharmaceuticals, Inc. Report dupilumab, Ariad Pharma's (ARIA) brigatinib, Puma Biotech's  (PBYI) - Get Puma Biotechnology, Inc. Report neratinib, Acadia Pharma's (ACAD) - Get ACADIA Pharmaceuticals Inc. Report Nuplazid, Roche's (RHHBY) ocrelizumab, Sarepta Therapeutics' (SRPT) - Get Sarepta Therapeutics, Inc. Report Exondys 51, Tesaro's (TSRO) - Get TESARO, Inc. Report niraparib, Neurocrine Biosciences' (NBIX) - Get Neurocrine Biosciences, Inc. Report Ingrezza and GW Pharma's (GWPH) - Get GW Pharmaceuticals PLC Sponsored ADR Report epidiolex.
7. Celgene and JPM17: The annual gathering in January of the biotech tribe in San Francisco, otherwise known as the JPMorgan Healthcare Conference, has become bloated, overhyped and obsolete, yet thousands of industry folks will be there, mainly for FOMO. If we're all going to run around San Francisco like maniacs for four days, let there be news -- deals, data, bullish guidance -- to make the trip worthwhile. Please!
That starts with Celgene's (CELG) - Get Celgene Corporation Report financial guidance for the coming year, which it will announce on the Monday morning of the conference. The current 2017 consensus, per FactSet: Earnings of $7.07 a share on total revenue of $13.21 billion. Revlimid sales are expected to total $8.12 billion.
8. Repatriation and tax reform: Drug companies operating globally are adept at keeping their corporate tax rates low. The downside is billions of dollars in profits parked overseas. (At the end of the third quarter, Amgen (AMGN) - Get Amgen Inc. Report had $38 billion in cash on its balance sheet, 90% of which was offshore. And 80% of Gilead Sciences' (GILD) - Get Gilead Sciences, Inc. (GILD) Report $32 billion in cash was also held outside the U.S.)
A Republican tax reform proposal would allow companies to repatriate profits held overseas at a reduced rate. If repatriation becomes law, will bringing all that cash home spur more biotech M&A, or will management teams simply reward themselves and shareholders with higher dividends and stock buybacks?
9. FDA: Another investor question mark for 2017. Drug approvals were down in 2016 over the prior year, in part because agency reviewers rejected more applications. But the newly passed 21st Century Cures Act is supposed to make the Food and Drug Administration more drug-approval friendly.
Or will there be an internal backlash? Will Trump seek to replace current FDA Commissioner Rob Califf? With whom? Perhaps more importantly, who will take over the FDA's Office of New Drugs from the retiring John Jenkins?
10. High-impact clinical trial readouts for 2017: Amgen and Regeneron cardiovascular outcomes trials to determine benefit of treating high cholesterol patients with PCSK9 inhibitors (early 2017); Alnylam Pharmaceuticals' (ALNY) - Get Alnylam Pharmaceuticals, Inc Report patisiran phase III in TTR-mediated amyloidosis (mid-2017); Merck's (MRK) - Get Merck & Co., Inc. (MRK) Report verubecestat (beta secretase inhibitor) phase III in Alzheimer's disease (mid-2017); Axovant Sciences' (AXON) - Get Axovant Gene Therapies Ltd. Report intepiridine phase III in Alzheimer's disease (second half 2017); Vertex Pharmaceuticals' VX-661+Kalydeco phase III and "triple regimen" phase II in cystic fibrosis. 
Plus, Sage Therapeutics' (SAGE) - Get SAGE Therapeutics, Inc. Report SAGE-547 phase III in super-refractory status epiliepticus (first half 2017); Roche's Perjeta phase III "Aphinity" in adjuvant breast cancer (first quarter 2017); Celgene's ozanimod phase III in multiple sclerosis (first half 2017); Seattle Genetics' (SGEN) - Get Seagen, Inc. (SGEN) Report Adcetris "Echelon" phase III in first-line Hodgkin's lymphoma; Amicus Therapeutics' (FOLD) - Get Amicus Therapeutics, Inc. Report Zorblisa phase III in epidermolysis bullosa (first half 2017).
And AstraZeneca (AZN) - Get Astrazeneca PLC Sponsored ADR Report , Roche, Bristol-Myers Squibb (BMY) - Get Bristol-Myers Squibb Company Report and Merck: Some of the biggest anticipated clinical trial results in 2017 will involve the use of combinations of checkpoint inhibitors with chemotherapy and/or CTLA-4s to treat lung cancer patients. The stakes are probably highest for AstraZeneca, which is expected to announce results from its phase III "Mystic" study of PD-1 durvalumab +CTLA-4 tremelimumab in early 2017.
Additional big trials: Inotek Pharmaceuticals' (ITEK) trabodenoson phase III in glaucoma (first quarter 2017); Acorda Therapeutics' (ACOR) - Get Acorda Therapeutics, Inc. Report CVT-301 phase III in Parkinson's disease (first quarter 2017); Zogenix' (ZGNX) - Get Zogenix, Inc. Report  ZX008 phase III in Dravet syndrome (mid 2017); Ionis Pharmaceuticals' (IONS) - Get Ionis Pharmaceuticals, Inc. Report Ionis-TTRX phase III in familial amyloid polyneuropathy.
11. Revenue growth (volume vs. price): Woe is the drug company unable to grow its top line (see: Gilead.) But in 2017, expect investors to reward companies that grow revenue by increasing the amount of drugs they sell, and punish those masking lower volume with price increases (see: Amgen.)
12. Transparency: More of it in 2017, please!
The drug industry is too shrouded in secrecy, which serves no real purpose other than to keep investors in the dark and allow management teams to cover up their mistakes. Investors deserve more disclosure. Let's lift the veil on drug sponsor-FDA communications, including complete response letters. The FDA and the Securities and Exchange Commission should work more closely to police public statements made by companies about regulatory matters.
And can someone please force pharmacy benefit managers to be more transparent about where all those "discounts and rebates" really go?
13. Pharmacy benefit managers: The business practices of Express Scripts (ESRX) and other PBMs deserve to be scrutinized in 2017 with the same vigor drug companies were in 2016.
14. Shareholder activism: It's been seven years since Carl Icahn took on Biogen. Is the time ripe for more shareholder activism in big-cap biotech? Alexion Pharma (ALXN) - Get Alexion Pharmaceuticals, Inc. Report and Gilead -- I'm thinking about you.
15. Innovation: It's the most overused, eye-rolling word in biotech, but it's also the lifeblood of the industry. "Innovation" is gene therapy, cancer immunotherapy, gene editing and new treatments for devastating, rare diseases.
Innovation is exciting, and biotech needs more of it in 2017.
16. IPOs: Remember when investors cared about biotech IPOs? They really don't anymore. Will that change in 2017? Only if Moderna goes public.
17. Risk. Never underestimate it.
Adam Feuerstein writes regularly for TheStreet. In keeping with company editorial policy, he doesn't own or short individual stocks, although he owns stock in TheStreet. He also doesn't invest in hedge funds or other private investment partnerships. Feuerstein appreciates your feedback; click here to send him an email.