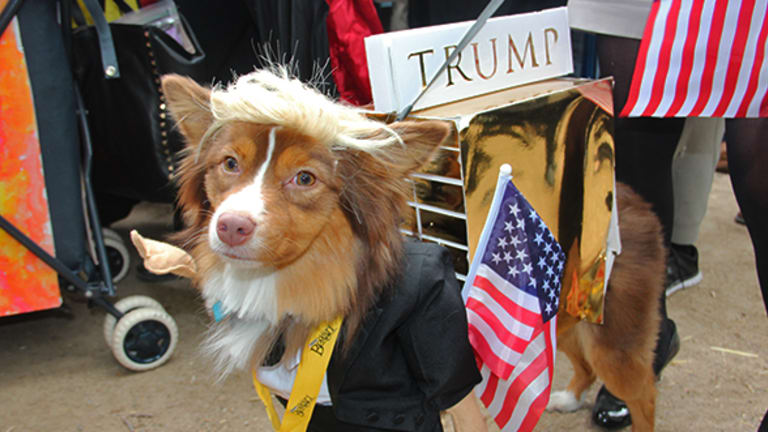 17 Adorable Dog Costumes, From Donald Trump to the Real Dracula
Can't figure out the right costume for your dog? Check out our photo gallery from the 25th Annual Tompkins Square Halloween Dog Parade to get some ideas.
NEW YORK (TheStreet) -- If the looming spectacle of All Hallow's Eve has you scared to death about finding the right costume for your household canine, fear no more.
We've got you covered, with some of the most creative ideas from the 25th Annual Tompkins Square Halloween Dog Parade in Manhattan, where owners and their pets dressed as characters from Donald Trump (don't worry, it didn't look "stupid") to Super Mario Brothers and the Flintstones.
The competition for best pet garb this weekend looks fierce across the country, according to the National Retail Federation. About 13% of adults, or 20 million people, plan to costume their pets on Saturday night -- whether Fido and Fluffy like it or not. They'll spend some $350 million on the threads, according to a federation survey.
The early results of that spending showed up in last weekend's New York event, sponsored by Purina Beggin',  which drew hundreds of people. For those who didn't have a pet, dogs were available for adoption through the Mayor's Alliance for New York City Animals. 
Parade participants were also asked to donate money to enter the "Best in Show" contest, where the winner received an Apple Watch -- a lure that helped draw nearly 300 entries. Check out the following photo gallery for some haute canine couture that you may want to "adopt" for your own pet.
1. Dia de los Muertos - Winner of "Best in Show"
Costume: Day of the Dead, Mexican holiday that celebrates deceased loved ones. 
Dogs: Penelope, Yorkshire terrier; Pearl and Paco, both Chihuahuas
Amy Cox and her husband, Danny Cox, live part-time in Mexico, where she works with animal rescues and her husband is a veterinarian.
"Mexico and this theme is very important to us," said Amy Cox. "It's colorful, it's lively, it's fun and we thought we'd bring a little life up here to New York City." 
2. Donald Trump
Costume: Donald Trump, Republican presidential candidate and businessman.
Dog: Ruby, Miniature Australian Shepherd
Just because Stacey Kimball dressed her dog as Trump doesn't mean she'd vote for him. (Apparently, this is the same logic parents use when they dress their kids as Freddie Krueger.) So would Kimball vote for The Donald for president? "No," she said. "Absolutely not." 
3. Guardians of the Galaxy
Costume: Baby Groot, Gamora, and Star-Lord from Disney's Guardians of the Galaxy movie, based on the Marvel Comics superhero team.
Dog: Maddie, a Shih Tzu
Owner Kelly Jones said she rescued Maddie four months ago, after the dog was found wandering the streets of Brooklyn and had been placed on an animal shelter's "kill" list.
"We rescued her and she's been a doll," Jones said. "She's blind and deaf, so she can't really walk, that's why she's in a bucket, but it also works with the costume." 
4. Frida Khalo
Costume: Frida Kahlo, a Mexican self-portrait artist whose life was recounted in a 2002 movie. 
Dog: Mamma Biscuit, pug
Mamma Biscuit "is a puppy mill rescue who spent seven years of her life caged indoors and was forced to produce more than 100 puppies against her will," according to the MammaBiscuit.com website. 
5. Super Mario Brothers
Costume: Super Mario Sisters, since both dogs are female. It's a variation on the Nintendo video game, Super Mario Brothers. 
Dogs: BB, a Maltese; CC, a Shih Tzu Yorkie (Shorkie) 
"It's hard to find stuff for two dogs, so I went with the sisters instead of the brothers," said owner Bobbi Mitchell. 
6. Vlad the Impaler 
Costume: Vlad III, Prince of Wallachia, who was known for impaling his enemies. (He's also widely believed to have been the inspiration for the main character in Bram Stoker's Dracula.)
Dog: King Tut, a Pomeranian 
"I decided to go way back and bring the original Dracula into the scene to claim his throne again," said owner Ruben Santana. 
7.  New York Yankees Fan
Costume: Yankee Dog is dressed in his favorite baseball garb -- a New York Yankees uniform.
Dog: Shaggy, a Maltese Poodle (Maltipoo) 
8. Mobile Server Farm
Costume: A handmade animal farm that is mobile and rolls around. 
Dog: Oscar, a Doxie mix
Oscar's back legs were paralyzed, and he had been abandoned before owner Rick VanBenschoten rescued him.
"Oscar is a real advocate for special-needs dogs," said VanBenschoten. "He wants everyone to see him and see how much fun he's having and know that if their dog is injured or loses mobility due to age, there's still lots they can do, there's lots of good years left. Don't give up." 
9. Three Little Pigs
Costume: Based on the book, the Three Little Pigs. 
Dogs: Lollipop, Yum-Yum and Gum Drop, all Chihuahuas
10. Pizza Rat
Costume: Pizza Rat, modeled after a video showing a New York City rat dragging a slice of pizza down subway stairs. 
Dog: Oliver, Shih Tzu
11. Game of Thrones
Costume: Cersei, Jamie and Tyrion Lannister and the "Iron Throne," based on the HBO series Game of Thrones. And yes, if you've never watched the show -- or read the George R.R. Martin series, the throne is supposed to look that uncomfortable. It's fashioned from the swords of the king's vanquished enemies. 
12. Jewelry Box Ballerina 
Costume: Jewelry Box Ballerinas 
Dog: Gia Marie, aka "The Brooklyn Pom," a Pomeranian.
"She's a model, she's a fashionista, and she's a therapy dog," said owner Victoria Viscardi. "We go to a lot of fun parties -- anything to support animal rescue organizations." 
13. Knight Horse 
Costume: A horse dressed up for battle -- in the Middle Ages. 
Dog: Bella, a Great Dane
Making the costume took three weeks, said owner Luda Girdhar.
14. The Flintstones
Costume: Fred, Wilma, and Pebbles (clockwise from bottom left).
15. Circus 
Costume: Lion, clown and elephant (clockwise from bottom right) 

16. Sushi 

Costume: Maki Rolls, filled with puppy. 
Dogs: Karl, a Pomeranian; Chase, a toy poodle
17. Action Heroes
Costume: Superman & Wonder Woman
Dog: Luna, a Pomeranian (as Wonder Woman).