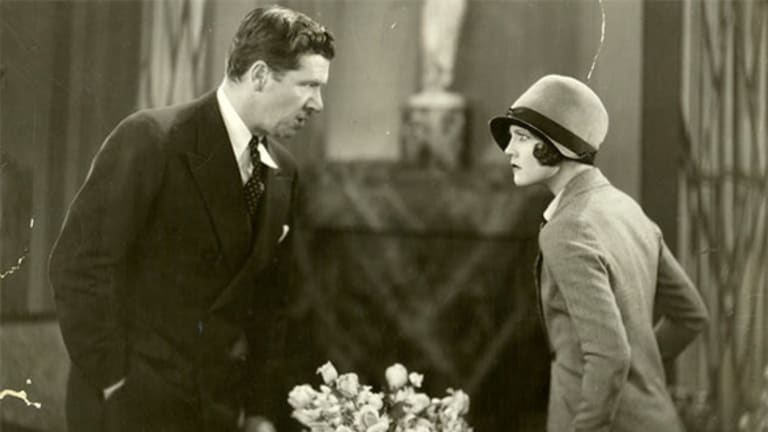 16 Must-See Wall Street Movies
Wall Street has provided plenty of inspiration for the film industry over the years. Here are some of the best movies about money.
Wall Street has provided plenty of inspiration for the film industry over the years. Here are some of the best movies about money.
NEW YORK (TheStreet) -- Wall Street has provided plenty of inspiration for the film industry over the years and continues to do so.
The trailer for The Big Short, starring Brad Pitt, Christian Bale, Ryan Gosling and Steve Carell and set for release in December, came out this week. Based on the 2010 Michael Lewis book by the same name, the film focuses on real-life events and a group of men who saw the build-up of the housing and credit bubble and anticipated the 2008 market crash -- making big money in the process. It is already generating Oscar buzz.
Another finance-themed film, Equity, about a senior investment banker who is taking a company public, is also in the works for release in late 2015 or early 2016. What sets it apart: Its protagonist is a woman.
The two are just the latest in a long line of Wall Street-inspired flicks to hit the silver screen.
Following are 16 other Wall Street-themed movies you may want to watch (if you haven't already). Some, but not all, are available on Netflix (NFLX) - Get Report , Amazon (AMZN) - Get Report and HBO.
1. The Wolf of Wall Street (1929)
Before Leonardo DiCaprio was the wolf of Wall Street, George Bancroft was. The Academy Award-nominated actor played the lead role of stock manipulator Jim Bradford in the 1929 film The Wolf of Wall Street.
An early "talkie" picture (meaning it was filmed with sound), The Wolf of Wall Street tells the story of a man who corners the copper market and sells short. In its 1929 review of the film, The New York Times was less than impressed. "The yarn is not materially different from other Wall Street tales that have come to the screen," it wrote. "Money there is, also madness, women and swindling. It is fairly well acted by Mr. Bancroft, but the work of the others is quite disappointing."
What is impressive about the film is its timing: It was released at the start of 1929, months before the market crash that would set off the Great Depression.
2. It's a Wonderful Life (1946)
Banking and finance -- and the problems that come with them -- are a big part of the backdrop of the 1946 holiday movie It's a Wonderful Life.
The film's main character, George Bailey (played by actor Jimmy Stewart), gets married on the day of the Great Crash of 1929. Instead of going on his honeymoon, he and his wife use the money they've saved to weather a bank run. Years later in 1945, Bailey's uncle Billy loses an $8,000 bank deposit, leaving Bailey facing arrest and his small building and loan company on the verge of collapse.
Watch 'It's a Wonderful Life' on Amazon here.
3. Trading Places (1983)
Starring Dan Aykroyd and Eddie Murphy, 1983's Trading Places tells the story of a Philadelphia commodities broker and a homeless street hustler who, as the film's title suggest, trade places. The two unknowingly form part of an elaborate bet made by two rich brothers, Mortimer and Randolph Duke, about whether a person's environment or heredity determines how they will do in life.
Eventually, the broker and the hustler wise up to the brothers' bet and outsmart them on the commodities trading floor in New York, turning an enormous profit on orange juice futures while the Dukes lose $394 million.
Watch 'Trading Places' on Amazon here.
4. Wall Street (1987)
The 1987 film Wall Street portrays the epitome of 1980s excess, and one of its lead characters, Gordon Gekko, is a depiction of the most ruthless corporate raiders of the day.
The film follows junior stockbroker Bud Fox, played by Charlie Sheen, as Gekko, portrayed by Michael Douglas, takes him under his wing, making him part of his inner circle and involving him in the wheeling and dealing of business and insider trading.
Gekko is said to be inspired by a number of real-life big-name investors, including Carl Icahn, J. Tomilson Hill and Ivan Boesky, whom writer and director Oliver Stone met with before making the film. Gekko's line, "If you want a friend, get a dog," is often attributed to Icahn.
A sequel, Wall Street: Money Never Sleeps, was released in 2010 starring Douglas and Shia LeBeouf.
Watch 'Wall Street' on Amazon here.
5. Trader (1987)
One of hedge fund manager Paul Tudor Jones' earliest successes with his Tudor Investment Corp. was his correct prediction of the 1987 market crash. A documentary made the same year titled Trader and aired by PBS shows Tudor Jones' projections.
The back of the video case it came in reads:
"Is financial trading an art, science, profession or out-and-out gamble? If you're interested in money and you want to know what it's really like on Wall Street, this is the video you, your family, your colleagues and your friends should own. Filmed before Wall Street's October 1987 crash, TRADER is a riveting one hour documentary of a fascinating man, Paul Tudor Jones II. It delivers a rarely seen view of futures trading and explains the workings of this frantic, highly charged marketplace. It gives viewers an inside look at his estate in Virginia, skiing in Gstaad, his New York apartment. It also examines Jones' prediction that America is nearing the end of a 200-year bull market. If he's right -- and he almost always is -- this country and the world are about to experience economic changes of unprecedented proportions."
Today, the film is incredibly hard to find -- because apparently, Tudor Jones, now a billionaire, hated it and bought up all the copies he could.
6. Rogue Trader (1999)
The 1999 film Rogue Trader brings to the silver screen the true story of Nick Leeson, a British derivatives broker working out of Singapore whose speculative trading and hidden losses caused Barings Bank, London's oldest merchant bank, to collapse in 1995. His dealings had racked up more than 800 million pounds of losses, and when his scheme was uncovered, he fled the country and was eventually arrested in Frankfurt.
The movie is based on Leeson's book, Rogue Trader: How I Brought Down Barings Bank and Shook the Financial World, which he published while in prison in 1996.
7. Boiler Room (2000)
Boiler Room centers on college drop-out Seth Davis, played by Giovanni Ribisi, and his experiences in stock trading. He joins a suburban brokerage firm after running an unlicensed casino out of his apartment and quickly learns that his new business may be more unethical than his last. He discovers the company is running a pump-and-dump scheme and selling clients shares of penny stocks and entities that don't even exist.
Ben Younger, the 2000 film's writer and director, interviewed a number of brokers while writing the screenplay.
Watch 'Boiler Room' on Amazon here.
8. American Psycho (2000)
The 2000 film American Psycho, based on a 1991 book of the same name, depicts the life of wealthy New York investment banking executive Patrick Bateman. Played by Christian Bale, Bateman moves among the young and trendy Manhattan with ease while at the same time descending deeper into a psychopathic, murderous alter ego.
A stand-alone sequel, American Psycho 2, was released in 2002 but instead of featuring a banker, it is about a female college student played by Mila Kunis.
Watch 'American Psycho' on Amazon here.
9. Enron: The Smartest Guys in the Room (2005)
The 2001 Enron scandal led to a lot of things for a lot of people -- including an Oscar nomination for a group of documentary filmmakers.
Enron: The Smartest Guys in the Room, released in 2005, examines the collapse of the Houston energy and commodities company behind one of the biggest accounting frauds in history. It features interviews with journalists Bethany McLean and Peter Elkind as well as former Enron executives and employees, stock analysts and others and follows the firm's 1985 beginnings as well as its 2001 bankruptcy and end.
Watch 'Enron: The Smartest Guys in the Room' on Amazon here.
10. The Pit (2009)
The Pit is a 2009 documentary that follows commodities traders working at the New York Board of Trade.
Filmmaker Johanna Lee worked on the floor for six months in 2005 and then followed traders for four years "to get a personal glimpse of the drama and competition for survival, where streetwise Brooklyn guys become multi-millionaires and Ivy League hot shots try to make it big."
11. Inside Job (2010)
Inside Job, the 2010 documentary film directed by Charles H. Ferguson, examined the ins and outs of the late-2000s financial crisis while the wound was still fresh. It delves into what brought about the crisis and features interviews with economist Nouriel Roubini, hedge funder Bill Ackman and current IMF managing director Christine Lagarde.
It also pushes the idea that Wall Street execs have a penchant for cocaine and prostitutes. Ferguson explained the emphasis in a 2010 interview with The New York Times. "I put this in the film for two reasons. The first is that I wanted to portray the culture. I consider it to be not dissimilar from the private elevator, the private planes, the gigantic estates -- the ways in which Wall Street had become disconnected from the things that would normally give them some kind of reality check. They became very disconnected from anything that would give them feedback saying you're going too far, this is too dangerous, this is wrong, they didn't have any of that. They were surrounded by people and things that they had purchased and that weren't going to tell them what they should have been hearing," he said. "The other reason is that it's very hard to bring criminal cases and you have to get leverage. If you're serious about investigating what was going on here, you need a way to get people to talk.
The film won the 2011 Academy Award for Best Documentary.
Watch 'Inside Job' on Amazon here.
12. Quants: The Alchemists of Wall Street (2010)
Quants: The Alchemists of Wall Street examines the world of the mathematical wizards and computer programmers of the global financial system. It examines the innermost workings of the economy, the financial crisis and the recession.
"In its essence, Quants tells us how Wall Street no longer has either a wall or a street, but rather exists in the borderless, lawless, and timeless world of the Internet," the Columbia Review of Books & Film wrote of the 2010 documentary.
13. Too Big to Fail (2011)
Based on Andrew Ross Sorkin's 2009 book Too Big to Fail: The Inside Story of How Wall Street and Washington Fought to Save the Financial System -- and Themselves, the 2011 film Too Big to Fail was first shown on HBO in May 2011.
The movie chronicles the 2008 financial meltdown and focuses on the actions of U.S. Treasury Secretary Henry Paulson, played by William Hurt, to contain it. Lehman Brothers, Bank of America (BAC) - Get Report , Barclays (BCS) - Get Report , AIG (AIG) - Get Report and General Electric (GE) - Get Report are among the companies featured.
The film received 11 Emmy nominations.
Watch 'Too Big to Fail' on Amazon here.
14. Margin Call (2011)
The 2011 independent film Margin Call focuses on one 24-hour period in the early stages of the 2008 financial crisis. It takes place at an investment bank and follows what unfolds as an analyst unlocks information that could cause the firm's downfall.
Starring Kevin Spacey, Paul Bettany, Jeremy Irons, Zachary Quinto and Penn Badgley, Margin Call was directed by J.C. Chandor, who said in a 2011 interview with ProPublica that the film was meant to be a tragedy of lost potential. "These are the best and brightest that we have. We don't tax our universities because they are supposed to provide society with a service, which is educated youth ready to come out and work. The abuse that I've seen over the last 14 to 15 years since I've graduated from college, the manipulation of that system, that training ground, essentially leading toward making money for money's sake as opposed to banking that is actually serving a purpose was the heart of the movie for me," he said.
Watch 'Margin Call' on Amazon here.
15. Arbitrage (2012)
Richard Gere plays a 60-year-old hedge fund manager named Robert Miller who has cooked his company's books to cover losses and fraud in this 2012 film. He is trying to complete the sale of his empire before his behind-the-scenes handiwork is revealed, but the situation becomes even more precarious after he is involved in a car accident that kills his mistress.
Gere was nominated for a Golden Globe Award for his performance.
Watch 'Arbitrage' on Amazon here.
16. The Wolf of Wall Street (2013)
Adapted from the memoir of former American stockbroker Jordan Belfort, The Wolf of Wall Street earned five Oscar nominations, four BAFTA nods and two Golden Globe Awards.
Leonardo DiCaprio plays Belfort in the film, which begins when he loses his job as a stock broker in the 1987 financial crash and takes a job at a brokerage firm in Long Island that specializes in penny stocks. It follows his rise to the top, the creation his own firm -- Stratton Oakmont -- and his ultimate downfall and arrest for fraud.
The film was criticized by some for celebrating greed and glorifying Belfort -- something that, according to director Martin Scorsese, was to a certain extent intentional. "I didn't want [the audience] to be able to think problem solved, and forget about it," he said in an interview with Deadline. "I wanted them to feel like they'd been slapped into recognizing that this behavior has been encouraged in this country, and that it affects business and the world, and everything down to our children and how they're going to live, and their values in the future."
Watch 'The Wolf of Wall Street' on Amazon here.
This article is commentary by an independent contributor. At the time of publication, the author held no positions in the stocks mentioned.