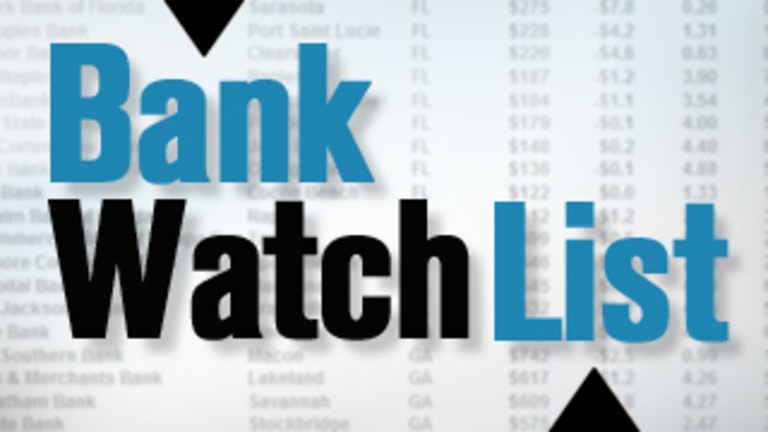 154 Small Banks Hurdling Toward Oblivion: TheStreet Watch List
TheStreet updates its second-quarter Bank Watch List.
NEW YORK (
) -- Now that a complete set of second-quarter data is available for the nation's banks and savings and loan associations, it's clear that there are still community banks heading toward their doom.
There are now 154 undercapitalized institutions on the
TheStreet's
Bank Watch List, with second-quarter data now available for all of the nation's banks and thrifts. This is up from 149 on our previous list form August 2, when data wasn't yet available for most S&Ls, and also factors-in three more bank failures.
Based on second-quarter regulatory data supplied by SNL Financial, 154 institutions were
according to the regulatory guidelines that apply to most institutions.
Click the link below to see the full list:
It is important to note that any capital raised by institutions during the third quarter of 2011 will not be reflected on the Watch List.
Most banks and thrifts need to maintain Tier 1 leverage, Tier 1 risk-based and total risk-based capital ratios of at least 5%, 6% and 10% to be considered well-capitalized under regulatory guidelines. Some trust banks carry lower capital requirements. The ratios need to be at least 4%, 4% and 8% for most to be considered
.
Thrifts joining the Watch List now that all of the second-quarter data is available, include
SCB Bank
of Shelbyville, Ind., which is held by
Blue River Bancshares
undefined
. SCB bank is operating under a May 16 cease and desist order from the Office of Thrift Supervision, requiring the institution to achieve and maintain a Tier 1 leverage ratio of 8.25%, "after the funding of an adequate Allowance for Loan and Lease Losses," and a total risk-based capital ratio of 12.25% by September 30, "
The largest of the seven thrifts joining the Watch List is
Lydian Private Bank
of Palm Beach, Fla., which is now the second-largest bank on the list. Lydian filed an updated first-quarter Thrift Financial Report in June, according to the South Florida Business Journal, to restate its first-quarter net loss to $23.4 million, from $15.9 million, thus slipping to "critically undercapitalized" status. The first-quarter restatement mainly reflected an increased provision for loan losses.
A second-quarter net loss of $10.6 million left the bank with a Tier 1 leverage ratio of 1.70%. Under a September 2010 cease and desist order from the U.S. Office of Thrift Supervision, Lydian Private Bank was directed to achieve and maintain a Tier 1 leverage ratio of at least 8% and a total risk-based capital ratio of at least 12% by December 31. The order also directed the institution's board of directors to improve its oversight.
Lydian CFO Jay Williams actually said in an interview with the South Florida Business Journal that "if you look at us exclusive of bad debt expenses, we are a profitable company."
Three of the banks and thrifts on the Watch List were actually negatively capitalized as of June 30. The largest of these -- and the largest on the Watch List -- is
Community One Bank, NA
of which is a subsidiary of
FNB United
undefined
.
The holding company on April 27 entered into a deal to acquire
Bank of Granite Corporation
(GRAN)
of Granite Falls, N.C., with $158 million in new capital being contributed by
The Carlyle Group
and
Oak Hill Capital Partners
. The target company holds
Bank of Granite
, which is also on the Watch List. On Tuesday, FNB United announced a total of $310 million in private equity subscription agreements, contingent upon approval of current shareholders and regulators.
In order for this complicated deal to be completed, all private equity investors need to meet their commitments, the U.S. Treasury needs to agree to exchange $51.5 million in preferred shares of FNB United -- held in exchange for bailout funds received through the Troubled Assets Relief Program, or TARP - for common shares in the new combined holding company, and CommunityOne needs to repurchase repay outstanding debt and repurchase preferred stock held by
SunTrust
(STI) - Get SunTrust Banks, Inc. Report
.
Out of $15 million in subordinated debt owed to SunTrust by CommunityOne, $12.5 million has been converted to preferred shares with an 8% coupon. FNB United agreed on August 1 to repurchase the preferred shares from SunTrust and repay settle the remaining $2.5 million in subordinated debt owed to SunTrust, "of the closing date of the proposed merger with Bank of Granite Corporation."
The third-largest institution on the Watch List is
First Mariner Bank
of Baltimore, with $1.2 billion in total assets as of June 30. The bank's capital continued to decline during the second quarter, when a net loss of $10.5 million left it with a total risk-based capital ratio of 6.92%, declining from 7.91% the previous quarter. The bank is a subsidiary of
First Mariner Bancorp
(FMAR)
.
The holding company announced on April 25 that it had entered into an agreement with
Priam Capital Fund I LP
for an investment of $36.4 million, as part of the company's plan to raise $160 million in new capital. Priam's investment was contingent upon First Mariner lining up the remaining $123.6 million in capital. Priam's deadline passed on July 18, with no announcement from First Mariner. When the holding company announced its second-quarter results on July 29, CEO Edwin Hale simply said that "we are continuing our efforts to increase our capital levels to achieve compliance with regulatory requirements."
Capitol Bancorp
(CBCR)
of Lansing, Mich. is one of two publicly traded bank holding company with multiple subsidiaries on the Bank Watch List, including
Central Arizona Bank
of Casa Grande,
Sunrise Bank of Arizona
of Phoenix,
Bank of Las Vegas
,
1st Commerce Bank
of North Las Vegas, Nev.,
Sunrise Bank
of Valdosta, Ga.,
First Carolina State Bank
of Rocky Mount, N.C.,
Pisgah Community Bank
of Asheville, N.C.,
Sunrise Bank of Albuquerque
, N.M., and
Michigan Commerce Bank
of Ann Arbor.
The holding company had 64 separately-charted bank subsidiaries in 17 states at the end of 2009, and reduced the number of subsidiaries to 23 in 2010, through sales of some subsidiary banks and mergers of others.
In its first-quarter 10-Q filing with the
Securities and Exchange Commission
, Capitol Bancorp reported that on the holding company level it was negatively capitalized, with a Tier 1 leverage ratio of negative 1.97%.
On August 11, Capitol Bancorp said it had six more divestiture transactions pending. The holding company's CEO, Joseph Reid, said that since the Capitol Bancorp was aggressively exploring its strategic options.
Mercantile Bancorp
( MBR) had two subsidiary banks on the preliminary second-quarter Watch List, --
Heartland Bank
of Leawood, Kan., and
Royal Palm Bank of Florida
, of Naples. The holding company's main subsidiary is
Mercantile Bank
of Quincy, Ill., which was well-capitalized per ordinary regulatory guidelines as of June 30, and reported a second-quarter profit of $774 thousand.
The holding company has not yet reported its second-quarter results.
Thorough Bank Failure Coverage
Last Friday, state regulators shuttered First National Bank of Olathe, Kan., which was placed in
Federal Deposit Insurance Corp.
receivership and sold to
Enterprise Bank & Trust
of Clayton, Missouri, which is the main subsidiary of
Enterprise Financial Services
(EFSC) - Get Enterprise Financial Services Corp Report
.
There have been 64 bank and thrift failures this year. During the current wave of failures that began in 2008, there have been 386 banks and thrifts closed by regulators, with Georgia in the lead with 67 bank closures; followed by Florida, with 54 failures; Illinois, with 44; and California, with 37 failed banks and thrifts.
All bank and thrift failures since the beginning of 2008 are detailed in
TheStreet's
interactive bank failure map:
The bank failure map is color-coded, with the states having the greatest number of failures highlighted in dark gray, and states with no failures in light green. By moving your mouse over a state you can see its combined 2008-2011 totals. Clicking on a state opens a detailed map pinpointing the locations and providing additional information for each bank failure.
RELATED STORIES:
10 Bank Stock Picks for Bottom-Fishing Investors >>
Capital One, Discover Get 'Buy' Calls >
Bank of America's Card Sale Necessary >
Bank of America Downgradepalooza Continues >
Bank of America Card Deal Won't Stop Bears Growling >
Bank of America, 10 Large-Cap Banks See Estimate Cuts >
Bank of America Gets U.K. Hedge Fund Stake >
--
Written by Philip van Doorn in Jupiter, Fla.
>To contact the writer of this article, click here:
.
>To follow the writer on Twitter, go to
http://twitter.com/PhilipvanDoorn
.
>To submit a news tip, send an email to:
.
Philip W. van Doorn is a member of TheStreet's banking and finance team, commenting on industry and regulatory trends. He previously served as the senior analyst for TheStreet.com Ratings, responsible for assigning financial strength ratings to banks and savings and loan institutions. Mr. van Doorn previously served as a loan operations officer at Riverside National Bank in Fort Pierce, Fla., and as a credit analyst at the Federal Home Loan Bank of New York, where he monitored banks in New York, New Jersey and Puerto Rico. Mr. van Doorn has additional experience in the mutual fund and computer software industries. He holds a bachelor of science in business administration from Long Island University.