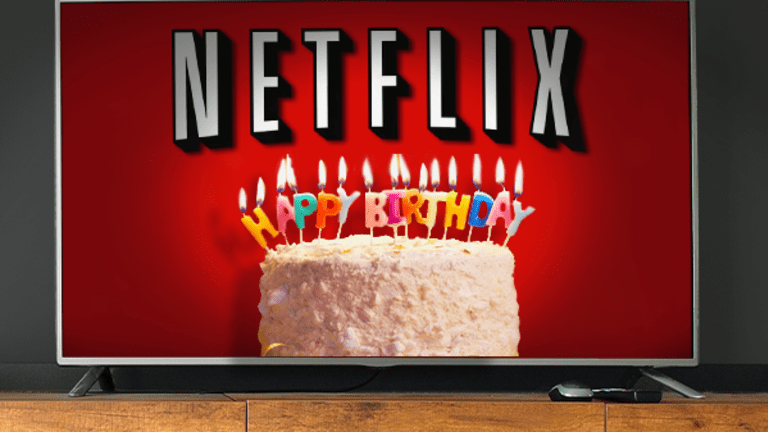 How Netflix Has Gone From Renting DVDs to Global Streaming Giant in 15 Years Since Its IPO
Before its current dominance, Netflix was spurned by Blockbuster, withdrew its first attempt for an IPO and navigated years of unprofitability. Along the way, its stock has increased almost 150-fold.
Fifteen years ago today, Netflix (NFLX) went public under the guise of being the "largest online entertainment subscription service in the United States," but that ambitious vision would soon prove to be an understatement. In the years since, Netflix, once known as NetFlix.com, has transformed from a DVD rental service to a streaming giant with a business that's grown to conquer several corners of the globe. 
On May 23, 2002, Netflix debuted on the Nasdaq at $15 a share and closed its first day of trading 12% above its IPO price at $16.75 (shares have since split twice, 2-for-1 in 2004 and 7-for-1 in 2015). Netflix also raised a cool $82.5 million in the process, a welcome figure considering that the company had yet to turn a profit and said in its S-1 filing that it would anticipate seeing net losses "for the foreseeable future." Netflix, which had 600,000 subscribers at the time of its IPO, counted its subscription-based revenue model as another major risk to its bottom line.
Few investors could have foreseen at the time that a DVD by mail business would later go on to be one of Silicon Valley's most profitable companies. According to Fortune, in the 15 years since going public, Amazon's stock has produced a higher compound annual return rate than Apple (AAPL)  and Amazon (AMZN)  did over the same span. 
The IPO was actually Netflix's second stab at entering the public market: The company had tried to file for an IPO in 2000, but later withdrew in the aftermath of the dot-com bubble, when a rush of unprofitable tech companies flooded the market with high-priced valuations, only for the market to crash and many of those internet companies lost their value. That same year, as Netflix continued to lose money, it approached now-defunct video store chain Blockbuster about acquiring a stake in Netflix, only to be turned down. 
Those risks laid out in Netflix's S-1 quickly faded into the company's rear-view mirror as Netflix finished out its first year as a public company with double the revenue of the previous year, more than one million subscribers and 14,500 DVD titles in its library (up from 11,500 at the time of its IPO.) In his 2002 letter to shareholders, CEO Reed Hastings cited increasing consumer adoption of the internet, greater DVD ownership and America's "continuing love affair with movies," as a few of the catalysts driving Netflix's success. Wall Street was also able to look past Netflix's unprofitable balance sheet to see some progress. 
"Unprofitable dot-coms are a dime a dozen, so it's easy to dismiss Netflix," Morningstar analyst George Nichols told the  Wall Street Journal at the time of Netflix's IPO. "But while it certainly makes for a speculative investment, there's no ignoring Netflix's rapidly improving fundamentals." 
Even with an improving balance sheet, Netflix was still a DVD by mail business when it went public. It wasn't until the company moved into the streaming business in 2011 (albeit slowly with about 50% of customers streaming 15 minutes of content on average), according to Wedbush analyst Michael Pachter, that Netflix began building the blueprint of its now approximately $68 billion valuation.
"The company that went public would now be bankrupt, but they were prescient, they figured out streaming before other people did, they signed deals before anyone else did," Pachter said. 
For all the fanfare, Pachter said he still remains skeptical about the fact that Netflix doesn't own all of its shows, and isprojected to spend $6 billion on original content this year. Of the 39 analysts surveyed on FactSet, Pachter is one of three with a Sell rating on Netflix. Netflix licenses popular shows like  House of Cards or  Orange Is the New Black from studios, even though both are billed as Netflix originals. Hastings has said that the streaming giant is working to produce and own more shows in the future, which could unlock more money for Netflix through licensing and DVD revenues. 
Netflix also encountered several other rocky points while on its way to becoming a high-flying mutli-billion dollar company. In 2011, Netflix decided to end its combined streaming and DVD rental subscription plan, in favor of two separate plans that would cost 60% more than the original package. Customers weren't happy, so Netflix responded by saying it would spin off its DVD operations into a company called Qwikster -- a plan that was later axed. The actions resulted in a loss of 800,000 subscribers in the third quarter of 2011, causingshares to tumble and prompting a contrite response from Hastings. 
"The last few months...have been difficult for shareholders, employees and most unfortunately, many members of Netflix," Hastings said in a 2011 letter to shareholders. "We've hurt our hard-earned reputation, and stalled our domestic growth. But our long-term streaming opportunity is as compelling as ever and we are moving forward as quickly as we can to repair our reputation and return to growth."  
It was one of the last chapters before Netflix embarked on a streaming-first future, becoming available on more platforms like Microsoft's (MSFT) Xbox 360,  Samsung (SSNLF) BluRay, the Nintendo (NTDOY) Wii and the Sony undefinedPlayStation. Fast forward to 2017 and Netflix now has close to 100 million subscribers, remains profitable and trades at about $157 per share -- a massive premium to its split-adjusted IPO price of $1.07. 
Netflix is well on its way to dominating the world (aside from some competition from 
Amazon's
(AMZN)
Prime Video), with international subscriber additions exploding in practically every quarter. The streaming giant now produces original content for audiences abroad in markets including Europe, Latin America and Asia, though Netflix has largely struggled to enter China so far. Those efforts, among others, are what has helped Netflix achieve the goals Hastings set out in his first letter to shareholders, which were to reach five million subscribers and generate $1 billion in revenue in four to seven years. 
"Our vision is to change the way people access and view the moves they love," Hastings said. "...As we continue to roll out and improve our service, we are optimistic that we have the potential for even greater gains ahead."