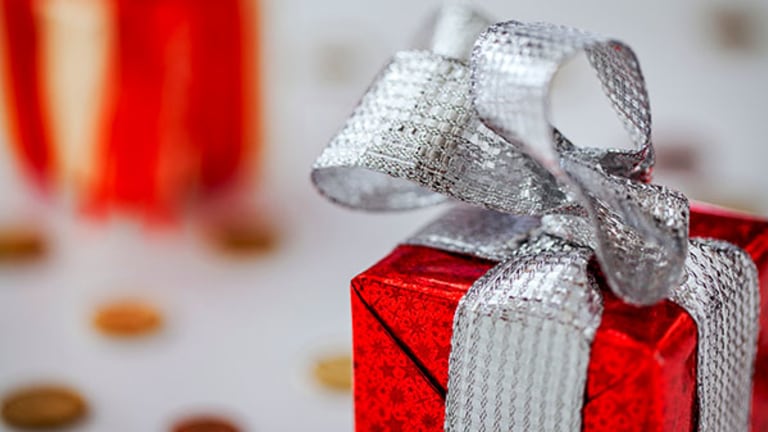 The Best Holiday Gifts for the Moms on Your List
We've picked out some perfect finds that will make even the most eclectic Mom melt this holiday season.
It's the age-old question that has plagued holiday shoppers for years: What should we give Mom?
Since gloves are so last year and a cosmetic gift set has "regift" written all over it, we've decided to help point you in the right direction.
Sure, every mom is different, but we've picked out some perfect finds that will make even the most eclectic Mom melt. If this sounds too good to be true, brace yourself -- it's about to get even better. Our favorites allow you to ditch the throngs of frantic shoppers because our picks are literally just a click away.


For the practical mom

The FoodSaver V4865 2-In-1 Vacuum Sealing System is that one perfect gift that keeps on giving. It can help mom save time, food and money. When preparing holiday meals, for example, mom can make cookie dough, pie shells and even whole pies in advance. Using the FoodSaver, she can vacuum seal them, freeze for later, then thaw and bake as needed.
Mom need not worry about freezer burns when storing leftovers. She can cook one whole chicken save the rest to make a variety of meals -- from chicken parmesan to chicken salad.
Any budget-conscious mom will love the FoodSaver. She can buy in bulk or shop for her favorite fruits and vegetables while they are still in season. This means she can make you some great-tasting pumpkin pie in June!
Get the FoodSaver Vacuum Sealing System on Amazon now
For Chef Mom

What's not to love with this innovative kitchen gadget? The 13-piece Fibrox Pro Swivel Block Set from Victorinox rotates and has a handy ledge for mom's cookbook or tablet. 
This gift set includes kitchen sears and assorted knives including an 8-inch chef's knife, which should be noted was the top pick of professionals in America's Test Kitchen.
The Victorinox Swivel Block in dark wood rotates 360 degrees, so mom can easily go from her recipe (on the cookbook or tablet) to her cutlery of choice. Want to add something extra? Victorinox says it can accommodate engraving requests.  You can have the swivel block and blade knives engraved with mom's initials by calling Victorinox's Customer Support team.
Get the 13-piece Fibrox Pro Swivel Block Set from Victorinox on Amazon now
For the old-fashioned mom

Mothers who love to make their own jellies, jams, spreads, and pickled items will love the Ball freshTECH Electric Water Bath Canner. This device replaces traditional stovetop canning and pressure cooking with a more sophisticated device, freeing up space on the counter and stove. Most women who use the traditional canning method are no stranger to scalding hot water and burns. With this canner, removing hot, boiling water is as simple as flipping a switch. The container has a water spout on the side, so you can drain leftover liquid directly into the sink.
Want to be extra thoughtful? Send her some Ball Heritage Collection Purple Pint & Quart Jars, too. These jars are strong enough to handle highly acidic foods pickled with vinegar, but they work just as well with jams and preserves.
Get the Ball freshTECH Electric Water Bath Canner on Amazon now

For the health-conscious mom

Strawberries, bananas, mango and blueberries? The perfect blend of nutritious and delicious, there's nothing better than a fresh fruit smoothie at breakfast. Moms wanting to keep fit and eat healthy will love the Oster Versa 1100 Performance Blender. This blender not only makes smoothies for a large group, but it also has individual-sized blender bottles, making it easy to blend and go.
With the Oster Versa 1100, mom doesn't need a separate food processor. It includes attachments that quickly transform the blender into a 5-cup food processor and chopper. Mom can make healthy drinks, soups and dishes using the accompanying recipe book, while saving precious counter space.
Get the Oster Versa 1100 Performance Blender on Amazon now
For the coffee lover
Everyone deserves a coffee break, especially mom. Why not let her enjoy her cup of joe the way expert baristas make it? The Mr. Coffee Automatic Milk Frother lets you make delicious, gourmet latte, cappuccino and hot cocoa drink toppings. The device also makes lovely steamed milk for those restless nights, perfect for new mothers who have a difficult time getting back to sleep.
Feeling a bit more generous? Send mom the matching Mr. Coffee Café Barista. With this compact espresso maker, mom can enjoy her gourmet espresso-based drinks at home or in the office. She'll thank you for all the extra money she'll save from her daily trips to Starbucks.
Get the Mr. Coffee Café Baristaon Amazon now

For the mom who needs a little help in the kitchen

While purchasing cooking equipment for a mother can be risky business, there's finally one gift moms will love to unwrap. The Oster Digital French Door Oven is a stainless steel, turbo convection oven. It's like an ordinary convection oven on steroids. The oven cooks food more thoroughly and in less time than a traditional oven.
This is a great kitchen gadget to have especially for those busy work nights. Need to make dinner in a hurry? The oven's roomy interior can accommodate two 16-inch pizzas. It can also hold a family size chicken, pot roast, casserole or 14 slices of bread.
The unique design not only looks elegant, it also allows both doors to open with a single pull for hassle-free cooking. Even better, the convection oven uses less energy than a regular oven. Translation: mothers can take a break from slaving hours in a hot kitchen while saving money on the electric bill.
Get the Oster Digital French Door Oven on Amazon now

For the new mom

Don't forget those new moms who share holiday gifts with their babies.
Who can resist the lovable and cuddly Zuzu Parade Stuffed Animal Stool? This unique stuffed animal-turned-furniture not only brightens the nursery, bedroom or play area, it doubles as a chair, footstool and storage container. The handy compartment inside the stool is a great place to keep the kids' toys, books and art projects. Choose from six different characters: lion, elephant, turtle, walrus, horse and whale.


Get the Zuzu Parade Animal Stool on Amazon now

What about this adorable little Paw Patrol upholstered chair from Delta Children? With such colorful graphics, a sturdy hardwood frame and padded seat, any new mom will love having this in her child's room or nursery. Also available in other character designs such as Dora the Explorer, Frozen, Pixar Cars and Spongebob.


Get the Delta Children chair now

Help the new mom on your list entertain her little one with this delightful Trumpette Howdy Cow. Children will enjoy hours of bouncing around in the Howdy, which can accommodate up to 110 pounds. This phthalate-free and lead-free rubber cow can easily be inflated using the accompanying straw-like tube. Choose from six colors: white, cobalt blue, black, grey, pink and black/red.
Get the Trumpette Howdy Cow on Amazon now
Need some stocking stuffers for the new mom? Help mom soothe her newborn with NUK Marrakesh and Whales Orthodontic Pacifiers? A pack contains two pacifiers in adorable exotic prints.  Mom will also love the NUK Gerber Graduates Teenage Mutant Ninja Turtles Cup and Snacker. The containers come in choices of Leonardo, Raphael, Donatello and Michelangelo.


For the on-the-go mom

While some mothers love to dazzle their families in the kitchen, others like to hit the town in style. Moms who are constantly on the go will love the Hedgren Adela Tote. It is versatile enough for the office and stylish enough for the boardroom.
This tote bag has a padded space with Velcro strap for a 15.6-inch laptop. It even has room for a tablet, cell phone, chargers and everything a mother needs when traveling by car, bus, train, plane or on foot.
If this bag is just way too big for your mom, you can opt for the slightly smaller, but still roomy Hedgren Goal Tote.
Get the Hedgren Adela Tote on Amazon now

For the lady of the house

Moms love being pampered, so give something to keep her warm while she snuggles into her favorite chair. The Sunbeam Comfy Toes Microplush Heated Throwhas foot pockets to keep mom's feet nice and warm. It also features three heat settings and a safety feature that causes it to shut off automatically after three hours.
With the Sunbeam Comfy Toes Microplush Heated Throw, mom can relax and enjoy her favorite book or TV show, without having to increase the temperature of the entire house. On top of giving her a cozy holiday gift, you're also helping mom save on utility bills.

Get the Sunbeam heated throw on Amazon now
Disclosure: TheStreet has advertisers and partnerships; we may get a share of the revenue from your purchase.