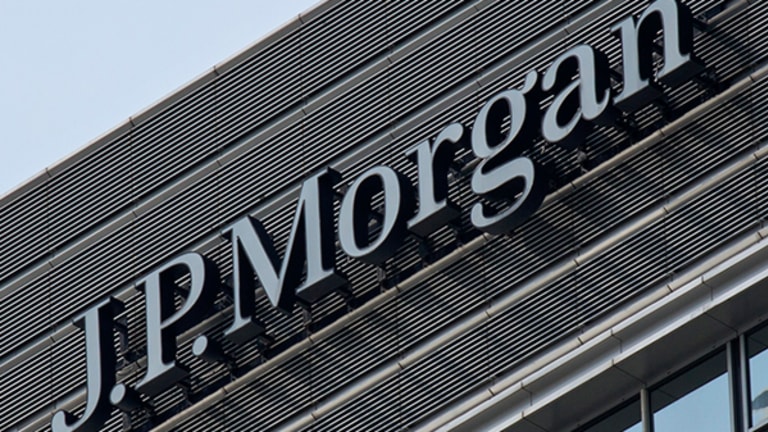 Publish date:
Settlement Unshackles JPMorgan's Stock (Update 1)
With a big monkey off its back, the highly profitable JPMorgan should see its stock rise to a P/E valuation in line with peers.
With a big monkey off its back, the highly profitable JPMorgan should see its stock rise to a P/E valuation in line with peers.
Updated from 9:23 a.m. ET with comments from Credit Suisse analyst Moshe Orenbuch and CLSA analyst Mike Mayo.
NEW YORK (TheStreet) -- A total fourth-quarter litigation tab of $17.5 billion is a tough pill to swallow, but JPMorgan Chase's (JPM) - Get JPMorgan Chase & Co. (JPM) Report aggressive move to settle the bulk of its mortgage mess sets the stage for a significant rise in the company's stock.
After weeks of leaks and word of difficult negotiations over the precise wording of the bank's admission that investors purchasing residential mortgage backed securities (RMBS) from JPMorgan Chase, Bear Stearns and Washington Mutual were misled about the quality of underlying loans, the bank finally entered into a $13 billion settlement with multiple government authorities on Tuesday.
JPMorgan acquired Bear Stearns in March 2008, when the investment bank was facing bankruptcy as its liquidity dried up.  Washington Mutual failed in September 2008, after which the nation's largest savings and loan institution was sold by the Federal Deposit Insurance Corp. to JPMorgan.
New York State Attorney General Eric Schneiderman, who heads President Obama's Residential Mortgage-Backed Securities Working Group announced the settlement between the bank, the Department of Justice, federal regulators and states' attorneys general.  This includes the previously announced $5.1 billion settlement with the Federal Housing Finance Agency (FHFA), which regulates Fannie Mae and Freddie Mac. 
The settlement deal includes cash payments of $9 billion and another $4 billion in assistance to distressed homeowners.
Some investors and analysts have called the government's efforts to skewer JPMorgan over its mortgage sales practices a government shakedown.  But the RMBS working group continues to investigate other banks over their mortgage sales practices leading into the credit crisis of 2008.  Then again, Scheiderman said on Tuesday that some of New York's $1 billion portion of the settlement would be "directed to provide additional legal services and housing counseling for those affected by Superstorm Sandy."
Helping people affected by the storm is, of course, a laudable goal.  But it has nothing to do with JPMorgan's RMBS sales before 2009.
The bank's Tuesday settlement was preceded last Friday by a $4.5 billion RMBS settlement with a group of institutional investors, also covering sales by Bear Stearns and Washington Mutual.
JPMorgan reported having $23 billion in litigation reserves as of Sept. 30 and said on Tuesday it was "fully reserved for this settlement."  The company's third-quarter earnings were erased by a $9.15 billion provision for litigation reserves, in anticipation of the fourth-quarter settlements. 
JPMorgan CEO James Dimon during the company's conference call on Tuesday said the $4 billion portion of the settlement allocated to homeowner relief would not be drawn from litigation reserves, but would be reflected in the firm's operating expenses.
JPMorgan CFO Marianne Lake during the call said the $13 billion settlement "does not resolve claims on trusts issued by Washington Mutual. We continue to believe that WaMu repurchase liabilities remains with the FDIC, and litigation on this matter is continuing."  While resolving the possible Washington Mutual exposure will continue to worry investors, a subsequent settlement would pale compared to the one on Tuesday.  Morgan Stanley analyst Betsy Graseck in a client note on Monday wrote "We assume that risk remains with the FDIC receivership. If we're wrong, our bear case assumes a $3.3b payout."
JPMorgan's Cheap Stock
With remaining mortgage litigation risk apparently quite limited when compared to the $17.5 billion fourth-quarter tab, investors sitting on the sidelines may be tempted to build positions in JPMorgan's shares, which are trading at a relatively low multiple to forward earnings when compared to peers:
JPM's shares closed at $56.15 Tuesday and traded for 9.3 times the consensus 2014 earnings estimate of $6.02, among analysts polled by Thomson Reuters
Bank of America's (BAC) - Get Bank of America Corp Report stock closed at $15.20 Tuesday and traded for 11.3 times the consensus 2014 EPS estimate of $1.34
Wells Fargo (WFC) - Get Wells Fargo & Company Report closed at $43.56 and traded for 10.9 times the consensus 2014 EPS estimate of $4.01
Citigroup (C) - Get Citigroup Inc. Report closed at $51.17 Tuesday and traded for 9.4 times the consensus 2014 EPS estimate of $5.43

So JPMorgan is the cheapest of the "big four" U.S. banking club on a forward price-to-earnings basis, despite being the second-best performer among the group, when looking at returns on average tangible common equity (ROTCE) over the past several years. 
According to data provided by Thomson Reuters Bank Insight, JPMorgan's ROTCE for the first three quarters of 2013 was 11.59%, despite its third-quarter net loss.  Over the previous three full years, the company's ROTCE ranged from 14.72% to 15.26%.
For Bank of America -- the most expensive of the big four on a forward P/E basis -- the ROTCE for the first three quarters of 2013 was 7.44%.  Over the past three full years, the company's ROTCE improved to 2.96% in 2012 from a negative 1.75% in 2010.
Wells Fargo has been the strongest earner among the big four during the post-crisis period.  The company's ROTCE for the first three quarters of 2013 was 17.86%, after a steady improvement to 16.70% in 2012 from 14.77% in 2010.
Citigroup's ROTCE for the first three quarters of 2013 was 8.95%.  Over the previous three years, Citi's ROTCE ranged from 4.80% to 8.04%.
Investors have had good reason to be wary of JPMorgan Chase, until now. 
"With the sizeable reduction in legacy mortgage exposure, our sense is JPM's pedestrian multiple will finally begin to edge higher," Sterne Agee analyst Todd Hagerman wrote in a note to clients on Tuesday.  He rates JPMorgan a "buy," with a price target of $65, which implies 16% upside for the shares over the next 12 months.
"Although the magnitude of the legal settlements in recent weeks has been staggering in the very least, our sense is investors will
now begin to hang their hats on the notion that the largest banks, including JPM, are clearly in the later innings in resolving legacy mortgage-related exposure--a clear positive that should begin to relieve some of the pressure on valuations and the group's pedestrian multiples heading into 2014/2015," Hagerman wrote.
Oppenheimer analyst Chris Kotowski was also upbeat on JPMorgan's prospects following the settlement.  "After expensing more than $20B in litigation charges since 2010, we believe that the future amounts will be relatively modest. In general, we believe 2014 earnings estimates are more likely to go up than down from here," he wrote in a client note Tuesday.
Kotowski rates JPMorgan "outperform," with a $73 price target, implying 30% upside for the shares.
Credit Suisse analyst Moshe Orenbuch is another believer in JPMorgan, with an "outperform" rating and a $65 price target.  In his firm's stock research report on Wednesday, Orenbuch estimated that a subsequent settlement of RMBS claims against Washington Mutual "would be less than $2.5bn," out of "nearly $10bn of [litigation] reserves left.
CLSA analyst Mike Mayo has a completely different opinion of JPMorgan Chase, with an "underperform" rating and 12-month price target of $53.00.  "'Big Brother Banking' remains more heated," Mayor wrote in a client note Wednesday, pointing out additional pressure being faced by JPM from investigations of libor and the foreign exchange market by multiple regulators, as well as the continuing investigations of the firm's energy trading activities and involvement in the Bernie Madoff Ponzi Scheme. 
"JPM was right to settle and it puts the worst mortgage issues behind, but it had to do so at a big price," Mayo wrote.
JPMorgan's stock was down 0.5% in afternoon trading Wednesday, to $55.90. 
Interested in more on JPMorgan Chase? See TheStreet Ratings' report card for this stock.
RELATED STORIES:
$4B in JPMorgan Consumer Relief Will Rankle Investors
Schneiderman Details $13B JPMorgan Settlement
Bank of America Leads Sector on 'JPMorgan Day'
5 Cheapest A-Rated Bank Stocks
-- Written by Philip van Doorn in Jupiter, Fla.
>Contact by Email.
Philip W. van Doorn is a member of TheStreet's banking and finance team, commenting on industry and regulatory trends. He previously served as the senior analyst for TheStreet.com Ratings, responsible for assigning financial strength ratings to banks and savings and loan institutions. Mr. van Doorn previously served as a loan operations officer at Riverside National Bank in Fort Pierce, Fla., and as a credit analyst at the Federal Home Loan Bank of New York, where he monitored banks in New York, New Jersey and Puerto Rico. Mr. van Doorn has additional experience in the mutual fund and computer software industries. He holds a bachelor of science in business administration from Long Island University.