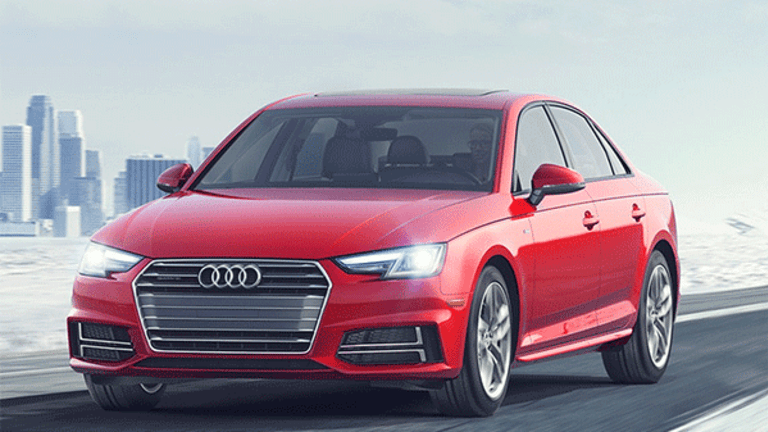 12 Best 2017 Cars on the Road Right Now
Kelley Blue Book recently rounded up its best vehicles of the 2017 model year and saw a lot to like out of some of the newcomers.
Editors' pick: Originally published Dec. 15.
"Best" isn't a title that we like to slap on any product ourselves, but we aren't above letting someone else do the dirty work for us.
The story of U.S. auto sales in 2016 is just about written, and it's mostly about the SUV. With gas prices still hovering around $2 or just below, the U.S. car-buying public has stopped pretending to care about efficiency or even practicality and has started openly wondering how it can put its entire living space on wheels.
The answer is the SUV and crossover. Through November, automakers sold more than 6 million sport utility vehicles in the U.S. Granted, just 1.6 million of those were the gas-swilling truck-based SUVs you recall from the '90s and early 2000s. The rest were car-based crossovers that are not only more efficient, but have sales growing at twice the rate of standard SUVs year-over-year.
While both standard SUVs and crossovers combined have nearly equalled the number of cars sold during the same span (6.4 million), thanks largely to low gas prices, their efficiency has become somewhat of a concern for folks other than consumers. In June, the Environmental Protection Agency issued a Midterm Evaluation of its goal to raise fuel to a combined 54.5 miles per gallon (roughly 38 miles per gallon on window stickers) by 2025. The University of Michigan Transportation Research Institute found that cars and light trucks purchased in 2015 got an average of 25.3 miles to the gallon.
That's actually down from 25.4 mpg the year before, and it's made the EPA a little anxious about whether or not automakers can hit that 2025 mileage mark.
The auto industry was on a decent pace to hit that mark for a while. That 25.3 mpg is far better than the 19 miles per gallon that the Department of Transportation measured for the same pool of vehicles in 1995. It's also closing in on double the average mileage of the light-duty vehicles on U.S. roads in 1980. However, when the EPA set its mileage goal in 2012, gas prices were close to $4 a gallon. According to AAA, they're down to an average of $2.21 per gallon, though they've risen by nearly 20 cents per gallon within the last year.
As a result, U.S. drivers stopped buying cars -- with sales of cars of every size down 8.4% since this time in 2015, according to MotorIntelligence -- and started buying SUVs, crossovers and vans. Minivan sales are up 10.8% within the last year, but even small and large van sales are up as Ford and General Motors switch to more European styles and fleets modernize.
SUV and crossover sales are up 10.4% year over year, and the EPA notes that their outsized portion of overall vehicle sales isn't helping mileage in the least. The organization says the auto industry is absolutely capable of hitting that 2025 goal -- even without introducing more hybrids and SUVs into the mix -- but that the market shift might make it tougher to do so. That's unfortunate for U.S. automakers, who've invested heavily in SUVs and crossovers while German, Japanese and Korean competitors have achieved a broader mix. That U.S. SUV/crossover imbalance has some analysts believing that automaker pressure will lead to fuel efficiency standards being relaxed, but the EPA is holding firm.
It notes that automated cars will help cut into mileage numbers, and that younger Americans are driving and buying cars in fewer numbers than the generations before. the share of new cars being bought by Americans between 18 and 34 is down 30% in the last five years, according to auto pricing site Edmunds.com. A Pew Research Center study notes that people under 35 bought 12% fewer cars than they did in 2010. The Department of Transportation notes that just 28% of 16-year-olds had driver's licenses in 2010, with just 45% of 17-year-olds claiming the same. That's plummeted from 50% and 66% respectively in 1978. While the number of 16-year-olds with driver's licenses peaked at 1.72 million in 2009, it dropped to 1.08 million by 2014.
So maybe it's no surprise, then, that when the folks at Kelley Blue Book picked their Best Buy vehicle of the year, it wasn't an SUV. Instead, it's a fairly pedestrian car that 335,000 of you bought through November -- putting its sales ahead of any SUV or crossover on the market. Write as many country songs as you'd like about sitting up high above the traffic. Keep convincing yourself that your vehicle needs to be a rolling rec room that can fit the content of the average family's closets. When it comes right down to it, the car at the end of this list will meet the needs of anyone who isn't a construction contractor and isn't trying to have a family large enough to get them a show on a cable or satellite network: