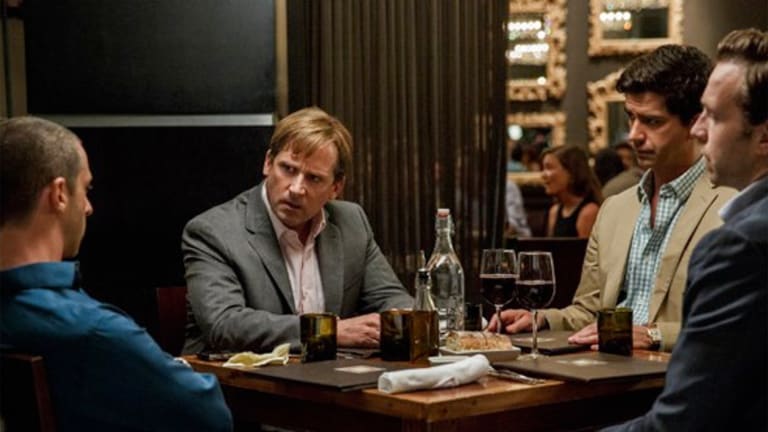 'The Big Short' and 10 Other Movies Inspired by Juicy Corporate Scandals
'The Big Short' will be heavily represented at Sunday's Academy Awards, with five nominations. It joins 10 other films on this list of movies inspired by corporate scandals.
This story has been updated from Oct. 24, 2015, with additional information regarding The Big Short. 
Hollywood loves to take a page from real life, especially when it comes to a big corporate scandal. In fact, the juicier the scandal, the better it makes for bringing in big money at the box office. There are plenty of examples of art imitating the business world.
The December-released movie, The Big Short, based on best-selling author Michael Lewis' book The Big Short: Inside the Doomsday Machine, will be represented heavily at this Sunday's 88th Academy Awards. The movie has five Oscar nominations, including one for Best Picture. 
In light of The Big Short's Oscar nomination, TheStreet has compiled a list of movies based on a juicy corporate scandals, some of which have already had their shining moment on the silver screen and some of which have yet to hit theaters. (Be sure to also check out this list of movies inspired by Wall Street.)
1. The Volkswagen Scandal
Leonardo DiCaprio's securing of rights to make a movie on the Volkswagen emissions scandal is the latest in a long line of movies already made about corporate irresponsibility.
The Wolf of Wall Street (another movie on this list) star's production company Appian Way and Paramount Pictures have "acquired rights to a book proposal by New York Times journalist Jack Ewing," according to CNBC in October.
"Ewing's book will investigate how a 'more, better, faster' ethos fueled one of the greatest frauds in corporate history," according to The Hollywood Reporter.
News broke about Volkswagen's diesel fuel efficiency scandal in September.
The German car maker admitted to using software to cheat on emission tests on its diesel cars in the U.S. by installing specific software designed to fool emissions tests, making it look like the cars involved (the tally is actually 11 million cars worldwide across its vehicle brands) were more fuel-efficient than they actually were.
Several VW top executives have been removed, while Volkswagen's CEO Martin Winterkorn resigned. The company could face billions in fines as well as expenses related to recalls. In January, the U.S. Justice Department sued the big automaker for up to $46 billion for violating U.S. environmental laws, according to Reuters. 

2. The FIFA Scandal
Best friends and star actors Ben Affleck and Matt Damon are teaming up to make a movie about soccer -- specifically to tackle last summer's corruption scandal involving more than a dozen officials and executives from FIFA (Fédération Internationale de Football Association), the world's governing body over professional soccer.
Last year, the U.S. Department of Justice unsealed federal indictments of nine officials and five executives who had a combined 47 counts in racketeering charges, fraud, money laundering and bribery.
The movie will be centered on American executive Chuck Blazer and his role in the sports scandal. The unemployed soccer dad turned executive apparently "led a life of excess that included an apartment in Trump Towers that Blazer used only for his cats." His life apparently unraveled after allegations of bribery surfaced in 2010. He eventually became an informant for the FBI.
Affleck and Damon's movie will be based off of the upcoming book "Houses of Deceit," by BuzzFeed investigative reporter, Ken Bensinger. The book, which will be based off of Bensinger's investigative article on Blazer, is slated for publication in 2017.
While no definite plans have been about the movie yet, the scandal had enough color surrounding it to rival enthusiastic fans at a World Cup game. "From a dawn raid at a five-star hotel to a man hurling stacks of money at (FIFA president) Sepp Blatter, the FIFA scandal has had it all," wrote The New York Times.

3. The Wizard of Lies
Robert De Niro is starring as notorious white collar criminal Bernie Madoff, and Michelle Pfeiffer is starring as Madoff's wife, Ruth, in HBO's "The Wizard of Lies," which is currently being filmed. The movie is based on the 2012 book of the same name The Wizard of Lies" by Diana Henriques, and its release date is expected this year. 
Madoff stole billions (yes, billions) from clients at his investment firm through a massive Ponzi scheme -- the largest in U.S. history. He was arrested in December of 2008 -- the height of the financial crisis -- for bilking thousands of investors out of billions of dollars and is currently serving a 150-year term in federal prison, wrote CNN Money.
Since the investigation both of Madoff's sons -- who worked with him at his brokerage firm, yet claimed to know nothing of the offenses until their father confessed to them the day before the FBI raided the firm's offices -- have died. His elder son Andrew, died last year from cancer. His younger son Mark hanged himself in 2010.
"'The Wizard of Lies' offers a look behind the scenes at Bernie Madoff's massive Ponzi scheme, how it was perpetrated on the public and the trail of destruction it left in its wake, both for the victims and Madoff's family," according to HBO.

4. The Big Short
Not everyone on Wall Street came out of the financial crisis with their tails wagging. In fact, a few correctly predicted -- and profited -- from Wall Street's collapse in 2008.
Released in December, The Big Short is the now five-time Oscar-nominated movie based on the subprime mortgage crisis that took down the financial markets in 2008, including one for Best Picture.
The movie, directed by Adam McKay, is based on the best-selling Michael Lewis' book The Big Short: Inside the Doomsday Machine, published in 2010.
Heavy hitters have climbed on board this movie. Christian Bale portrays hedge fund investor and founder of Scion Capital, Michael Burry. Burry was one of the first investors in the world to recognize and invest in the impending subprime mortgage crisis. Bale has been nominated for best actor in a supporting role for The Big Short.
Brad Pitt plays Ben Hockett, one of the founders of Cornwall Capital. The investment firm was one of the few that predicted -- and shorted -- the mortgage crisis before its collapse.
Ryan Gosling plays Greg Lippmann, a Deutsche Bank trader, and Steve Carell plays Steve Eisman, a hedge fund manager.
The movie also received three more Oscar nominations, including one for its director, Adam McKay, one for film editing, and one for its screenplay, written by McKay and Charles Randolph.  
5. Truth (2015)
Truth, directed by James Vanderbilt, is based on the 2004 events surrounding CBS News and Dan Rather's "60 Minutes II" report exposing supposed inaccuracies of former President George W. Bush's time in the Texas Air National Guard service.
However, controversy ensued following the report because documents used in the report couldn't be authenticated and were discredited.
The movie stars Robert Redford as Dan Rather and Cate Blanchett as former "60 Minutes" producer Mary Mapes, who was fired over the story. Rather left "CBS Evening News" and later sued the network for breach of contract, but the case was dismissed.
Truth was released in October 2015. 
Check out Dan Rather's reaction to the movie.
6. The Wolf of Wall Street (2013)
Who doesn't love a good scandal on Wall Street, seeing how well the movie Wall Street  stood the test of time (enough to give it a sequel). The Wolf of Wall Street, starring Leonardo DiCaprio and Jonah Hill, chronicled the rise and fall of Stratton Oakmont, a brokerage firm founded by two young stockbrokers out of Queens in the 1990s.
The firm manipulated unsuspecting investors with a classic "pump-and-dump" stock strategy and made a killing doing so. And while brokers in the firm were enjoying the fruits of their success, through lavish parties, drugs and sex, it led to a crash, when the firm was charged with money laundering and securities fraud, ultimately leading to its demise.
DiCaprio played stockbroker Jordan Belfort, while Hill plays his cohort Danny Porush.
The film was a huge success, grossing nearly $400 million worldwide in ticket sales. It was also nominated for five Oscars at the 86th Academy Awards, but failed to win in any category it was nominated. 

To watch The Wolf of Wall Street for free on Amazon, click here.

7. The Informant (2009)
Big corporate agriculture business Archer Daniels Midland found itself the center of controversy in the mid-1990s after the company was found to be price-fixing lysine within international markets. The Illinois company was under investigation by the U.S. Department of Justice and several executives were indicted on criminal charges and eventually sent to prison.
Matt Damon stars in this drama as Mark Whitacre, a whistleblower, out to expose his employer, Archer Daniels Midland.
Whitacre agrees to wear a wire for the FBI to gather evidence against Archer Daniels and other big agricultural businesses in on the conspiracy. Ironically, Whitacre was also embezzling money from his employer. He eventually went to jail for it, but was released in 2006.
The movie is based on the book "The Informant: A True Story" by Kurt Eichenwald.

To watch The Informant on Amazon, click here.

8. Erin Brockovich (2000)
Based on the true-life story of Erin Brockovich, who without formal training as a lawyer was able to build a successful class action lawsuit against Pacific Gas and Electric Company (PG&E) after millions of people in southern California ended up getting sick from asbestos exposure. PG&E covered up that it contaminated local drinking water with hexavalent chromium, but many residents developed various illnesses, including cancer. The company's solution was to hide the problem and pay for doctors.
The movie stars Julia Roberts as Brockovich and Albert Finney as attorney Ed Masry, the council she at first hired to represent her in an accident, but ends up working for and helps develops the case against PG&E.
The case was won in arbitration, with a settlement of more than $300 million for plaintiffs.
Roberts won an Academy Award for Best Actress for her role in the film, as well as a Golden Globe and a Screen Actors' Guild Award for Best Actress. Erin Brockovich was also nominated for Best Picture and Best Director (Steven Soderbergh) at the Academy Awards that year.

To watch Erin Brockovich on Amazon, click here.

9. The Insider (1999)
Russell Crowe takes on Big Tobacco in this 1999 whistleblower film. Crowe plays Jeffrey Wigand, a research scientist for Brown and Williamson Tobacco Corp., who was hired to find a safer means of delivering nicotine as the industry knew of its harmful effects but kept quiet about it.
Wigand was fired from his job in 1993 for supposedly knowing too much. A 60 Minutes producer, Lowell Berman (Al Pacino), contacted Wigand to do a segment with Mike Wallace (played by Christopher Plummer) to expose the industry. Despite his willingness to talk, Wigand was under a confidentiality agreement and at the last minute 60 Minutes pulled the segment, after being threatened with a lawsuit by Brown and Williamson, leading to an internal struggle between CBS News and 60 Minutes.
Wigand would find himself  targeted in a national smear campaign, among other things. 
The movie was nominated for seven Academy Awards, including Best Picture, Best Actor (Crowe) and Best Director and five Golden Globes.

To watch The Insider on Amazon, click here.

10. Rogue Trader (1999)
Rogue Trader is based on the autobiography by Nick Leeson, a British derivatives trader who single handedly brought on the collapse of Barings Bank, the U.K.'s oldest merchant bank (it financed the Louisiana Purchase and served as the Queen's investment adviser!). The collapse came after he made highly speculative trades in the Asian markets.
Ewan McGregor plays Leeson in this 1999 movie. Leeson was sent to Singapore to work as head trader at the bank's branch there in the early 1990s. While in Asia, he took advantage of the thriving markets there and made risky, unauthorized bets in the futures markets. At first the trades were making large profits for the bank. But not surprisingly Leeson gets in over his head and of course tries to hide his losses. (We know how this kind of story ends.)
His losses escalated, reaching more than $1 billion -- higher than the bank's available capital to cover the losses. The bank was declared insolvent in February 1995 and was acquired.
Leeson served six years in a Singapore prison and was released in 1999.

To buy Rogue Trader on Amazon, click here.

11. A Civil Action (1998)
John Travolta plays Jan Schlichtmann, an attorney hired by eight families in Woburn, Mass., in the 1980s to go up against two big companies (Beatrice Foods and W.R. Grace) for dumping toxic waste into wells that contain the city's drinking water. Children are developing leukemia and someone should be held responsible.
Schlichtmann, portrayed as an ambitious lawyer who drives around in a Porsche, takes on the class action case, after seeing potential dollar signs. But soon becomes so entrenched and so motivated by pride that he refuses to settle with the companies involved, costing the plaintiffs dearly as well as his own career.
The movie is based on the book with the same name by Jonathan Harr published in 1996 about the environmental pollution in Woburn in the 1970s and early 1980s.

To watch A Civil Action on Amazon, click here.
Disclosure: TheStreet has advertisers and partnerships; we may get a share of the revenue from your purchase.