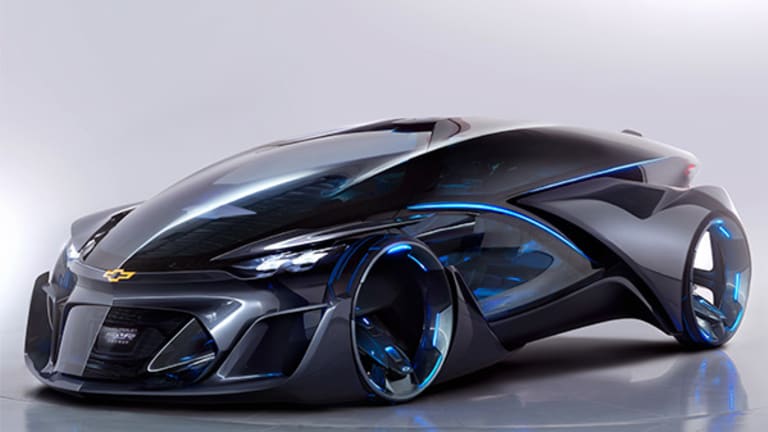 Tesla and 10 Other Companies to Invest In If You Are Optimistic About Driverless Cars
More than two dozen companies have driverless car plans, according to CB Insights. Here's the 11 retail companies where U.S. investors can take advantage.
This story has been updated from Oct. 6, 2015 to include updated Tesla information. 
NEW YORK (TheStreet) - Driverless cars are getting increasing attention, particularly with the recent CBS' (CBS) 60 Minutes segment on Mercedes-Benz's self-driving car this past Sunday.
More than 33,000 people each year die from car accidents, primarily due to driver error. It's a problem that proponents of driverless cars say can be minimized with the advances in auto technology.
While the thought of a self-driving car still seems too futuristic to some, it's an ambition that might make its way into the mainstream sooner than you think. More than two dozen companies around the world - many of them public -- have plans, are willing to invest in, or may even have a test model ready of a driverless car, according to a report from CB Insights.
The data and predictive analytics firm recently put out a report laying out where each company is in its endeavor to launch a driverless car.
"The arrival of autonomous vehicles will trigger the auto-industry's largest shake-up since its inception," the Sept. 25 report said.
"While Google (GOOGL) (GOOG) is the most talked-about player in the space, we identified 25 other major corporations or corporate brands ... that are involved in the driverless car space. While some players are setting up funds to invest in new technology involving autonomous cars, others are trying to build self-driving vehicles from the ground up," the report noted.
Silicon Valley is swiftly becoming the "new Detroit for self-driving cars," as the 60 Minutes segment put it, but for investors, how can you get in on the action before it drives off into the sunset? Luckily, there are plenty of car makers and technology companies finding their way in the self-driving car phenomenon.
Here's 10 public companies listed in the U.S. that have driverless car endeavors.
1. Apple (AAPL)
Is there anything that Apple doesn't want to dominate? From computers to phones to televisions to "pencils," the rumors of the Cupertino, Calif.-based tech giant' driverless car are ramping up.
Apple has already been reported to be creating an electric car, dubbed "Titan," with target ship dates for 2019, The Wall Street Journal reported last month.
However, The Guardian reported in August that it learned Apple was scouting locations in the San Francisco area to test a self-driving car. The company has also recruited engineers experienced with self-driving technology from Tesla (TSLA) , Volkswagen (VLKAY) and microchip maker Nvidia (NVDA) , among other automaker recruits.
"The car is the ultimate mobile device," Apple Senior vice president Jeff Williams said at a re/code Conference in May, in response to a question about what else the company will do with its huge cash hoard beyond share buybacks and dividends. "We're exploring a lot of different markets."
2. Baidu (BIDU)
Baidu, the Chinese search giant, has partnered with BMW and has plans to release a self-driving car by the end of the year, according to a June report by The Guardian. The two announced a self-driving research project in April 2014, with test cars navigating the highways of Beijing and Shanghai.
Baidu's technology is intended to assist drivers rather than replace them, the article said. Baidu has its own mapping technology and has also invested in IndoorAtlas, a Finnish mapping startup.
"A large advantage that Baidu has compared to American companies is that the Chinese government could be more flexible and quicker to enact large scale-legislation to allow for self-driving cars, something that U.S. regulators would likely take longer to do," CB Insights noted.

3. Delphi Automotive (DLPH)
Delphi is already a maker of auto technology so expanding into driverless car technology isn't a stretch. The company has created a network of software and sensors that they outfit into existing car models to make them autonomous.
While testing its technology in March, Delphi completed a cross-country trip with a team of engineers in an automated driving car called "Roadrunner."
"Performing exceptionally well, the car navigated through mountains, heat, traffic jams, trucks, road construction and even tumbleweed," the company said in a blog post.

4. Ford (F)
At the Consumer Electronics Show in January, Ford announced plans its "Ford Smart Mobility Plan," its plan to enhance innovation in the auto industry which will include projects dedicated to vehicle connectivity and autonomous vehicles.
A fully autonomous Ford Fusion Hybrid research vehicle is undergoing road testing, the company said, by using the same semi-autonomous technology in Ford vehicles today, but also sensors to generate a real-time 3D map of the surrounding environment.
In June, the company announced a full team dedicated to autonomous vehicle development, with headquarters in Silicon Valley.
"During the next five years, we will move to migrate driver-assist technologies across our product lineup to help make our roads safer and continue to increase automated driving capability," Raj Nair, Ford group vice president of global product development, said in June.
5. General Motors (GM)
General Motors' has big plans for self-driving cars and wants to be the leader in the transportation of the future.
Last week, the company announced it would run a fleet of self-driving plug-in gas-electric hybrid Chevrolet Volts on its giant technical center campus in the Detroit suburb of Warren, Michigan, by late next year, according to the Associated Press.
Longer term, its Chevrolet brand has partnered with Chinese auto manufacturer SAIC Motors to create a fully electric and autonomous Chevrolet-FNR, a fully-autonomous electric vehicle, which would hypothetically launch as a mass-market product by 2030, according to Fortune.
"GM projects that by 2030 -- the hypothetical model year for the FNR -- self-driving technologies will be prolific enough to have become less costly, and therefore feasible for a real-world family car," the Fortune article said. "And its executives think autonomous vehicles have a particularly good chance of proliferating in developing countries like China, where cities and roads are crowding quickly, governments are eager to resolve congestion, and much infrastructure is yet to be built."

6. Google (Alphabet) (GOOG) (GOOGL)
Perhaps the loudest company shouting its self-driving car ambitions is Google, err Alphabet.
Google has its own Web site dedicated to its self-driving car project. The company has been testing a fleet of modified Lexus SUVs as well as new prototype vehicles in Mountain View, Calif. and Austin, Texas.
One sign that Google is serious about its self-driving project, is its recent hiring of auto industry veteran John Krafcik, previously the president of TrueCar (TRUE) and before that CEO and President of Hyundai Motor America to head up the project.
Though the search giant has sent mixed signals as to whether it would manufacture its own vehicles. Google expects to have a finished product by 2020.

7. Honda Motor (HMC)
Honda announced in March that it had commenced testing of its driverless and connected vehicle in the San Francisco Bay Area. A modified version of its Acura TLX, the car is capable of navigating down busy highways and merging techniques "better than some people I know," Engadget's Richard Lawler wrote in September 2014.
Honda revealed a prototype of an autonomous Acura at the 2014 Detroit Auto Show.

8. Mobileye (MBLY)
Just as important as the vehicle itself, is the chip makers of the high technology needed to create a self-driving car. Mobileye already provides many of the chips and advanced driver-assistance systems that are used by manufacturers today.
"Mobileye's assisted-driving technology applies algorithms to video images taken from a single camera to detect nearby vehicles, pedestrians, traffic lights or lane departures. It warns drivers of potential hazards or applies autonomous braking, and has led to the development of chips and systems that will be used in fully autonomous vehicles," according to a Bloomberg article.
CEO Ziv Aviram told Bloomberg that automakers will be able to "produce a driverless car as soon as 2021, with Mobileye technology and other sensors costing $1,000 or less."
Still, Mobileye has not announced plans to manufacture cars itself.

9. Tesla (TSLA)
Electric car maker Tesla is developing its own autonomous driving system and plans for the technology to be introduced in 2017, CEO Elon Musk has said. Still "full auto-pilot capability" is five to six years off, Musk told The Nikkei last year.
Tesla's close to launching a limited release of its autopilot program in which cars would incorporate acceleration, braking, lane changing and distance perception of other cars. "The expectation [for autopilot] is that someone is paying attention to the road and is ready to take over if there's an issue. It's really intended in the same way that autopilot for an aircraft works," Musk said in June.
It also has a "summoning" feature, where cars can find their owners and also self-park in garages.
Musk tweeted over the weekend that the autopilot feature will be ready for launch on Thursday, Oct. 15: "Some exciting news this week: Tesla Version 7 software with Autopilot goes to wide release on Thursday!"
Musk said that version 7.1 of the software (no date yet on when that will be released) would include autopilot parking, in response to a Twitter follower's question. 

10. Toyota Motors (TM)
After resisting the movement, Toyota announced last month its dedicating $50 million to create research centers, in partner with Stanford and MIT to work on artificial intelligence and autonomous driving technology. Still the company stopped short of saying that it plans to manufacture a driverless vehicle.

11. Volkswagen (VLKAY)
Embattled Volkswagen, which is facing a major scandal over cheating U.S. emissions tests, announced its project V-Charge in July. The program is a partnership the German car maker created with several European universities to introduce an autonomous valet system for electric vehicles. (V-Charge is short for Valet Charge.) The idea is that consumers would be able to drop their car off at a garage and let it park itself, with a prototype ideally available in 2019, though the emissions crisis could place a hamper on the program financially.