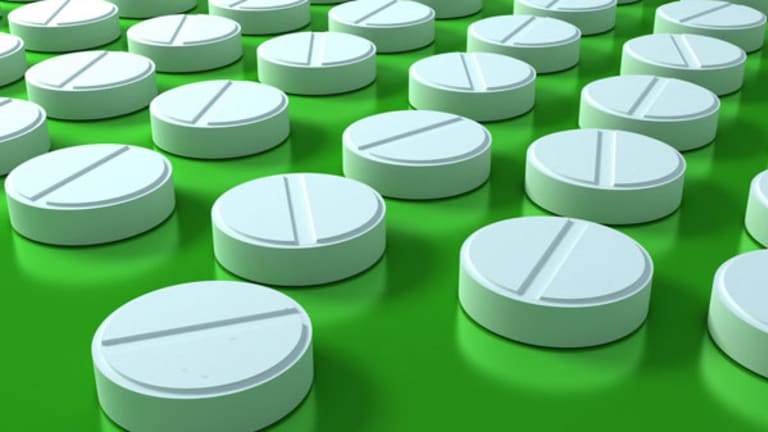 11 Biotech Stocks Loved or Hated by Hedge Funds
A list of biotech stocks that saw signficant buying and selling from hedge funds in the second quarter.
BOSTON (
) -- Hedge funds peeled back the curtain this week to reveal a bit about what biotech stocks they were buying and selling during the second quarter.
Funds that manage more than $100 million are required to disclose their equity holdings, options and convertible debt on a Form 13F filed with the
Securities and Exchange Commission
within 45 days of the end of a quarter. Funds aren't required to report short positions betting on declines. Because these disclosures are lagging, it's also not possible to tell what hedge funds have done with these biotech stocks since June 30, when the second quarter ended.
Still, combing through 13F filings can give individual investors some inkling into where professional investors are placing their biotech investment capital.
On the following pages, you'll find a snapshot of 11 biotech stocks with significant hedge fund buying and selling during the second quarter.
Oncothyreon
(ONTY)
Another cancer immunotherapy, or "cancer vaccine" stock hoping to replicate the success of Dendreon while sidestepping Provenge's problems. Oncothyreon and its partner Merck KGaA are gearing up to perform an interim analysis on a phase III study of their Stimuvax immunotherapy in non-small cell lung cancer patients. Trading volume and volatility in Oncothyreon have increased dramatically in recent months as investors focus hard on this interim analysis, which is expected in the first quarter of next year.
Year to date performance: + 107%
Performance since June 30: -26%
Three hedge funds -- Biotechnology Value Fund (BVF), Orbimed Advisors and Black Horse Capital -- added significant new Oncothyreon positions in the second quarter. Each firm owned well over 1 million shares of the company as of June 30. Antipodean Advisors bought 1.6 million shares during the quarter to bring its total holding to 2.3 million shares.
Selling hedge funds included RA Capital, which liquidated its 236,000-share position in Oncothyreon during the second quarter. Straus Capital Management and Highland Capital Management also were sellers.
Seattle Genetics
(SGEN) - Get Seagen, Inc. Report
Awaiting an FDA announcement on Aug. 30 on the approval (or not) of the company's lymphoma drug Adcetris.
Year to date performance: Flat
Performance since June 30: -26%
It looks like hedge funds were selling Seattle Genetics, perhaps because the stock's valuation ran up significantly ahead of the FDA's drug approval decision. Healthcor Management, Renaissance Technologies and Moore Capital Management were among the funds lightening their Seattle Genetics's positions in the second quarter.
Citadel Advisors and Fortis Investments both added relatively small amounts of shares to existing positions. Baker Brothers kept its big 19.28 million-share stake in Seattle Genetics stable during the quarter.
Amarin
(AMRN) - Get Amarin Corp. Plc Report
A developer of medicinal-grade fish oil for the treatment of patients with too much fat in their blood. Amarin is attracting increasing investor attention as it gets ready to submit AMR101 for FDA approval later this quarter. The company has also been mentioned as a potential takeover target.
Year to date performance: + 55%
Performance since June 30: -12%
Expo Capital Management built a new 3 million-share position in Amarin in the second quarter, while Healthcor joined the company's roster of shareholders by acquiring 2 million shares. Steven Cohen's SAC Capital added another 2.9 million shares to its existing position.
Orbimed Advisors appears to have taken advantage of the heightened interest in Amarin to lighten its stake in the company by 4.7 million shares. Hutchin Hill Capital and David Knott Partners were also sellers during the quarter.
Keryx Pharmaceuticals
(KERX) - Get Keryx Biopharmaceuticals, Inc. Report
Developer of the cancer drug perifosine, Keryx announced recently the completion of enrollment in a phase III colon cancer study, clearing the way for top-line results to be announced before the end of the year.
Year to date performance: -14%
Performance since June 30: -15%
Driehaus Capital Management and Highland Capital Management both opened new positions in Keryx during the quarter, while Balyasny Asset Management added to an existing position that totaled 3.3 million shares at the end of June.
Some small selling of Keryx occurred during the quarter from SAC Capital, Jefferies Group and Citadel Advisors.
Idenix Pharmaceuticals
(IDIX)
Hepatitis C drugs are hot-ticket items for investors, and Idenix may have one in IDIX184, which is advancing through phase II studies. If the drug's data look promising, IDX184 could be partnered or acquired by a larger company seeking to bolster its Hep C drug roster.
Year-to-date performance: -10%
Performance since June 30: -10%
Brookside Capital Management appears to be a big believer in Idenix's potential because it purchased 9.1 million shares of the company during the second quarter. Orbimed also raised its Idenix exposure significantly, adding 2.4 million shares to what was a relatively small position. Baupost Group and Baker Brothers also started new Idenix positions in the quarter.
Idenix sellers included SuttonBrook Capital Management, which liquidated a 1.1 million share holding. Millennium and Highland Capital also sold shares during the quarter.
Derma Sciences
(DSCI)
A true under-the-radar stock but perhaps for not much longer. Derma Sciences is developing a wound-healing drug for the treatment of diabetic foot ulcers. Data from a randomized, controlled phase II study demonstrated strong results, which Derma hopes to replicate in a soon-to-start phase III study program.
Year to date performance: +108%
Performance since June 30: -5%
Deerfield Capital Management and Hudson Bay Capital Management both added Derma to their biotech stock rosters in the second quarter, while RA Capital added 727,000 shares to what was a small starter position.
Celsion
(CLSN) - Get Celsion Corporation Report
Conducting a phase III study of Thermodox in primary liver cancer with an interim efficacy analysis expected in the fourth quarter. This interim analysis will determine whether the Thermodox study should continue to a final analysis, likely in the middle of 2012. The study could be stopped early if the interim analysis finds overwhelming evidence of a Thermodox benefit (a great outcome, obviously) or discontinuation of the study due to futility (a bad outcome.)
The near-term clinical catalyst has caused volatility and trading volume in Celsion to increase.
Year to date performance: +45%
Performance since June 30: -10%
Ayer Capital Management added a new 1.56 million-share position in Celsion during the second quarter. Deerfield Capital Management is also a new owner of Celsion, picking up 358,000 shares.
Vertex Pharmaceuticals
(VRTX) - Get Vertex Pharmaceuticals Incorporated Report
It's been tough to own stocks of companies launching new drugs this year and Vertex is no exception. Volatility in Vertex shares has been high as the company launched its new hepatitis C drug Incivek in late May.
Year to date performance: +31%
Performance since June 30: -12%
Brookside Capital Management has been a big Vertex supporter, and it appears the fund likes the stock even more now after adding 1.9 million shares during the second quarter.
Reflecting the debate over investing in drug-launch stocks and perhaps Vertex's valuation, hedge fund sellers of note during the quarter included DE Shaw, Sectoral Asset Management, Healthcor Management and Highbridge Capital Management.
Sequenom
(SQNM)
Not a biotech firm, but a diagnostic outfit that is preparing to launch in the fourth quarter a new non-invasive, blood-based genetic test for Down's syndrome. Sequenom rather famously blew up amid allegations of data fraud in 2009, but has since regrouped and is hoping a second effort at developing and launching its Down's syndrome test is successful.
Year to date performance: -28%
Performance since June 30: -23%
Orbimed Advisors added 3.6 million shares of Sequenom to its books in the second quarter, while Sectoral Asset Management acquired just under 1 million shares. Millennium Management was also a buyer.
Sellers of Sequenom included SAC Capital (2.1 million shares) and RedMile Group (1 million shares), although both firms retain significant positions. Other sellers included APEX Capital and CR Intrinsic Investors, which is also connected to Cohen's SAC Capital.
YM BioSciences
( YMI)
An underachiever hoping for redemption with an experimental drug for myelofibrosis known as CYT387. YM Biosciences garnered a good amount of attention at June's ASCO cancer conference but then the stock sold off hard. Nexxt up for YM and CYT387 will be phase II data at the American Society of Hematology annual meeting in December.
Year to date performance: -15%
Performance since June 30: -30%
Healthcor Management picked up another 5.4 million share of YM in the second quarter to bring its holding to 8.4 million shares. Discovery Capital Management started a new position in the stock with a purchase of 2.3 million shares. Baker Brother held steady with a 9 million-share position.
Balyasny Asset Management reduced its position in the stock by selling 2.2 million shares during the quarter while Ridgeback Capital Investors sold 1.3 million shares, liquidating its position.
Dendreon
(DNDN)
Maker of the Provenge prostate cancer immunotherapy, which ran into big trouble earlier this month after the company pulled its 2011 revenue guidance due to reimbursement problems and lower-than-expected sales.
Year to date performance: -63%
Performance since June 30: -67%
Steven Cohen's SAC Capital wasn't the only institutional investor who may have lost big on Dendreon blow up. T. Rowe Price and Capital World Investors each acquired 4.2 million shares of Dendreon stock during the second quarter, while Kingdon Capital Management upped its Dendreon stakes by 670,000 shares.
Who avoided catastrophe? Duquesne Capital Management sold 3.65 million Dendreon shares during the second quarter to completely eliminate the firm's position. Brookside Capital Management sharply lowered its Dendreon exposure by shedding 3.5 million shares, while Soros Fund Management and Orbimed Advisors also sold significant blocks of Dendreon shares before the stock tanked.
--Written by Adam Feuerstein in Boston
.
>To contact the writer of this article, click here:
Adam Feuerstein
.
>To follow the writer on Twitter, go to
http://twitter.com/adamfeuerstein
.
>To submit a news tip, send an email to:
.
Adam Feuerstein writes regularly for TheStreet. In keeping with company editorial policy, he doesn't own or short individual stocks, although he owns stock in TheStreet. He also doesn't invest in hedge funds or other private investment partnerships. Feuerstein appreciates your feedback;
to send him an email.