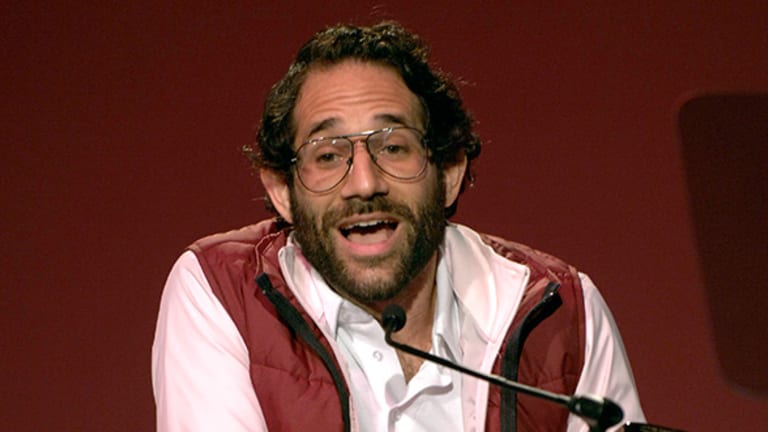 11 Biggest CEO Exits in 2014, Including Hertz, Mozilla, American Apparel
CEO departures at U.S. companies and non-profit organizations reached a six-year high in 2014. Here are some of the biggest CEO changes.
NEW YORK (TheStreet) -- Departures of CEO from U.S. companies and non-profit organizations reached a six-year high in 2014.
Some 1,341 chief executives either vacated their posts or announced their upcoming departures, up 7.6% from 2013, according to a report by Challenger, Gray & Christmas.
The number of CEOs that departed was its highest since 2008 -- the height of the financial crisis -- when 1,484 company heads exited. In the fourth quarter of 2014 alone, 332 CEOs departed their companies, up 12% from the year before, the report said.
The expanding economy could be one reason for the increase. The time is ripe for executives to take advantage of new opportunities, suggests Challenger, Gray & Christmas CEO John Challenger.
Challenger also noted that the numbers of CEOs leaving their posts were particularly high in the health care industry, partly because of the Affordable Care Act and changes it necessitated.
While the majority of CEOS either resigned or retired, there were 50 executives who were ousted, the report said, either by their board of directors, scandal, or because of legal trouble. Another 10 CEOs left due to financial losses.
Here are some of the most notable CEO departures. Note: The list only includes CEO transitions that took place in 2014. Companies that announced CEO departures slated for 2015 were not included.
1. Brendan Eich
Mozilla Corp.
April 2014
Former Mozilla CEO Brendan Eich served less than a month as its chief executive. Eich was pressured to resign from his position after he took heat for a contribution he made in 2008 to support California Proposition 8, which sought to ban gay marriage. The company announced his resignation here.
Eich was Mozilla's CTO prior to becoming chief executive.

2. Alan Mulally
Ford Motor Co. (F) - Get Free Report
July 2014
Six months earlier than expected, Alan Mulally retired from after serving as CEO of Ford Motor for eight years. Mark Fields, formerly the Dearborn, Mich.-based company's COO, succeeded Mulally.
The company boasted that under Mulally and the company's 'One Ford' plan for profitable growth, Ford achieved 19 consecutive quarters of profitability. It also survived a global economic crisis while other U.S. automakers needed government bailouts.
3. Dov Charney
American Apparel (APP) - Get Free Report
June 2014
Dov Charney, the brainchild behind t-shirt and apparel chain American Apparel, was forced out as CEO of the company last summer over allegations of sexual harassment and other misconduct. While CFO John Luttrell took over as interim CEO, Charney was not willing to go quietly from the company he built. A proxy fight ensued as Charney attempted to get control of the company, but ultimately the board and he came to an agreement to hire a consulting firm to determine if Charney should be reinstated. In the meantime Luttrell left his position in September only to be replaced by an outside turnaround expert while a permanent CEO was found. The consulting firm found that Charney should not be reinstated.
Last month American Apparel finally hired Paula Schneider as its new permanent CEO. Schneider, who served in senior executive positions with Warnaco, Gores and BCBG, officially started in the position on Jan. 5.

4. Scott Davis
United Parcel Service (UPS) - Get Free Report
September 2014
Scott Davis retired as UPS' CEO on September 1, 2014 after six years as the head of the packaging and logistics company. He remains as non-executive chairman.
Under Davis, UPS made "significant improvements in its logistics network, expanding its reach and capabilities through Europe, Asia, and the Americas," the company said. Davis also presided over "rapid growth in international operations, supply chain and freight."

5. Robert Benmosche
American International Group (AIG) - Get Free Report
September 2014
Robert Benmosche retired as CEO of American International Group in September. Benmosche, who took over as the insurer's chief executive following its government bailout in 2009, was diagnosed with cancer in 2010 and made a personal decision last spring after doctors told him he didn't have long to live. Peter Hancock, AIG's head of property-casualty unit, succeeded Benmosche to lead the company.
6. Don Knauss
Clorox (CLX) - Get Free Report
November 2014
Don Knauss, Clorox's former CEO and chairman, stepped down from his position as Clorox's CEO in November 2014. Benno Dorer, the company's new CEO is planning to unveil new products this quarter to compete with Procter & Gamble (PG) - Get Free Report and Church & Dwight (CHD) - Get Free Report . Knauss, who spent eight years at the helm of the company, remains its chairman.
7. Mark Frissora
Hertz (HTZ) - Get Free Report
September 2014
Mark Frissora stepped down from his position as CEO at Hertz in September, citing personal reasons, but following a messy battle with activist investor Carl Icahn. The rental car company had acknowledged accounting errors dating back to 2011 requiring the restating of financial results. It had named Brian MacDonald, the head of its equipment rental business, as interim CEO until a permanent replacement was found. In November, it named John Tague as its next chief executive, the former president and COO of United Airlines.

8. Rory Read
Advanced Micro Devices (AMD) - Get Free Report
October 2014
Advanced Micro Devices' former CEO Rory Read stepped down in October as the chipmaker struggles to boost its bottom line. Read was CEO at the Sunnyvale, Calif.-based company for three years. Lisa Lu, who had been serving as COO replaced Read.
9. Salvatore Iannuzzi
Monster Worldwide (MWW)
November 2014
After more than seven years running job-search Web site Monster Worldwide, Salvatore Iannuzzi abruptly resigned in November, citing personal reasons. Timothy Yates, a director since 2007, replaced Iannuzzi. Yates previously held senior management positions at Monster, including its CFO from 20007 to 2011.

10. Mike Jeffries
Abercrombie & Fitch (ANF) - Get Free Report
December 2014
Troubled teen retailer, Abercrombie & Fitch, finally separated from its founder and longtime CEO Mike Jeffries in December. Abercrombie is in the process of a search for a successor to Jeffries. Abercrombie has been suffering from declining sales as teens shift their preferences elsewhere. Despite being at the helm for more than 20 years, Jeffries, who punched the provocative card when it came to Abercrombie's sexually-charged advertisements, had been under pressure to boost results.
11. Tony Vernon
Kraft Foods (KRFT)
December 2014
Kraft Foods CEO Tony Vernon retired at the end of December. The company named Chairman John Cahill as his successor. Vernon served as CEO of the packaged foods company since it was spun off from Mondelez International (MDLZ) - Get Free Report in October 2012.
- Written by Laurie Kulikowski in New York.