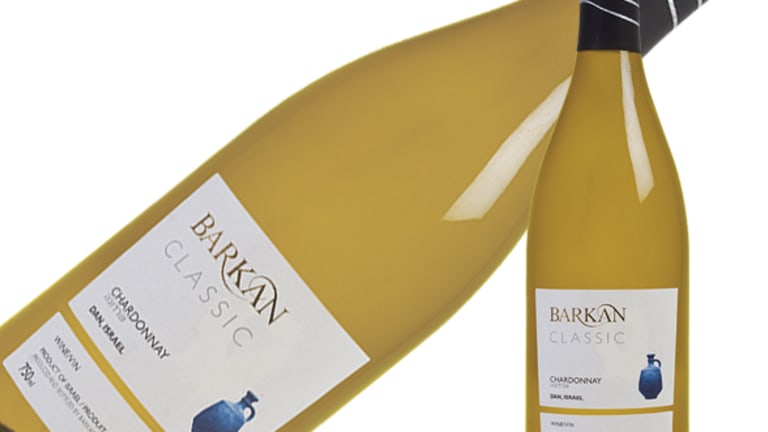 11 Best Kosher Wines and Spirits to Drink on Passover Not Named Manischewitz
For many American Jews, Manischewitz wine is as much as part of Passover as the four questions and matzoh ball soup. It is not a wine lover's drink, though.
NEW YORK (TheStreet) -- For many American Jews, Manischewitz wine is as much as part of Passover as the four questions and matzoh ball soup.
It is not a wine lover's drink, though. Cloyingly sweet, it's made from Concord grapes or, in scientific parlance, vitis labrusca, a different species of grape entirely from vitis vinifera, the source for all of the world's great wines. Manischewitz gains its sweetness in part from adding sugar to the wine, a practice banned in many wine-producing regions.
But there's no inherent reason why kosher wine has to be lackluster, since the process for making it is very similar to the standard wine-making process. Observant Jews must oversee the vinification (conversion of fruit or juice to wine) of kosher wine, which must be done using tools and equipment devoted solely to kosher wine-making. And just as Israeli food has become far more sophisticated over the last generation -- a trend Americans can experience at Za'hav in Philadelphia and Balaboosta and Bar Bolonat in New York -- so the country's wine industry has expanded. Below, we list nine kosher wines from around the world that you can enjoy this holiday season, as well as two spirits to end your meal.
Royal Wine Corp. is perhaps the leading importer and distributor of Kosher wines in the U.S. The company has a fascinating history.
Eugene Herzog, a Jew from Czechoslovakia, began working for Royal when he got to New York in 1948 and bought it outright in 1958. Over the years, he and his four sons expanded, and in 1985 they began production in California, where they make both the Baron Herzog and Herzog Wine Cellars lines, products that are as much a part of Passover for many Jews as Manischewitz. Above is the Baron Herzog Chenin Blanc, which would work well with matzoh ball soup.
Baron Herzog Chenin Blanc 2013, $10
The U.S. is by far the largest foreign market for Israeli wine, accounting for perhaps 80% of all exports, which in turn are between 10% and 20% of Israeli wine production, according to Jay Buchsbaum, a vice president at Royal Wine. Chardonnay and Sauvignon Blanc are the white grape varieties most commonly grown in Israel. Balaboosta's wine list features the Barkan Chardonnay, a light wine that does not see oak and has only 12.5% alcohol. Along with Carmel Winery and Golan Heights Winery, Barkan is one of the three largest producers in Israel.
Barkan Classic 2013 Chardonnay, $10
Brian Kane, the beverage director at the restaurant Za'hav, has put together a beautifully curated wine list that fits on a single page and still showcases terrific range, from a 1986 Riesling from J.B. Becker to a 1998 red from Chateau Musar, a great Lebanese producer. About a third of the wines on his list are from Israel. He likes the Yarden Gewurztraminer, which comes from a single vineyard 2000 meters above sea level that's close to the Lebanese border. The wine has the rose and lychee notes typical of the variety but is understated on the palate, with enough acidity and residual sugar to go with the horseradish that appears early in the Passover Sedar.
Yarden Gewurztraminer 2013, $15
Kosher wines are made all over the world. Winemaker Richard Harkam runs the only kosher winery in Australia. His Aziza's Chardonnay, named in honor of his grandmother, comes from the Hunter Valley in New South Wales, Australia. A so-called natural wine fermented with indigenous yeasts and made without additions or preservatives, the Aziza has lush nectarine and pear notes with a hint of Meyer lemon. The same producer makes a Shiraz as well. Christy Frank of Frank Wines in New York describes the Chardonnay as "rich, but not big or overblown." (Full disclosure: The author works at Frankly Wines on Sundays.)
Harkam Aziza's Chardonnay, Hunter Valley $40
Israeli winemakers focus more on reds than whites, says Za'hav's Kane, whose list reflects that disparity. He likes the Gilgal Merlot as a full-bodied, quaffable red. It spends nine months in new French oak, which is discernable on the palate, and it also has loads of dark fruit but ends with a nice blueberry note.
Gilgal Merlot 2011, $14
Frenchman Pierre Miodownick has been Royal Wine's head European winemaker since 1986. His big break came when he met Baron Edmond de Rothschild, the scion of a French Jewish family who owned Château Clarke in Bordeaux. Rothschild had been considering making a kosher wine and decided to team up with Miodownick on the project. Rothschild then introduced other French winemakers to Miodownick, who went on to become a flying winemaker, as the international wine consultants who emerged in the 1980s were called. Royal still distributes a classic red Bordeaux in honor of the Rothschilds.
Barons Edmond Benjamin Rothschild Haut-Medoc, $30
In 2008, Miodownick began production at Domaine Netofa in the Galillee region of Israel. One of his wines there is a blend of 60% Grenache and 40% Mourvedre, grapes most associated with wines made in the southern Rhone River valley in France. Za'hav's Kane calls it "perfect for brisket."
Domaine Netofa, Latour Netofa 2011 $35
Five producers account for three-quarters of Israeli wine, but the country has about 300 producers in total, many of them small. Bar Bolonat features the 2008 Meishar #41, a blend of Cabernet Sauvignon, Shiraz and Merlot. Ze'ev and Chaya Smilansky opened their winery in 1991 in Meishar, the site of a moshav or cooperative farming community in south-central Israel, itself founded in 1950 by Germany and Polish immigrants.
Meisher #41 2008, $24
The agricultural cooperative at Capçanes, a small town about two hours southwest of Barcelona, began making kosher wine in 1995 at the behest of that city's Jewish community. The wine proved so popular that the cooperative increased production significantly and now makes a total of 650,000 bottles a year. Capçanes is located in the region of Montsant, which is known for its concentrated, intense reds. This one, made from a blend of Grenache, Tempranillo, Merlot and Syrah, has those traits at an unusually approachable price. The Capçanes "is one of our year-round kosher selections," says Frank, who says she will occasionally sneak it into her Spanish section.
Capcanes Peraj Petita, Montsant, 2013: $20
A shot of slivovitz is one way to end a sedar -- or, perhaps, start a party that follows. The name of the drink derives from the Slavic word for damson plum, the fruit from which Slivovitz was traditionally made. Polish Jews once distilled the beverage, as did Bulgarians, Czechs and Serbians. This interpretation comes from Croatia.
Maraska Slivovitz, Croatia, $26
Slide 12
Celebrants seeking a more exotic conclusion to their Sedar could opt for Mahia, a fig liquor flavored with a touch of anise. David Nahmias was born in Taznakht, a small town in the south of Morocco, and with his wife Dorit produces the spirit in Yonkers from an old family recipe. "Everyone always brings wine to a sedar, so it's nice to be able to offer a spirit as an alternative," Frank says. "It doesn't hurt that it's locally made -- and delicious."
Mahia Fig liquor, $40