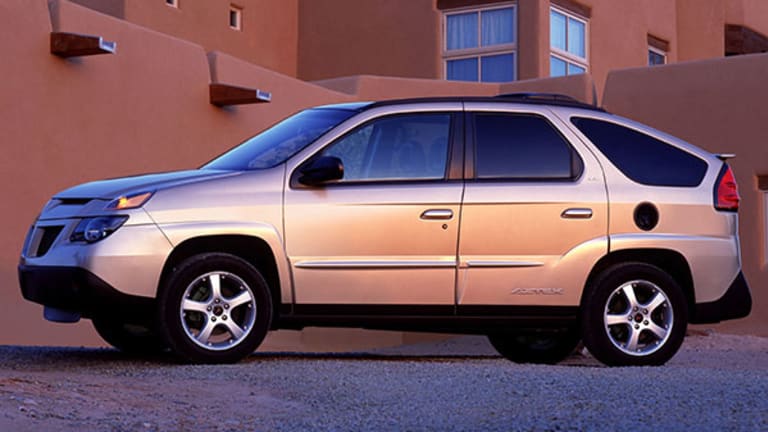 10 Worst Cars of All Time Revisited
Walter White of 'Breaking Bad' bolstered the unfavorable rating of the Pontiac Aztek, TheStreet's choice for the worst car of all time, and our revised list has a new No. 3.
Detroit (TheStreet) -- Of all the bad cars on all the lists of all the worst cars in the world, Walter White drove off in ours.
We take no credit for this, but the Pontiac Aztek, which topped the list of the 10 Worst Cars of All Time in TheStreet's February 2012 story, was destined for more fame than it had ever achieved in the five years when GM (GM) - Get Report actively sold it.
The Aztek became increasingly well-known because it was driven by one of the worst guys ever. That was White, a chemistry teacher with terminal cancer who became a homicidal meth dealer during the five seasons that "Breaking Bad," in which White was the leading character, became one of the top TV shows of all time.
The show gained immense popularity during its final season, which ran from July 2012 through September 2013.
For our story, we took the 10 worst cars from a list of the 100 worst cars ever that was developed by Edmunds.com. About two dozen Edmunds.com staffers spent a couple of months refining their list of the 100 worst cars ever. They started with individual lists of bad cars, compiled them and put the cars in order, accompanied by lots of discussions, emails and meetings. The story was written by Santa Barbara, Ca.-resident John Pearley Huffman.
"The reason why the Aztek was Walter White's car was to show how desperately lame he was," Huffman said. As said, "It was the right car for a guy whose life was a miserable, nightmarish life of desperation and mediocrity." Also, Huffman said, the Aztek was an effective weapon for White when it struck and killed two drug dealers.
As White began to make money in the meth business, he sold his Aztec and leased a brand new 2013 Chrysler 300, which he later abandoned in the desert. But the Aztec remains an enduring symbol, an unfortunate car for an unfortunate life.
Now it is time to run through the 10 worst cars of all time. Huffman has made a change in this list, replacing the 1955 BMW Isetta, which was No. 3, with a recent vehicle.
Huffman said his editor made him include the Isetta when in fact "everybody loves the Isetta."
Truthfully, we learned after this list was first published that most of the cars on it had their defenders. Even the Vega had defenders.
Here is the list.
10th-worst: 1979 Oldsmobile Cutlass Supreme Diesel
The Cutlass was once among the best-selling U.S. cars. In the late 1970s, GM decided to take advantage of its popularity and develop a diesel version. The 4.2-liter Olds diesel engine was sold only in the 1979 Cutlass.
Unfortunately, GM hadn't yet mastered diesel technology. "GM was trying to market a technology that wasn't ready for prime time," said Edmunds.com Editor-in-Chief Scott Oldham. "The cars never really ran properly. They were underpowered. They blew up. They broke. It was a warranty disaster for GM."
The engine "reached 90 horsepower before shattering into shrapnel," Edmunds.com wrote.
The failure of the Cutlass diesel "turned Americans off to diesel," Oldham said. "It is one of the reasons why diesel is still a bad word in this country."
Ninth-worst: 1957 Trabant
Capitalists aren't the only people who sometimes make bad cars.
Edmunds.com calls the 1957 Trabant, a two-cylinder, two-stroke engine compact from East Germany, "one more reason why communism is evil."
The car was common in its home country, given the lack of competition, and was sometimes exported. It was East Germany's answer to the Volkswagen Beetle, and in some ways it was comparable, with the important difference that the Beetle was a worldwide success and the Trabant was a spectacular failure.
"This is what happens when a car has no consumer marketing behind it," Huffman said.

Eighth-worst: 1982 Cadillac Cimarron
The 1982 Cadillac Cimarron was a symbol of what was wrong with GM in the 1980s, an effort to compete with BMW by redecorating the front-drive, four-cylinder Chevrolet Cavalier and calling it a Cadillac.
Edmunds.com called it "a self-inflicted wound that nearly killed Cadillac."
Huffman said the Cimarron was a "cynical" endeavor, "a Chevrolet literally disguised as a Cadillac," produced at a time when "Cadillac thought it could make anything and people would buy it."
The Cimarron led consumers to conclude that "Cadillac didn't care anymore," Huffman said. Only recently has Cadillac began to restore its luster as a premium brand, as the ATS was the 2013 North American car of the year and the CTS was the 2014 Motor Trend car of the year.

Seventh-worst: 1958 Edsel Corsair
Ford's (F) - Get Report Edsel brand became a symbol of a manufacturer's failure to judge the market.
Not to say every Edsel was bad, but the styling wasn't what people wanted -- the marketing of a brand that allegedly competed with Buick and Oldsmobile was way off and the production was often flawed. Edsel was "the legendary flop of all automotive flops," Edmunds.com said. 
Among the problems, Edsel was introduced at exactly the wrong time. The barely remembered recession of 1958 was the most significant recession during the post-World War II boom between 1945 and 1970, according to Wikipedia. U.S. auto sales fell 31% from the previous year, reaching 5.5 million.
Moreover, Huffman said, Edsel was "a completely superfluous car" intended to occupy the space between Ford and Mercury. Unfortunately, "there was no space between Ford and Mercury," he said.
As for the car's design, people disagree on whether it was ugly or beautiful. It may be a think line, but Huffman calls the Corsair "one of the most hideously ugly cars of all time."
Sixth-worst: 2003 Saturn Ion
Saturn got off to a good start. Many reporters trooped to Spring Hill, Tenn., in the late 1990s as GM showed off the new symbol of its ability to compete. Every company with the slightest connection to Saturn felt it had something to brag about. For instance, as a Miami Herald reporter, I visited because Miami-based Ryder Systems  (R) - Get Report provided logistical support for just-in-time deliveries.
By the start of the millennium, Saturn needed to be refreshed. Unfortunately, it came out with the 2003 Saturn Ion.
Oldham recalls that he drove one of the first Ions, at a GM press event. "I was astounded by how bad it was in every way. I said, 'I think this is the worst car I've ever driven and GM should be embarrassed,'" he recalled. "And history has proven me correct."
The Ion was uncomfortable and noisy and production quality was poor. It was tough to drive and had "a stupid interior to match," Edmunds.com said. "Kick it and your foot could get stuck in the gaps between the plastic body panels." Moreover, the competition was extremely tough at the time because Toyota (TM) - Get Report  and Honda (HMC) - Get Report had excellent products in the small-car market.
Huffman said that Saturn, despite the buzz it created, was weighed down by GM problems. For instance, the plastic body panels "expanded and contracted at different rates, became brittle in sunlight, aged poorly, and looked worse when they began to crack."
Oldham called Saturn Ion "the second-worst car of the millennium." Saturn, once an inspiring symbol of the U.S. auto industry's ability to compete with the Japanese, shut down in 2009.
Fifth-worst: 1971 Chevrolet Vega
For me, Vega will always be the worst car ever.
In the late 1970s, I was living in Toledo, Ohio, and working as a reporter for The Toledo Blade. One day, I was preparing to drive a friend's Vega. I sat down in the driver's seat and put my foot on the floor in front of me, about to step on the gas. And guess what happened?
It's not a tough question if you were ever in a Vega. My foot went right through the rusty floor. This, as it turned out, was not an uncommon event.
"My first car was a Vega," Huffman said. "It was a 1974 Vega, and when I got it, it was only three years old. I lived in Southern California, where nothing gets rusty. But that car was rusting."
Huffman told me I sat down in one of the good Vegas, because "the floor gave out before the car did." He called Vega "the most disastrously built car in history."
In defense of the Vega, the 1970s were a tough time for U.S. automakers. Rising gas prices created demand for smaller cars. The automakers struggled with intensified emissions regulation. The balance of power had shifted to the UAW. Imports were establishing a toehold in the U.S.
Ford's Pinto will forever be joined with the Vega as a symbol of the inability to adjust. Many people wrote in after our first story to say that the Pinto should have been among the top 10 worst cars. But Huffman said, "The Pinto sold extremely well and proved to be a very reliable car, unless you got hit from behind."
Fourth-worst: 1987 Yugo
The Serbian-made Yugo shows up frequently on worst-car lists. Edmunds.com ranks the 1987 Yugo as the fourth-worst car ever made, but Oldham said it was a contender for No. 1.
"The Yugo was terrible in every way -- terrible quality, terrible performance, and it fell apart around you as it went down the road," he said.
The 1987 Yugo was a Serbian-made version of the Fiat 127, under license from Fiat.
For a time, it was sold in the U.S., with 141,511 sold here between 1985 and 1991 -- "a Serbian-made version of the Fiat 127 that couldn't possibly be as awful as its low price suggested," Edmunds.com said. "But it was!"
Like the Trabant, the Yugo was built in a Communist society where responding to consumer demand was not considered to be important. Then it was exported to the U.S., where it had one source of appeal: It was cheap, not inappropriately.
After our list was first published, a reader wrote to say: "I was at the parts counter the other day and a guy asked the clerk, 'Do you have a set of wiper blades for a Yugo?' The guy thought about it for a minute and said, 'Well, I guess that's a fair trade.'"
Third worst: 2014 Mitsubishi Mirage
Our original list had the 1955 BMW Isetta in third place, but Huffman said he has a better candidate.
The 2014 Mitsubishi Mirage belongs in Isetta's spot, he said. "It drives terribly, rides terribly and it's noisy. My son is 11 and he hates it too, because it has too little legroom for an 11-year-old. Nobody likes it."
The car, which is made in Thailand, has a tiny, 1.2-liter three-cylinder engine. That assures good fuel mileage, which Mitsubishi quantifies at 44 miles per gallon, but it also means that the car is not powerful.
In a January review of the 2014 Mirage for autoblog.com, Steven Ewing reached a conclusion similar to Huffman's. "If there's one thing Mitsubishi could use here in the States, it's good, fresh product to bring people back into its showrooms," Ewing wrote. "The Mirage's attractive price point will likely get the attention of the budget-minded set, but it's still not the best deal you can get. And while the Mirage did briefly hold the title of being America's most fuel-efficient non-hybrid, the 1.0-liter Ford Fiesta now bests it.
"It's a shame the Mirage is such a dud," Ewing said.
Second worst: 1974 Ford Mustang
The Mustang is an iconic car with a rich past, but Ford stumbled in 1974 and created one worthy of being called the second-worst car in history. Certainly in retrospect, the concept of a Pinto-based Mustang does not make a lot of sense.
The car "was a betrayal of everything Mustang was supposed to be," Huffman said.
Surprisingly, the car sold well. "It was a Pinto that looked stylish" at a time of concern about rising fuel prices. "The market loved it and the Mustang lovers hated it."
Fortunately, Mustang has since returned to its roots.

Worst: 2001 Pontiac Aztek
Despite all of the disdain and the association with Walter White, the Aztek does have backers, who generally say the same thing: T was the first crossover.
"You can't say the idea was a bad idea," Huffman said. "When GM came up with the idea, Aztek was to have its own platform and have proportions that were exciting. To save money, they put it on the GM minivan platform. It had strange proportions and a strange windshield and everything was awkward.
"If GM had done this right, they could have owned the crossover segment. They were first. They were ahead of the game. But they put out a product so bad they blew their lead."
Written by Ted Reed in Charlotte, N.C.
To contact this writer, click here.