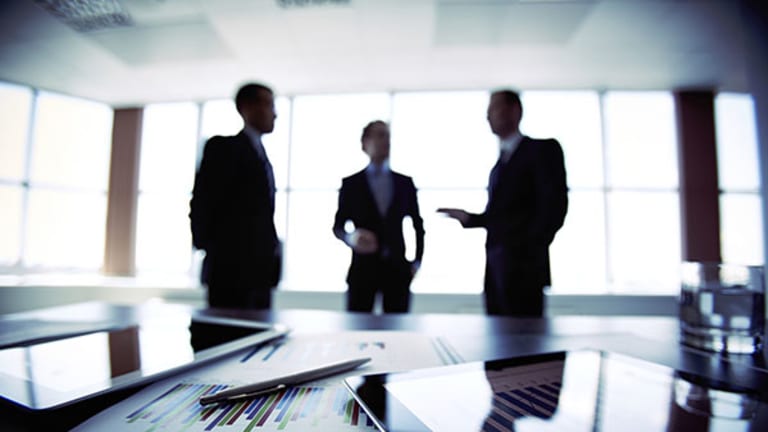 Publish date:
10 Women Who Would Be a Great Addition to Any Company's Board
Seven companies in the S&P 500 have no women on their boards. Maybe they're having trouble finding the right women? We aren't. Here are 10 that would make great additions.
Seven companies in the S&P 500 have no women on their boards. Maybe they're having trouble finding the right women? We aren't. Here are 10 that would make great additions.
Believe it or not, there are seven companies in the S&P 500 that have no women on their boards. Seven of the largest corporations in America are signalling to a huge proportion of their employees, customers and investors that women cannot make it to the highest reaches of power. Let's call this group of companies the "Misogynist 7": Discovery Communications (DISCA) - Get Discovery, Inc. Class A Report , Garmin (GRMN) - Get Garmin Ltd. (GRMN) Report , Diamond Offshore Drilling (DO) - Get Diamond Offshore Drilling, Inc. Report , Linear Technology (LLTC) , Qorvo (QRVO) - Get Qorvo, Inc. Report , Concho Resources (CXO) - Get Concho Resources Inc. Report and Dentsply Sirona (XRAY) - Get DENTSPLY SIRONA, Inc. Report .
A lack of gender diversity in the boardroom is a problem not just for women in corporate America, but for investors, too. Research shows that companies with women directors tend to perform better. Given that each of the companies' lacking female directors had performance lagged that of the S&P, we see no excuse for why companies -- all companies -- shouldn't have more diverse boards.
Granted some of these companies are in industries dominated by men, but it's not like there aren't qualified women directors. Actually, there are quite a few. With the help of BoardEx, a relationship capital services provider owned by TheStreet, we researched competitors in each of the seven company's industries, and found dozens of qualified female directors who could substantially contribute at the director level. 
It was hard, but we narrowed that list down to just 10 accomplished women directors that really stood out. 
So, if you're an investor in one of these companies; if you're an employee; if you work at an executive search firm that helps find qualified board members; and you want to see these companies succeed, please urge them to take a look at one of these exceptional executives for their next board vacancy. 
1. Ann McLaughlin Korologos
The Honorable Ann McLaughlin Korologos is the current lead director at Harman International Industries (HAR) . Harman is a competitor to Garmin, one of the seven companies with no women on its board. 
Korologos has been on Harman's board since 1995 and its lead director since 2008, according to BoardEx. She is also a long-time director for three other public companies -- Kellogg (K) - Get Kellogg Company (K) Report, Host Hotels & Resorts (HST) - Get Host Hotels & Resorts, Inc. (HST) Report and Michael Kors (KORS) .
Korologos, 74, has quite the distinguished resume and has sat on numerous private and public company boards over the years.
She was named by President Ronald Reagan as the U.S. Secretary of Labor, where she served two years from 1987 to 1989. Before that she served as the Under Secretary for the U.S. Department of the Interior between 1984 and 1987. Korologos was also Under Secretary of the Department of Treasury between 1981 and 1984.
As well, she was previously chairman of the Aspen Institute, a Washington, D.C.-based educational and policy studies organization, from 1996 to 2000, and served as chairman of RAND Corp.'s board of trustees for five years through 2009. She is currently a member of the board of trustees to the Ronald Reagan Presidential Foundation.
Korologos is also a former board member of General Motors (GM) - Get General Motors Company (GM) Report and Microsoft (MSFT) - Get Microsoft Corporation (MSFT) Report . She served for six years as a director for the tech giant, retiring in November 2006, due to "new responsibilities and opportunities force me reluctantly not to seek re-election," she said, when announcing that she would not try to stay on Microsoft's board. 
Korologos is also an avid art collector and owns a gallery in Basalt, Colo.
Korologos was not available to respond to TheStreet's request for comment.
2. Ann Mather
Ann Mather knows the finance and the entertainment businesses. Mather, 55, is the former CFO for Pixar, the animation studio with blockbuster hits such as Toy Story, Monsters, Inc., Finding Nemo, Cars and Up, among others. Mather also spent many years in various roles at Disney.
Mather is currently a director at: Alphabet (GOOGL) - Get Alphabet Inc. Class A Report, which is also a competitor to Garmin's mobile products division. 
She is also a director at Netflix, Glu Mobile, the mobile game publisher Shutterfly and a host of private companies. She is currently the lead director for MGM Holdings, the parent company to motion picture studio, Metro-Goldwyn-Mayer (MGM) - Get MGM Resorts International (MGM) Report , a position she has held since 2010.
In September, Mather was named the first independent director for Planet Labs, a six-year-old start-up that creates miniature satellites to take high-resolution images of the Earth for data collection. Planet Lab wants to sell its images to clients in the agriculture, energy and infrastructure, forestry, mapping industries and to the government.
Mather's representatives at several of the companies she is involved with have not yet responded to our request for comment.  
You see Jim Cramer on TV. Now, see where he invests his money and why Alphabet stock is a core holding of his multimillion-dollar portfolio. Want to be alerted before Jim Cramer buys or sells GOOGL? Learn more now.
3. Robin Washington
Robin Washington is the CFO of biopharmaceutical giant, Gilead Sciences (GILD) - Get Gilead Sciences, Inc. (GILD) Report , a position she has held since 2008. She has been in management-level financial positions for the better part of her career, as she was the CFO for Hyperion Solutions until March 2007 when it was acquired by Oracle (ORCL) - Get Oracle Corporation Report . Before that she was corporate controller at human resources company Peoplesoft from 1996 to 2005.
Washington, 53, is currently a director at Honeywell International (HON) - Get Honeywell International Inc. (HON) Report and Salesforce.com (CRM) - Get salesforce.com, inc. Report . Honeywell is a competitor to Garmin in its aviation products division. 
With experience in the life sciences and technology industries -- two areas dominated by men -- Washington has used her position to help other professional women expand their potential.
Washington said in a recent interview that women professionals need to build confidence in their work product and capabilities. They should make time to broaden their networks both within the company they work for and in their industry, she added.
"Sometimes women have a tougher time doing that, reaching out to build their personal networks and find sponsors," she said.
Washington created a women's leadership forum, where senior-level employees at Gilead and other companies can come together. She also helped establish a professional women's networking forum within Silicon Valley.
Washington's representatives at Gilead have not yet not returned request for comment.
4. Janet Clark
Retired Marathon Oil (MRO) - Get Marathon Oil Corporation (MRO) Report chief financial officer Janet Clark was named to the board of directors for Texas Instruments (TXN) - Get Texas Instruments Incorporated Report in June 2015.
She is one of five women who sit on the semiconductor company's 12-member board. Two of the companies in the list of seven are tech companies -- Linear Technology and Qorvo.
"Janet understands the intricacies of strong financial stewardship and the importance of strategic governance, elements that are fundamental to the effectiveness of the TI board. She will be an excellent counselor to management and we look forward to her service," Texas Instruments director Wayne Sanders said at the time of her appointment.
Clark, 61, is also a director for oil and gas company EOG Resources (EOG) - Get EOG Resources, Inc. (EOG) Report  and Goldman Sachs BDC (GSBD) - Get Goldman Sachs BDC, Inc Report , a specialty finance company focused on middle-market lending that was spun off last year from the investment banking giant.
She is an investment banking and financial veteran, spending the first 20 years of her career in the financial services sector.
Later in her career, the finance executive held several management positions at oil and gas exploration and production companies, including Nuevo Energy Company and Santa Fe Energy Resources, leading "different functional groups within each company, including finance, accounting, internal audit and investor relations," according to her biography on Goldman Sachs BDC's website.
Clark's representatives at Texas Instruments have not yet not returned request for comment.
5. Carrie Cox
Carrie S. Cox has been the chief executive of Humacyte, a North Carolina-based biotechnology and regenerative medicine company, since 2010.
The private company currently has a fast-track designation by the U.S. Food and Drug Administration for the product HUMACYL, which could aid patients with kidney failure by becoming an access point for patients undergoing hemodialysis. HUMACYL could potentially serve as an alternative to these current options that can have the tendency for infection, rejection or poor patency, according to a spokeswoman.
Cox has more than 35 years of experience in the biotech and pharmaceuticals industries, and was a pharmacist early in her career. Fortune named Cox to its list of "50 Most Powerful Women in Business" six times, according to her corporate bio.
Before she became CEO of Humacyte, Cox served as chairman of Prism Pharmaceuticals, a company that was acquired by Baxter (BAX) - Get Baxter International Inc. Report in 2011. From 2003 through 2009 she was president of the global pharmaceuticals division at Schering-Plough until it merged with Merck (MRK) - Get Merck & Co., Inc. (MRK) Report in 2009.
So why the move to a small company?
Following the two mergers Cox went through in big pharma, she was looking to get back to her pharmacy roots. "I was interested in focusing on a small company that may or may not be able to get something really wonderful to market if they didn't have an experienced businessperson to help guide them," Cox told FierceBiotech in a 2012 article.
Cox is one of five women who sit on the board of directors for Texas Instruments. Two of the companies in the list of seven are tech companies -- Linear Technology and Qorvo. She also sits on the board of Cardinal Health (CAH) - Get Cardinal Health, Inc. Report and Celgene (CELG) - Get Celgene Corporation Report , a biotech company that makes drug therapies for cancer and inflammatory disorders.
Cox was not available to comment due to personal travel plans, according to a spokeswoman. 
6. Ruth Simmons
Ruth Simmons, the former president of Brown University, was the first black president of any Ivy League school and Brown's first female president, elected in 2000. She was the university's president for 11 years before stepping down.
While Simmons, 70, has spent her career in academic administration, she also is a board director for a multitude of public companies, including Texas Instruments. Two of the companies in the list of seven are tech companies -- Linear Technology and Qorvo.
She also sits on the board of directors for Mondelez International (MDLZ) - Get Mondelez International, Inc. Class A (MDLZ) Report , Fiat Chrysler Automobiles (FCAU) - Get Fiat Chrysler Automobiles N.V. Report and Square (SQ) - Get Square, Inc. Class A Report . Simmons has served on numerous other public company board's during her career, including Goldman Sachs (GS) - Get Goldman Sachs Group, Inc. (GS) Report , Pfizer (PFE) - Get Pfizer Inc. Report , MetLife (MET) - Get MetLife, Inc. (MET) Report , as well as nonprofit organizations.
Simmons began her administrative career in 1983 when she became associate dean of University of Southern California's graduate school. She then became a dean at Princeton University, where she remained for seven years through 1990. Simmons held a brief stint as provost for Spellman College but returned to Princeton in 1992 as vice provost. Her academic career continued as the president Smith College from 1995 until she took the position at Brown.
Simmons' accomplishments during her many administrative roles are too many to count. But one noteworthy initiative is that she launched the first engineering program while at Smith College, according to her bio.
In 2007, Glamour magazine named her as one of its "Women of the Year." Simmons was also given the honor in 1996 as president of Smith College.
Simmons' representatives at several of the organizations she is involved with have not yet responded to our request for comment.
7. Mercedes Johnson
Mercedes Johnson boasts a long career of experience in the technology industry. Two of the companies in the list of seven are tech companies -- Linear Technology and Qorvo. 
Johnson, 63, is the former chief financial officer of Avago Technologies, which was recently acquired by Broadcom (AVGO) - Get Broadcom Inc. Report . She held the CFO position at the semiconductor company from 2005 to 2008. Before that she headed up Lam Research's  (LRCX) - Get Lam Research Corporation (LRCX) Report finance department from 1997 to 2004. Prior to Lam Research, Johnson worked for Applied Materials (AMAT) - Get Applied Materials, Inc. Report , in various management positions.
Johnson serves on the board of directors for several tech companies including Micron Technology (MU) - Get Micron Technology, Inc. (MU) Report , Intersil (ISIL) , Teradyne (TER) - Get Teradyne, Inc. Report and Juniper Networks (JNPR) - Get Juniper Networks, Inc. (JNPR) Report .
She also briefly served as chief financial officer of Intersil from April to September 2013.
Johnson's representatives at Juniper Networks have not yet not returned request for comment.
8. Christine King
Christine King, 66, served as CEO and president of Standard Microsystems before it was acquired by Microchip Technology (MCHP) - Get Microchip Technology Incorporated (MCHP) Report in 2012. She previously served as chief executive at AMI Semiconductor before its acquisition and before that spent more than 20 years at IBM (IBM) - Get International Business Machines (IBM) Report .
Her knowledge and experience in technology and semiconductor experience appears to have made her a solid addition to more than one board. Two of the companies in the list of seven are tech companies -- Linear Technology and Qorvo.
Currently, King currently sits on both public and private boards. She is a director at publicly-traded companies Skyworks Solutions (SWKS) - Get Skyworks Solutions, Inc. Report , Cirrus Logic (CRUS) - Get Cirrus Logic, Inc. Report , Idacorp (IDA) - Get IDACORP, Inc. Report and as well as private firm Idaho Power Co.
She joined the board of Qlogic (QLGC) in April 2013 and in August 2015 was elevated to executive chairman and chairman of the board. Qlogic provides data center networking and storage networking infrastructure solutions.
King has previously spent time on several other boards of directors, including AMI Semiconductor, ON Semiconductor, Analog Devices (ADI) - Get Analog Devices, Inc. Report and Atheros Communications.
King's representatives at Qlogic have not yet not returned request for comment.
9. Annell Bay
Annell Bay has had an impressive career in the oil industry. Her resume includes stints as an exploration geologist at companies like Shell Oil and Chevron (CVX) - Get Chevron Corporation Report and as an exploration manager at Kerr-McGee Oil & Gas.
Bay, 59, joined Marathon Oil in 2008 as a senior vice president of exploration and worked her way up to become vice president of global exploration at the firm, a position she exited in April 2014.
In May 2014, Bay joined the board of directors of Apache (APA) - Get Apache Corporation Report , an oil and gas exploration company headquartered in Houston. In February 2015, she also gained a seat at Hunting PLC, a British energy services provider based in London. She remains a board member at both firms today.
Beyond her roles at Apache and Hunting, Bay also serves on the advisory boards for the Jackson School of Geology at the University of Texas at Austin, the American Association of Petroleum Geology, and the Independent Petroleum Association of America Education Center.
Bay's representatives at Apache have not yet not returned request for comment.
10. Andrea Saia
Andrea Saia boasts a unique background in health care, medical devices and consumer products that, combined with her background in marketing and consumer products companies, renders her a unique character in the corporate world.
Saia currently sits on the boards of directors at Align Technology (ALGN) - Get Align Technology, Inc. Report and Coca Cola Enterprises (CCE) , which she joined in 2013 and 2012, respectively. Align is a competitor to Dentsply Sirona, one of the seven companies with zero female directors on its board. 
Saia was previously the global head of vision care in the Alcon division of Novartis AG (NVS) - Get Novartis AG Sponsored ADR Report and, prior to that, served as president and CEO of CibaVision, a Novartis subsidiary, which she originally joined in 2002 as global head of marketing. She has also held senior marketing and management positions at firms like GCG Partners Inc., Procter & Gamble (PG) - Get Procter & Gamble Company Report , Unilever (UL) - Get Unilever PLC Sponsored ADR Report and Revlon (REV) - Get Revlon, Inc. Class A Report .
According to her Twitter profile, Saia is passionate about women's advancement.
According to a representative, Saia is unavailable to comment. 
 -- Emily Stewart contributed to this article.