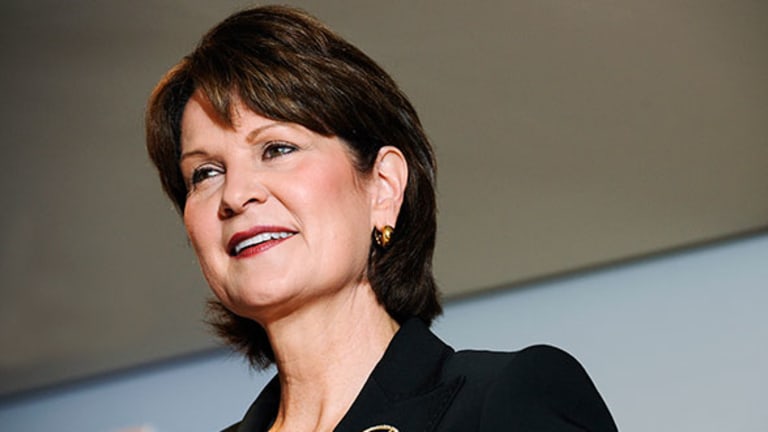 NEW YORK (TheStreet) -- 2014 was a good year for a number of top women CEOs. Not only did they make money for shareholders, but many got bigger compensation packages as well.
A study of 300 companies by The Wall Street Journal published Wednesday reveals that organizations headed by women chief executives, by and large, had a pretty strong year on the market. In fact, of the 15 women-led firms listed in the study, only two -- IBM (IBM) - Get International Business Machines (IBM) Report and General Motors (GM) - Get General Motors Company (GM) Report-- lost money for shareholders in 2014.
It should be no surprise that companies run by women CEOs did well last year -- in fact, it may be part of an overarching trend. A recent study from Quantopian, a Boston-based trading platform for crowdsourced algorithms, found that women-led companies perform three times better than the S&P 500.
Women executives are making their way up the pay scale as well. All but four of those listed by The Wall Street Journal received compensation increases in 2014, and one nearly cracked the list of the top 10 highest paid chief executives.
Here are 10 women CEOs who made money for themselves and their investors in 2015.
Marillyn Hewson
Lockheed Martin's (LMT) - Get Lockheed Martin Corporation (LMT) Report Marillyn Hewson is the highest-paid woman in the Journal's rankings and comes in at No. 11 on the list of all CEOs. She earned $33.7 million in 2014, up 33.9% from the year before. And the defense company she runs -- the world's largest by sales -- returned 33.7% to shareholders.
Hewson spent 30 years at Lockheed Martin before being named CEO in 2013 and is now the firm's chairman, president and chief executive officer. In 2014, she received just under $1.5 million in base pay, $8.9 million in stock awards and $7.1 million in nonequity compensation. The major boost to her pay came in pension value, which jumped to $15.8 million in 2014 from $9.4 million the year prior.
Since taking the lead at Lockheed Martin, Hewson has pushed to cut costs at the company. In 2013, the company announced plans to close and consolidate several of its U.S. facilities and reduce its workforce by mid-2015.
Lockheed Martin representatives declined to comment.
Carol Meyrowitz
TJX Companies (TJX) - Get TJX Companies Inc Report, the corporation behind discount retail brands T.J. Maxx, HomeGoods and Marshalls, returned 16.3% to shareholders in 2014. The firm's CEO, Carol Meyrowitz, got a boost in her pay as well, to $28.7 million, up 27.4% from the previous year.
Meyrowitz's base salary increased slightly last year, to $1.58 million from $1.48 million. She received $16.5 million in stock awards, $636,000 in option awards and $4.6 million in nonequity compensation. Her pension's value rose sharply by $5.4 million in 2014, compared to a $1.8 million increase in 2013. She has been at the helm of the company since 2007.
And Carol Meyrowitz isn't the only TJX employee getting a raise. In February, the company announced that it would boost pay for its U.S. workers to at least $9 an hour, beginning in June.
TJX representatives declined to comment.
Indra Nooyi
PepsiCo (PEP) - Get PepsiCo, Inc. Report was good to shareholders in 2014, giving them a return of 20.7%. The beverage giant also managed to return $8.7 billion to shareholders through share buybacks and dividends, a 36% increase over 2013.
Chief executive Indra Nooyi has a good year as well. She brought in a total of $22.5 million, 57.5% more than the year before.
The most significant part of Nooyi's compensation boost came from a $11.8 million performance-based bonus that included a long-term incentive award introduced in 2012. The program, which contemplates performance over a three-year period, amounted to a $6.8 million payout.
"Approximately 90% of Indra Nooyi's target total compensation is performance-based to ensure that pay is directly linked to the creation of sustainable long-term shareholder value," said Jay Cooney, a PepsiCo representative. "This is consistent with PepsiCo's strong pay-for-performance philosophy."
Ursula Burns
Xerox (XRX) - Get Xerox Holdings Corporation (XRX) Report returned 16.2% to investors last year and a total of 23.0% in the three-year period from 2012 to 2014. Its chief executive, Ursula Burns, received an enormous 792.9% increase in compensation to $22.2 million.
Burns' increase for 2014, however, appears more dramatic than it really was.
A Xerox representative said that The Wall Street Journal report, which relied on Xerox's 2014 proxy statement, reflects a two-year total of long-term stock awards that includes approximately $7.75 million tied to a stock award deferred from 2013. If the Jan. 1, 2014 stock awards were reflected as 2013 compensation, Burns' total 2014 compensation would be approximately $14.5 million, and her 2013 compensation would be about $10.2 million.
Ursula Burns has been at Xerox for 35 years and joined the company as a mechanical engineering summer intern in 1980. She became its chief executive in 2009.
Irene Rosenfeld
Irene Rosenfeld's compensation jumped by 50.3% to $21.0 million in 2014. The investors of the company she runs, Mondelez International (MDLZ) - Get Mondelez International, Inc. Class A (MDLZ) Report, got a 4.6% return -- not quite the 41.1% return they saw in 2013, but not bad.
Rosenfeld was appointed as CEO of Mondelez's predecessor, Kraft Foods, in 2006 and became its chairman in 2007. When Kraft Foods split in two in 2012, she stayed on at the helm of Mondelez, which is behind brands like Oreo, Trident and Cadbury.
Much of Rosenfeld's 2014 compensation boost was the result of a $5.1 million change in her pension value. She also received $3.6 million in nonequity incentive compensation, $8.2 million in stock awards, $2.2 million in option awards and $1.6 million in base pay.
Mondelez representatives did not respond to a request for comment.
Meg Whitman
Hewlett-Packard (HP) - Get Helmerich & Payne, Inc. (HP) Report investors had a stellar 2014, gaining 50.1%. They did well in 2013 as well, up 80.9%. And HP CEO Meg Whitman has been rewarded. Last year, she brought in $19.6 million, an increase of 11.2% from the year before.
Whitman became HP's CEO in 2011 and was earning just one dollar a year in base pay until 2013, when her salary was bumped up to $1.5 million. She also earned $8.1 million in stock awards, $5.4 million in option awards and $4.3 million in nonequity compensation.
Meg Whitman has steered HP's turnaround and oversees a five-year plan launched in 2012 to stabilize its business, identify challenges and develop business strategies to streamline and improve operations. She is also a billionaire and is listed at No. 324 in the 2014 Forbes 400.
Hewlett-Packard representatives did not respond to a request for comment.
Phebe Novakovic
General Dynamics (GD) - Get General Dynamics Corporation (GD) Report, one of the world's leading defense contractors, returned 47.2% to shareholders in 2014, on top of the 41.0% returned in 2013. The company's CEO saw a slight 1.9% pay boost last year and made a total of $19.4 million.
Novakovic has been with General Dynamics for more than a decade and became its chief executive in 2013. She earned $1.6 million in base salary in 2014 and received a $4.3 million bonus. She also received about $6.5 million in stock awards, $6.5 million in option awards and nearly $400,000 in change in pension.
In its proxy statement, General Dynamics says it has one the strictest sets of stock ownership guidelines for executives in its industry. As the company's CEO, Novakovic is required to hold General Dynamic stock with a value equal to 15 times her base salary. In other words, it is in her interest that shareholders do well.
General Dynamics representatives did not respond to a request for comment.
Patricia Woertz
Patricia Woertz stepped down as CEO of Archer Daniels Midland (ADM) - Get Archer-Daniels-Midland Company Report in November after spending eight years at the helm of the company. In her last year of service, she made $17.0 million. Her investors gained 22.3%.
Though Woertz's compensation increased by 147.4% in 2014, the explanation behind the pay boost is a bit complex.
In 2012, Archer Daniels Midland shifted its fiscal year from starting in July to beginning in January; therefore, it created a sort of six-month year in the second half of 2012. Bonuses and other variable compensation are calculated based on prior period performance, meaning that 2013 calculations were made on the six-month period in 2012. A company representative explained that this is why 2014 compensation, which is based on the entire 2013 year, appears to be a much bigger jump than it really is.
It is worth noting Woertz, who remains with ADM as chairman, was awarded an additional $2.9 million in February in recognition of her service.
Debra Reed
In a year that many energy companies took a hit, energy services holding company Sempra Energy (SRE) - Get Sempra Energy Report did just fine. It returned 27.3% to investors, and its chief executive officer, Debra Reed, made $16.9 million, a 72.5% increase from the year before.
Reed has been a director and CEO at Sempra since 2011 and was appointed chairman of its board in 2012. She first joined the company at a subsidiary, SoCalGas, in 1978.
She received small boosts to her base salary, stock awards and cash bonus in 2014, but the major difference came in her pension. Reed's pension change last year was $8 million, compared to $1.9 million in 2013.
Sempra Energy representatives did not respond to a request for comment.
Ellen Kullman
DuPont's (DD) - Get DuPont de Nemours, Inc. Report Ellen Kullman earned $14.3 million in 2014, up 1.3% from 2013. To her shareholders, she returned 17% in 2014 -- and fought a headline-grabbing proxy battle to boot.
Activist investor Nelson Peltz zeroed in on DuPont in 2014 and pushed for the chemical company to break up. Peltz's fund, Trian Fund Management, moved aggressively to secure board seats and pressure for the move. But in May of 2015, DuPont, led by Kullman, came out on top, and none of Trian's nominees were elected to the company's board.
"We have delivered superior performance," Kullman said in an interview with Forbes days before the shareholder vote. "We've beaten the market and our peers over one, three and five years. Under our management over six years, it's been a 266% return. I would put that up against a lot of people. You will see it's extremely compelling performance."
DuPont representatives did not respond to a request for comment.
This article is commentary by an independent contributor. At the time of publication, the author held no positions in the stocks mentioned.