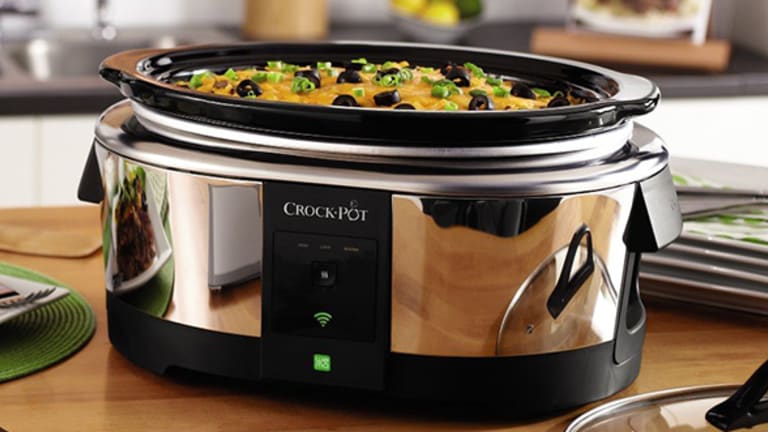 10 Very Cool Tech Gifts for Mother's Day Not Made by Apple
There's a whole world out there of interesting non-Apple tech gifts moms will surely love. Here are just a few of them.
There's a whole world out there of interesting non-Apple tech gifts moms will surely love. Here are just a few of them.
NEW YORK (TheStreet) -- Mother's Day has become one of the biggest holidays for consumer spending. Last year, Americans spent  almost $20 billion on mom's gifts. After cards and flowers, shoppers gave mom clothes, jewelry, beauty products and electronic gifts such as smartphones and tablets.
Moms like cool things, and if they don't have them already probably wouldn't mind getting an Apple (AAPL) - Get Report iPad, an iPhone or even the brand-new  Apple Watch for Mother's Day.
There is, however, a whole world out there of interesting non-Apple tech gifts moms will surely love. As a new mom, I've put together this list of very cool tech gifts I know I want for my very first Mother's Day:
Nixplay Edge 8-Inch Wi-Fi Cloud Digital Photo Frame
With twin baby boys, I take twice as many photos, most of which are stored either on my smartphone or my tablet. Wouldn't it be cool if I could take all those photos, put them all in one place and view them throughout the day from my office desk?
Nixplay Edge's Wi-Fi Cloud Digital Photo Frame is a great-looking and easy-to-use gadget. I can just email photos directly to the photo frame, or even better, access all my photos on Facebook or Instagram and upload them to the Nixplay online cloud storage. I can even create playlists and add captions to the photos.
Don't worry if you think mom already owns a digital photo frame. I think mothers can never have too many. I can personally use one at work, several at home and another one to bring along with me when I travel.
The 8-inch version is selling for $129.99, but you can opt for the digital frame with a 13-inch screen for under $250. Last-minute Mother's Day shoppers will be glad to know  Amazon (AMZN) - Get Report offers same-day shipping on this product.




Epson Expression Home XP-420 Small-in-One
Having a digital photo frame is great, but I also enjoy seeing my photos printed on paper. With the Epson Expression Home XP-420 Small-in-One, I can print directly from my smartphone or tablet.
Even better, it can scan and share content and photos directly to Facebook and the cloud. I can create digital versions of older photos or scan my kids' future art projects and share them instantly with family and friends.
At just under $100, the Epson Expression Home XP-420 Small-in-One is a good printer for moms on the go. It has a compact design that can fit into a small home office or wall shelving. It's also a cool gadget for crafty moms who like to make their own party invitations or DIY gifts.
Crock-Pot Smart Wifi-Enabled WeMo 6-Quart Slow Cooker
This is one high-tech gadget I would never have considered owning before I became a busy mom. A slow cooker with Wi-Fi might seem over the top, but if you're running around constantly you might appreciate having the ability to get dinner ready while still in the office.
Using the free WeMo app on my smartphone  I can switch the slow cooker on, increase or decrease cooking time, switch to keep-warm mode or turn it off completely. The app works on Android and Apple devices.
The six-quart capacity fits roasts and large meats, so it's great for large families or for those who don't mind reheating leftovers.
This kitchen gadget is easy to clean -- the removable stoneware and glass lid are dishwasher safe.  At $112.49,  Amazon ships this item for free.
Mr. Coffee WeMo Enabled Smart Coffeemaker
After a rough night with my twins, I know I can use a very strong cup of coffee early in the morning. Wouldn't it be great if I can start brewing that coffee even before I get up?
With the free WeMo app on the Mr. Coffee Smart Coffeemaker, I can program and start brewing the perfect cup from bed. I can put the app on my Samsung phone and Apple
iPad, so whichever device is closest when I wake up will be used to power up my coffee pot.
When I'm ready to head down to the kitchen in eight minutes or so, perfectly brewed, piping-hot coffee will be waiting for me.
The sleek black and chrome coffeemaker sells for $149.99 at Target (TGT) - Get Report .



iDevices Kitchen Thermometer
Being a mom often means wanting to be in two places at the same time. With the iDevices Kitchen Thermometer I can put the roast chicken in the oven, move over to my kids' bedroom and not have to go back to the kitchen until the food is ready.
The iDevices Kitchen Thermometer is a Bluetooth Smart, dual-probe cooking thermometer that can monitor temperatures using the free iDevices Connected app on my phone or tablet. When the food has reached the right temperature, I get an alert.
This sells for $79.99 at Target.com.
Canary All-in-One Home Security Device
When my maternity leave ended and I had to return to work, one of my biggest concerns was not knowing what's happening at home with my babies and their nanny. I still worry about this today, which is why I can use this Canary All-in-One Home Security Device.
Canary is a complete security system that I can control from my smartphone. Unlike traditional home security systems, it doesn't need additional sensors, and set-up takes just minutes, not days.
I just download the app, set Canary on a flat surface, plug it in, connect it to the internet, and I'm all set.
This device is $249.99 on  Amazon and requires no contracts or monthly fees.
S+ by ResMed Personal Sleep Tracker
This is another cool gadget moms, especially first-time moms such as me, would appreciate. After being up most nights for several months, what mom wouldn't want a gift that helps her sleep better?
The S+ by ResMed Personal Sleep Tracker is a non-contact sleep system that monitors my breathing patterns and body movements. From the bedside, the system captures light, noise and temperature levels. By logging in factors such as exercise, caffeine and alcohol intake, this gadget can analyze patterns over time and deliver personalized sleep strategies.
One very cool thing moms will like about this sleep tracker is the "Mind Clear" feature. Moms often go to bed (or try to go to bed) with a to-do list. With the S+, I can record a voice clip or type a text note to help clear my thoughts on the path to a good night's sleep. The memos will be waiting for me when I wake up the next morning.
This S+ syncs with smartphones or tablets with Bluetooth and is available at  bedbathandbeyond.com for $149.99.


Withings Aura Smart Sleep System
If you're willing to spend more to make sleep-deprived mom happy, check out the Withings Aura Smart Sleep System. It's pricey -- $300 at  bedbathandbeyond.com -- but claims to help improve everyday sleep and wake-up quality.
There are two parts to this gadget: the sleep sensor that slips under the mattress and monitors personal sleep patterns and cycles throughout the night; and the bedside device that offers "scientifically validated light and sound programs" to help mom fall asleep and wake up at just the right time in her sleep cycle.
This system also comes with a free mobile app that allows mom to assess her sleep, understand what wakes her up and compare good nights with bad.
LG Electronics G Watch
For moms who are loyal to Android devices, this is one stylish and useful gadget to have. The G Watch, with its always-on display, is compatible with any phone or tablet running Android 4.3 or higher. So if I sync this with my Samsung phone, I can check the time and see mobile notifications without touching it.
This means I could put my phone on silent mode and attend meetings or conferences without having to hold on to my phone. I can just discreetly look at my watch to check for important notifications or text messages (e.g., the nanny texting that I must call home because she can't remember the password of the security alarm).
The G watch comes in two colors -- the black one sells on  Amazon for $129, and the white one is $139.
Silk'n FaceFX Anti-Aging Device
Silk'n FaceFX is a hand-held LED device for facial treatments of wrinkles, reducing pore size and improving the appearance of the skin. If you think this will send the wrong message to mom and add more lines to her face, click back to my other gift suggestions.
Personally, I will not be offended by this gift. Any anti-aging device that will save me a trip to the dermatologist is much appreciated.
FaceFX uses a red light device that helps stimulate collagen production, reduce wrinkles and provide a brighter, clearer complexion.  Bedbathandbeyond.com sells this for $149.99.