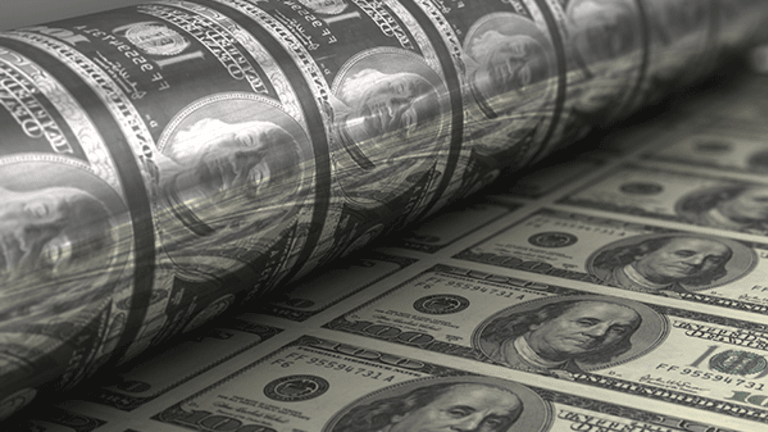 10 Undervalued High-Yield Dividend Stocks Worth Buying Today
Each dividend stock scores well for safety and has a historically high dividend yield.
The post-election rally has taken stock markets, which were already trading at frothy levels, to new highs. This naturally makes value-focused dividend growth investors nervous about investing new money into anything right now.
Fortunately, there are still great dividend growth stocks that for one reason or another are trading at attractive (not too pricey) levels.
We used our Dividend Safety Scores to find companies with safe dividend payments. (These scores successfully flagged Kinder Morgan, ConocoPhillips, StoneMor Partners and other high-yielding stocks as being high risks before these companies announced dividend cuts.)
Income investors can learn more about Dividend Safety Scores and view their real-time track record by clicking here. 
Find out why these 10 high-yield blue-chips are great alternatives to keeping your cash on the sidelines, and why each could deserve a spot in your long-term, diversified dividend portfolio. We own some of these stocks in our Conservative Retirees dividend portfolio. 
1. VF Corp.  (VFC)
Yield: 2.9%
While VF Corp. may offer the lowest of the yields of any of these stocks, it represents one of the best dividend growth stocks you can buy in today's overheated market.
After all, in addition to increasing its dividend each year for an impressive 43 straight years, this dividend aristocrat just raised the dividend by 14% for next year, (more than its 20-year compound annual growth rate of 10.8%) signaling to investors that its long-term growth story remains intact.
That's due to one of the industry's best management teams, which has built up a diverse portfolio of 30 lifestyle and apparel brands including Vans, Wrangler, Nautica, Timberland and The North Face.
And while most corporate acquisitions fail to deliver accretive shareholder value, VF Corp. has proven itself an exception to this rule. That's thanks to a disciplined acquisition approach, in which the company doesn't overpay for new brands, and to large economies of scale that allow management to insert newly acquired brands into the giant global distribution network and boost margins through low-cost manufacturing.
Despite its large size, VF Corp. has a small start-up culture, with management adopting a Warren Buffett-style "hands off" approach to managing its various product lines. This ensures that the quality management teams at acquired companies stay on for decades and then can be tapped to lead the mother company when infrequent management turnover does occur. Or to put it another way, in addition to exemplary current management, VF Corp. has one of the best and deepest management benches in the industry.
Better yet, VF Corp. stock is currently trading about 15% less than its March highs, which means that the stock is trading at a five-year high yield, 33% higher than its historic norms. All of which means that today is an excellent time to acquire one of the best apparel companies in America, a company that is likely to continue delivering fantastic income growth and market-beating total returns in the years to come.
Investors can read my full thesis on VFC here.
2. Procter & Gamble (PG)
Yield: 3.2%
Procter & Gamble is one of the legendary dividend kings and has raised its dividend each year for 59 consecutive years. It's one of the largest purveyors of consumer goods and owns such well-known brands as Pampers, Luvs, Gillette and Charmin. 
Given that Procter & Gamble's most recent dividend increase was a small 1%, investors are understandably worried about whether the stock will be able to continue to grow its payout at its historical 10% rate (over the last 20 years).
Fortunately, management has undertaken a multiyear turnaround plan that involved selling off 101 of its least successful brands. By focusing on its 65 higher-margin megabrands, P&G is attempting to refocus its R&D and advertising dollars more effectively, boost margins and increase organic growth by 1% per year, which in this industry is a huge benefit.
In the medium term, management expects an additional $10 billion in annual cost savings by 2021 thanks to its more concentrated product focus. That should help management to deliver on its planned return of $70 billion to shareholders between 2016 and 2019.
Lastly, the company is attempting to become more competitive in emerging markets, with more regionally targeted consumer products in high-growth economies such as India and China. All told, the turnaround, which is now in phase two, (the brand selloff is now complete), should help Procter & Gamble return to its historical dividend growth greatness, with 7% to 8% payout growth easily attainable in the coming years.
And with shares down sharply in recent weeks, and the dividend yield now 10% higher than its historic norm, right now is a good time to open a position in this blue-chip dividend growth machine.
3. Novartis (NVS)
Yield: 3.4%
Novartis is one of the oldest and most established biotech/pharmaceutical names in the world, having been founded in 1895 in Basel, Switzerland.
The company operates in three main segments: patented drugs, generic drugs, and eye care products. This gives the company diversified and relatively stable free cash flows that have allowed it to grow its dividend at a compound annual rate of 12.6% over 20 years.
Best of all, thanks to the cyclical nature of the biotech/pharma industry, which periodically causes great stocks to trade at discounts, now is a great time to open or add to a position in Novartis.
Investors have become pessimistic about Novartis because of the 2016 patent expiration of cardio drug Diovan, which makes up 10% of the company's sales, and because of concerns about the integration of oncology assets recently acquired from GlaxoSmithKline (GSK) . In fact, since hitting an all-time high in December 2015, Novartis is down 22%, and now trades at a dividend yield almost 20% greater than its historic norm.
And thanks to a strong pipeline of drugs designed to treat heart failure, cancer and unmet disease needs (which have strong pricing power), Novartis' recent troubles are likely to pass. That means the recent selloff represents a great chance to buy world-class dividend growth at a very attractive price.
4. Emerson Electric (EMR)
Yield: 3.5%
Emerson Electric is another dividend king, with 60 straight years of payout growth under its belt. Despite some harsh growth headwinds courtesy of slowing global economic growth, and a strong dollar, Emerson has managed to show a strong 14.5% total return over the past year. Even so, this dividend growth legend remains undervalued today, with the yield 25% above its historic norm.
Founded in 1890, Emerson Electric's conservative, slow and steady corporate culture has allowed it to endure dozens of economic and interest rate cycles to become one of the global leaders in industrial automation, climate control systems and electronics.
The company's heavy presence in the oil & gas sector has hurt short-term sales and earnings growth over the past two years, but management continues to keep a long-term focus. That means that when that cyclical industry inevitably turns around, Emerson will be poised to accelerate its dividend growth back to historical levels. Over the past 20 years, the company's dividend has a compound annual growth rate of 7.3%.
Emerson's lead in industrial automation, especially in the oil & gas sector, makes this company poised to benefit from a recovery in oil prices, because its products help producers monitor their rigs and equipment remotely (resulting in efficiency improvements and cost savings). Add to this a strong potential growth catalyst in the HVAC division, which should benefit from a strong rebound in construction, both residential and industrial, and Emerson is well poised for an earnings boom in the coming years.
Lastly, the company is making strong inroads into fast-growing emerging markets, which should provide it with a long growth runway that should help it to enrich long-term dividend investors for decades to come.
5. Invesco (IVZ)
Yield: 3.5%
Invesco is a large asset-management company with $840 billion in assets under management. Thanks to strong performance from its actively managed funds, the company has seen organic asset growth of 2.3% annually over the past five years.
While that may not sound like much, it's actually very impressive for asset-management companies that specialize in actively managed funds, given the secular rise of ETFs, whose popularity is only expected to keep growing in the coming years.
Invesco offers investors some solid overseas diversification. About one-third of its business comes from overseas, including 21% from Europe. Concerns about slow growth on that continent and Brexit have pressured Invesco shares lower recently. But that just creates a great long-term buying opportunity.
Invesco's current dividend yield of 3.5% is 52% greater than its historic median value of 2.3% over the past 13 years. And with a great long-term dividend growth track record (9.6% CAGR over 20 years) and a 51% free-cash-flow payout ratio, the dividend is not just generous and highly secure but also has plenty of growth runway ahead of it.
Helping to achieve that growth potential is the company's strong PowerShares ETF brand, which though claiming a small 4% market share in the U.S., is also more specialized and thus able to command a stronger fee premium.
In addition, Invesco is growing quickly overseas, especially in Asia, where fast-growing economies leave hundreds of millions of newly minted middle- and upper-class people eager to invest their money into trusted global brands such as this.
6. Simon Property Group (SPG)
Yield: 3.6%
Simon Property Group is America's largest mall real estate investment trust, or REIT, owning more than 200 malls throughout North America, Asia and Europe.
The recent spike in long-term interest rates has depressed the prices of REITs in general. Since its August peak, the Dow Jones Equity All REIT Total Return Index is down 11%. Shares of Simon Property Group have fallen even more: 20%. Some of that pullback is justified because REITs have had a great couple of years, but today Simon Property Group's dividend yield is 16% above its historic norm, indicating that the recent correction has been overdone.
That's especially true if you take into account that Simon Property's dividend is among the safest in the REIT industry, with a very low payout ratio of 61%.
That low payout ratio, combined with ongoing strong cash flow growth of 6.8% year to date, should keep the dividend growing close to its historic rate of 7.3% over the last 20 years.
That means that at today's share price investors can expect total returns to have a CAGR of around 10% to 11% over the long term. That's thanks to a solid management team led by CEO David Simon.
Simon's expertise in the industry, as well as his focus on upscale mall properties that are less likely to be disrupted by the rise of e-commerce, has helped to insulate Simon Property Group behind a wide moat that also gives it strong pricing power. In fact, this year the company was able to raise its base minimum rent by an impressive 4.5% while still maintaining record occupancy of 96.3%.
While it's obviously too early to call a bottom to the recent REIT rout, Simon Property Group's selloff, which is approaching bear market territory, certainly makes now a good opportunity to open or add to one's position.
7. Unilever (UL)
Yield: 3.6%
Unilever is the global household, personal product and food giant that owns such famous brands as Knorr soups and sauces, Hellmann's mayonnaise, Lipton teas, Axe and Dove personal care products, and the TRESemme hair-care brand. The company also recently acquired fast-growing companies such as The Dollar Shave Club for $1 billion, and Seventh Generation, make of eco-friendly household products, for around $650 million.
Fifty-eight percent of Unilever's sales come from emerging markets, which means owning this stock is a great way to gain exposure to some of the world's fastest-growing economies. Yet investors still benefit from a generous, highly secure and steadily growing deividend.
Better yet, thanks to a recent 18% selloff in the stock (after Wall Street overreacted to slowing growth in the company's latest earnings report) shares are now trading at attractive levels.
Remember that Unilever still has a lot going for it, including a wide moat derived from its immense global distribution network and massive economies of scale. That's very important in this slow-growing industry, because competing for market share requires a few things.
First, it requires continued innovation, meaning R&D spending on new products. Second, it requires low manufacturing costs, and Unilever has some of the lowest in the industry. In addition, fighting for market share often comes down to securing sufficient shelf space in retail locations. Unilever has the deep pockets to pay to get the most prominent placement for its products, which keeps smaller brands from stealing its market share. In fact Unilever's strong branding power means that it can raise prices (and thus, its already strong profits) over time.
Return on invested capital jumped to 33.75% in 2015 and is 33.16% for the last 12 months. This is a big improvement over the roughly 20% level in 2013 and 2014. 
All of this means that Unilever remains one of the strongest dividend growth blue-chips you can own in your portfolio, and thanks to the recent postearnings freakout, you can now pick up shares at a nice discount.
8. Pfizer (PFE)
Yield: 3.8%
Pfizer is one of the world's largest pharmaceutical giants with 42 major drugs for sale, including 10 that generate more than $1 billion a year in revenue. More importantly for dividend investors, this blue-chip drug king has an impressive track record when it comes to rewarding income investors with growing dividends. Dividends have grown at a 9.9% compound annual rate over the last 20 years.
To help keep the growth train rolling Pfizer has historically been one of the biggest acquirers in its industry.
More recently, though, some of Pfizer's megadeals have fallen apart, including its $160 billion inversion- focused acquisition of Allergan and its 2014 attempt to acquire AstraZeneca.
Allergan is a holding in Jim Cramer's Action Alerts PLUS Charitable Trust Portfolio. See how Cramer rates the stock here. Want to be alerted before Cramer buys or sells AGN? Learn more now.
These high-profile failures have resulted in Wall Street analysts pressuring the company to break itself into two companies. Management wisely chose not to do this, however. The stock's beaten-down price creates a great buying opportunity, and the yield is now close to a five-year high.
Better yet, unlike many pharmaceutical companies that hit high-yield status only in the face of falling sales and earnings, Pfizer is actually growing nicely. That's thanks to management's change in tactics, from megamergers that can be complicated to close, to smaller, bolt-on acquisitions such as the recent $14 billion acquisition of Medivation.
Thanks to that latest deal, as well as three others since 2015 that total $38.3 billion, Pfizer is picking up a 50% stake in blockbuster drugs such as prostate cancer drug Xtandi, which is already generating global sales of $2 billion. Sales are expected to grow to almost $5 billion by 2020. Even better, the Medivation deal also gave Pfizer Talazoparib, a BRCA breast cancer treatment in phase 3 trials that management thinks could be even bigger than Xtandi.
Add to this the 91 other drugs Pfizer has in its development pipeline, including a biosimilar (i.e., generic version) of Johnson & Johnson's Remicade (a drug with $8.4 billion in annual sales), and I expect Pfizer to have little difficulty generating 6% to 7% annual dividend growth in the coming years.
At today's undervalued share price that would mean 9.8% to 10.8% annual total returns, and 10.9% to 12.0% returns on a risk-adjusted basis.
Investors can read my full thesis on PFE here.
9. The Bank Of Nova Scotia (BNS)
Yield: 4.2%
Bank Of Nova Scotia, or Scotiabank, is one of Canada's six largest banks, which are famed for their conservative banking culture. This allowed them to easily sail through the financial crisis largely unaffected. 
Better yet, while you might think that a Canadian bank might have limited growth potential thanks to the small size of its home market, that couldn't be further from the truth.
For example, in its most recent quarter Scotiabank reported 8%, 9%, and 12% earnings growth from its domestic lending, international banking, and global banking and markets segments, respectively.
The key to Scotiabank's success is its core Canadian banking division, which consistently produces amazing, yet safe, returns on equity of 25%. Competition is limited by Canadian law, which is why that key profitability metric has remained sustainably high over time. In fact Canada's six largest domestic banks have 90% market share and are likely to keep it since foreign acquisitions of domestic banks are heavily regulated and must be approved by the government.
Meanwhile, growth comes from the fact that Scotiabank is Canada's most international-facing bank, with 21 million customers in 55 countries, including multiple Latin American nations. The loans from its international segments are higher-yielding, but riskier, offering lower returns on equity thanks to a net charge-off rate of 3.0%, compared to just 0.4% for domestic lending.
However, that is still a pretty low charge-off rate given the economic hardships currently going on in Latin America, where many economies are tied to commodity prices. This just goes to show that the famed conservative banking culture that has served investors so well for decades is well represented in its overseas underwriting.
Not surprisingly Scotiabank's impressive performance has resulted in strong returns, including a 24.4% total return over the past year. However, don't let that fool you, because shares of this bank remain undervalued, with its current yield still 7% above its historic norm of 3.9%.
That's higher than 69% of global banks. With a 10-year compound annual dividend growth rate of 9.2%, Scotiabank represents one of the best dividend growth opportunities in all of global banking. That's especially true given the current trailing 12-month 52% payout ratio, which shows that Scotiabank's mouthwatering yield isn't just highly secure, but also has room to keep growing for years to come.
10. Spectra Energy Partners (SEP)
Yield: 6.2%
Spectra Energy Partners is a midstream master limited partnership, or MLP, which is a type of investment that comes with its own unique risks, as well as tax benefits and complications.
That said, Spectra Energy Partners is one of the safer options you can own for several reasons. First, it has no direct commodity exposure, thanks to 95% of its income being from long-term fixed-fee contracts, many with minimum volume commitments.
Second, its balance sheet is one of the strongest in the industry, thanks to management's conservative approach to taking on debt during the boom times when oil prices were north of $100 per barrel. This means it has plenty of liquidity available now. 
With a rock-solid distribution coverage ratio of 1.36 in the last quarter, (anything more than 1.1 is considered highly secure), and all that additional distributable cash flow, management is confident that it can grow the payout at 7% a year through 2018.
Analysts expect that growth rate to be sustained through the next decade because of the MLP's total potential growth backlog being a massive $30 billion, thanks to its presence in all of America's key shale oil & gas formations. My own growth models corroborate this growth rate, which means that Spectra Energy Partners, at the current unit price should be capable of generating about 13.2% total returns over the next decade, far in excess of the market's historical 9.1% CAGR since 1871.
On a risk-adjusted basis, those potential returns look even better (20.3%), thanks to a very low beta of just 0.65. This means that Spectra Energy Partners shares are 35% less volatile than the S&P 500.
Thanks to its ultraconservative management, rock-solid payout coverage, fortress-like balance sheet, and a massive growth runway, Spectra Energy Partners represents one of the best income growth opportunities in the market today.
And thanks to the worst oil crash in more than 50 years, Spectra Energy Partners is currently offering a yield that's almost 20% greater than its 13-year historic norm. Which means that today is the perfect time to open or add to a position in this MLP.
This article is commentary by an independent contributor. At the time of publication, the author held shares of EMR and PG.