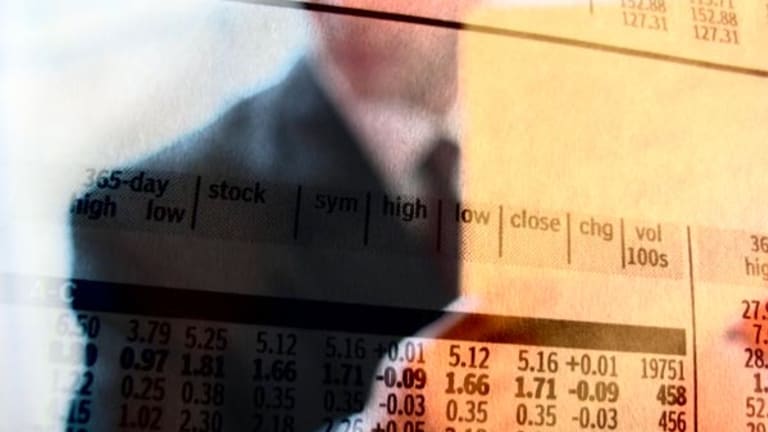 10 Dividend Stocks Increasing Payouts
Intel, Schlumberger and International paper join a roster of companies raising shareholder payouts, increasing their dividend yields.
(Dividend stocks increasing payouts report updated with Spectra Energy's quarterly earnings results.)
NEW YORK (
) --
Intel
(INTC) - Get Intel Corporation Report
,
Schlumberger
(SLB) - Get Schlumberger NV Report
and
International Paper
(IP) - Get International Paper Company Report
joined a roster of
companies raising their dividends in recent weeks.
Dividend activity has picked up in recent months as companies begin to regain some sense of stability in the state of the economy, and visibility of future earnings growth. The
iShares Dow Jones Select Dividend
(DVY) - Get iShares Select Dividend ETF Report
, an exchange-traded fund that tracks the
Dow Jones U.S. Select Dividend Index
, is up around 0.6% year-to-date. The
WisdomTree LargeCap Dividend Fund
(DLN) - Get WisdomTree U.S. LargeCap Dividend Fund Report
ETF is up nearly 1% so far in 2011.
>> 10 Top Dividend Stocks for 2011
"Dividend-paying stocks can provide a positive return on investment that can be used to counteract a negative price appreciation," Chris Hobart, president and CEO of Hobart Financial Group in Charlotte, NC, told
TheStreet
. "Historically, dividend-paying stocks are not as volatile as other stocks. Because of the added benefit of a reliable dividend return, the investor faces less risk."
Hobart added that "due to the income incentive that the dividend provides, these stocks are even more valuable to an income-generating portfolio and can help in planning for monetary demands at various points of retirement."
Dividend investing is "a sustainable strategy that will be key driver for performance and total return in 2011," said Lawrence Glazer, managing partner with Mayflower Advisors, in a recent appearance on
CNBC
. Glazer encouraged investors to reconsider top dividend-paying "Dogs of the Dow" such as
Verizon
(VZ) - Get Verizon Communications Inc. Report
,
Johnson & Johnson
(JNJ) - Get Johnson & Johnson Report
,
Merck
(MRK) - Get Merck & Co., Inc. Report
and
Kraft Foods
( KFT), blue-chips that have offered decades of dividend increases and sustainable payouts, many with stronger yields than 10-year treasury notes.
Glazer also tapped the
iShares Dow Jones Select Dividend
and
iShares Dow Jones International Select Dividend Index Fund
(IDV) - Get iShares International Select Dividend ETF Report
ETFs as deserving of consideration for a sound investment strategy that includes diversification plus additional tax efficiency.
Here then is a breakdown of 10 dividend stocks increasing their shareholder payouts in recent weeks, ranked by average daily volume.
(Dividend data was supplied by Ex-Dividend.com. Yields are based on Jan. 25 closing prices.)
Intel
Intel
(INTC) - Get Intel Corporation Report
Company Profile
: Santa Clara, Calif.-based Intel is a semiconductor chip maker which develops advanced integrated digital technology products, mainly integrated circuits, for industries such as computing and communications.
The
Dow Jones Industrial Average
component said Monday it would increase its dividend by 15% to 18.12 cents per share.
The tech bellwether's higher dividend will be payable on March 1 to stockholders of record on February 7.
That will bring Intel's yield to around 3.4%.
Intel's board of directors also authorized an additional $10 billion for share repurchases, bringing the overall buyback authorization to $14.2 billion.
"In 2010, Intel achieved its best and most profitable year ever," said Intel president and CEO Paul Otellini. "Today's announcement signals confidence in our fundamental business strategies both today and looking forward, allowing us to return more cash to shareholders."
Earlier last month,
Intel topped fourth-quarter earnings expectations and offered healthy guidance for 2011.
On Jan. 31, Intel completed a $1.4 billion acquisition of the wireless communications arm of Germany's
Infineon Technologies AG
( IFX).
The deal, announced last August, will expand Intel's capabilities to move beyond the personal computer market, a market that has struggled as smaller devices like laptops,
Apple
(AAPL) - Get Apple Inc. Report
iPads and smartphones gained market share.
Acquiring Infineon's wireless communications unit provides Intel with the technology to produce chips with longer battery life to operate those smaller devices, particularly for chips designed around ARM architecture, a much-used low-power system commonly found in cell phones and tablet computers.
Schlumberger
Schlumberger
(SLB) - Get Schlumberger NV Report
Company Profile
: Houston-based Schlumberger and its subsidiaries supply technology, integrated project management and information solutions to customers in the oil and gas industry worldwide.
On Jan. 20, Schlumberger announced that its board approved a 19% increase to its quarterly cash dividend, promising shareholders 25 cents per share.
The next payout will come on April 1 to shareholders of record on Feb. 16, bringing Schlumberger's yield to around 1.2%.
The dividend news came as
Schlumberger's fourth-quarter earnings results set a positive tone for the oil service stock sector. Schlumberger posted quarterly revenue above $9 billion, ahead of the Street consensus for $8.8 billion. Earnings per share of 85 cents topped expectations by 8 cents.
Arguably more important than the numbers was the outlook from Schlumberger, and the commentary on activity outside North America. It wasn't very specific, but it was roundly positive. Schlumberger noted that outside North America, activity improvements in the North Sea, West Africa, and several Middle East & Asia GeoMarkets, coupled with strong year-end product sales particularly for software, "more than offset" continued weakness in Mexico and seasonal activity decline in Russia.
Schlumberger added that the consensus forecast for demand in 2011 shows a further healthy increase. "Oil prices have moved into a range that will encourage increased investment, particularly in exploration.... While we do not anticipate a return to pre-Macondo activity levels in deepwater U.S. Gulf of Mexico in 2011, we do expect a marked increase in deepwater activity in the rest of the world. These factors, coupled with increases in development activity and production enhancement in many other areas, promise stronger growth rates as the year unfolds."
Schlumberger shares, along with
energy stock peers
Halliburton
(HAL) - Get Halliburton Company Report
,
Baker Hughes
(BHI)
and
Weatherford International
(WFT) - Get Weatherford International plc Report
, spiked on Jan. 26, reaching toward fresh 52-week highs as the
Dow broke the market's psychological barrier of 12,000.
Citigroup
(C) - Get Citigroup Inc. Report
lifted its price target on Schlumberger to $110, setting a buy rating on the stock. The analysts raised their earnings-per-share expectations for Schlumberger, citing the firm's improving North American results in the recent quarter.
Analysts from
FBR Capital Market
( FBCM) also boosted their price target on Schlumberger to $110, from $97, and set an outperform rating on the stock.
Energy sector analysts have expected the oil service stocks to trade up and down on any given day, said Dahlman Rose analyst Darren Gacicia, referring to the current period as a transition phase for the group. Short-term traders are generally active in trading around earnings, but with overall bullish commentary from the oil service companies and the Dow hitting 12,000, it's likely that long-term investors were consolidating in these stocks, pushing prices higher post-earnings.
International Paper
International Paper
(IP) - Get International Paper Company Report
Company Profile
: Memphis, Tenn.-based International paper is a global paper and packaging company which is complemented by North American merchant distribution system, with main markets and manufacturing operations in North America, Europe, Latin America, Russia, Asia and North Africa.
On Jan. 11, International Paper raised its quarterly payout by 50% to 18.75 cents per share.
International Paper will make its next dividend payment on March 15 to shareholders of record on Feb.15, bringing its yield to around 2.6%.
Fundamental improvements have been the name of the game for International Paper in recent years. In 2005, the firm divested a number of longstanding timber assets, a related business that was nonetheless a distraction from the company's core competency.
As management shifted IP's focus to manufacturing paper and packaging products, it also put added emphasis on improving balance sheet health, which had been languishing amid cheap capital costs and steady sales -- an environment conducive to borrowing. Today, the company is still not "cheap" by traditional valuation metrics, but it's managed to improve its mid-term outlook.
As IP benefits from increased demand, it should be able to wean itself off of limited-time government subsidies with minimal pain. The company's burgeoning international business, which currently contributes 20% to the top line, should help considerably.
Carnival
Carnival
(CCL) - Get Carnival Corporation Report
Company Profile
: Miami-based Carnival is a cruise and vacation company, which has a portfolio of recognized cruise brands and a provider of cruises to all main vacation destinations.
On Jan. 20, Carnival announced a 150% spike to its quarterly cash dividend, to 25 cents per share, from 10 cents per share.
The higher dividend will be paid on March 11 to shareholders of record on Feb. 18. That will bring Carnival's yield to around 2.2%.
"Considering the current economic climate, our ability to more than double our dividend just a year after its reinstatement is a remarkable testament to the resilience of our global cruise brands and our confidence in the future of our business," said CEO Micky Arison. "Given our projected increase in cash from operations, expected to exceed $4 billion in 2011, combined with lower capital investment commitments due to the slower pace of our newbuild program, the company will begin generating significant free cash flow in 2011 and beyond," he added.
Earlier in January analysts at Credit Suisse raised their price target on Carnival to $47.20, from $42, citing solid fourth-quarter results. The firm, which maintained a neutral rating on the stock, also noted that trading momentum is building for Carnival.
Analysts at Deutsche Bank upgraded Carnival to buy from hold, maintaining a $57.50 price target.
In late December analysts at Citigroup increased their price target on Carnival to $56. The company should see improving pricing power, Citigroup said, giving the cruise ship operator a buy rating.
The favorable broker actions followed
Carnival's better-than-expected quarterly report in which it grew profits 28.5% year-over-year and forecast a 3% to 4% increase in constant dollar net revenue yields for the full year 2011.
CenterPoint Energy
CenterPoint Energy
(CNP) - Get CenterPoint Energy, Inc. Report
Company Profile
: Houston-based CenterPoint Energy is a public utility holding company, which operates in electric transmission and distribution facilities, natural gas distribution facilities, interstate pipelines and natural gas gathering, processing and treating facilities.
On Jan. 20, CenterPoint Energy announced a 1.3% increase to its dividend, to 19.75 cents per share from 19.5 cents.
The higher payout will be available on March 10 to shareholders of record on Feb. 16, bringing CenterPoint's yield to around 4.9%.
"I am pleased that for the sixth consecutive year, CenterPoint Energy is raising its dividend," said David M. McClanahan, president and chief executive officer. "This increase demonstrates a strong commitment to our shareholders and the confidence the board of directors has in our ability to deliver sustainable earnings and cash flow."
Analysts from Oppenheimer recently initiated coverage of CenterPoint Energy with an outperform rating and $18 price target. The equity research firm noted that CenterPoint can deliver above-average growth.
On Feb. 2 CenterPoint Energy said it initiated planned, controlled rolling outages of power to end-use customers in its greater Houston service territory on order from the Electric Reliability Council of Texas (ERCOT), which declared a statewide electrical emergency.
CenterPoint Energy implemented up to 45-minute systematic outages to around 330,000 of its customers on a rotating basis.
"This is a state-wide emergency and CenterPoint Energy is complying with direct orders from ERCOT," said Scott Prochazka, division senior vice president of CenterPoint Energy's electric transmission and delivery operations.
"Although we realize this is an inconvenience for our customers, these controlled rolling outages are planned emergency measures designed to avoid potentially longer, and more widespread power outages. We will continue these rolling outages until we receive direction from ERCOT that the electric supply in Texas has stabilized."
Spectra Energy
Spectra Energy
(SE) - Get Sea Ltd. (Singapore) Report
Company Profile
: Houston-based Spectra Energy, through its subsidiaries and equity affiliates, owns and operates a portfolio of complementary natural gas-related energy assets.
On Jan. 3, Spectra Energy announced a 4% increase to its quarterly cash dividend, paying 26 cents per share, a penny higher than its prior payout.
The increased dividend will be paid on March 14 to shareholders of record on Feb. 11, bringing Spectra Energy's yield to around 4.1%.
On Jan. 24, Spectra Energy announced that its Houston-based master limited partnership,
Spectra Energy Partners
(SEP)
, increased its dividend by 2.3% to 45 cents per share. The cash payout will be available Feb. 14 to shareholders of record on Feb. 4.
On Jan. 22, research analysts from Jefferies upgraded Spectra Energy shares to buy from hold, setting a $28 price target on the stock.
Spectra Energy recently received regulatory approval from Canada's National Energy Board for a new three-year negotiated toll settlement that defines the economic factors and provisions for establishing tolls, and maintains service standards for its British Columbia pipeline. Spectra Energy's BC Pipeline facilities comprise the main natural gas transmission pipeline system in British Columbia which has the capacity to transport over 2.3 billion cubic feet per day of natural gas.
On Feb. 3 Spectra announced a 45% jump in its fourth-quarter profits, attributed to improving prices for liquefied natural gas and the strengthening Canadian dollar.
Spectra said net profits came to $320 million, or 49 cents per share, in the recent quarter, up from $218 million, or 33 cents per share, in the year-earlier period. Revenue grew 7% to $1.38 billion.
Bottom-line results topped analysts' expectations while the top-line figure came up short.
Spectra said pre-tax earnings grew in each of its business segments last quarter, led by a 40% jump in field services, 32% in distribution, 21% in transmissions operations and 9% in its Western Canada transmission and processing business.
Linear Technology
Linear Technology
(LLTC)
Company Profile
: Milpitas, Calif.-based Linear Technology designs, manufactures and markets a broad line of standard high performance linear integrated circuits.
On Jan. 18, Linear Technology raised its quarterly dividend by a penny per share to 23 cents.
The cash payout will be available on March 2 to shareholders of record on Feb. 18, bringing Linear's yield to around 2.6%.
The news came a day before Linear forecast revenue and earnings would decline 6% to 10% sequentially in its current third-fiscal quarter of 2011.
Analysts' consensus call is for Linear to book third-quarter profits of 57 cents per share, or $133.5 million, on revenue of $365 million.
Linear reported fiscal-second quarter profits of $147.8 million, or 64 cents per share, on revenue of $383.6 million.
Jefferies analysts maintained a hold rating on Linear and $33 price target. The equity research firm wrote that "we are updating our estimates following Linear's earnings call. Linear reported slightly better
fourth quarter results but provided lower guidance due to a design loss in the iPad 2 and some inventory rationalization. We lowered our
2011 EPS to $2.27 (from $2.34) and are introducing our
2012 estimate of $2.35. We believe the risk/reward is balanced yet would look to get more positive with indications of new growth drivers or as a defensive play in a weakening demand environment as Linear has very strong cash flow, high stable GM, and a defensible competitive position with long design cycles."
JPMorgan analysts raised their price target on Linear to $34.50, from $31, and reiterated an overweight rating on the stock. Barclays reiterated an equal rating but raised its price target by $2 to $35.
Family Dollar Stores
Family Dollar Stores
(FDO)
Company Profile
: Matthews, N.C.-based Family Dollar Stores operates more than 6,600 general merchandise retail discount stores in 44 states. Merchandise assortment includes consumables, home products, apparel accessories, seasonal and electronics.
On Jan. 20 Family Dollar Stores said its board approved a 16.1% increase to its quarterly cash dividend, paying 18 cents per share, up from 15.5 cents.
The next payout will be on April 15 to shareholders of record on March 15, bringing Family Dollar's yield to around 1.7%.
On Jan. 25 Family Dollar priced $300 million of senior unsecured notes due in 2021 with a 5% coupon. The secondary offering marked the first time Family Dollar accessed the public debt markets.
The retailer intends to put net proceeds from the offering toward its existing $750 million share repurchase program and other general corporate purposes.
In early January Family Dollar said that its fiscal-first quarter profits climbed 10% thanks to more shoppers at its stores purchasing items like food and candy.
Results led analysts at Barclays to raise their price target on Family Dollar by $2 to $52.
The firm said that benefits from investing in operating was taking longer than expected, and the analysts maintained an overweight rating on the stock.
Airgas
Airgas
(ARG)
Company Profile
: Radnor, Penn.-based Airgas, through its subsidiaries, is a distributor of industrial, medical, and specialty gases and hardgoods, such as welding equipment and supplies.
On Jan. 21, Airgas announced a 16% increase to its quarterly cash dividend, paying 29 cents per share, up from 25 cents per share.
The next payout will be on March 31 to shareholders of record on March 15, bringing Airgas' yield to around 1.9%.
Airgas forecast 2011 fiscal-fourth quarter earnings-per-share to grow 19% to 25%, or to a range of 82 cents and 86 cents, including 4 cents per share of incremental expenses associated with its SAP implementation. Analysts' consensus was for Airgas to earn 84 cents per share in its fiscal fourth quarter.
For fiscal 2011 Airgas expects adjusted EPS to grow as much as 24%, or to $3.32 per share, year-over-year, including 10 cents per share of SAP implementation-related expenses.
Piper Jaffray analysts maintained an overweight rating on Airgas shares but raised their price target on the stock by a dollar to $76.
"We continue to recommend Airgas to those clients that want exposure to the early cycle recovery of U.S. manufacturing," the research firm noted. "Despite revenues that remain below prior peak levels, EBITDA margins reached new highs this quarter and we see a clear path to continued growth, especially as end markets continue to recover. Strong cash generation continues to provide for debt pay-down and funding for additional acquisitions."
On Jan. 19, Airgas signed a three-year supply contract with privately held
Linc Group
, an
ABM Industries
(ABM) - Get ABM Industries Incorporated Report
company and provider of technical building services which includes on-site integrated facility operations management.
On Jan. 25, Airgas defended the use of a
poison pill against
Air Products & Chemicals
(APD) - Get Air Products and Chemicals, Inc. Report
. APD's year-long $5.9 billion battle for Airgas latest action led the pair back to court in the hope of convincing a Delaware judge to allow it to acquire its target for $70 per share.
"If (the judge) allows the pill to remain, it's a big case. If he removes it, it's a big case, too," Charles Elson, a professor at the University of Delaware, told
Reuters
. "It defines the legality of a pill."
Consolidated Edison Holdings
Consolidated Edison Holdings
(ED) - Get Consolidated Edison, Inc. Report
Company Profile
: New York City-based Consolidated Edison, through its subsidiaries, provides electric, gas, and steam utility services in the United States.
On Jan. 20, ConEd declared a half-cent increase to its quarterly cash dividend, paying 60 cents per share.
The higher payout will be available on March 15 to shareholders of record on Feb. 16, bringing ConEd's yield to around 4.7%.
ConEd said it expects earnings from ongoing operations for fiscal 2011 to be in a range of $3.45 to $3.65 per share, in line with analysts' consensus call for full-year EPS of $3.50 per share.
Jefferies analysts reiterated a hold rating on ConEd shares, noting that the utility company is a low-risk transmission and distribution utility with strong earnings and solid dividend growth potential.
The equities research firm raised their price target on ConEd by a dollar to $53 after the company released its 2011 guidance.
Jefferies maintained its fiscal 2011 and fiscal 2011 EPS estimates at $3.50 and $3.65, respectively, but conceded that it believes ConEd's recent 3-year electric rate plan will provide benefits to both ratepayers and shareholders.
-- Written by Miriam Marcus Reimer in New York.
>To contact the writer of this article, click here:
Miriam Reimer
.
>To follow the writer on Twitter, go to
http://twitter.com/miriamsmarket
.
>To submit a news tip, send an email to:
.
READERS ALSO LIKE:
>> 10 Top Dividend Stocks for 2011
>> 46 Dividend Stocks Increasing Payouts
>> 14 REITs Increasing Dividends Annually
Disclosure: TheStreet's editorial policy prohibits staff editors and reporters from holding positions in any individual stocks.