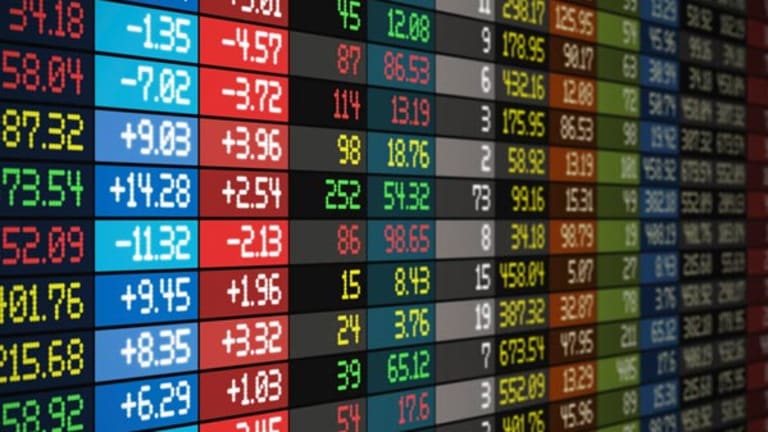 Publish date:
Dividend Stocks Raising Payouts
AT&T, Pfizer and Monsanto join a roster of companies raising shareholder payouts, increasing their dividend yields.
AT&T, Pfizer and Monsanto join a roster of companies raising shareholder payouts, increasing their dividend yields.
(Top dividend stocks for 2011 report updated with AT&T's loss of exclusive rights to Apple's iPhone and broker action on Monsanto.
NEW YORK (
) --
AT&T
(T) - Get Report
,
Pfizer
(PFE) - Get Report
and
Monsanto
(MON)
joined a roster of companies
raising their shareholder payouts in recent weeks.
>>Dec. 13: 10 Top Dividend Stocks Increasing Payouts
Dividend activity has picked up in recent months as companies begin to regain some sense of stability in the state of the economy, and visibility of future earnings growth. The
iShares Dow Jones Select Dividend
(DVY) - Get Report
, an exchange-traded fund that tracks the
Dow Jones U.S. Select Dividend Index
, is up around 14% in 2010. The
WisdomTree LargeCap Dividend Fund
(DLN) - Get Report
ETF is up nearly 12% this year.
Over the last 36 years, dividend stocks outperformed the rest of the S&P 500 by 2.5% annually, and they outperformed nonpayers by nearly 8% every year, all while paying out cash to their shareholders, according to a study from National Data Research.
is "a sustainable strategy that will be a key driver for performance and total return in 2011," said Lawrence Glazer, Managing Partner with Mayflower Advisors, in a recent appearance on
CNBC
. Glazer encouraged investors to reconsider top dividend-paying "Dogs of the Dow" such as
Verizon
(VZ) - Get Report
,
Johnson & Johnson
(JNJ) - Get Report
,
Merck
(MRK) - Get Report
and
Kraft Foods
( KFT), blue chips that have offered decades of dividend increases and sustainable payouts, many with stronger yields than 10-year treasury notes.
Verizon, which recently increased its quarterly dividend by 2.6% to 48.75 cents per share, offers an annualized dividend yield of around 5.51%; Johnson & Johnson 3.47%, Merck 4.18% and Kraft 3.64%.
Glazer also tapped the
iShares Dow Jones Select Dividend
and
iShares Dow Jones International Select Dividend Index Fund
(IDV) - Get Report
ETFs as deserving of consideration for a sound investment strategy that includes diversification plus additional tax efficiency. The DVY yields around 3.4%; the IDV around 4.3%.
Here then is a breakdown of 10 dividend stocks increasing their shareholder payouts in recent weeks, ranked by average daily volume.
(Dividend data was supplied by Ex-Dividend.com.)
Pfizer
Pfizer
(PFE) - Get Report
Company Profile
: New York City-based Pfizer is a research-based global pharmaceutical company which discovers, develops, manufactures and markets prescription medicines for humans and animals.
The
Dow Jones Industrial Average
component said recently that its board approved an 11.1% increase of its quarterly cash dividend to 20 cents a share from 18 cents.
>>Pfizer Boosts Quarterly Dividend by 11%
Pfizer said the dividend is payable on March 1, 2011 to shareholders of record on Feb. 4. The increased dividend will bring Pfizer's annualized yield to around 4.5% based on current share prices.
In
Jim Cramer's annual analysis of Dow stocks and 2011 predictions he said this of Pfizer: "You can change the CEO, you can buy another company, but you can't buy growth and Pfizer doesn't have it. We've got a nice yield and that's going to buoy the stock, or at least keep it from going down much lower. But headway? Way too much off-patent exposure. They don't call it a cliff for nothing. The growth is so minuscule and the multiple will follow it down, despite the best efforts of a new CEO, who surely has to be better than the last one. I see the stock at $16 next year and it will, again, not be the Dow stock to own."
Pfizer is just one of two Dow stocks that hold value-focused
Morningstar
's highest five-star rating. The research firm says Pfizer's stock could rise 51% to $26 as fundamentals improve.
Pfizer's stock fell more than 5% over the past year despite being a consensus value pick on both the buy- and sell-side. It is the largest global drug company, having acquired
Wyeth
in October 2009. Pfizer's size, with 2009 revenue of $70 billion and a market value of $139 billion, affords it economies of scale. It has a large portfolio of patented drugs, providing what Morningstar refers to as a "wide economic moat," or sustainable competitive advantages.
On Jan. 4 Pfizer and clinical-stage biopharmaceutical company Santaris Pharma announced an expansion of their collaboration directed to the development and commercialization of RNA-targeted medicines. Pfizer will pay Santaris Pharma $14 million for access to Santaris Pharma's technology in the field. Santaris Pharma will be eligible to receive milestone payments up to $600 million, along with royalties on sales of products for up to 10 new RNA targets.
The expanded alliance builds on an original collaboration, formed in January of 2009, between Santaris Pharma and Wyeth. Under the original terms, Santaris Pharma received an upfront payment of $7 million in cash and Wyeth made a $10 million equity investment in Santaris Pharma.
On Jan. 5 reports showed that an Alabama federal court plans to centralize more than 1,200 civil lawsuits against Pfizer regarding claims that its smoking-cessation drug Chantix can lead to suicide. Around 60% of the cases allege suicide, attempted suicide or other overt acts of injury, according to lead counsel for the plaintiffs.
Chantix has been approved in at least 86 countries as an aid for patients looking to quit smoking, the
Reuters
report said.
AT&T
AT&T
(T) - Get Report
Company Profile
: AT&T is a Dallas-based holding company whose subsidiaries and affiliates provide wireless and wireline telecommunications services and equipment as well as directory advertising and publishing services in the United States and internationally.
The Dow component increased its quarterly cash dividend by 2.4% to 43 cents per share, from 42 cents, and concurrently announced a 300 million share repurchase authorization. The authorization represented about 5% of all outstanding shares and had no expiration date.
The higher dividend will be paid on Feb. 1, 2011 to shareholders of record on Jan. 7, bringing AT&T's yield to around 5.9%.
In
Jim Cramer's annual analysis of Dow stocks and 2011 predictions, he said this of AT&T: "This one has had a huge move already and will be losing exclusive selling rights for
Apple's
(AAPL) - Get Report
iPhone to Verizon. That's going to freeze the market and cause the company's growth rate to slip a tad, maybe to below 6%. If that happens the $2.50 estimates might come down, but just a few pennies. I worry more though that it will finally break its linkage with
Verizon
and get a tad less of a multiple. It will be bailed out by its bountiful yield but I don't see the company trading above $32 given the rate of rate of change upward and a small dividend boost. Still worth owning for the combined return however."
On Dec. 20
AT&T beefed up its 4G network plans with a $1.92 billion purchase of air waves from
Qualcomm
(QCOM) - Get Report
. The deal will give Ma Bell the 700-megahertz radio spectrum in the D and E block that Qualcomm acquired as part of its mobile TV effort called Flo TV. But having found few customers, Qualcomm says it will shut down Flo TV in March.
AT&T is expected to use the additional radio waves, which were originally set aside for UHF TV signals, as part of its national 4G wireless expansion plan.
On Jan. 11, Cramer's prediction about
AT&T losing its exclusive selling rights for the iPhone came to fruition. Ending almost a year of speculation, Verizon announced Tuesday it will release Apple's iPhone 4 to consumers on Feb. 10.
Analysts expect
sales of the Verizon iPhone to top 9 million this year. Verizon, the nation's largest carrier, has about 93 million subscribers on its network.
While widely expected to be well-received, the Verizon iPhone presents a few questions for tech watchers: the
iPhone's impact on Verizon's margins and how the loss of iPhone exclusivity will fare for AT&T.
TheStreet
live-blogged the
Verizon iPhone announcement, which was held at a New York City jazz hall.
Bristol-Myers Squibb
Bristol-Myers Squibb
(BMY) - Get Report
Company Profile
: Bristol-Myers Squibb is a New York City-based global biopharmaceutical company, which is engaged in the discovery, development, licensing, manufacturing, marketing, distribution and sale of pharmaceutical products on a global basis.
Bristol-Myers Squibb joined the parade of big names boosting their dividends in recent weeks, announcing a 3.1% increase to its quarterly payout.
The pharmaceutical giant, whose products include blood thinner Plavix and cancer drug Erbitux, said its board approved a dividend of 33 cents a share on its common stock, starting in the first quarter of fiscal 2011. The dividend will be payable on Feb. 1 to shareholders of record on Jan. 7.
That brings Bristol-Myers Squibb's dividend yield to around 4.98%.
Bristol-Myers said the quarterly dividend implies a total payout of $1.32 a share for fiscal 2011, although the dividend will be subject to quarterly review by the board.
Bristol-Myers had 1.7 billion shares in the third quarter of 2010, compared with 2 billion shares outstanding in the year-earlier quarter, representing a 12.3% reduction. Stock buybacks by S&P 500 companies increased 128% in the third quarter. For some S&P 500 stocks, a fourth-quarter earnings boost could be the byproduct of the buyback bonanza.
On Jan. 10 Bristol-Myers said it entered into a an agreement with
Opko Health
(OPK) - Get Report
to collaborate on new diagnostic testing technology.
Opko's blood tests will be developed to identify biomarkers for a range of diseases including neurodegenerative disorders and other malignancies.
Under the terms of the collaborative project, Opko and Bristol-Myers will work to determine the usefulness of using Opko's technology for the diagnosis of Alzheimer's disease and other early stage cognitive impairments likely to progress to Alzeimer's.
Separately, Bristol-Myers announced it will collaborate with
Pharmasset
(VRUS)
on the utility of combining certain inhibitors for the treatment of chronic hepatitis C virus.
Monsanto
Monsanto
(MON)
Company Profile
: Monsanto is a St. Louis, Mo.-based global provider of agricultural products for farmers. Its seeds, biotechnology trait products, and herbicides are designed to help farmers improve productivity, reduce the costs of farming and produce better foods -- or, according to the company's detractors, grow and maintain a monopoly for Monsanto.
Monsanto increased its dividend by 5.7% to 28 cents per share. It will be paid on Jan. 28, 2011, to shareowners of record on Jan. 7, bringing Monsanto's yield to around 1.7%.
Monsanto shares rallied in the second half of December following a favorable outlook at the Bank of America Merrill Lynch Global Industries Conference, and news that the USDA had completed an environmental impact study on the company's biotech alfalfa offering.
Monsanto is one of the biggest players in the global agrichemical business, providing proprietary brands of seeds and herbicides to farmers. Fueling that business is a well-funded research and development group that's been leading the charge toward creating biotechnology trait packages for crops that increase yields and make them impervious to industrial herbicides used to kill nearby weeds. Already, the firm has a major hold on the U.S. agricultural industry, and inroads are being made in developing countries where improved crop output is a high priority.
With deep margins and a respectable cash-flow engine, this stock should find its dividend payouts relatively safe in the future. That's the hope of Monsanto shareholders like the
Vanguard PRIMECAP Fund
(VPMCX) - Get Report
. Other major holders of Monsanto include
George Soros and
The Bill and Melinda Gates Foundation.
On Dec. 28 Monsanto announced that it tapped Pierre Courduroux as its new CFO and senior vice president, effective Jan. 1, 2011. The 45-year-old currently serves as Monsanto's finance lead for its global business operations. Courduroux joined Monsanto in 1990 and was recently responsible for the global finance organization across Monsanto's crop protection and seeds-and-traits divisions.
On Dec. 29 analysts from Argus Research reiterated a hold rating on Monsanto shares. Boenning & Scattergood initiated coverage of the agribusiness in October with a neutral rating. Deutsche Bank reiterated a buy rating on the stock in late September, lowering its price target by $5 to $65.
On Jan. 5 analysts at Piper Jaffray raised their price target on Monsanto by $6 to $81, maintaining an overweight rating on the stock. Piper Jaffray noted that the action comes ahead of Monsanto's fiscal first quarter earnings report, due out on Thursday.
"In the seasonally slow
first quarter, we expect the company to be modestly profitable, but more importantly we expect the company to speak positively about Fall orders & the Spring planting outlook in the U.S. as well as the season currently underway in Latin America," the firm noted. "In particular, we believe the RoundUp Ready 2 soybeans could surprise to the upside. Fertilizer giant Mosaic kicked off ag sector earnings with strong results and the stock was indicated higher in after hours trading, pointing to a continuation of the sector's
second half of 2010 outperformance."
On Jan. 6 Monsanto met earnings expectations with first-quarter profits of $6 million, or a penny per share, on revenue of $1.8 billion. The seed company's first quarter is typically its most sluggish due to the seasonality of demand for agricultural products. Still, revenue increased in all its major crop segments. Increased planting in Argentina led the strongest regional gains in Monsanto's Latin America market in the recent quarter. Restructuring moves in the prior fiscal year led a 9% drop in first-quarter expenses.
On Jan. 11 Monsanto shares got a boost after analysts at Argus Research upgraded the stock to buy from hold, setting an $87 price target.
The analyst cited improved sales of Monsanto's Roundup herbicide as reason for the upgrade. The chemical weed killer had been an underperforming unit for Monsanto over the past several quarters.
Waste Management
Waste Management
(WM) - Get Report
Company Profile
: Waste Management is a Houston-based provider of integrated waste services in North America. Through its subsidiaries, it provides collection, transfer, recycling, disposal and waste-to-energy services.
Waste Management raised its quarterly dividend by 7.9% to 34 cents per share, marking its seventh consecutive annual dividend increase.
The company said its board will declare the dividend in February, during the first quarter of 2011, and will set the record and payment dates at that time. The first payment is expected to be made in March of next year, bringing Waste Management's yield to around 3.7%.
Waste Management is the league leader in the waste business, with nearly 20 million customers under its belt. Waste has long been a favored industry because of its recession resistance -- an especially attractive attribute when times are tough.
Still,
short-squeeze opportunities exist around Waste Management as a number of investors bet blue chips like it will fall.
As of early December Waste Management sported a short-interest ratio of 11.2.
Waste collection is a relatively low-margin industry, and right now operators are approaching market saturation here in the U.S. With relatively high fixed costs (the result of union agreements and the high capital requirements of operating truck fleets and waste disposal sites), Waste Management needs to keep its operations churning to continue to deliver dividend-generating profits to investors.
Even so, there's little else in the way of bearish catalysts to justify the high short ratio this stock is currently seeing. With decent cash generation capabilities, expect trimmer operations -- and more buyers -- ahead.
MFA Financial
MFA Financial
(MFA) - Get Report
Company Profile
: New York City-based MFA Financial is engaged in the business of investing, on a leveraged basis, in residential Agency and Non-Agency ARM-MBS.
MFA Financial raised its quarterly payout by 4.4% to 23.5 cents per share.
The dividend will be paid on Jan. 31, 2011 to stockholders of record on Dec. 31, bringing MFA's yield to around 11.5%.
Credit Suisse analysts recently downgraded shares of MFA Financial to neutral from an outperform rating. The equity research firm set an $8 price target on the stock, and cited its downgrade based on valuation.
MFA's hiked dividend marked the
real estate investment trust's increase of its shareholder payout this fall.
On Oct. 1 MFA Financial raised its dividend by 18.4% to 22.5 cents per share. That dividend was paid on Oct. 29.
>>14 REITs Increasing Dividends Annually
In a research note earlier in December, Sterne Agee analyst Henry Coffey argued that concessions on so called "mortgage putbacks" by
Bank of America
(BAC) - Get Report
could negatively impact
Capital One
(COF) - Get Report
, which, like Bank of America, has exposure "tied to mortgages originated and sold by units of acquired companies, not originally under its control."
On the other hand, Coffey saw potential positives for
Chimera
(CIM) - Get Report
and MFA, since the pair may be able to win concessions in disputes over MBS they bought from banks. Coffey cautioned, however, the issue is "still a long way off and hard to quantify."
Dominion Resources
Dominion Resources
(D) - Get Report
Company Profile
: Richmond, Va.-based Dominion Resources is a producer and transporter of energy. It manages its daily operations through three operating segments: Dominion Virginia Power of DVP, Dominion Energy and Dominion Generation.
Dominion Resources raised its annual dividend by 7.7% to $1.97 per share, or 49.25 cents per share on a quarterly basis. It also set a new dividend payout ratio of 60% to 65%, up from a ratio of 55%, lifting the ratio of dividends to earnings it plans to pay going forward.
That brings Dominion's yield to around 4.6%.
Warmer weather and improvements at Dominion's Virginia Power business and generation unit recently helped the utility post stronger quarterly results. Third-quarter profits fell 3.2%, dragged by the effects of taxes, but adjusted for one-time items both revenue and earnings grew in the period.
Dominion also said its board elected a new director, Helen E. Dragas. The twelfth member of the board is a Virgina real estate executive.
On Dec. 29, Dominion Virginia Power announced plans for a five-year investment plan to bolster its energy production capacity.
CEO Paul D. Koonce said Dominion Virginia Power will invest $7.6 billion over the next five years for new power stations and other electric infrastructure as demand among its customers grows. The investments will also cover "reliability enhancements and new technology that will allow customers to save money on their energy bills," the company said.
"The trends remain clear that Virginia's economy continues a slow-but-steady recovery, the state's population is growing, and the demand for energy is moving right along with it," Koonce said. "We are committed to support that growth in the most cost-effective, reliable and responsible way."
The plans adds to a three-year effort announced last January for investments from 2010 through 2012 that would total $4 billion.
Koonce said that growth beyond that time period will necessitate adding additional energy to "to power the equivalent of 1.4 million new homes by 2020."
Moody's
Moody's
(MCO) - Get Report
Company Profile
: New York City-based Moody's is a provider of credit ratings, credit and economic related research, data and analytical tools, risk management software and quantitative credit risk measures, credit portfolio management solutions and training services.
Moody's increased its quarterly cash payout by 9.5% to 11.5 cents per share.
The increased dividend will be paid on March 10, 2011 to shareholders of record on Feb. 20. That brings Moody's yield to around 1.8%.
The ratings agency predicts "the most likely 2011 macroeconomic scenario to be a sluggish economic recovery with persistent high unemployment."
As a result, corporations will probably use excess liquidity to entice investors with dividend rewards and juice EPS with stock buybacks. It's a new phase for the earnings "growth" that's been occurring since 2009. Companies have been great at cutting costs through layoffs and other efficiencies, but less great at boosting the top line. Similarly,
banks' "reserve releasing" has padded earnings and masked the fact that, for the most part, their fundamental business lines aren't growing.
In early January, Moody's raised its 2010 profit guidance, ahead of its earnings release on Feb. 3, attributing its upward revision to heavy U.S. debt issuance and stronger demand for junk bonds.
Moody's said it now expects full-year revenue to increase 13% year-over-year, compared with its previously announced guidance for high-single to low-double-digit percentage growth. Based on 2009 revenue of $1.8 billion, 2010 revenue is expected to come in at $2 billion, slightly higher than analysts' consensus call for revenue of $1.97 billion.
Moody's said it expects 2010 earnings per share to be in a range of $2.08 to $2.14, up from its prior outlook for EPS of $1.90 to $1.96. Analysts had been looking for full-year EPS of $1.93.
Operating margin is expected to remain in the high 30s percentage range.
"The credit markets are on fire right now, and Moody's is benefiting," Morningstar analyst Michael Corty told
Reuters
.
Agnico-Eagle Mines
Agnico-Eagle Mines
(AEM) - Get Report
Company Profile
: Agnico-Eagle Mines is a Toronto, Ontario-based gold producer with operations located in Quebec and Finland, and exploration and development activities in Canada, Finland, Mexico and the United States.
Agnico-Eagle raised its cash dividend for 2011 to 16 cents per share, paid in Canadian funds, less applicable taxes. The higher payout will be available on March 15, 2011 to holders of record on March 1.
In a recent
RealMoney column by Jim Cramer he wrote that "not only is gold scarce, but remember there aren't many miners and not a lot of new mines. Anyone whose jaw dropped like mine did when I saw the slicing and dicing of Agnico Eagle because they didn't raise their production growth to lofty levels but had their exploration and production costs go up knows what I am talking about. If the best operator in the universe is having extraction problems from existing mines, what does that say about the ones that have seen gold already peak? Do they all have to go to the most politically dangerous places in the world -- the only ones left -- to find it."
On Cramer's Dec. 16 episode of "
Mad Money " on
CNBC
he said that "everyone is selling the gold stocks. They just gave you a huge dividend. I'm a huge buyer of Agnico-Eagle."
Gold prices have spiked recently with futures rising above $1,400. On Dec. 27
gold prices were shrugging off global rate hikes as trading stayed light and a blizzard hit the Eastern seaboard of the U.S.
The greatly talked about and feared event of a rate hike in China happened with little fanfare to gold prices. The People's Bank of China raised the one-year lending rate by 25 basis points to 5.81% on Christmas, the second time in more than two months, to fight inflation. China had raised the amount banks must keep in their reserves six times this year in order to take money out of circulation but November's inflation reading was still 5.1% compared with year-earlier results.
The much more aggressive step of raising key interest rates had been long feared by gold investors. Higher interest rates make it more appealing to keep money in the bank and a higher lending rate makes it less appealing to borrow. Both might hurt consumer demand for gold, despite the fact that China had been actively trying to promote it.
On Jan. 4 CIBC World Markets cut its price target on Agnico-Eagle by $2 to $100 though conceded it "will continue to post some of the best growth for large cap producers."
Significantly lower grades Agnico-Eagle's Pinos Altos min in Mexico mean AEM will face increased capex and rising costs, analyst Barry Cooper noted. He estimated that the mine lost nearly 25% of its value because of plans for new mines.
Iron Mountain
Iron Mountain
(IRM) - Get Report
Company Profile
: Boston-based Iron Mountain is a global provider of information protection and storage services. It has five operating segments: North American Physical Business; Worldwide Digital Business; Europe; Latin America; Asia Pacific.
Iron Mountain announced its board approved a 200% increase of its quarterly cash dividend to 18.75 cents per share. It will be paid on Jan. 14, 2011 to shareholders of record on Dec. 27. That brings Iron Mountain's yield to around 3%.
Adam Seessel, manager of the
RiverPark/Gravity Long-Biased Fund
tapped Iron Mountain as a contrarian stock play for 2011. Seessel is generally very bearish on the macroeconomic picture and thinks stock prices are fairly valued.
He said that "Iron Mountain is unloved. And, as value investors, that's what we look for. Iron Mountain is the leading document-storage provider in America and its basically selling as if it is going to go out of business in 17 years, which is the average contractual life of one of its boxes. Here again, as with
Yahoo!
(YHOO)
, if it survives past 17 years, then it's gravy."
-- Written by Miriam Marcus Reimer in New York.
>To see these stocks in action, visit the
10 Stocks Boosting Their Dividend Payouts
portfolio on Stockpickr.
>To contact the writer of this article, click here:
Miriam Reimer
.
>To follow the writer on Twitter, go to
http://twitter.com/miriamsmarket
.
>To submit a news tip, send an email to:
.
READERS ALSO LIKE:
>> 46 Dividend Stocks Increasing Payouts
>> 34 Dividend Stocks Increasing Payouts
>> 14 REITs Increasing Dividends Annually
Disclosure: TheStreet's editorial policy prohibits staff editors and reporters from holding positions in any individual stocks.